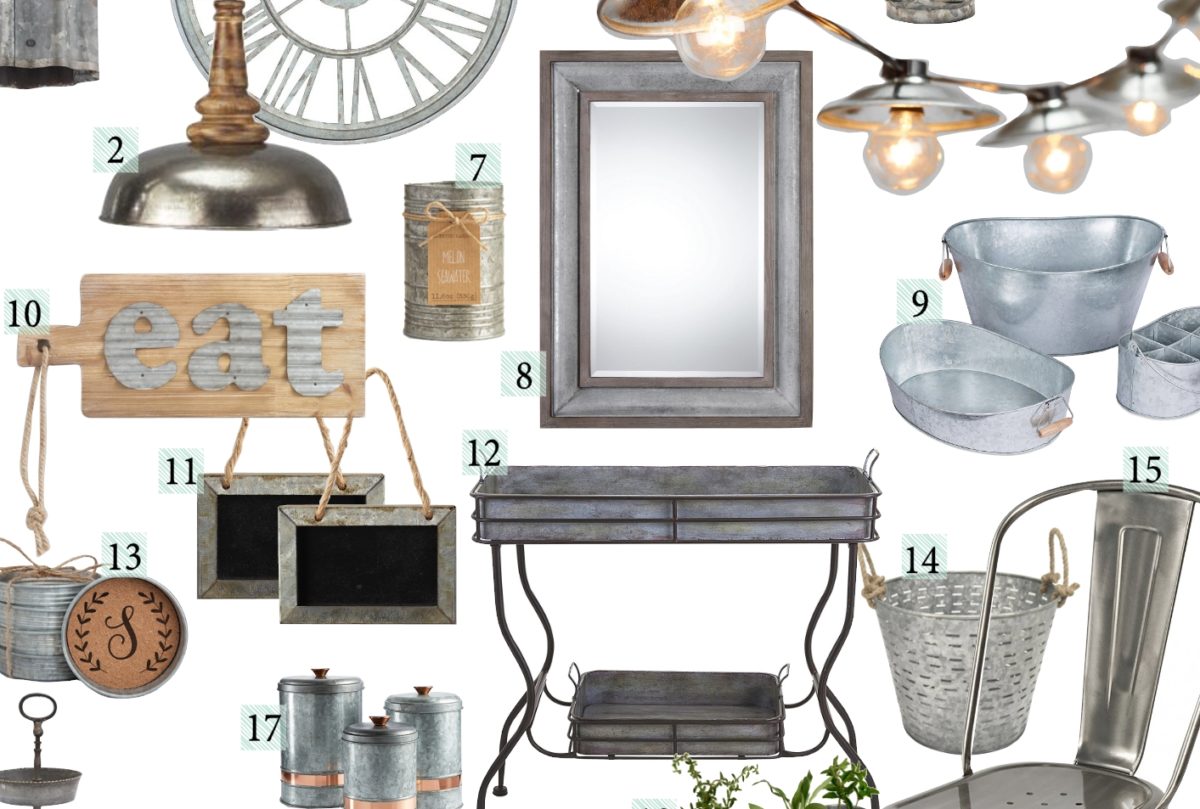 Hey there and welcome to my very first ever "Friday Finds"!  On Fridays, I'll be posting the best product finds from around the web.  Each week will have a different theme, so be sure to check back every Friday for the best home decor trends.
Today's "Friday Finds" is all about galvanized farmhouse items!
Galvanized products automatically have that farmhouse feel.  They evoke thoughts of the outdoors – of fresh cut flowers and home-grown produce.  You are probably already pretty familiar with galvanized products, but if not, here's the Sycamore and Slate definition: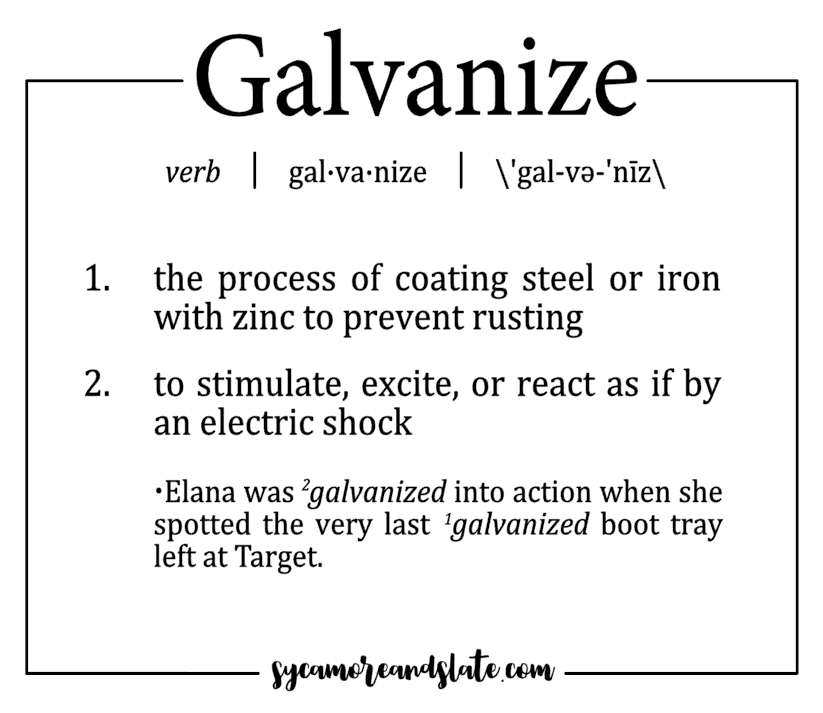 (This post may contain affiliate links, which doesn't change or affect your price in any way. It just allows me to collect a small commission if you decide to buy something through my links so that I can keep this blog up and running. Thank you for your support!)
Traditionally, steel and iron items are galvanized to protect them from rust, which occurs when they get wet.  So it makes sense that a lot of the metal items we use outside are galvanized in order to make sure they last a long time.  And, typically, I am galvanized when I spot a cute, new galvanized home decor item, so the name really does make sense!
If you feel the same way about the galvanized product trend, you're in luck!  I've compiled a lovely little list of the absolute best products I've found online that you can have shipped straight to your home, regardless of whether or not you have access to the brick and mortar store.
/  1  Frontier Mini Pendant  /  2  Joziah Pendant Light  /  3  Outdoor Clock   /  4  Cafe String Lights  /  5  Orb LED Lantern  /  6  Sami Lantern Wall Sconce  /  7  Melon and Seawater Candle  /  8  Selden Wall Mirror  /  9  Beverage Tub, Caddy and Tray Set
  / 10  'Eat' Cutting Board Sign  / 11  Mini Chalkboard Signs  / 12  Maggie Tray Table
  / 13  Monogram Mason Jar Lid Coasters  / 14  Round Garden Basket  / 15  Lemoderno Steel Side Chair  / 16  Three-Tier Tray  / 17  Two-Tone Canisters  / 18  Watering Jug  / 19  Artland Oasis Caddy and Planter  / 20  Cambridge Shiloh Bar Tray  / 21  Walter Storage Bins  /  22  1.5 Gallon Watering Can  /   23  Lantern Candle Holders  /
I hope you've enjoyed browsing these products as much as I enjoyed finding them!  Let me know in the comments what your favorite is and if you ordered any of these for your own home!
Check out Sycamore and Slate on Pinterest for tons of other ideas about home decorating and even more galvanized products on my Galvanized board.  Also, for other great products, check out my Friday Finds page for a complete list of all my finds!