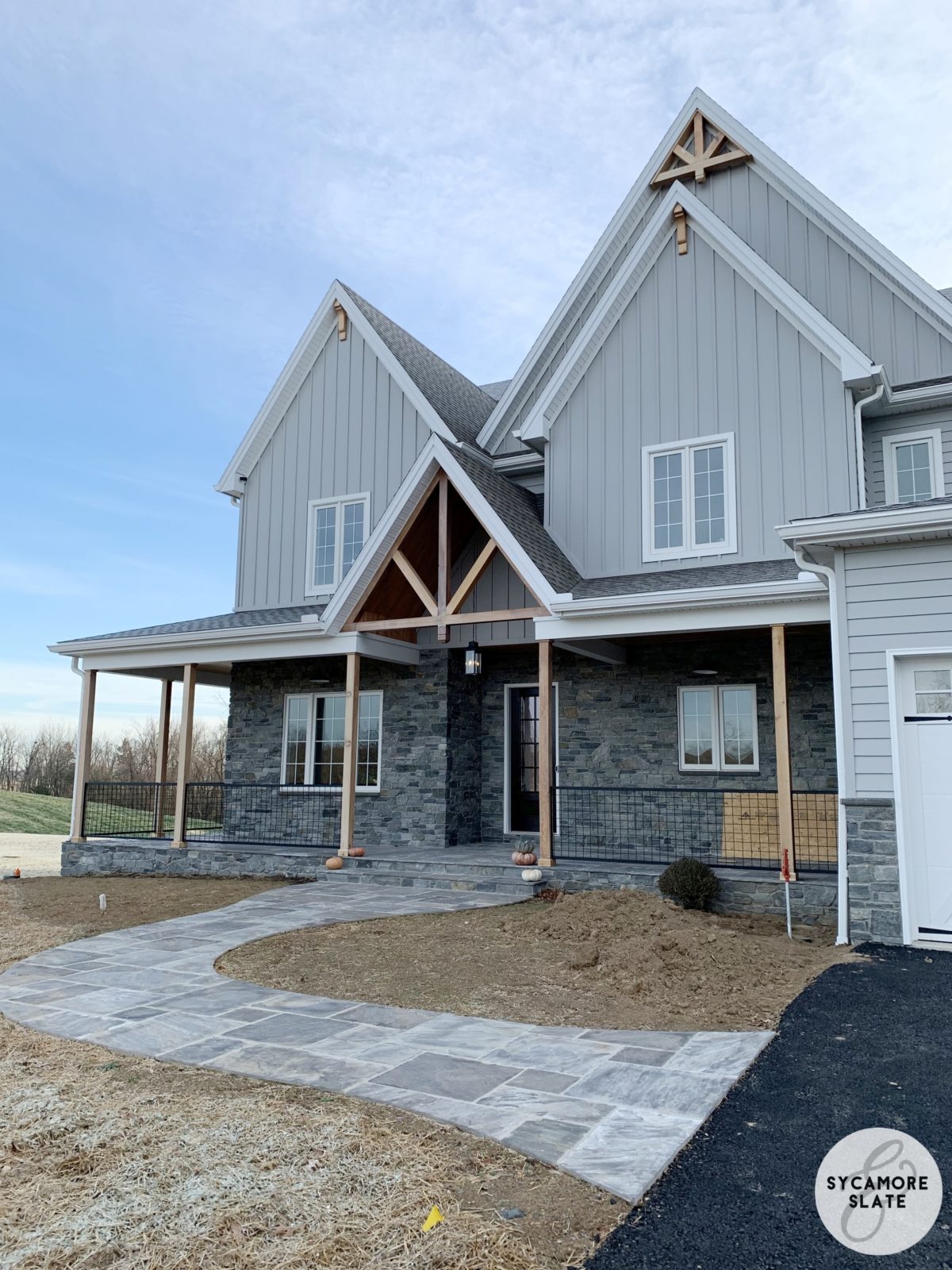 Major updates abound this month!
The theater room got painted and carpeting, and I think this room will be a family favorite. My mom always says that she will be happy to come live in the theater so I know that it's going to be a much-loved, well-used space.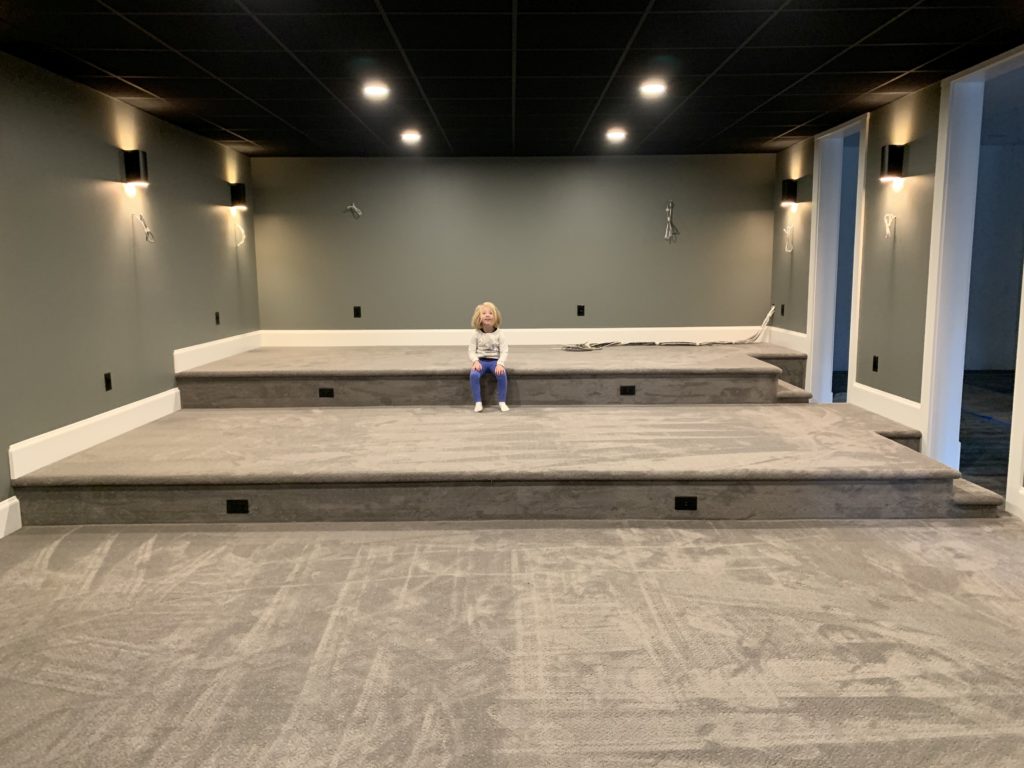 We also ordered (yay, Black Friday sales!) our theater room package, so before terribly long we'll have a screen and speakers and a projector and actually be able to watch a movie in our own little personal movie theater!
Also in the basement, Evie's playroom is also finished! I let out many an excited squeal for this room along the way. I love the little house-front. This is a place Evie always loves to be when we're over at the house.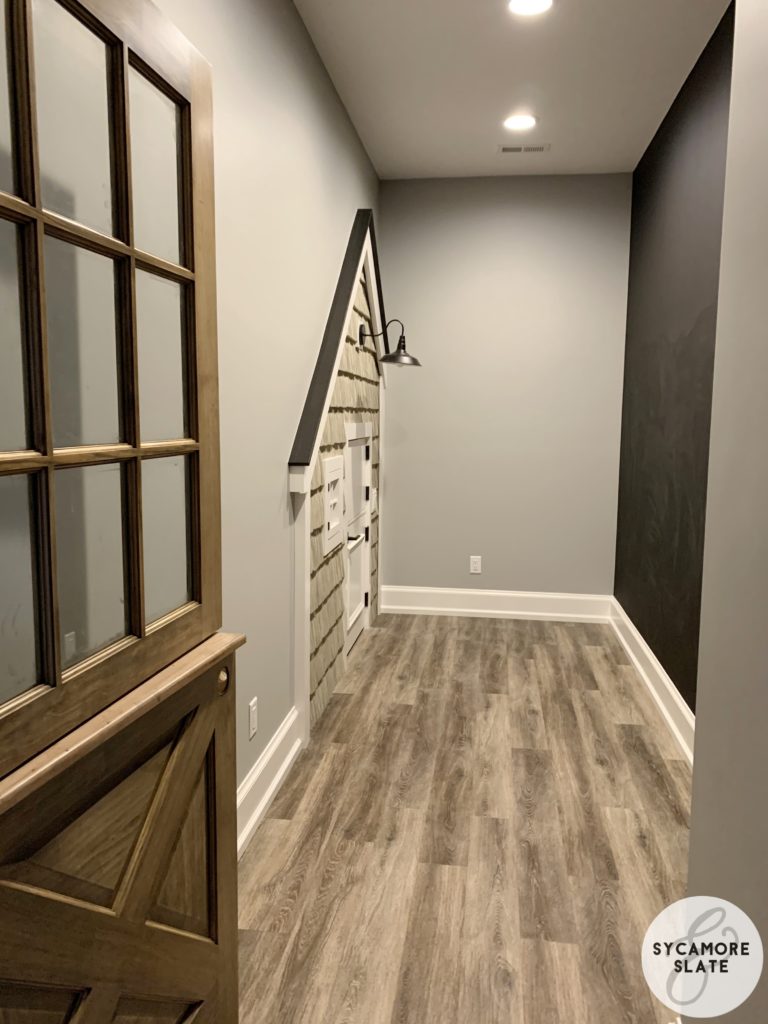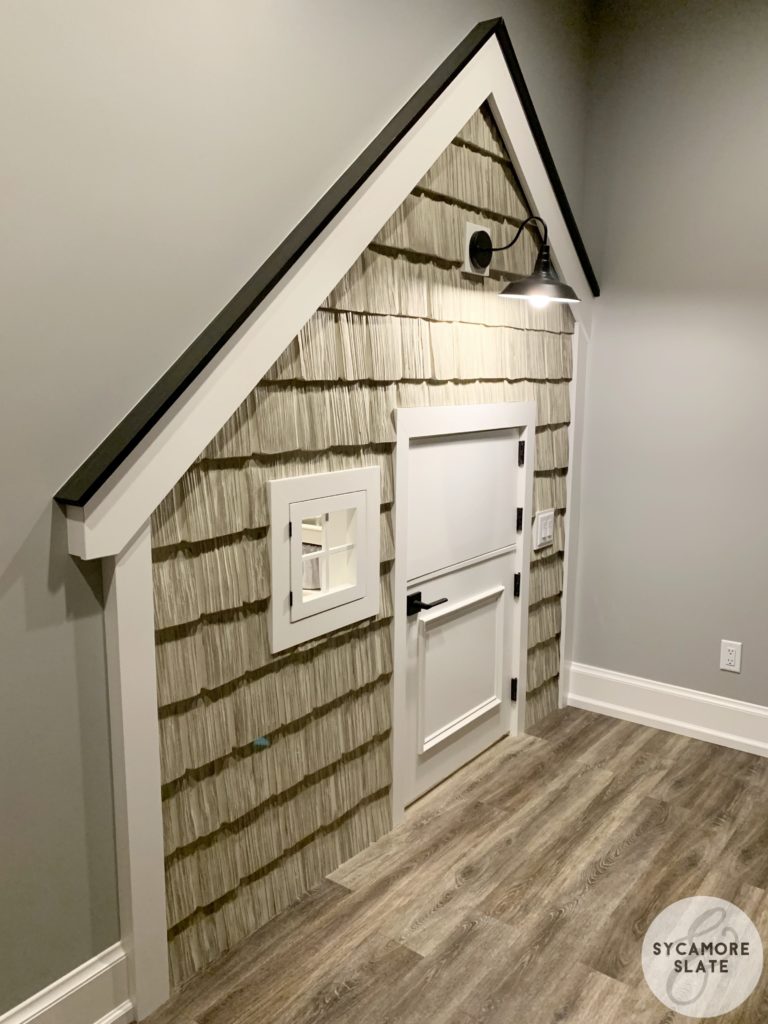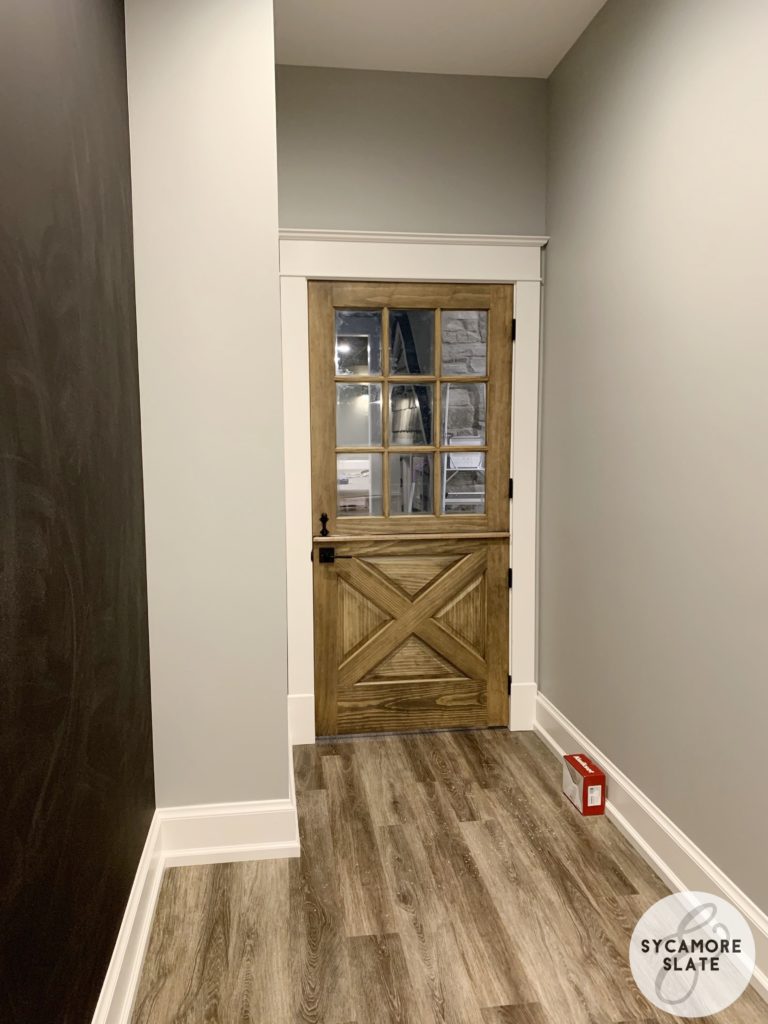 The rest of the cabinetry for kitchen and walk-in pantry was installed and most of the appliances are in too. Here are the wall ovens: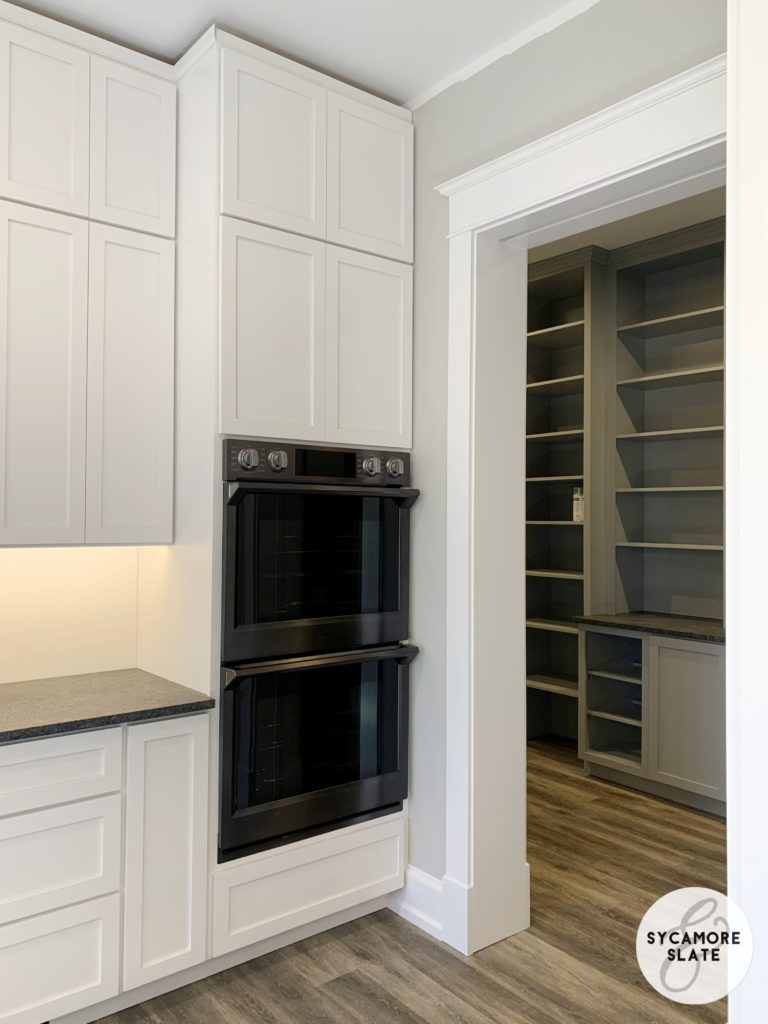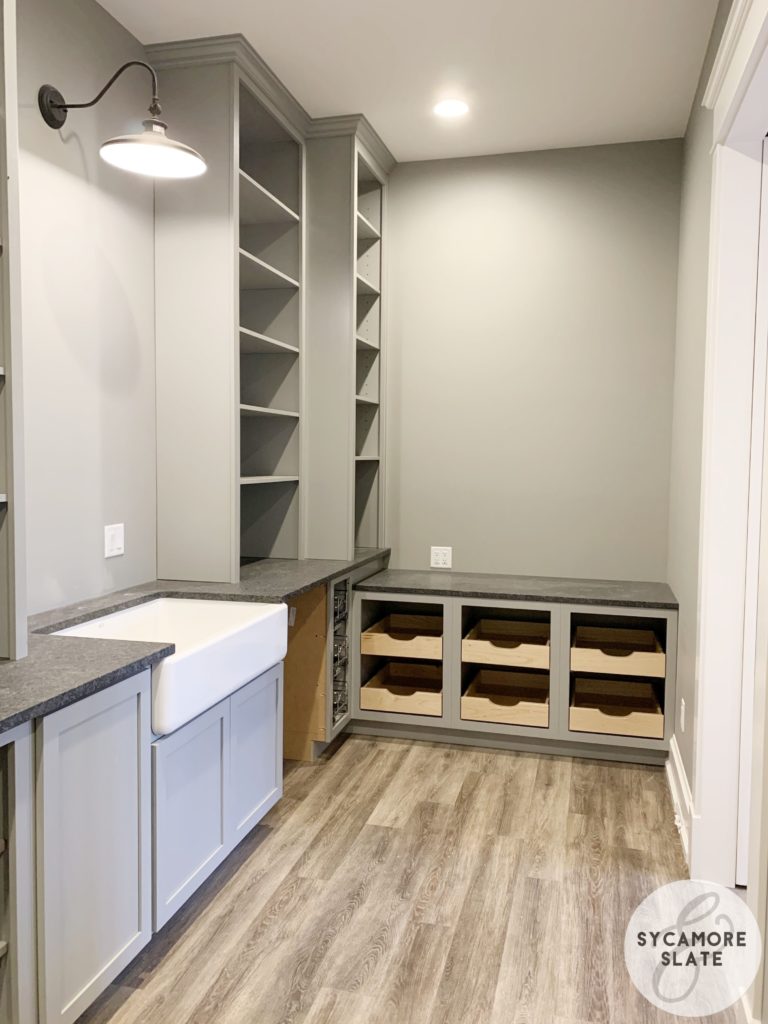 The hood over the range got shiplap and a beautiful mantel that matches the other woodwork in the house. They also have the brick backsplash started in the kitchen, and that will get finished next week, just before Thanksgiving.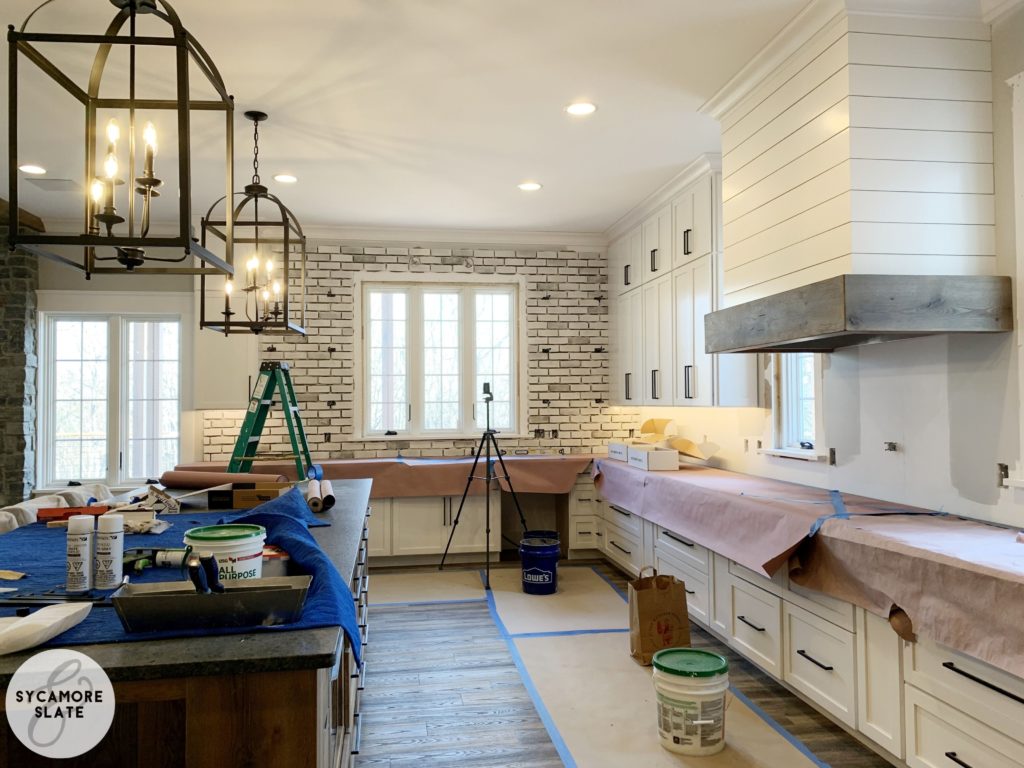 The laundry room cabinets were installed which is super exciting to me because that's one of the last things upstairs that needs to be completed. Our woodworker is making us a wood top for the window seat and a matching countertop for over the washer and dryer once they're installed, which will happen very soon, after the water treatment system is completed.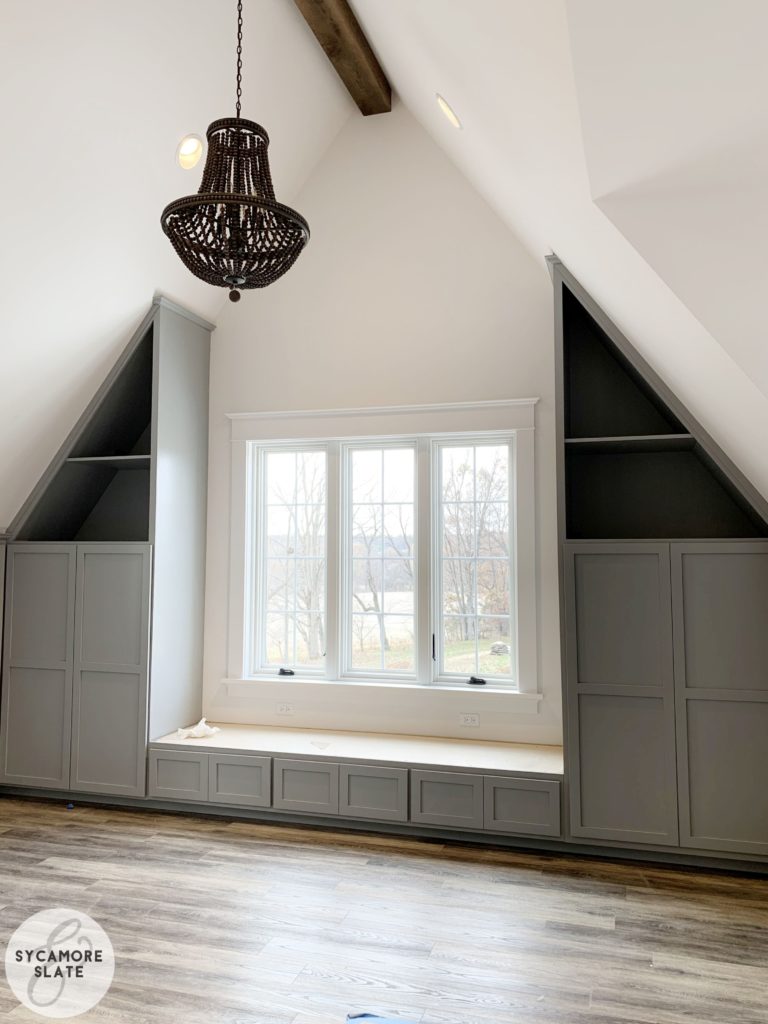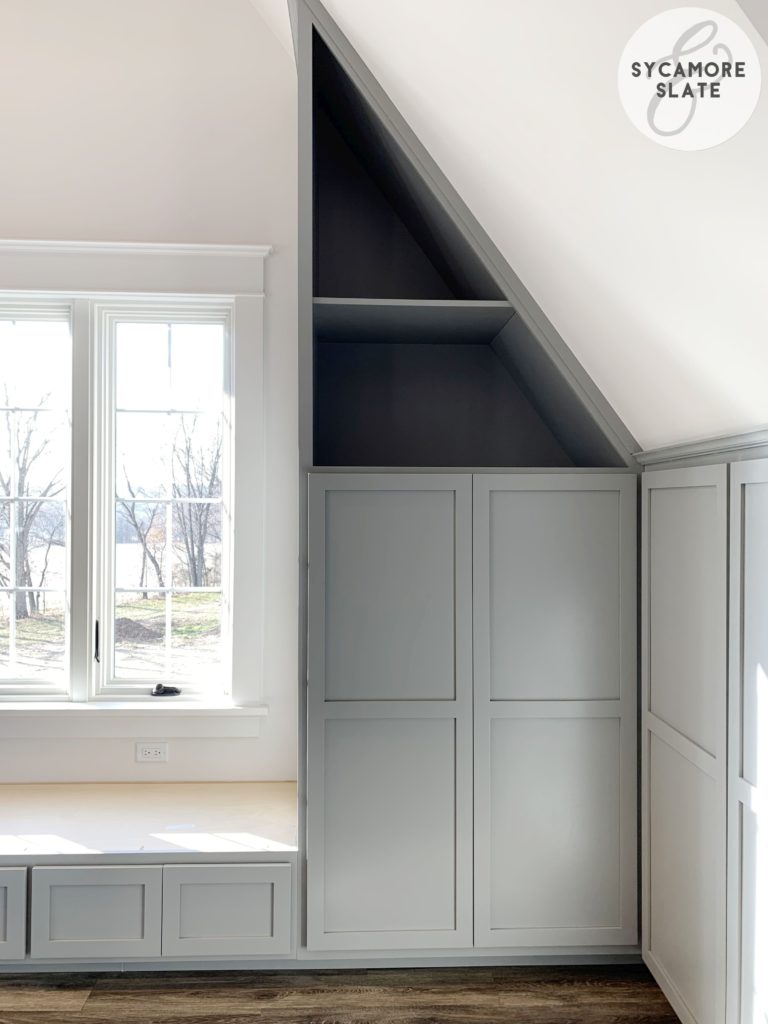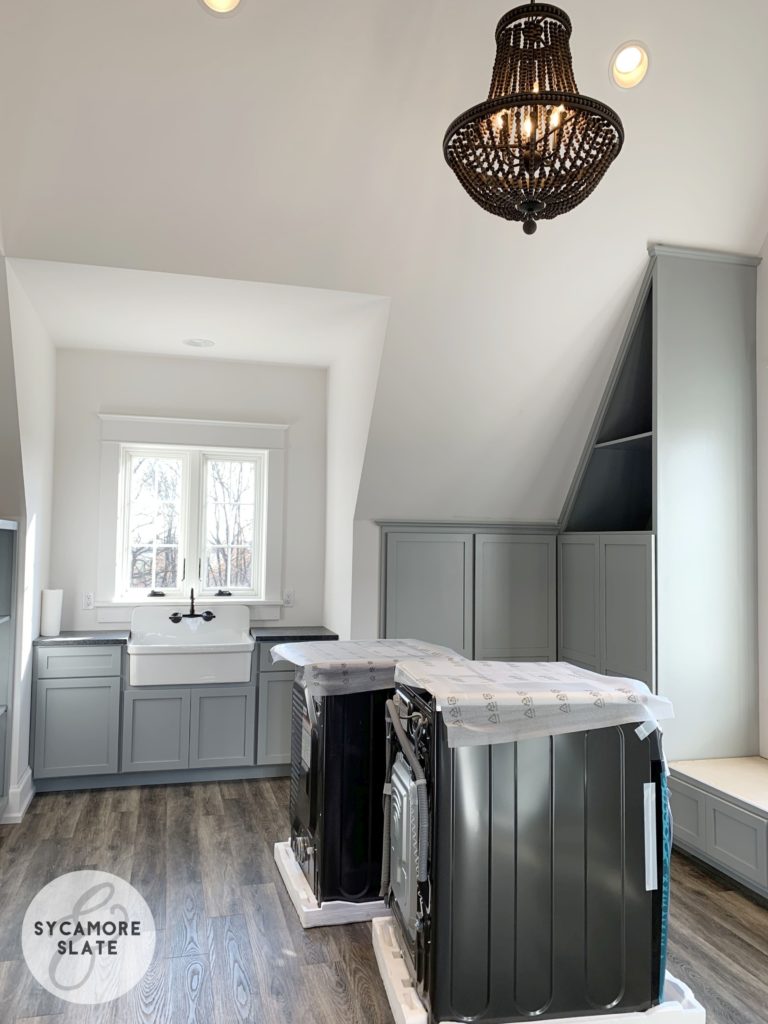 The railings are up in the stair tower! They had to stain the stringers on-site before they put in the railings and it all came together beautifully. They'll stain the stair treads very soon.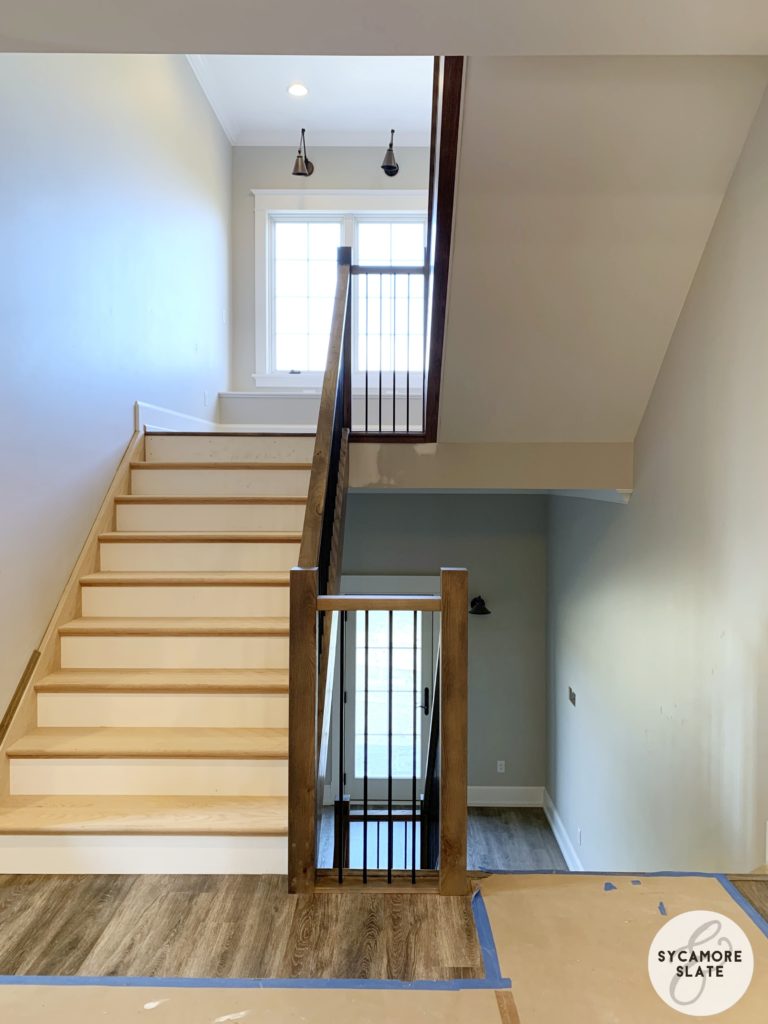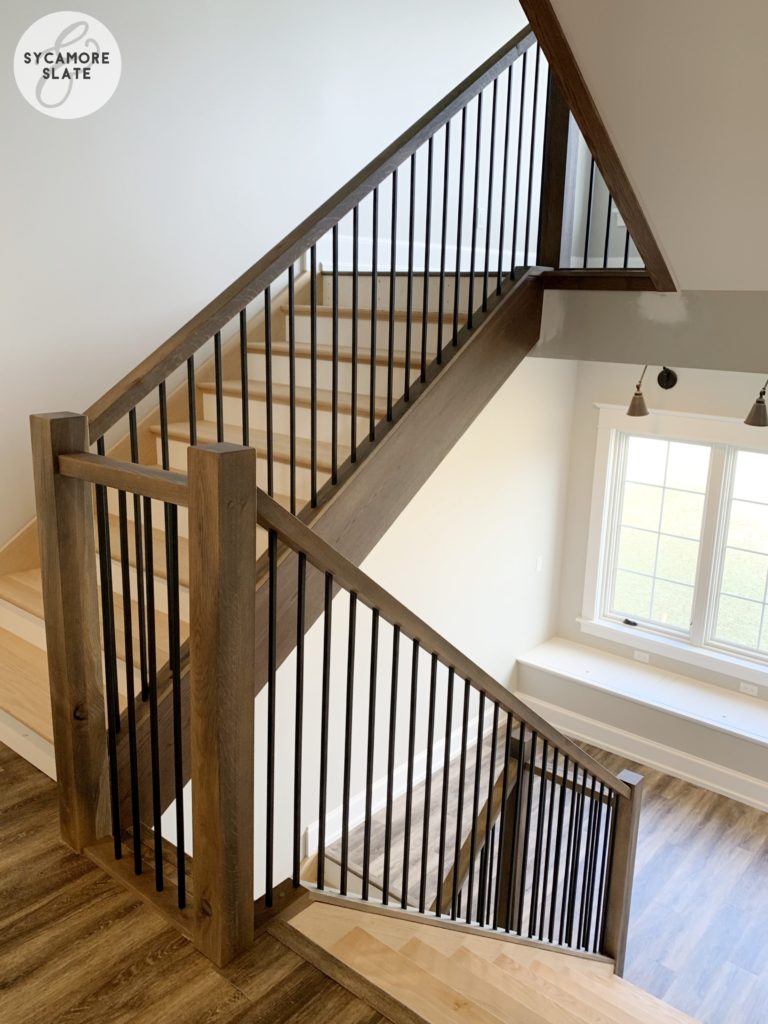 The railings for the deck and porch finally came in as well. We had a local welding shop make us hogwire panels and we topped them with a cedar rail from our woodworker. There are a couple of pieces that need to go back to get fixed and a few other cedar top rails need to be attached yet, but I'm really happy with how it's looking!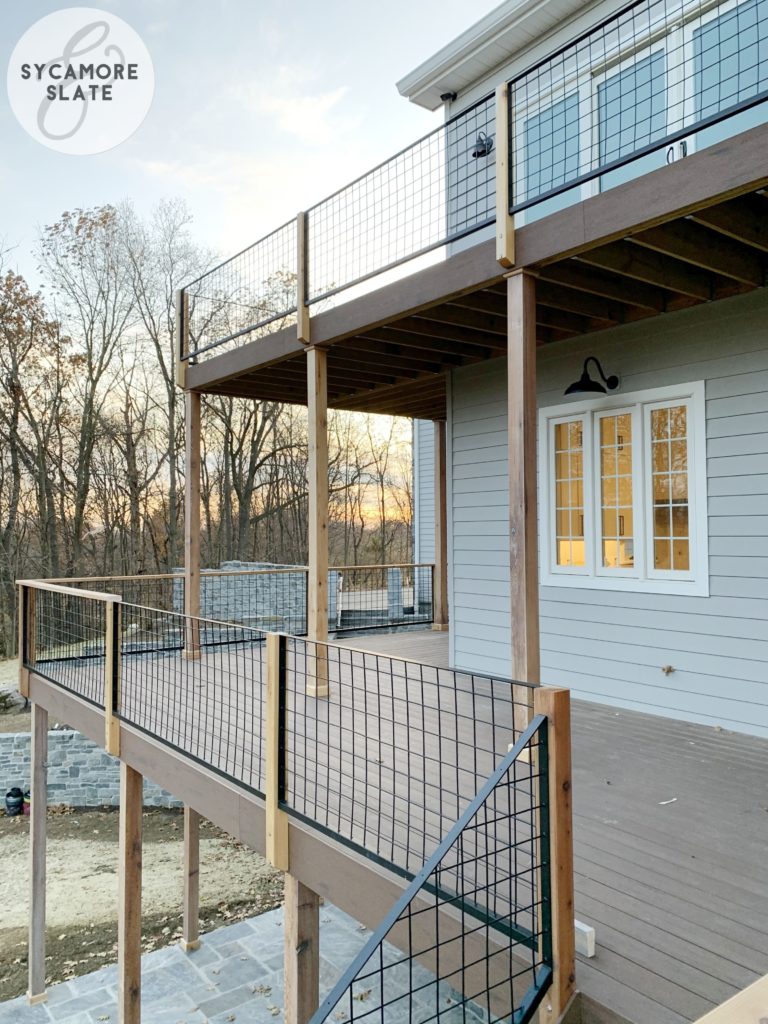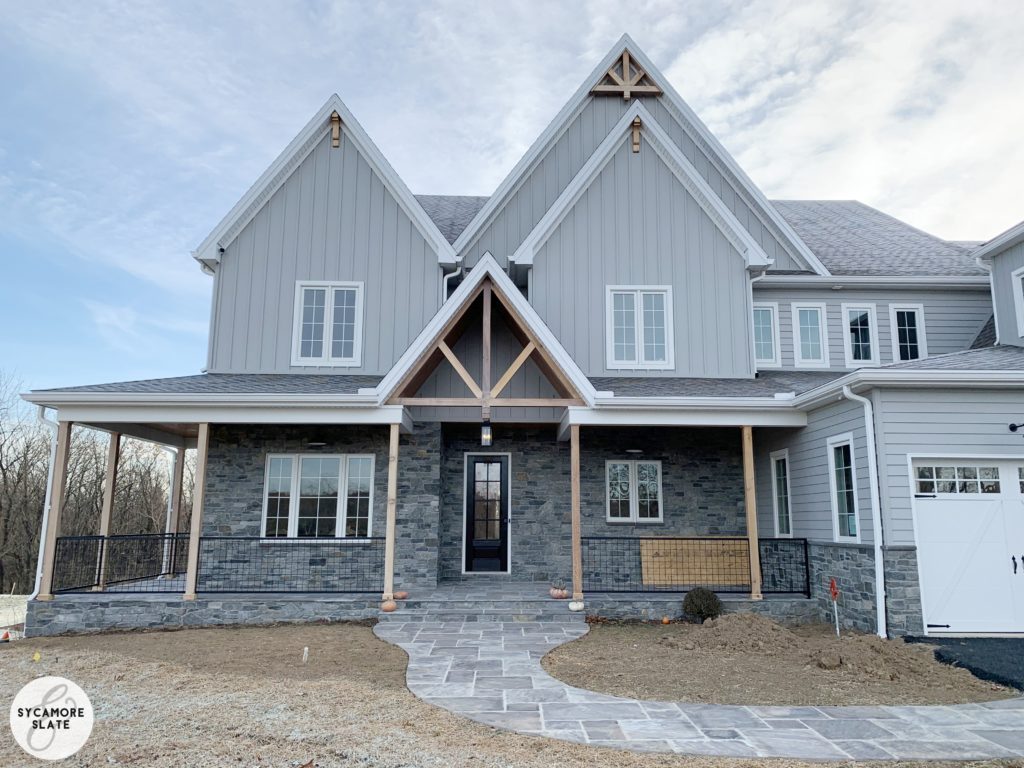 Other than the deck/porch railings, not a lot is going to happen outside during the rest of this year. We ran out of warm weather to finish the yard, so we'll have to come back to that first thing in the spring. For now, the unfinished parts are covered with establishment mulch and straw. It's a bummer that it's not done, but we're more concerned with finishing the inside so we can live there.
Lots of little things also happened this month at the farmhouse. Some painting touch-ups, installing door stops, putting up shiplap and wall hooks in the foyer, and installing some of the Smart Home devices we're using.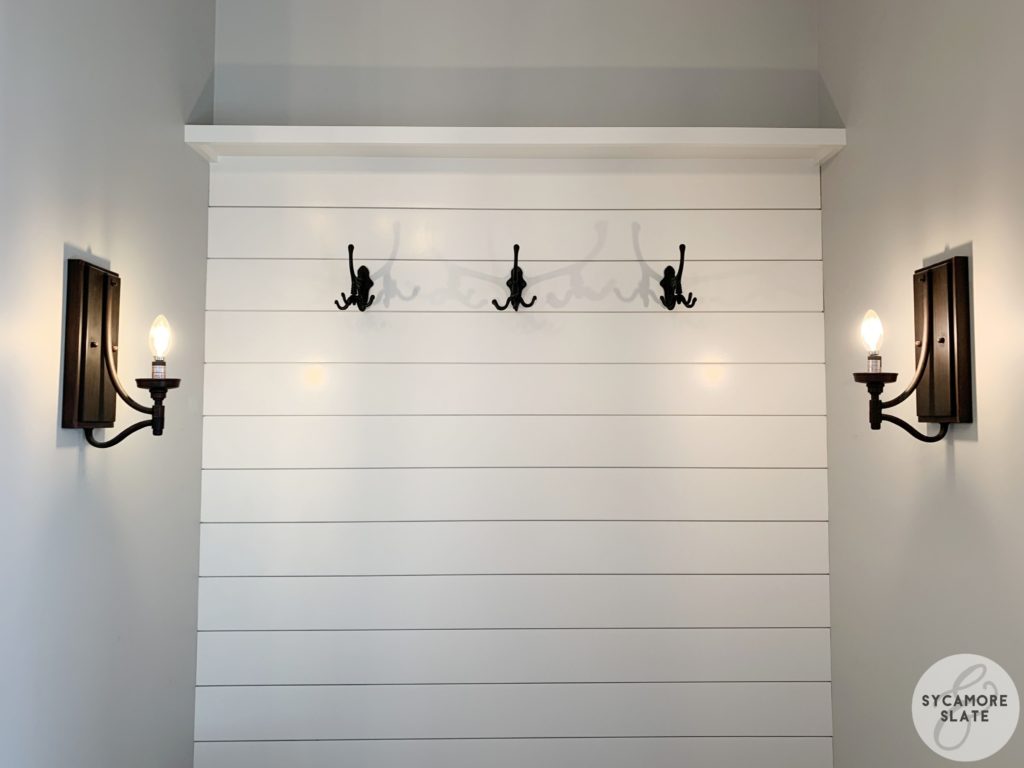 I spent a lot of time doing clean up, also, removing floor coverings and shopvac-ing copious amounts of dirt, dust, and construction debris. I even got to do a tiny bit of decorating and am starting to add in the little things that make a house a home – like this shower curtain in Evie's Bathroom!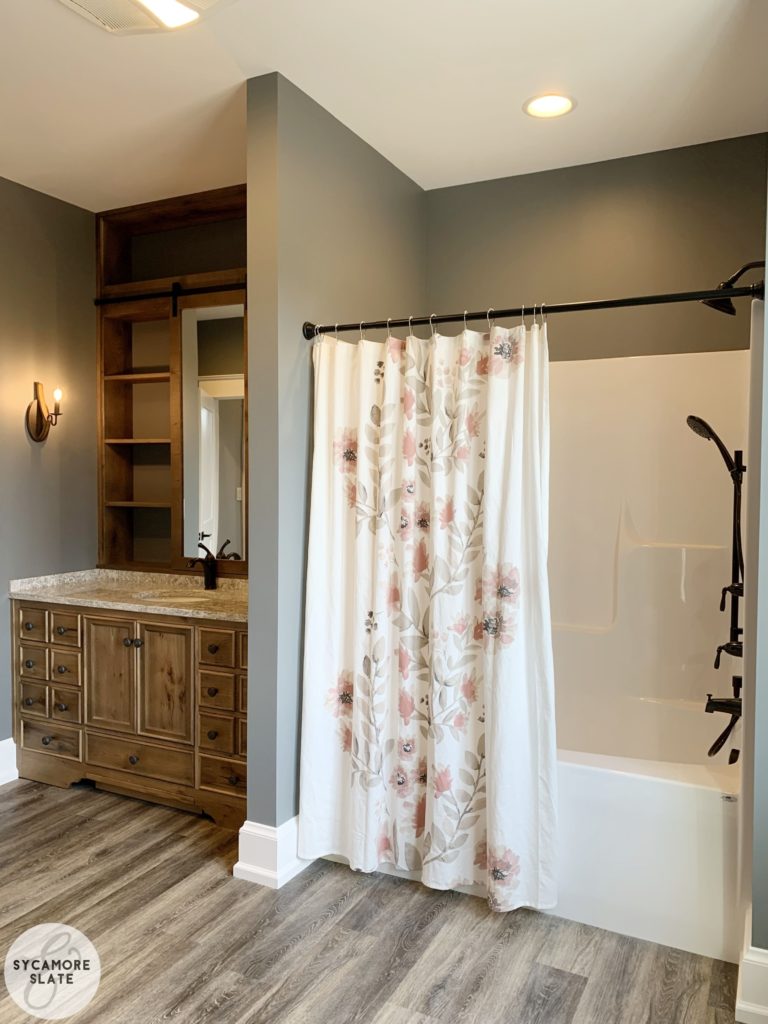 Of course, I had to throw in a little touch of Christmas. This was the backdrop for our Christmas photo this year! 🙂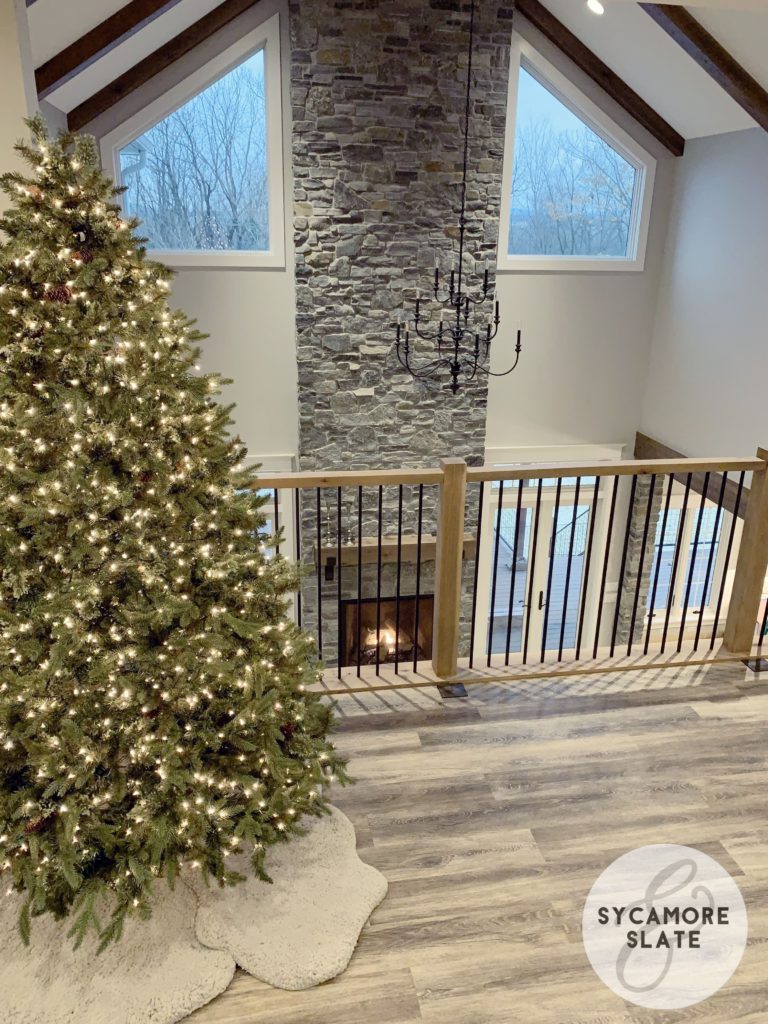 You guys! The end is in sight. This is BIG NEWS! Tentatively, we have a move-in timeframe: the week of December 16th! Which means we will be (Lord-willing) living in the new house in time for Christmas! I've already started the process of moving things by taking car-loads of stuff with me (or even just a box or two) when I pop over the new house to check on progress. It's very handy moving to a house only five minutes away. Highly recommend.
We hope to move a good bit of the furniture we're bringing with us during our Thanksgiving vacation! We will still have a good bit of construction going on after we move in, but at this point, we just want to get over there!
Thanks for reading! Check out the house building section to see all the farmhouse progress we've made so far! You can sign up for my newsletter at the bottom of the page to receive an email as soon as I post an update!
Hope you all have a happy, farmhousey, family-and-friends-ful Thanksgiving!