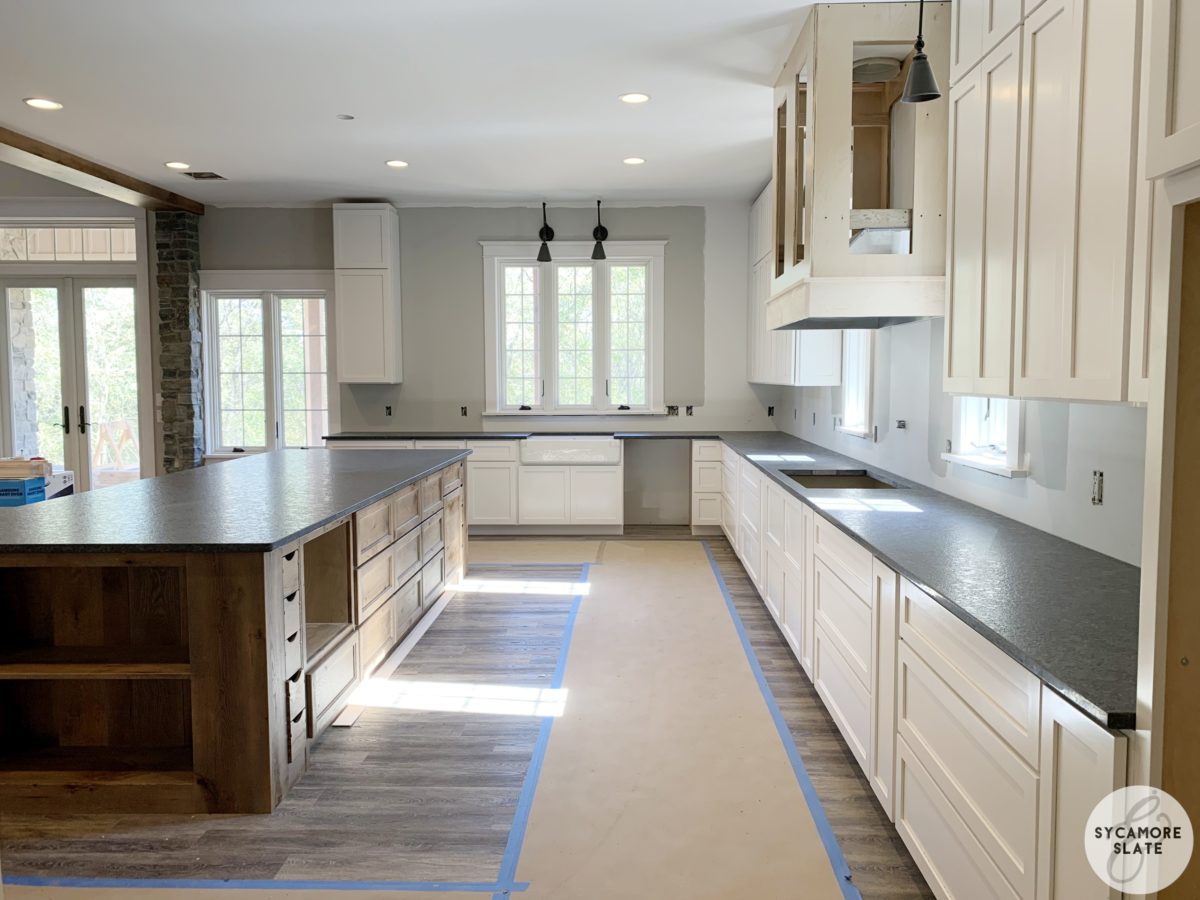 I just want to start out by saying I NEVER thought we'd get the whole way up to a week eighty on progress updates, but here we are! 🙂 And plenty more weeks to go, it seems.
Last week was really exciting because a good bit happened again both inside and outside!
The irrigation lines were finished and filled back in which meant that my brother-in-law, Brandon, who we've appointed our official landscaper, could plant all the perennials and shrubs I bought this fall. This came as a great relief to me because I was starting to get worried that we wouldn't get them in the ground with enough time for them to establish roots before it freezes. We may move plants around in the spring depending on what else we get, but for now, everything is looking really nice and has a safe place to overwinter.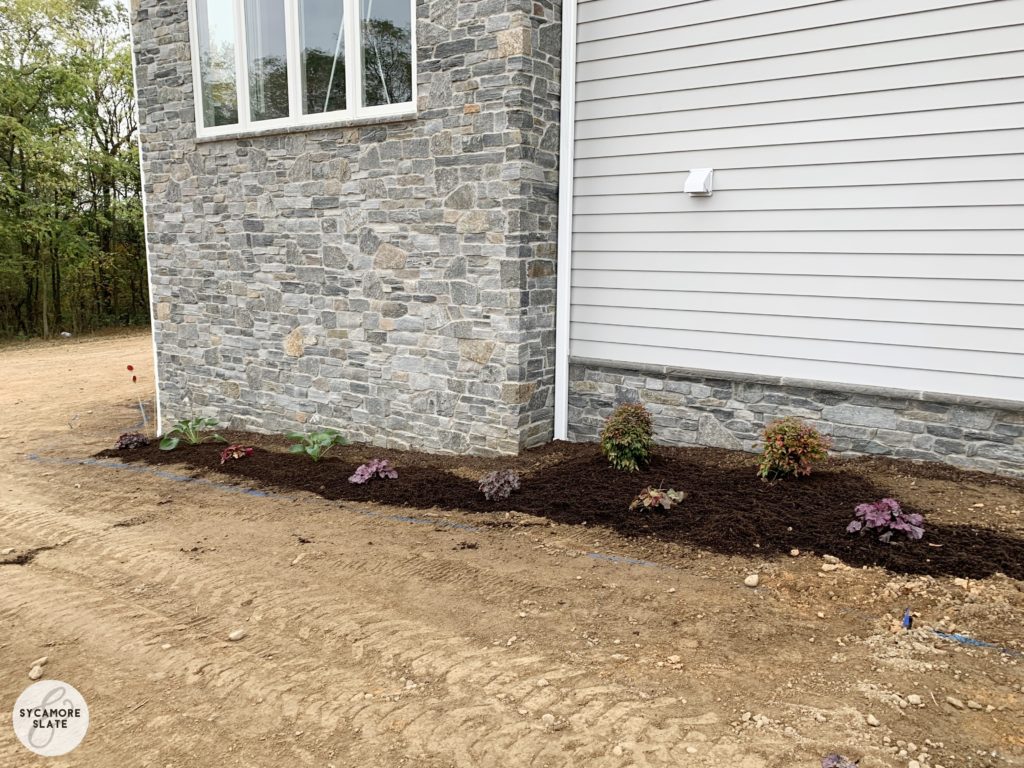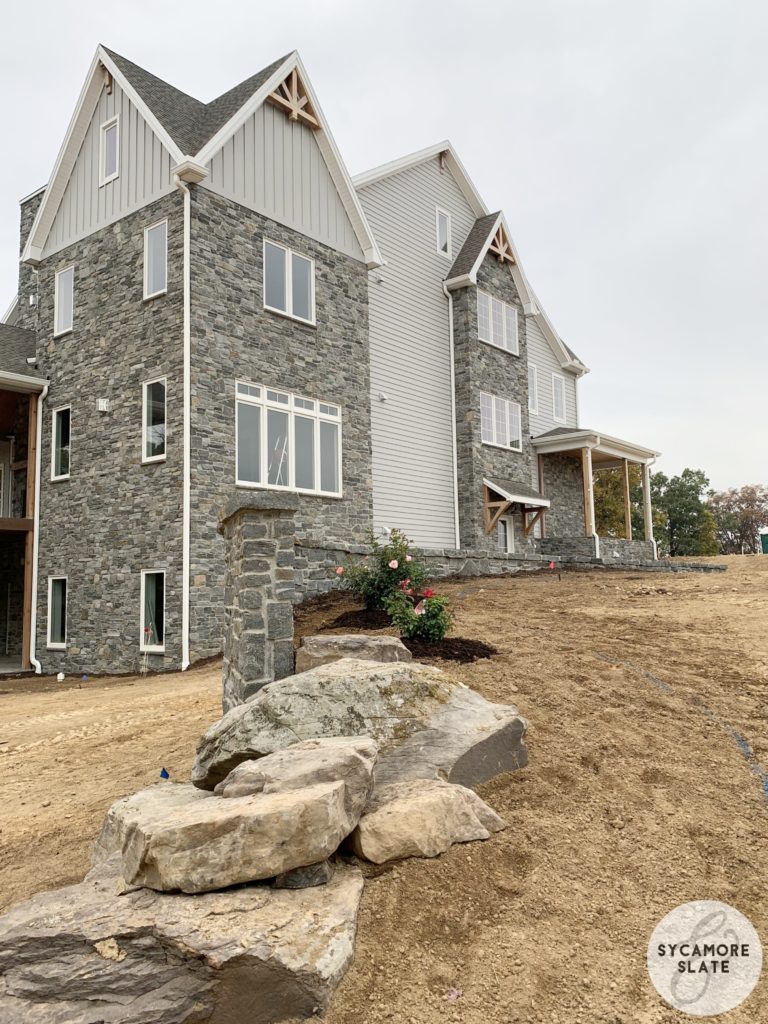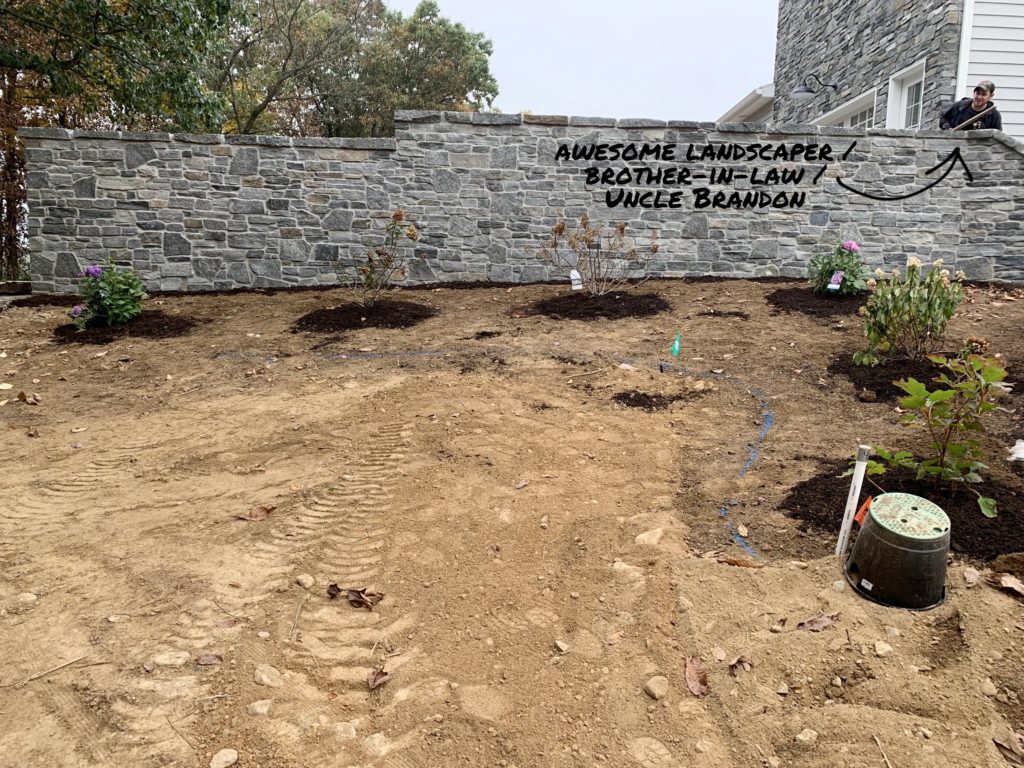 They got about half of the backyard seeded with grass as well, this week! It's kind of neat because they hydroseeding mulch they use turns the ground green and it gives you an instant feeling of how the grass will look eventually. The plan is to go back in the spring to aerate and overseed the lawn for fuller grass.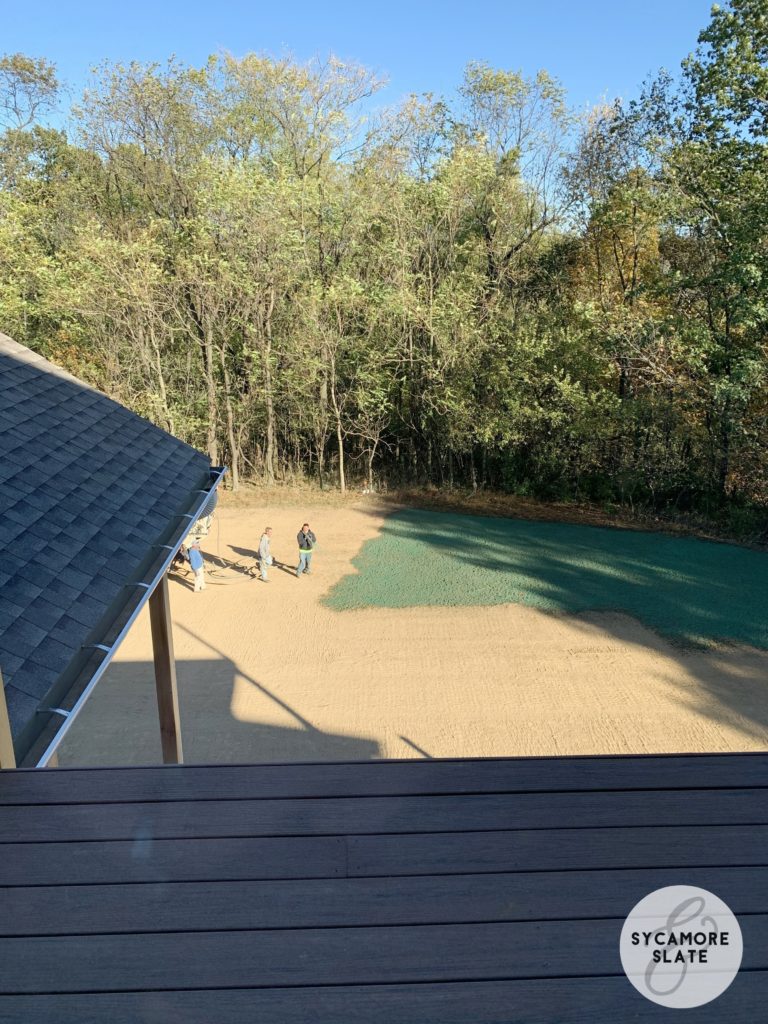 Inside they brought carpet into the bedrooms! It from Mohawk in the SmartStrand Silk Reserve called Windsor Castle. I'm still deciding how I feel about it. I'm really happy that it's in and I love the feel of it and the brand we chose, but I'm second-guessing my color choice. It's totally on me because I picked it, although I did so a while back so… I dunno?? But it's installed and comfortable to walk on (and roll around like crazy on, if you're a four-year-old) so I will deal with maybe not completely loving the color…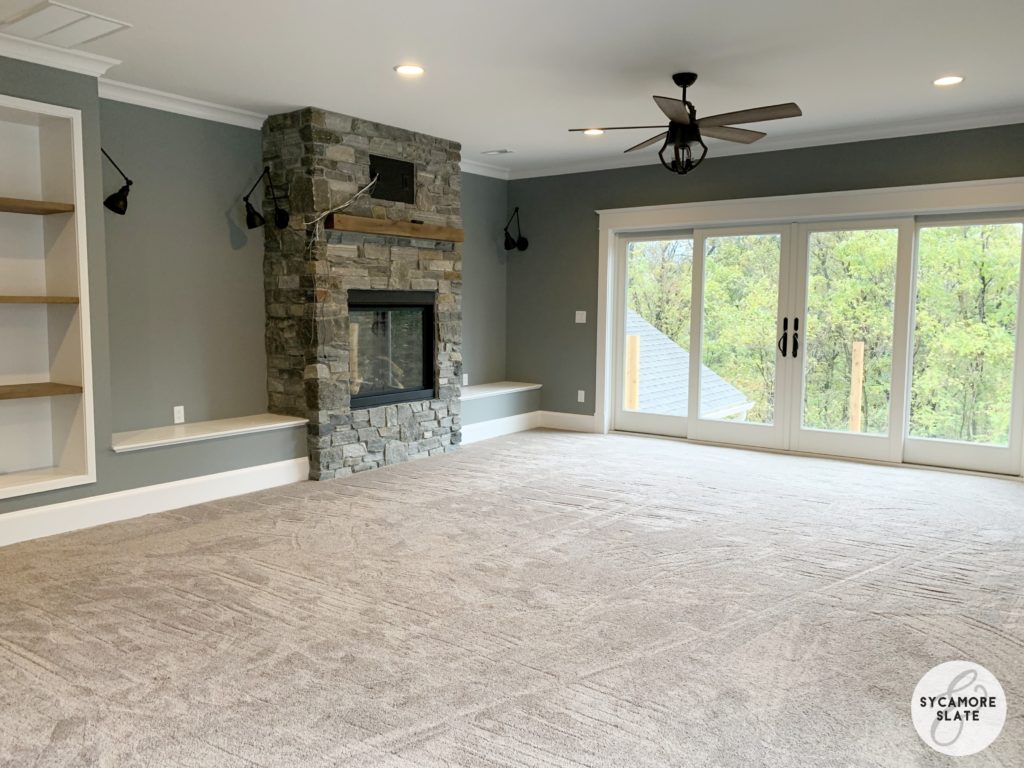 Perhaps most exciting: THE GRANITE !!! We ended up choosing a color called steel grey. It was installed in the kitchen, pantries, mudroom, laundry room, and powder bathroom! I love it so much and I'm actually glad that whole "rugged concrete" incident happened to us because I would have never initially even looked at this color granite, and I feel like it really is the perfect thing for our new home!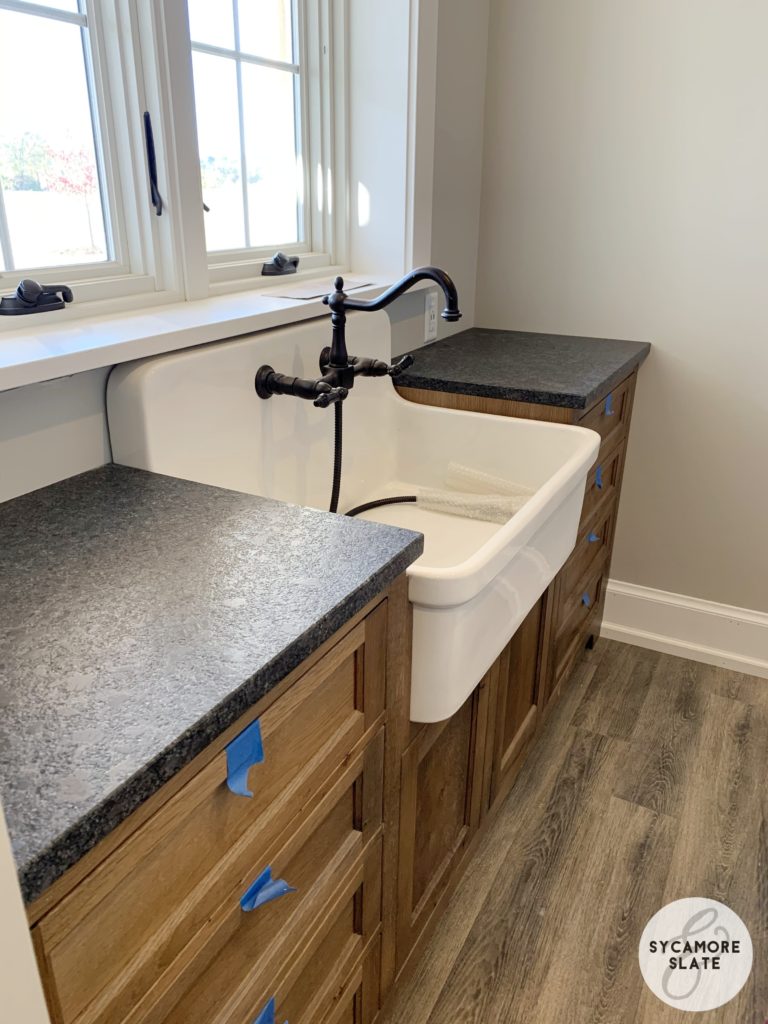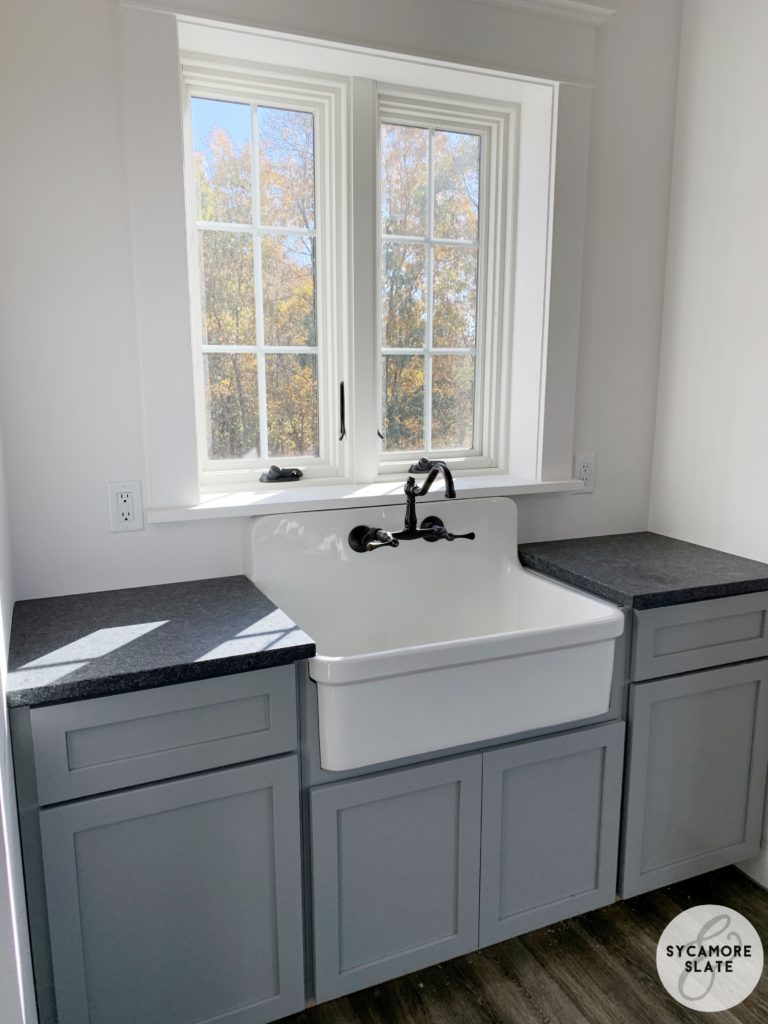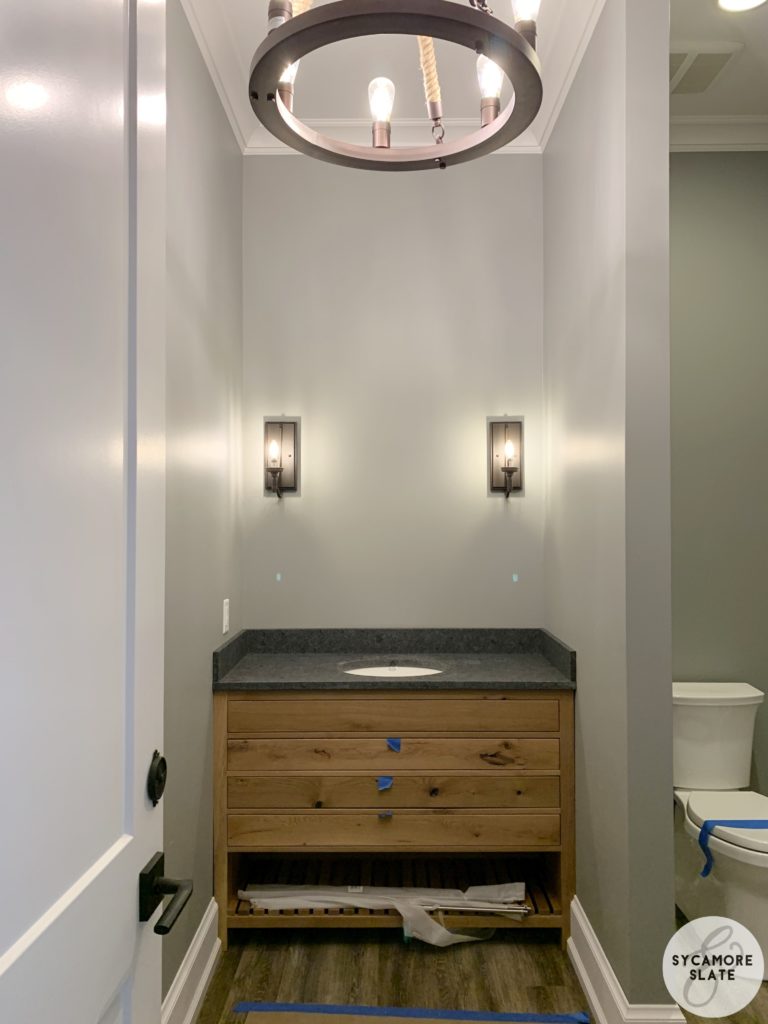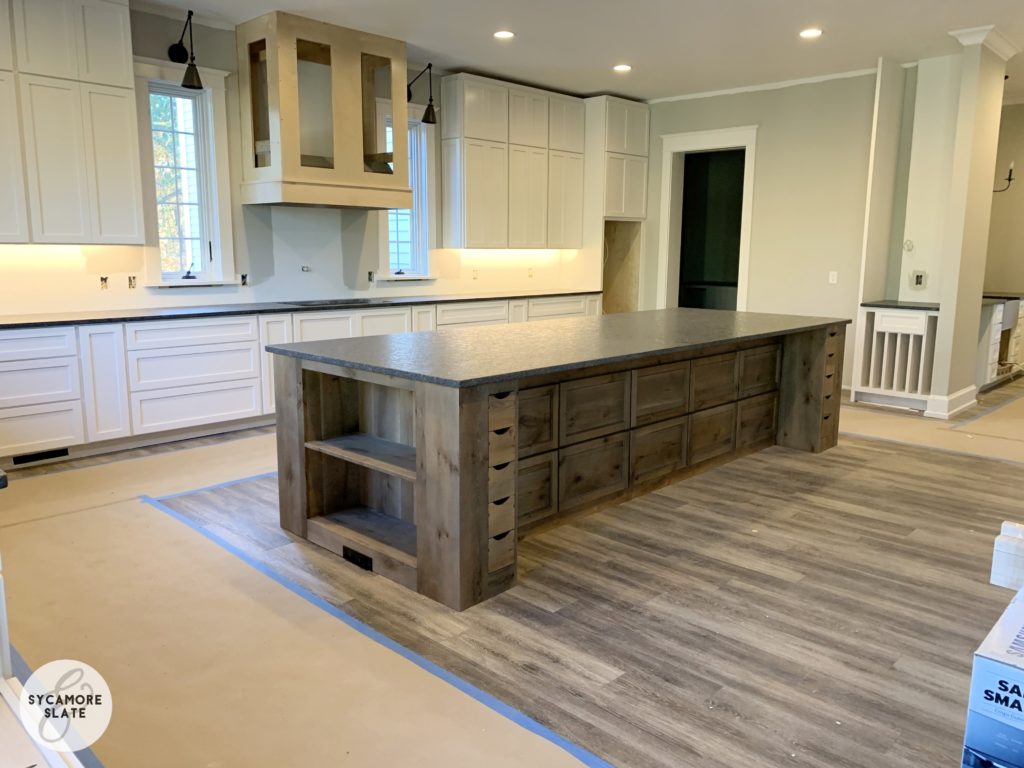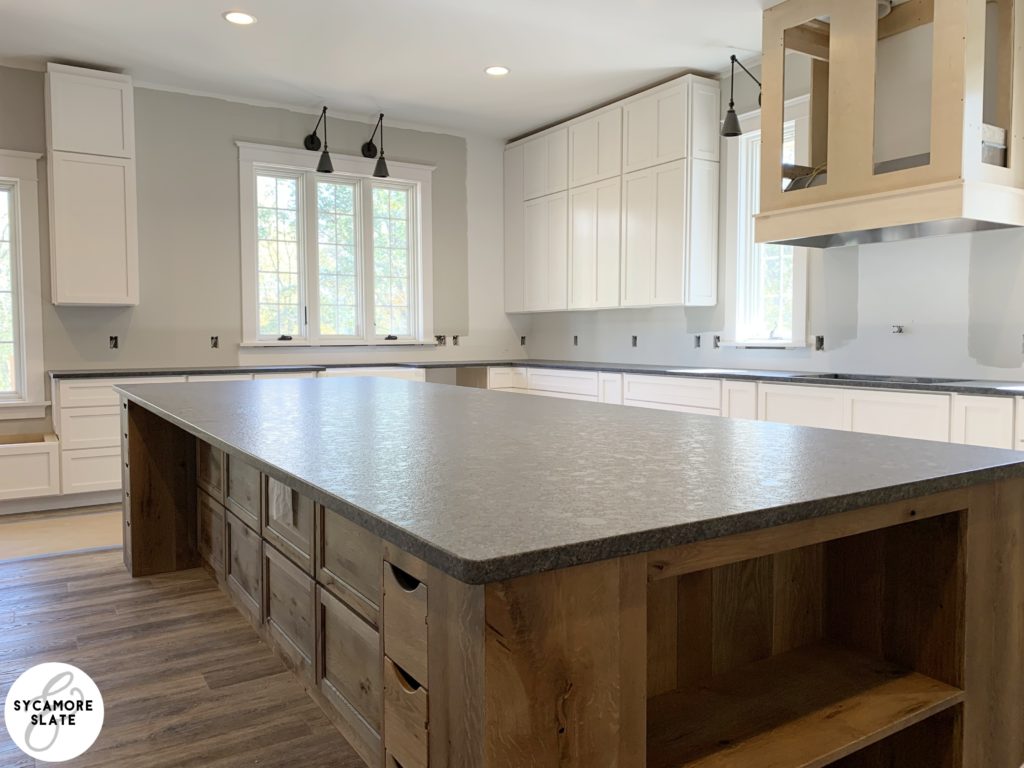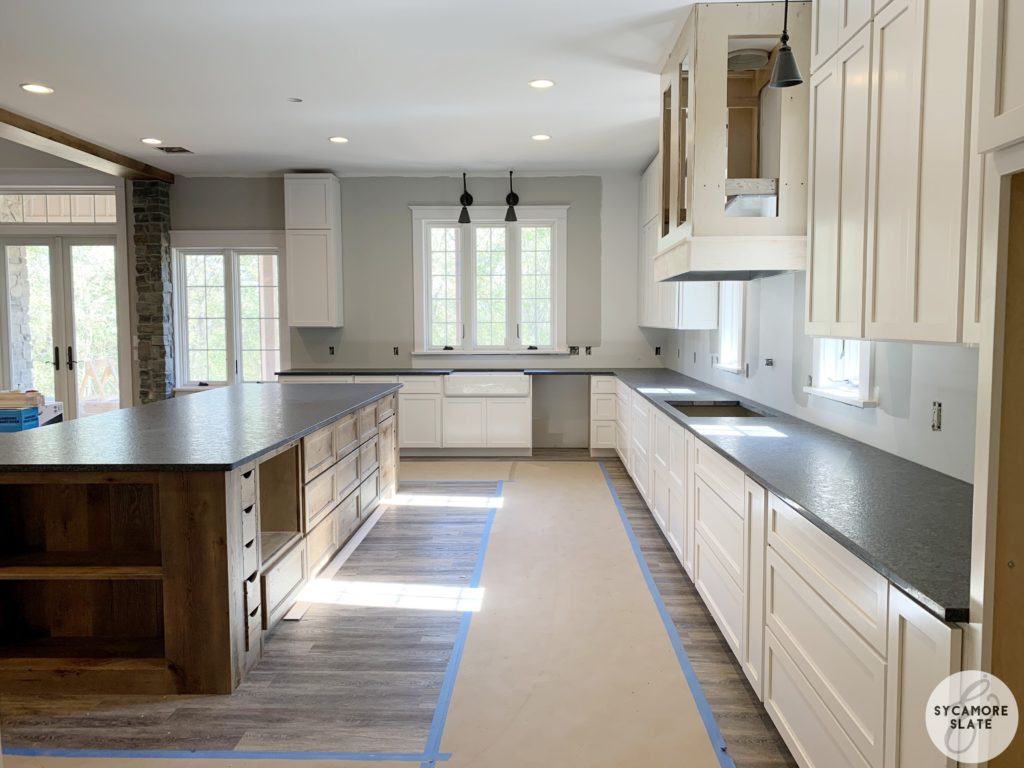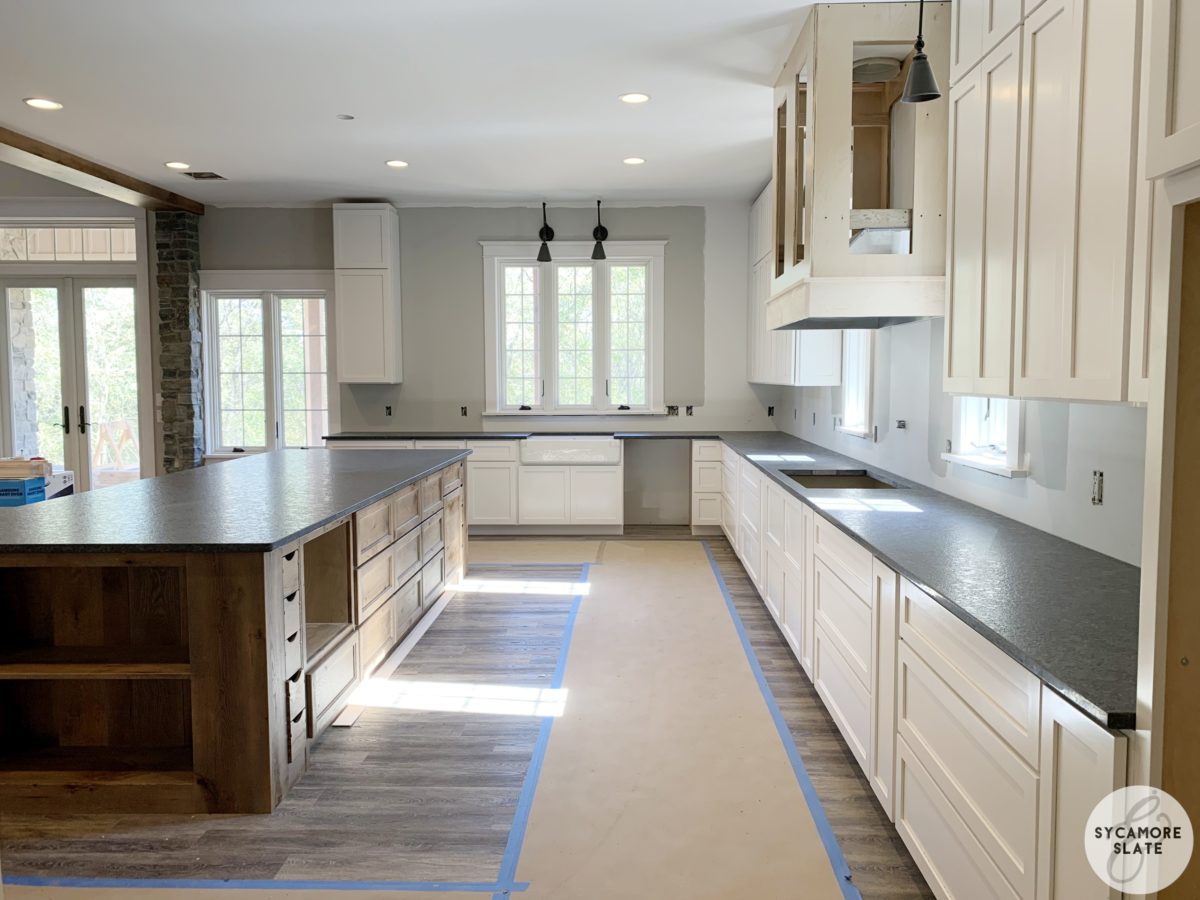 The playroom house-front got a good start, also, and I can't wait for the siding and paint to get finished. It's adorable, and consistently one of my favorite spaces in the house to see updates.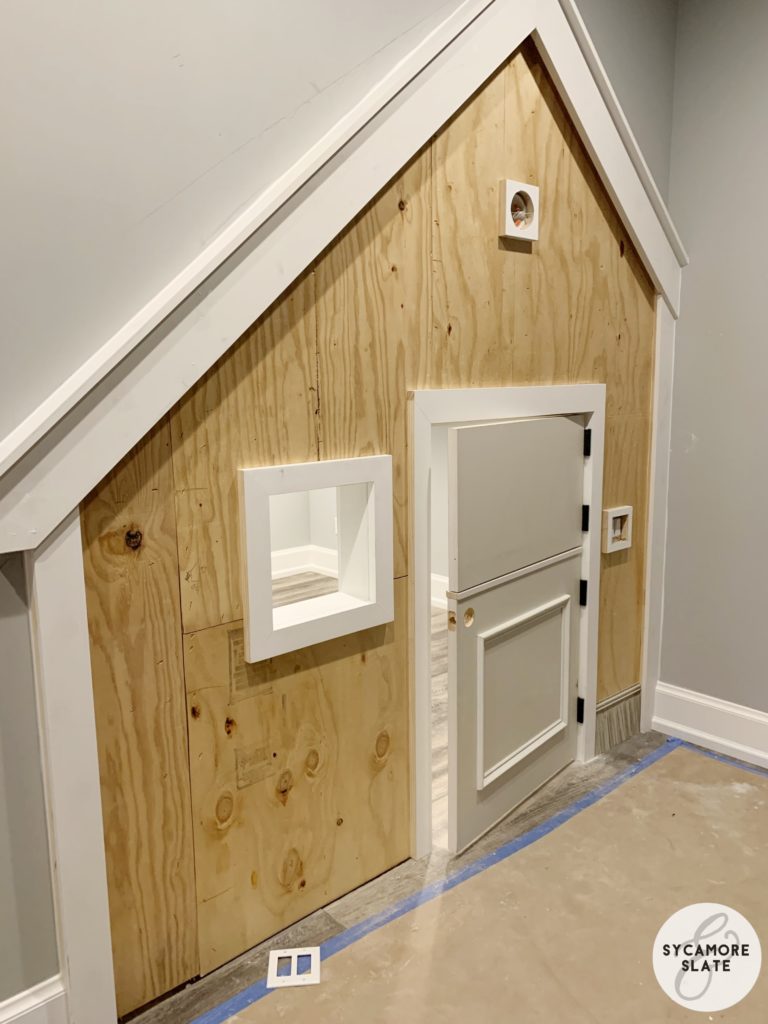 Lots of other little things got accomplished as well, like painting the garage ceiling and priming the walls for paint. Some more electrical work was completed in the kitchen. Barn doors started to go up until we discovered that they were all one inch too short and needed to be lowered, which required taking down the ones that were up, taking down the boards they get attached to on the walls, recutting, reinstalling, repainting, etc. before the doors can go up again! Hopefully next week we'll see honest-to-goodness installed barn doors. For now, they look beautiful just leaning against the walls…
I also put together Evie's new big girl bed, now that the carpet is in! She loves it so much and can't wait for the mattress which she reminds me constantly is not there yet.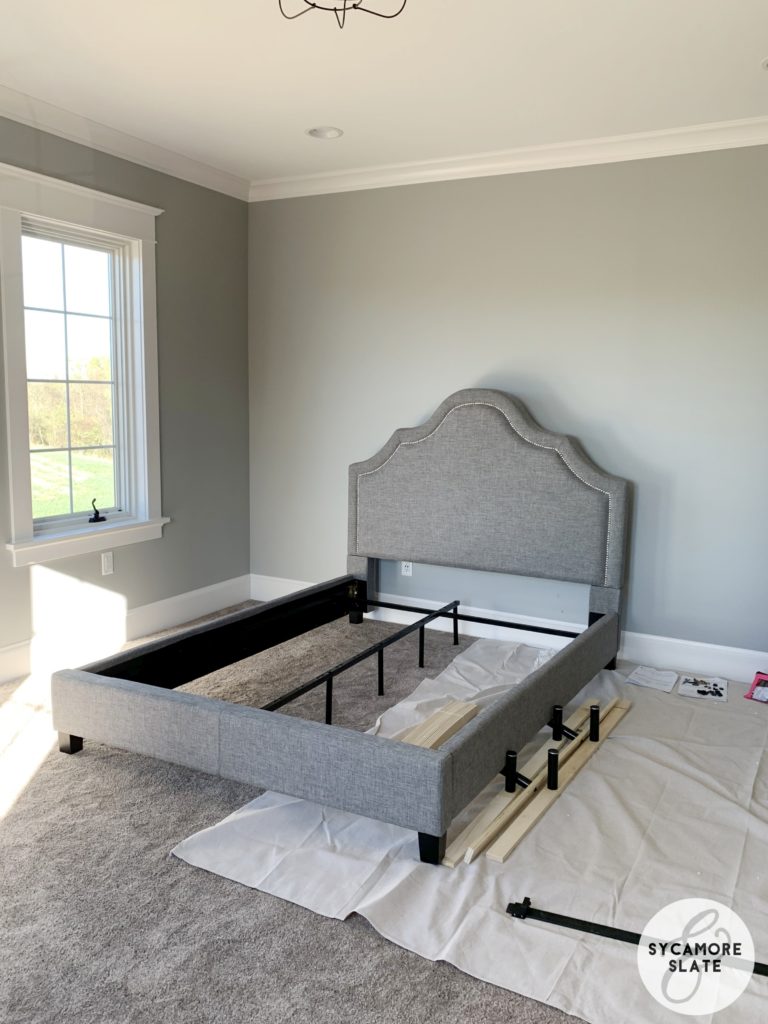 I did a LOT of cleaning, mostly windows, doors, and floors. I cleaned the windows and doors mostly because a lot of the jams took a major hit (literally) during the construction process, and we need to figure out what marks are just dirt and what marks are going to need some professional attention to fix. There are a lot that need professional help. So much so that we're thinking of having our painter sand down the factory finish that we special ordered and just refinish them all. The floors, I'm just trying to keep after so that the dirt and dust from construction doesn't get dragged all throughout the house.
That's it for this week!
Thanks for reading! Check out the house building section to see all the farmhouse progress we've made so far! You can sign up for my newsletter at the bottom of the page to receive an email as soon as I post an update!