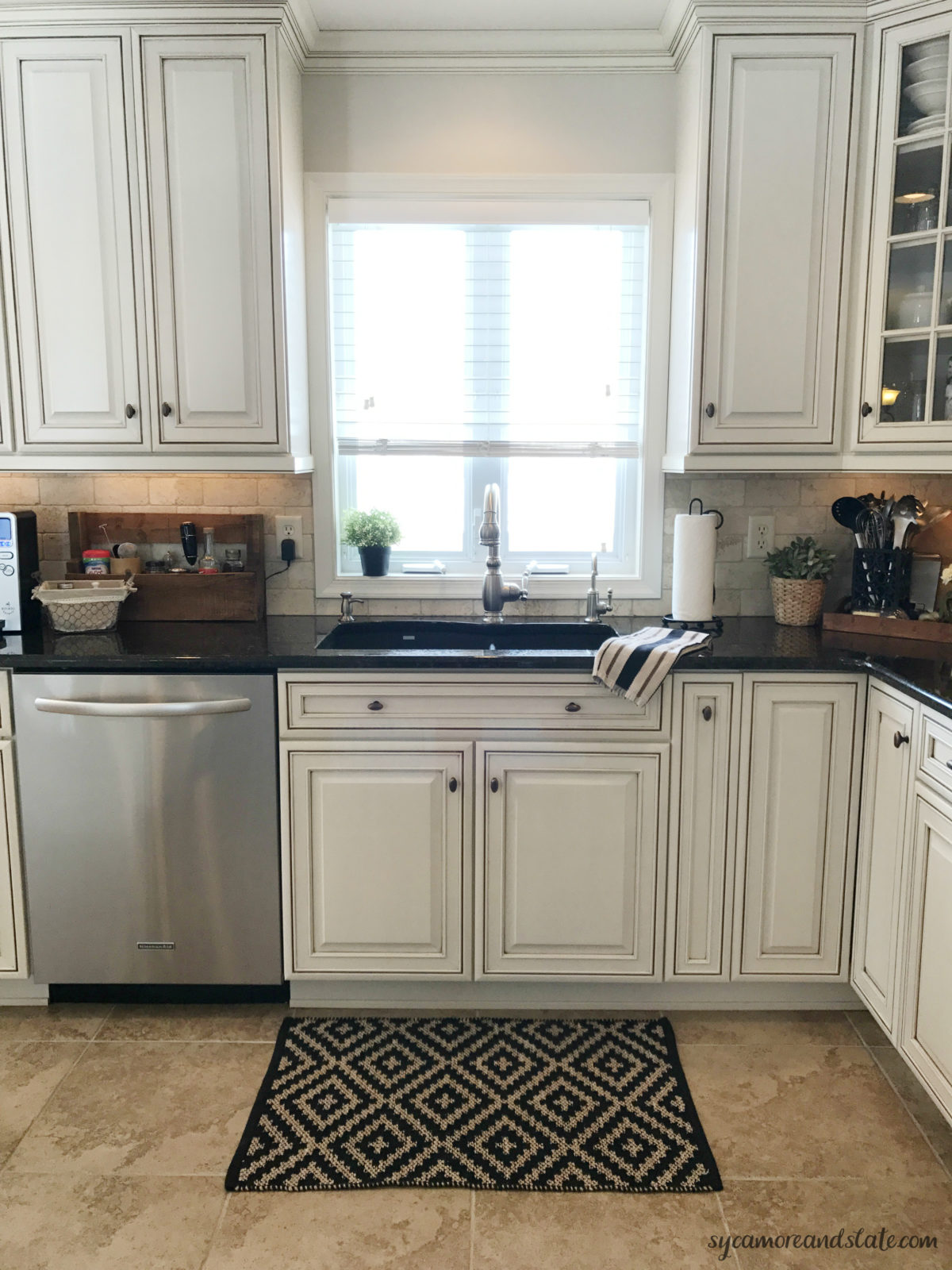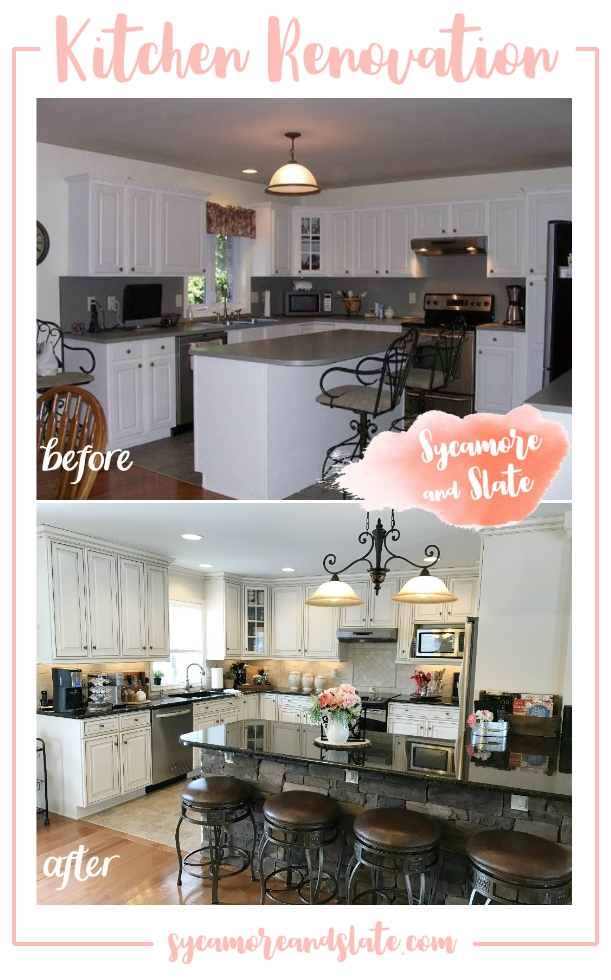 I love our kitchen now, but when we first bought this house, the layout just did not work for us.  This is what it looked like before: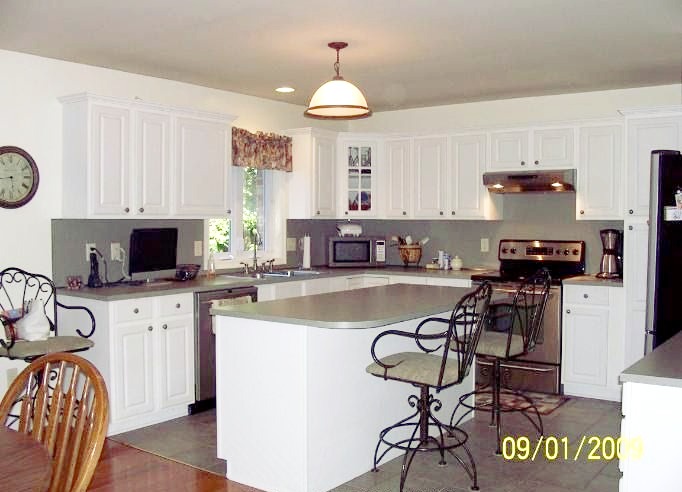 (This post may contain affiliate links.)
The right kitchen layout is so important to ensure that space will really function for you and your family.  Everyone uses their kitchen differently, so when possible, try to make sure the layout works for your specific needs.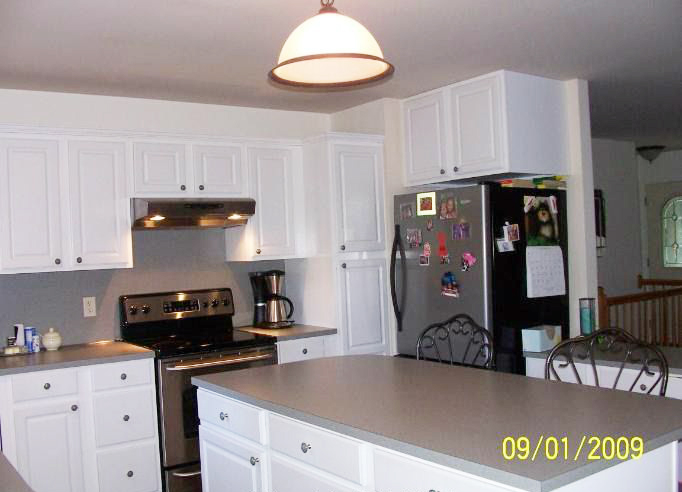 We all love kitchen islands. They are usually the perfect way to gain more counter space and eat-up seating.  But in certain situations, it just doesn't work.  This was the case for our kitchen.  The island just really didn't function well in the available space.
When you opened the dishwasher to put dishes in, the door just barely cleared the side of the island. The dishwasher separated the sink from the dining room, so when you finished a meal and were ready to clean up, you couldn't get to the sink while the dishwasher was open. You had to go the whole way around the island just to rinse that plate before sticking it in the dishwasher.
It was an easy decision to get rid of it.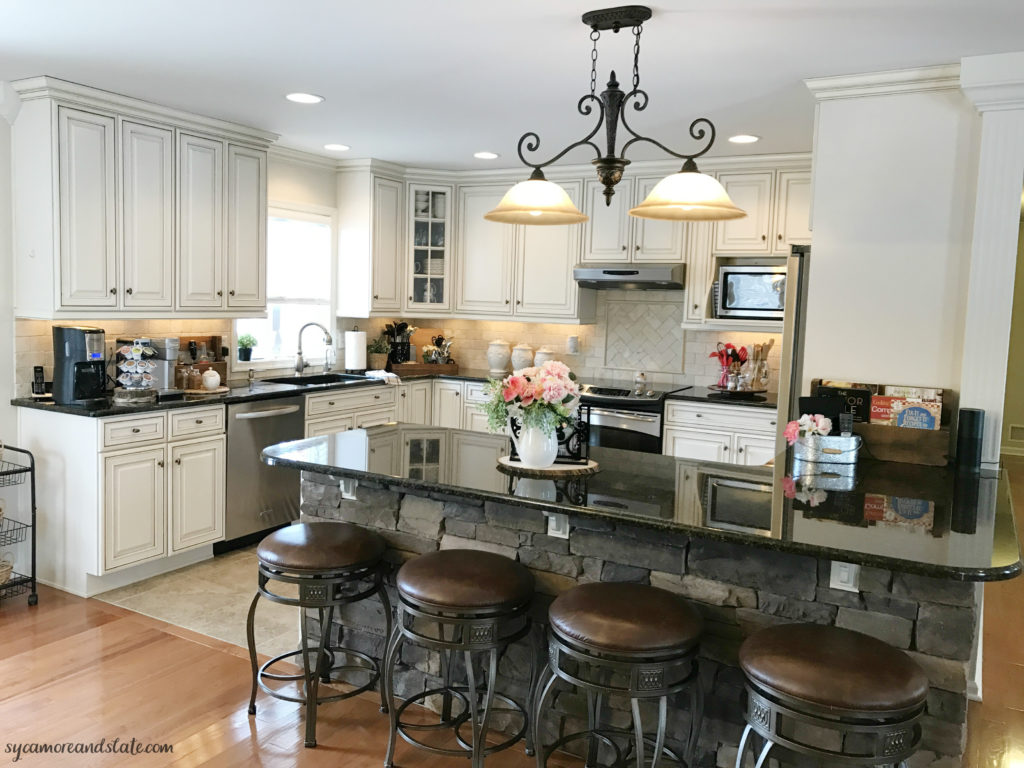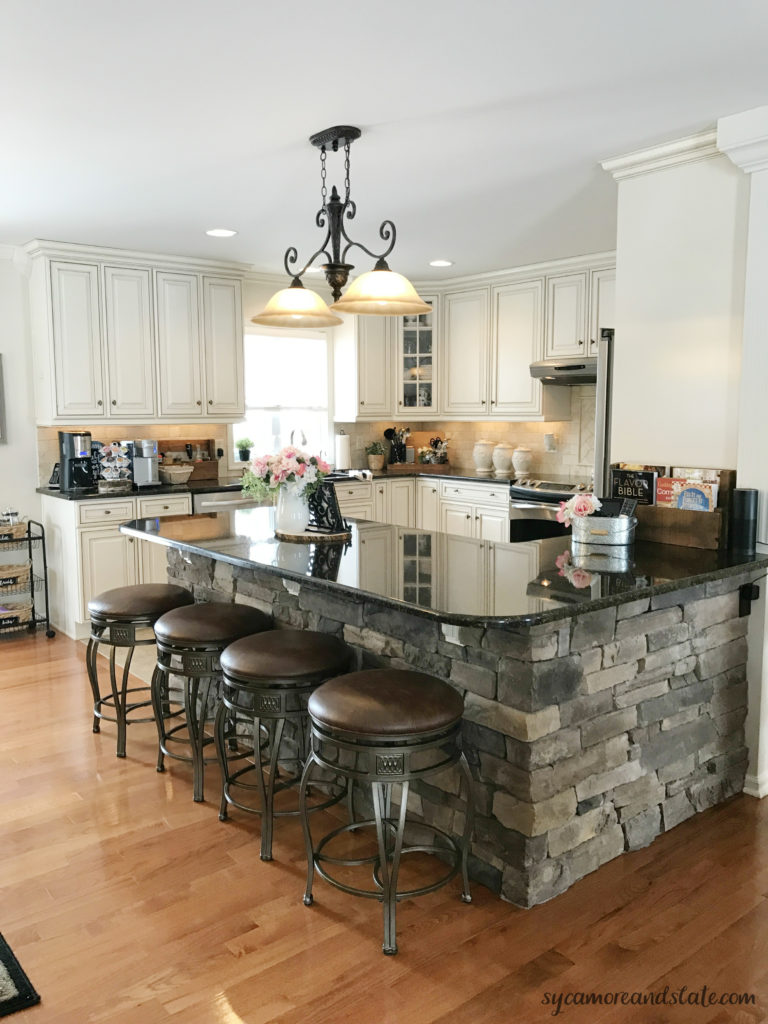 Instead of an island, we opted for a peninsula.  A big peninsula.  We use the 'kitchen side' for food prep and additional cabinet storage, and the 'dining room side' as an eat up bar.  This is the perfect spot for breakfasts, quick lunches, DIY projects, and coloring with my toddler.
Where they could only fit two barstools here before, we now have room for 4 bar stools.
The peninsula is also the perfect place to serve a buffet style meal.  Since it's right beside the dining room, it does double-duty as a server.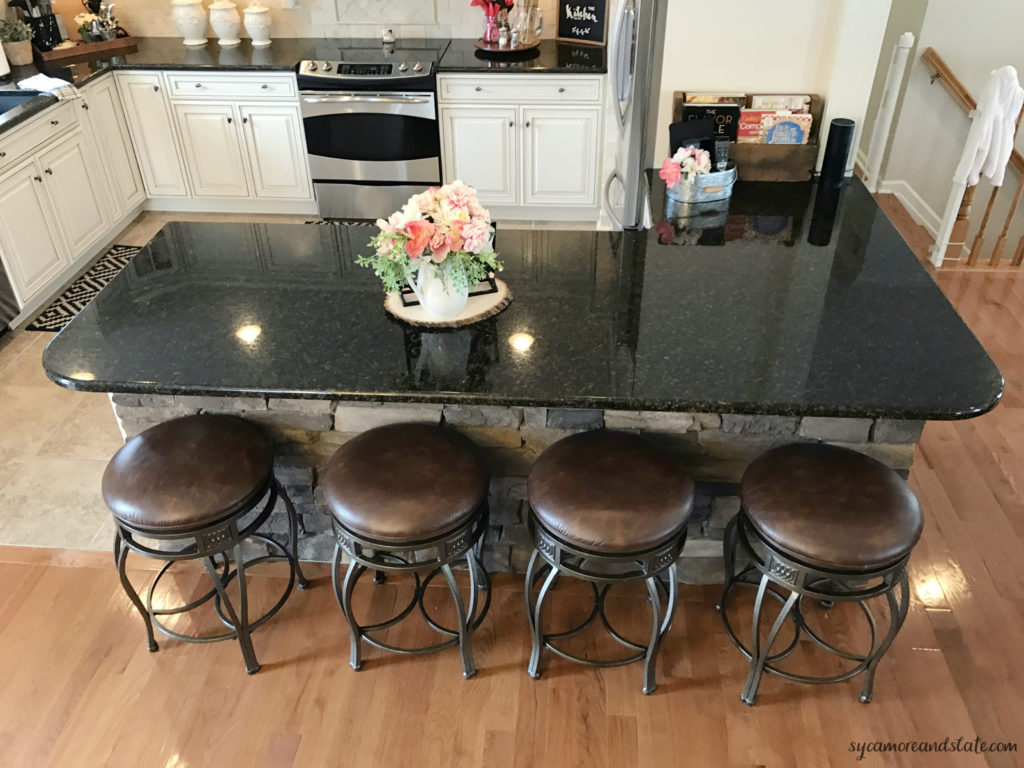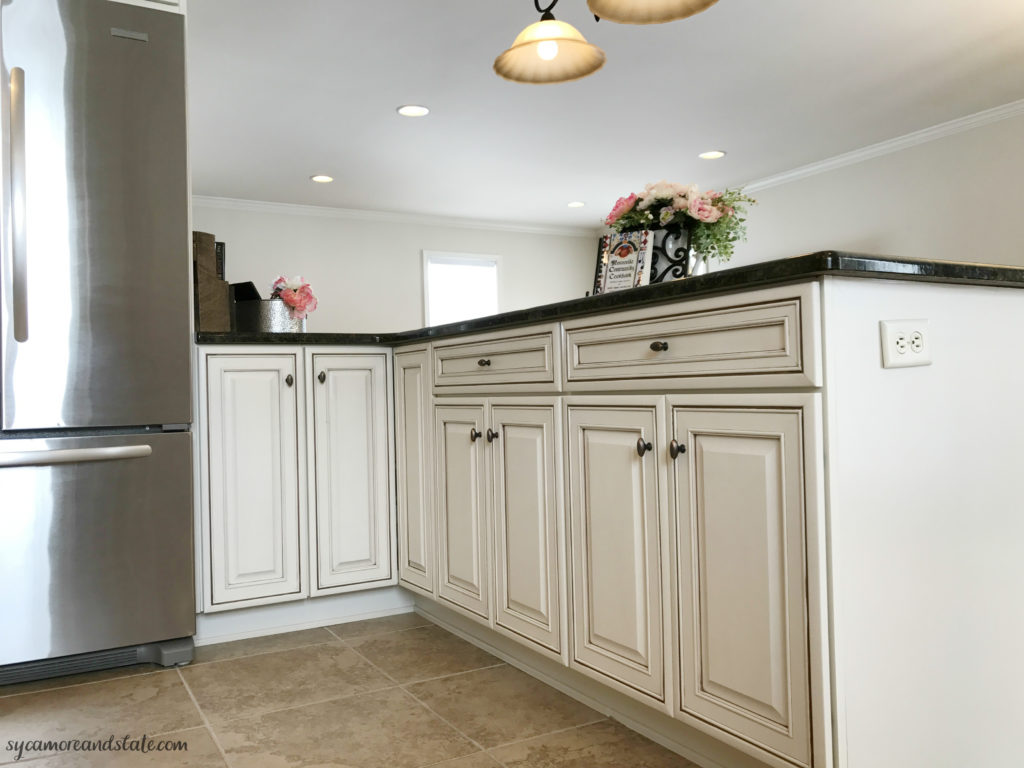 Another good consequence of taking out the island was more room to maneuver.  It was pretty difficult for two people to work efficiently in this space before, without constantly getting in each other's way and creating a "roadblock".  Now there's an open space of 7 by 10 feet!! You could put an entire family to work in there now!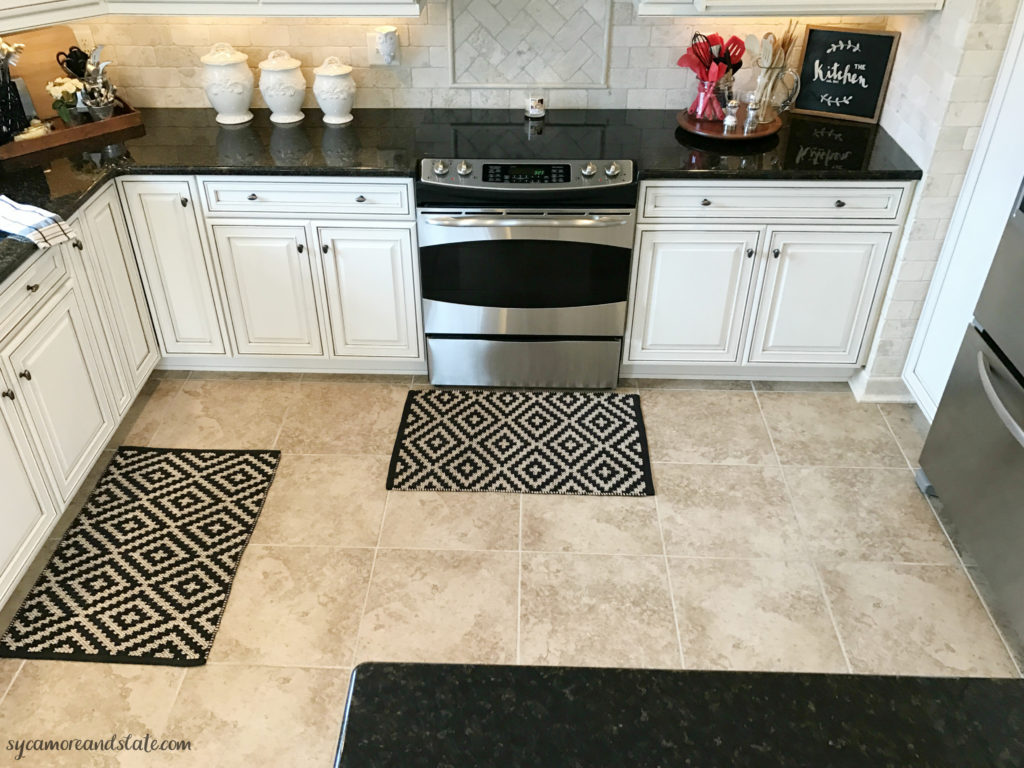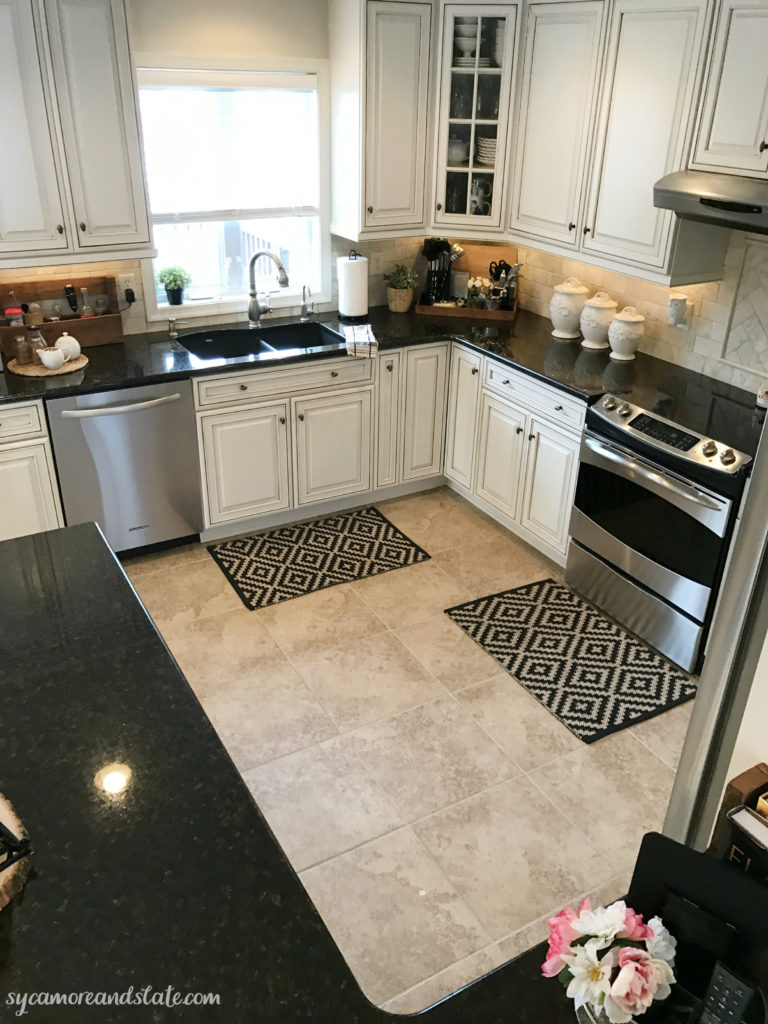 We also added about a foot and a half to the length to the wall behind the refrigerator, which let us slide the fridge over and gave us a new space for a full floor-to-ceiling pantry.  Before, the pantry sat perpendicular to the refrigerator and opening one of the doors meant the other was completely blocked.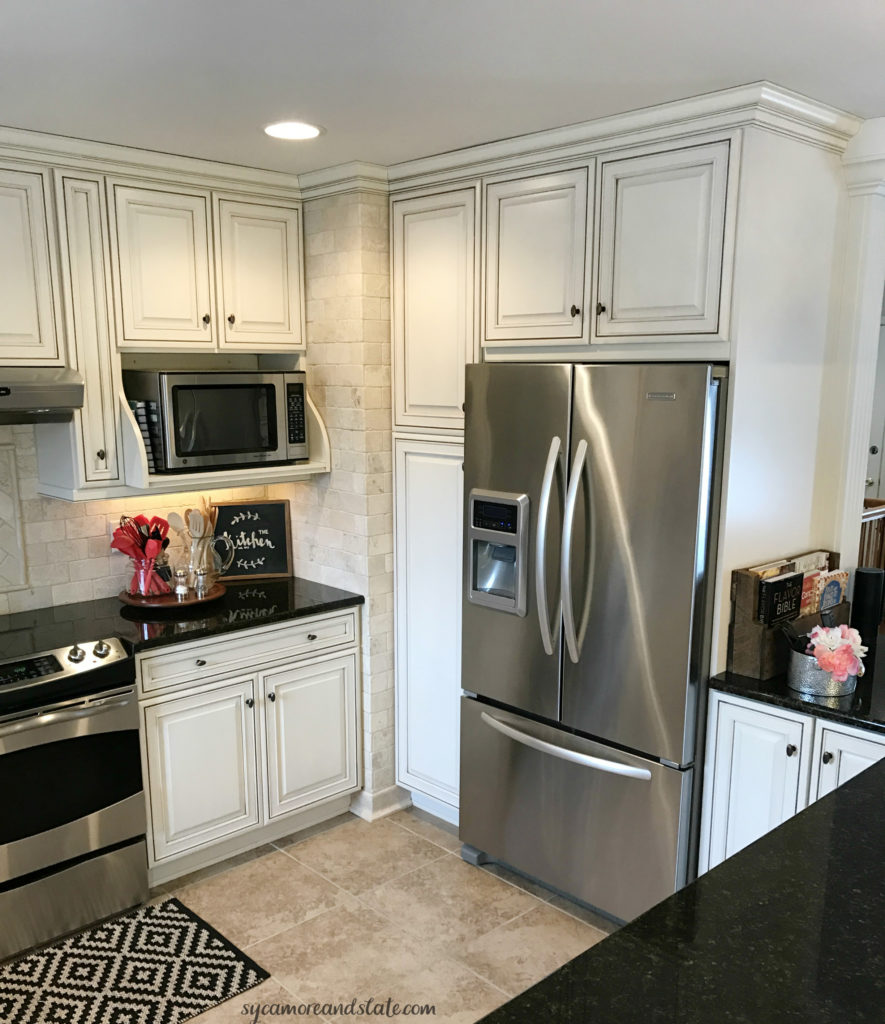 Then we ripped out all the other existing cabinets and arranged the new ones for maximum storage. One way we accomplished this was by taking the upper cabinets the whole way to the ceiling, gaining an entire extra shelf throughout the whole kitchen.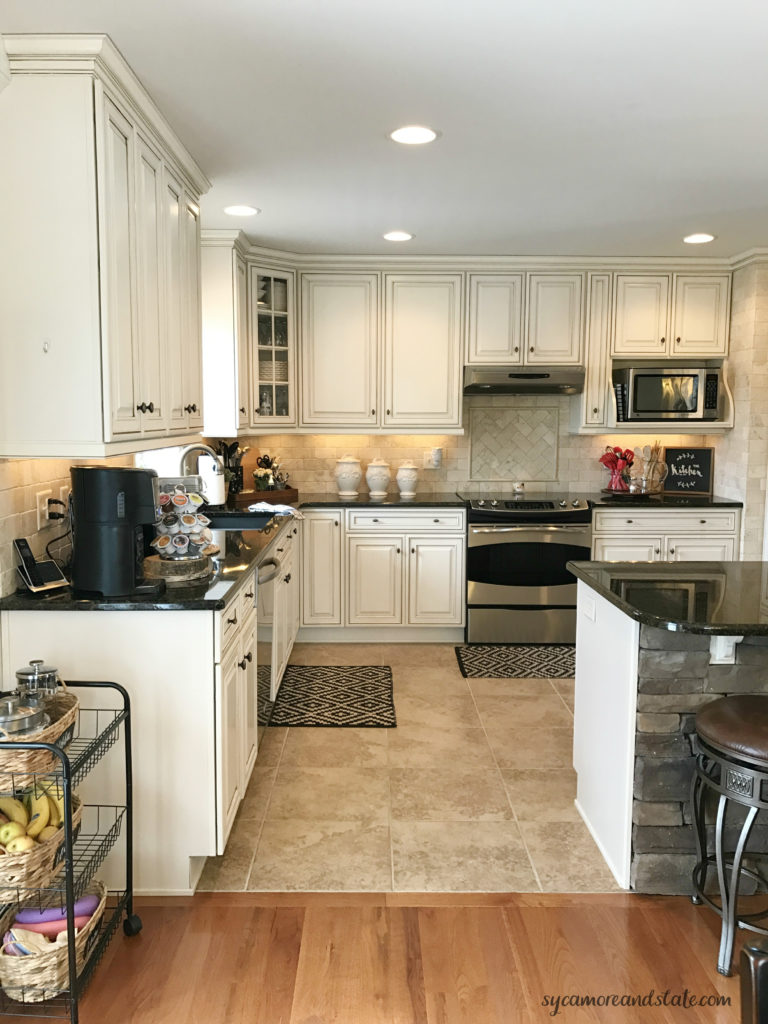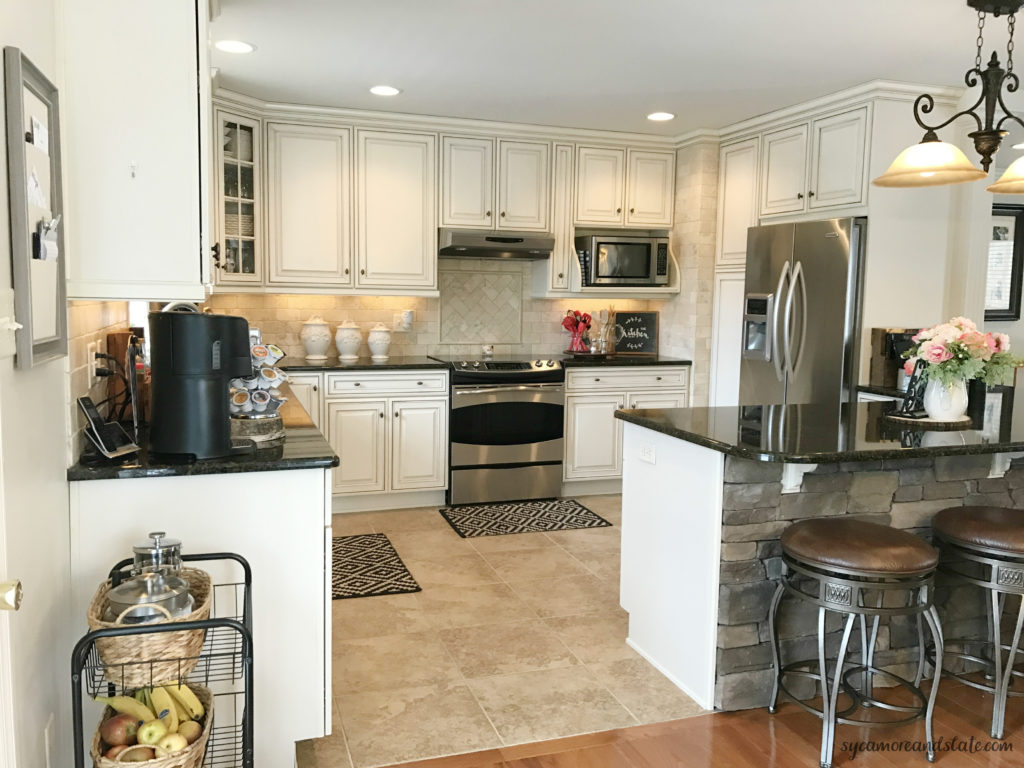 We also were able to add in some custom cabinetry in areas that would have otherwise been "dead-space" which gave us a few really neat and creative storage options. There are now two pull out slim drawers, one by the sink and one by the stove.  We utilized the one by the stove for spices.  The one by the sink has my collection of tea in it.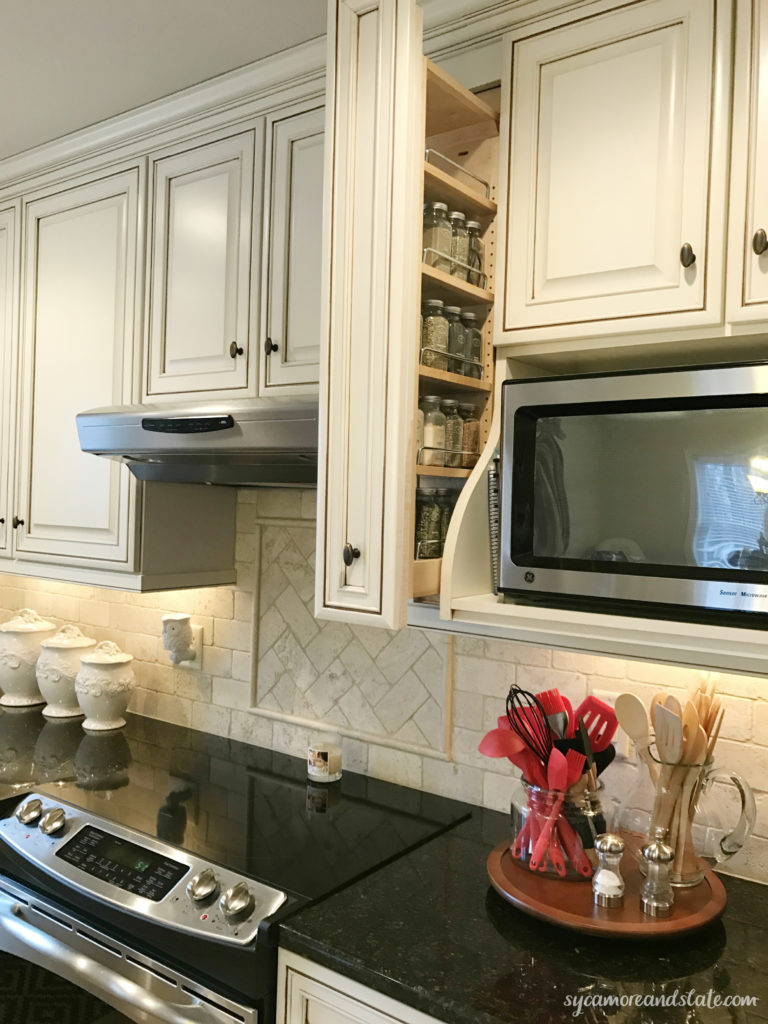 We switched out the appliances with all new ones, but we left the stove, sink, and dishwasher in the same place. The microwave got its own custom built-in wall shelf, which freed up even more room on the countertops.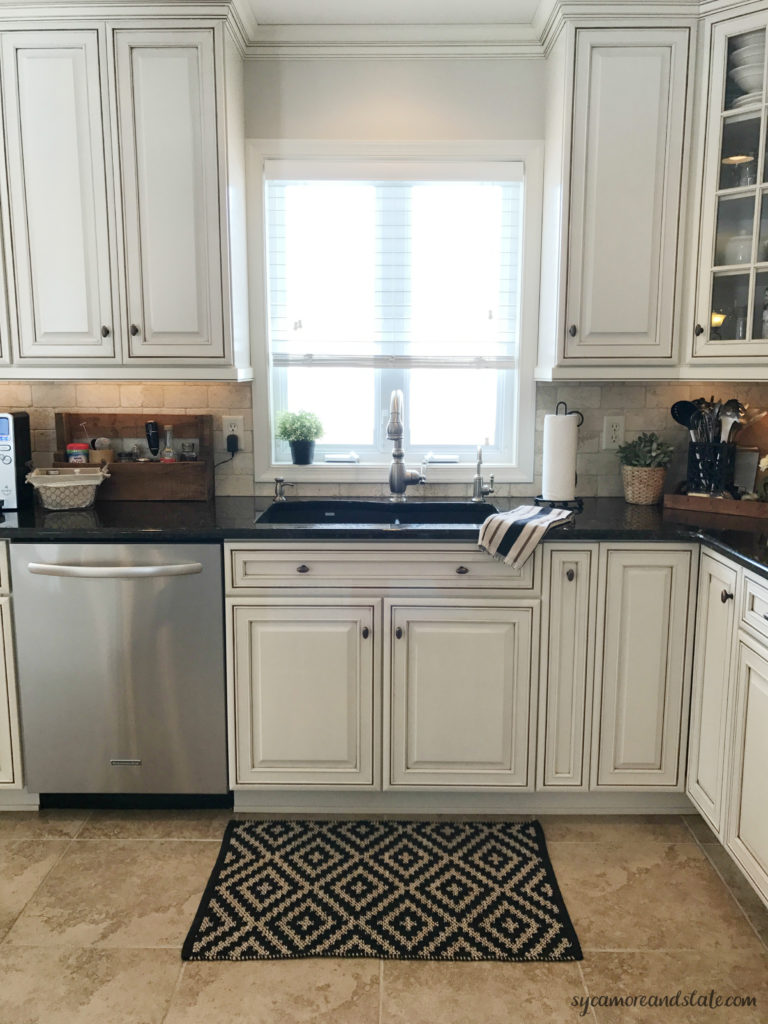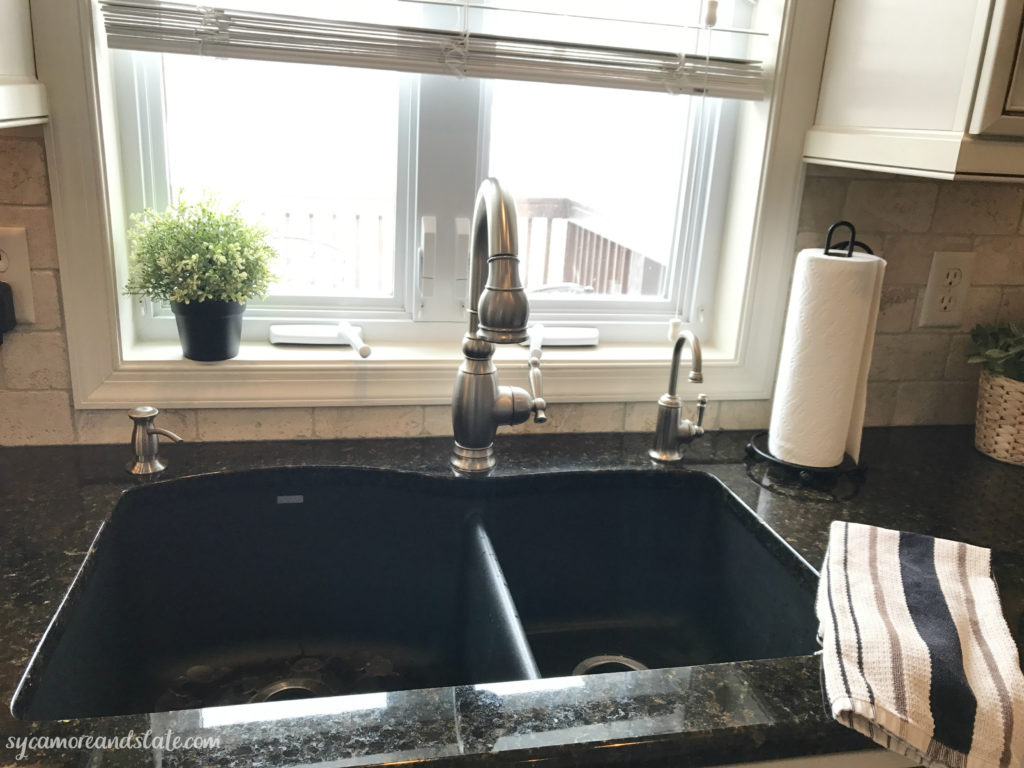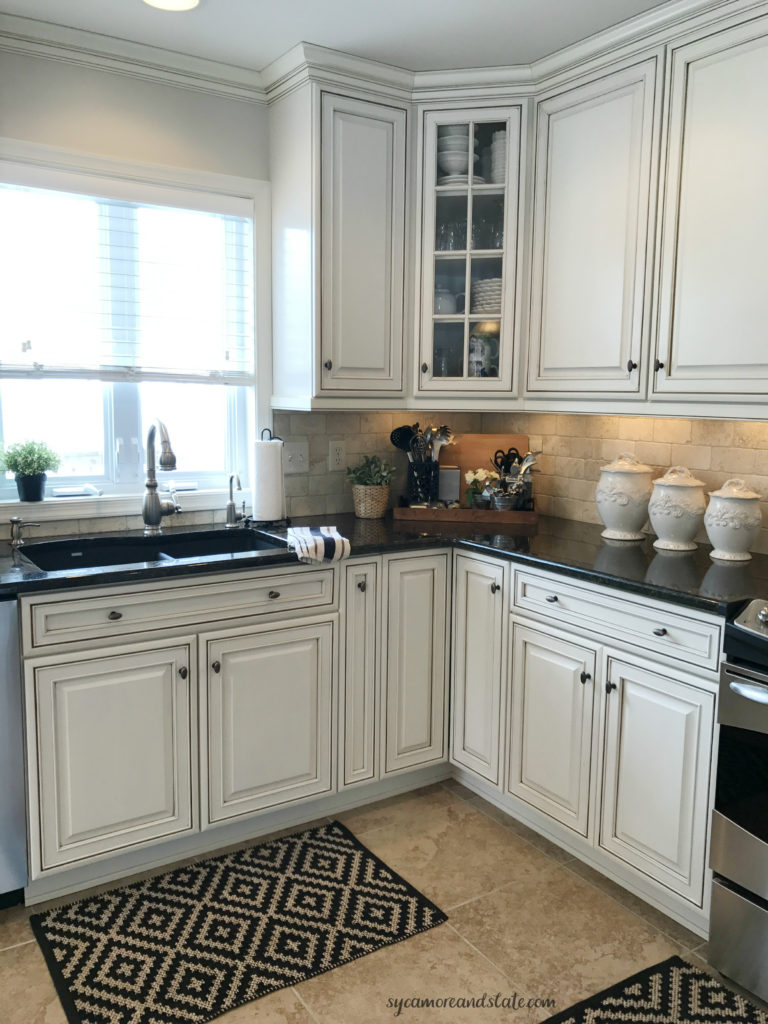 Other changes to the kitchen include a new ceramic tile and a subway-style travertine backsplash.  One area I love is the corner of the kitchen between the microwave and fridge.  This whole wall sticks out a few inches, but instead of just painting it, we ran the backsplash from floor to ceiling here and I think it ties the whole room together so prettily.
We ran the same tile in a herringbone pattern as a focal piece behind the stove.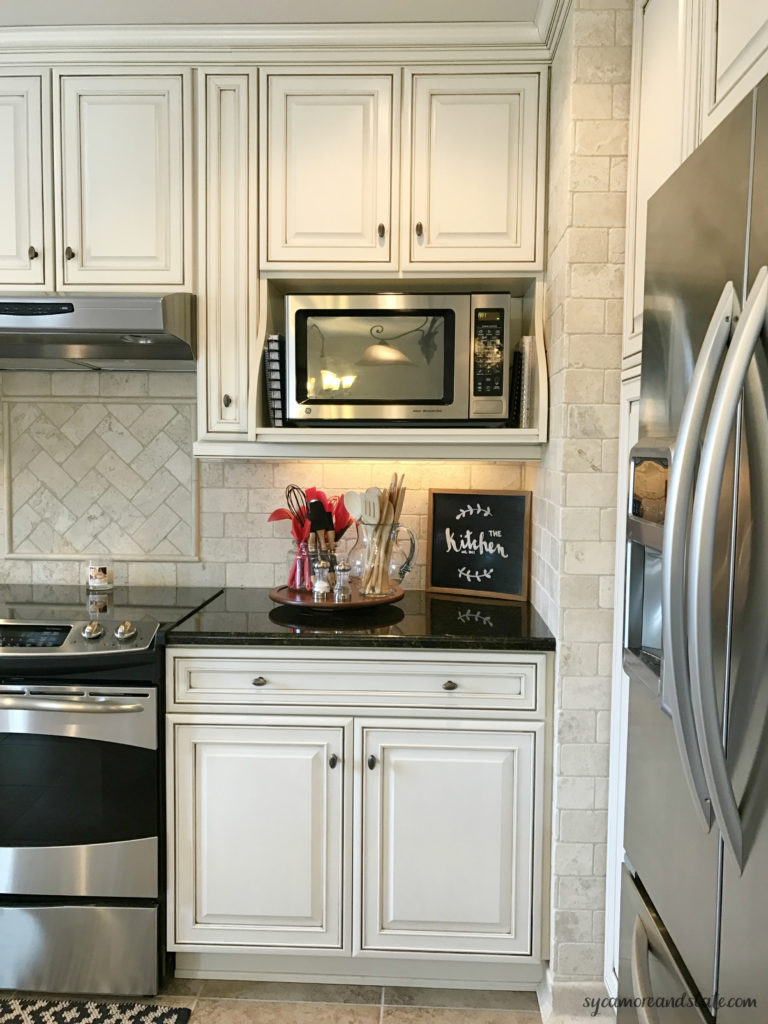 Our cabinets are "white" but not a super-pristine white.  They're actually a little off-white and they have a grayish-brown glaze that really gives them some character.  This coloring has also really helped to hide any imperfections and uh-ohs that have occurred since they've been installed.  But you still get that gorgeous look of a white kitchen.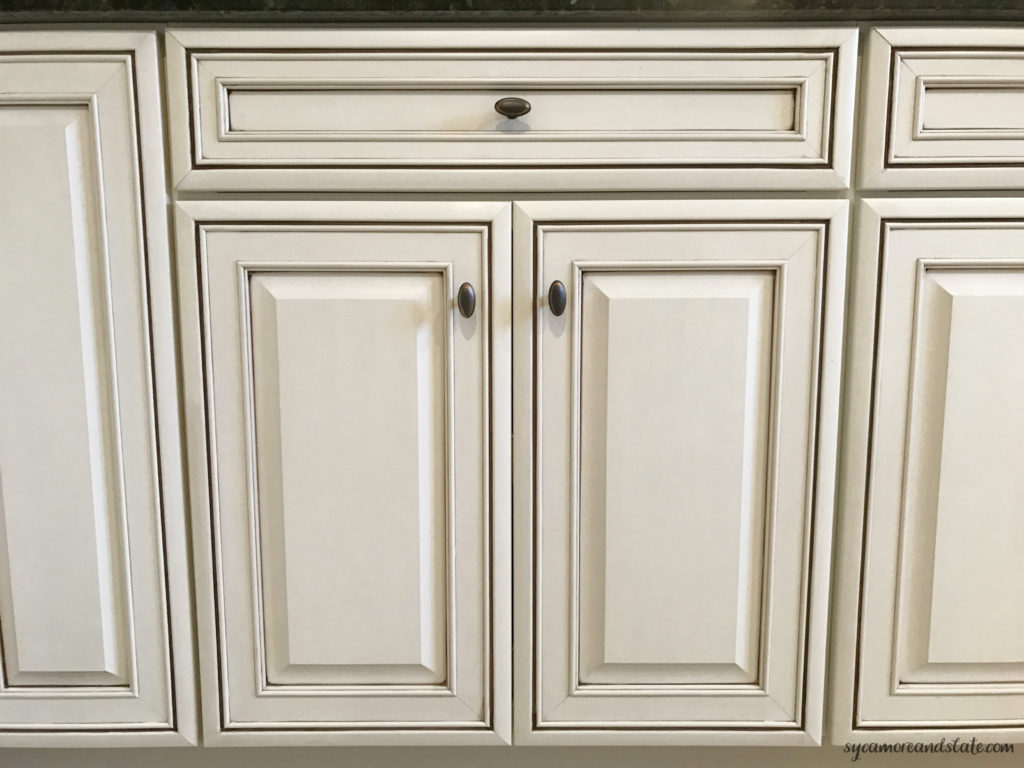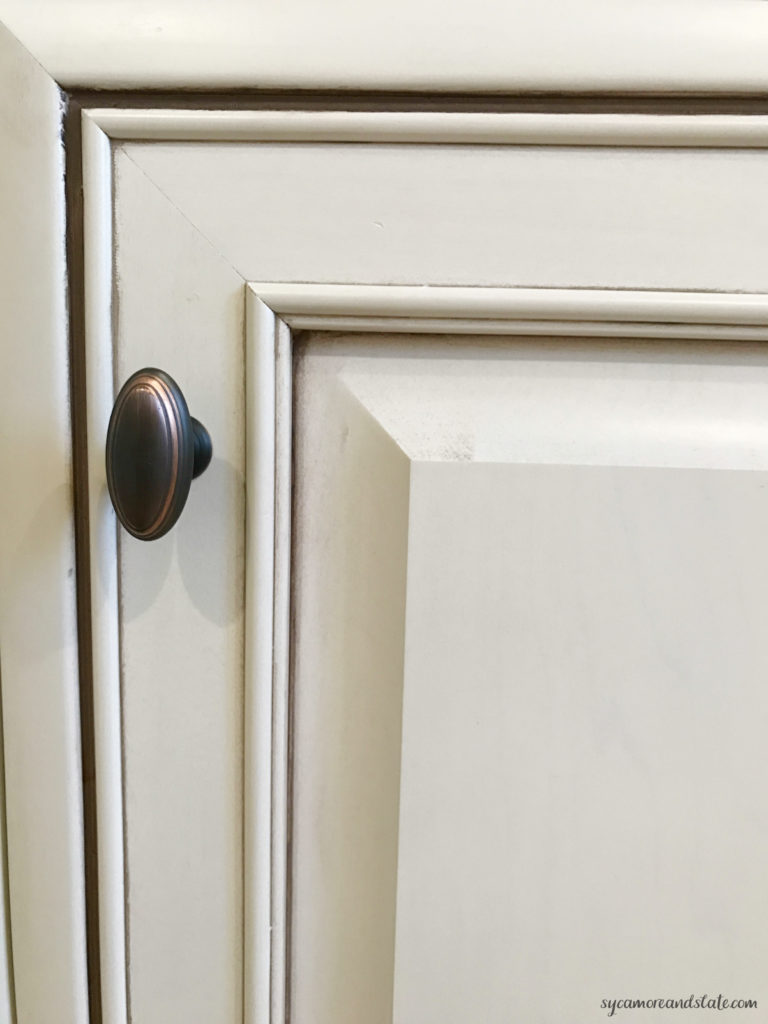 We installed granite on the countertops and peninsula.  We got this from a local company.  The color is called Ubatuba.  It's a really pretty black granite with lots of brownish splotches and glittering white-ish specks.  It's extremely difficult to take a good picture of the granite since it's so shiny and reflective, but just to give you an idea of the color: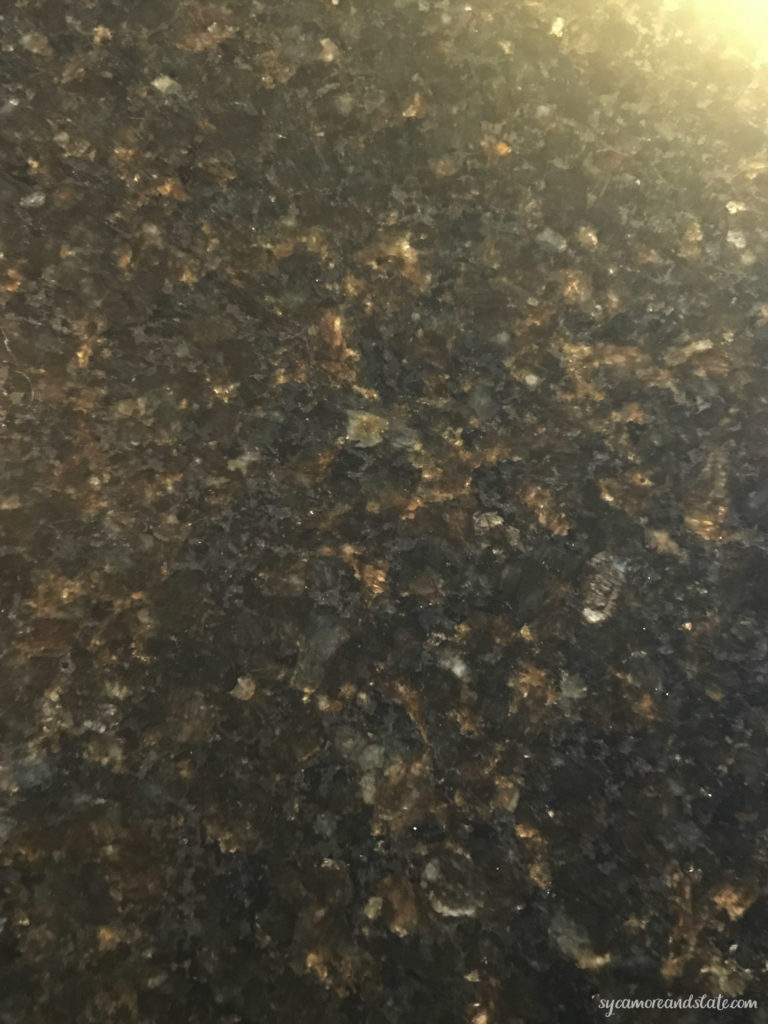 We added recessed lighting in the ceiling to make the space brighter.
We also had to add a new light fixture over the new peninsula, and we opted to go with one that matched the dining room chandelier that was already there in order to save a little money.  It's definitely my least-favorite thing in the kitchen, but it works.  Doing it over, I'd definitely just change both fixtures out for new ones.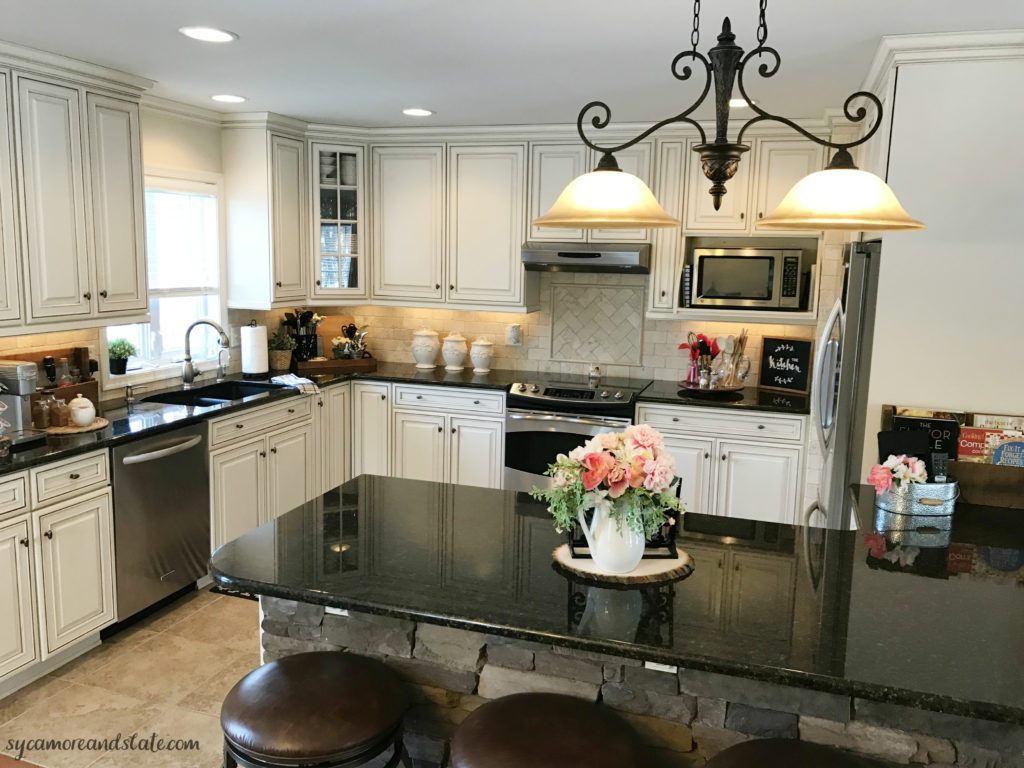 There are a few smaller details that really make this kitchen function beautifully.  Lights under the upper cabinets make the room brighter and make it easier to see what you're doing.  We added two additional outlets into our peninsula, one on the front side and one on the opposite end.
I keep my stand mixer in the last cabinet in the peninsula and having that outlet there is so nice.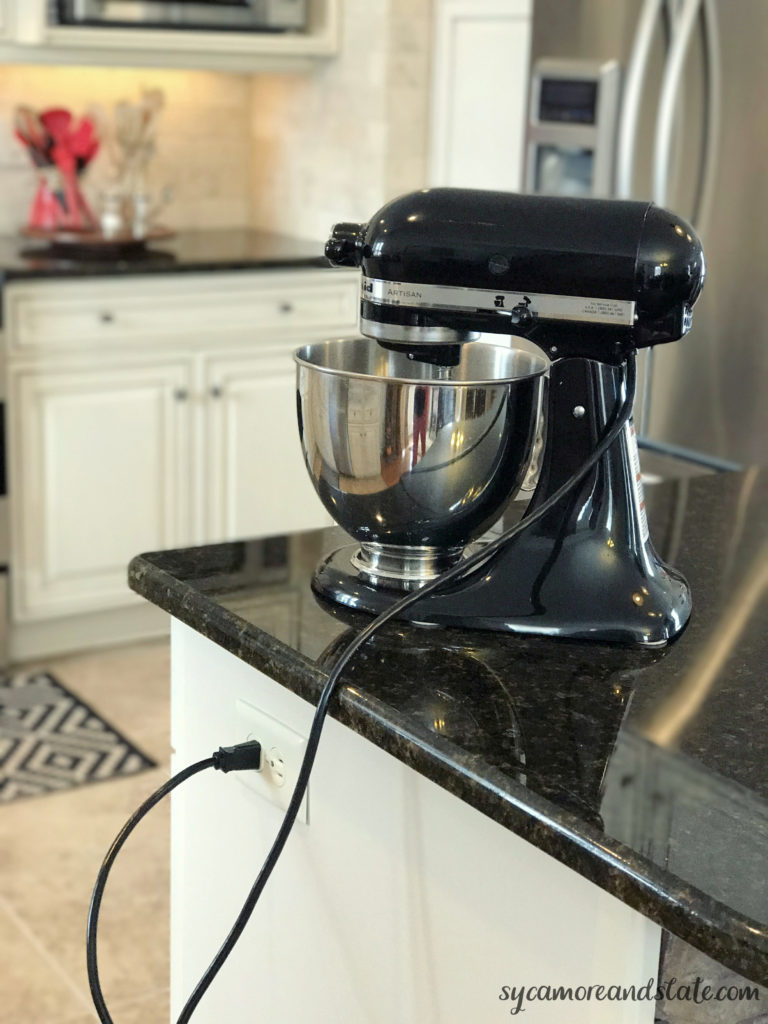 The other outlet is where we plug in our Amazon Echo.  I honestly and completely believe this is one of the greatest inventions ever and I can't envision my kitchen without it.  I literally talk to Alexa all the time. We are BFFs.  She reads me my kindle books while I cook.  We listen to Prime Music.  She tells me how many tablespoons are in 3/4 cups when I need to halve a recipe.  I can even tell her to turn on and off the lights without ever needing to touch a light switch with my food-covered fingers.  If you don't use Alexa yet, you REALLY need to give it a try.  You can also get an Echo Dot, which does everything that the Echo does,  for under $50!  Seriously. But now I'm off on a tangent…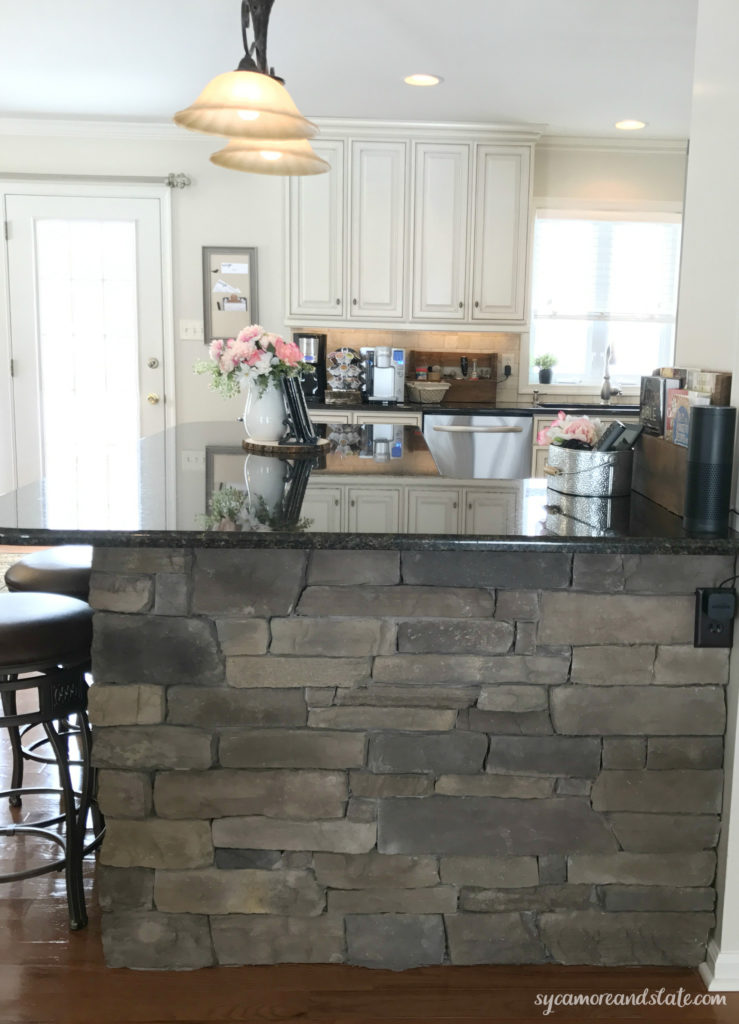 We also added a kitchen cart for a little extra storage of the things we use most often.  It's incredibly useful and perfect for the little corner it's tucked into.  It's a super light-weight cart that rolls for easy movement. The top and bottom baskets are even removable so I can easily take them from place to place as needed.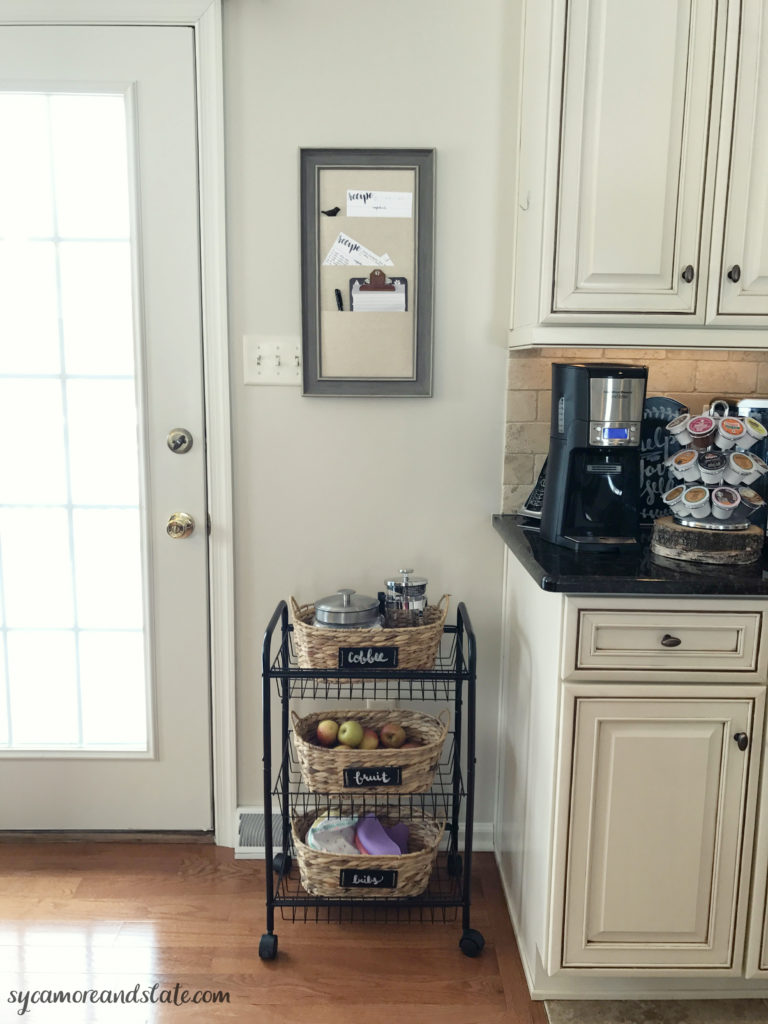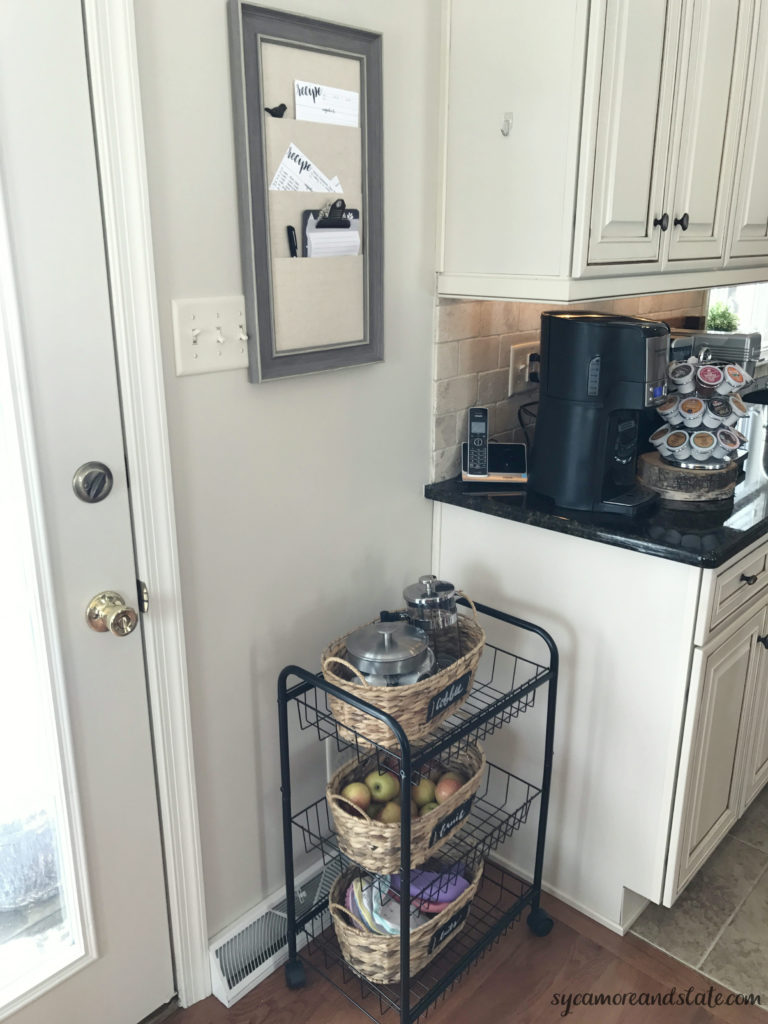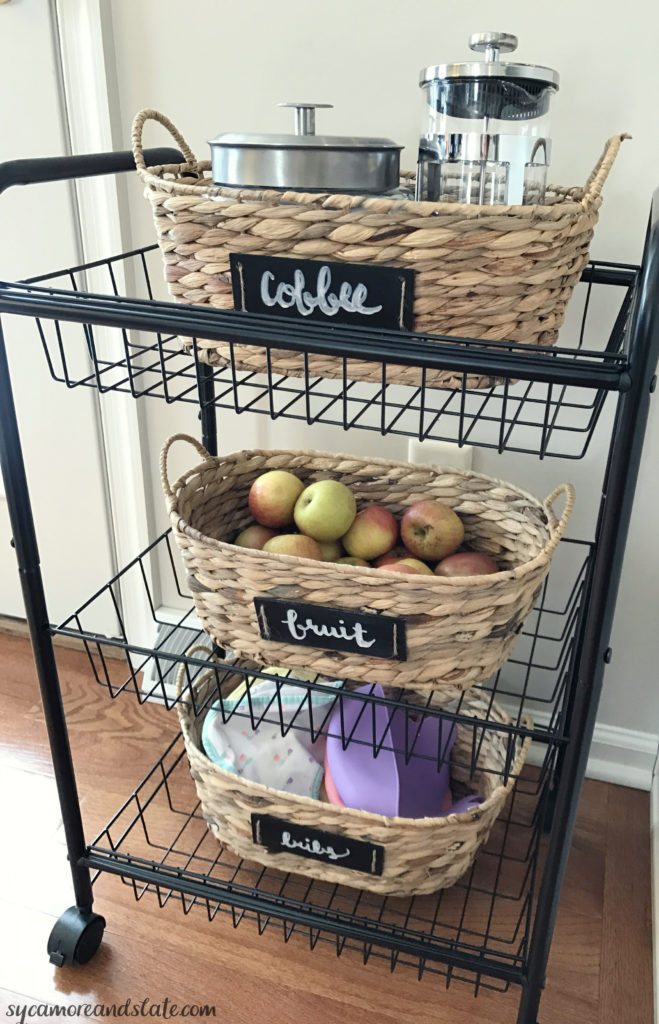 Here's the exact link to the cart I got, which is currently out of stock.  I love love love kitchen carts.  They're so versatile and so cute.  They really help create the country or farmhouse feel in any kitchen.  Here are a few other options that I'm totally in love with… (click the pictures for more info!)
And also some lighter options, which are gorgeous, too:

I could look at kitchen accessories all day, but I probably shouldn't.  I probably should go use my kitchen accessories to actually feed my family. But I don't mind working in this kitchen. Not at all. It really is my favorite place in the house.
If you're wondering about some of the kitchen products and decor from this post, I'm compiling a list of what we used and I'll link you to that post once it's finished.
Thanks for stopping by.  Hope you had fun hanging out in my kitchen today!  Come back soon!