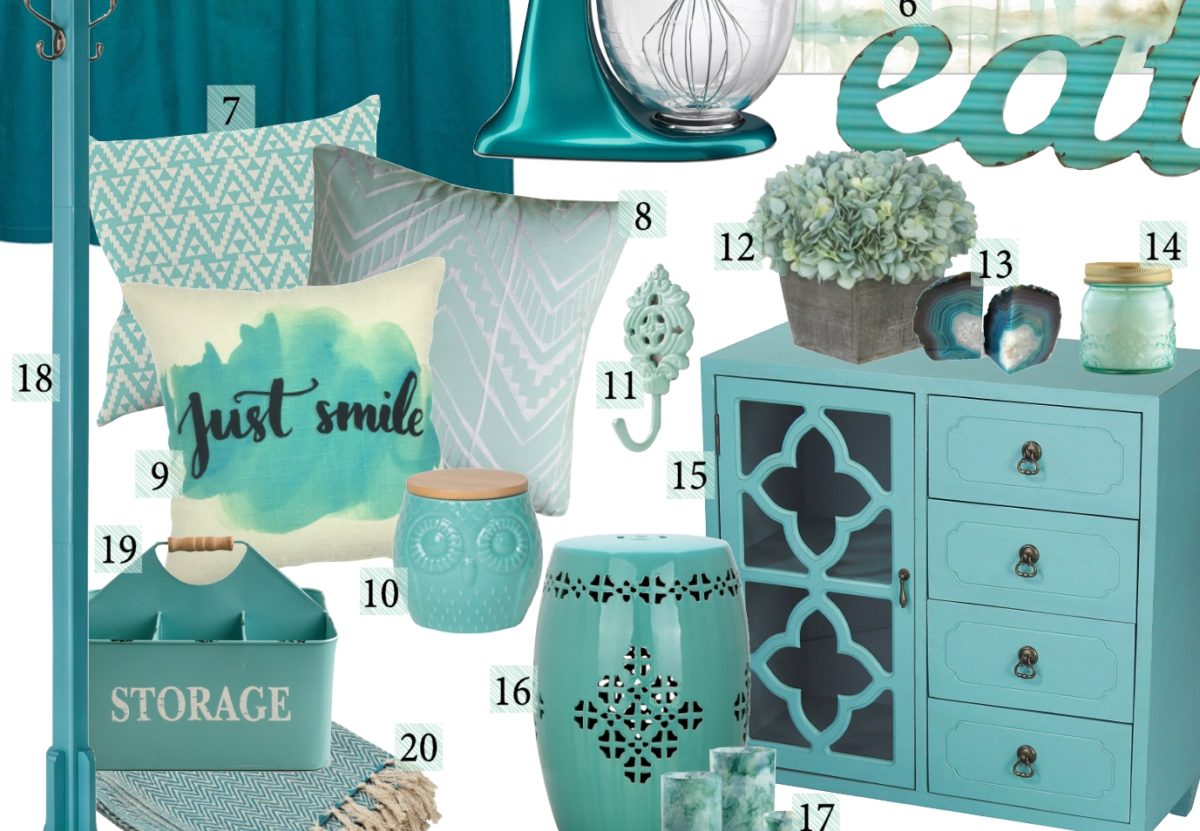 Welcome to another Friday Finds!
Today, we're talking teal, that gorgeous blueish-greenish hue that's catching everyone's eye right now.  One of the best things about teal is there are so many different (but all equally pretty) shades of it.  And they all seem to work together somehow.  Some shades of certain colors really clash if they don't match EXACTLY.  But you can mix and match different shades of teal really easily.  They pretty much all look good together.
Here's a quick tip: when shopping for teal home decor accents, also try looking for "aqua", "turquoise", and occasionally even "mint".  Since we don't all seem to see colors the same way (do you remember the blue and black dress??), it's a good idea to widen your search to include these very similar colors.
Teal, as shown below, is probably my favorite color. Especially when it leans a little more toward the blue spectrum.

(This post may contain affiliate links, which do not in any way change or affect your price of an item.  They simply allow me to collect a small commission if you decide to purchase something through one of these links, which helps keep this blog up and running.  Your support means the world to me!)
Teal really feels like Spring and Easter to me.  But it could definitely work in the Summer, as well, eliciting thoughts of tropical oceans and thunderstorm skies.
Christmas is really the only holiday that I really go all out with very holiday-specific decor.  I usually have snowmen and reindeer all around.  But for the rest of the holidays, I love them, but I really don't put out too many holiday-specific decorations.
Instead, I love to decorate with colors, according to the season.  For me, springtime is teal.  It's such a happy, bright color that makes me think of brightly painted Easter eggs and little speckled bird eggs.
By choosing neutral colors throughout your home for the major things, like walls and furniture, you're able to add in colorful accents to customize the space.  Then you can easily swap out those pieces according to the season, the latest trend, or whatever whim you wind up in.
In my dream home, I imagine a storage closet in the basement.  A big walk-in closet with floor to ceiling shelves.  In it, I will place all my seasonal decor.  Anything I'm not currently using throughout my house.  Things I bought on a whim.  Thrift store finds that I'll transform into something beautiful "one day".  That sweet gift I was given, but just don't have the perfect spot for YET.
All these things will be set up like items on a store shelf.
When I decide it's time for a change in my house, I'll go down to my little "store" and shop to my heart's content.  New things will come off the shelf, and old things will take their place… until the new things start to feel "old" and then I'll just pop back down to my store to switch them out again.
(Full disclosure: I'm still going to shop at the real store, too.  Sorry to my husband.)
Teal accents will definitely have a significant place waiting for them in this imaginary (maybe one day real) room.
Here are my current favorite teal products available on the internet right now!  I hope you find something you love.  Links to the products are below.  Enjoy screen shopping!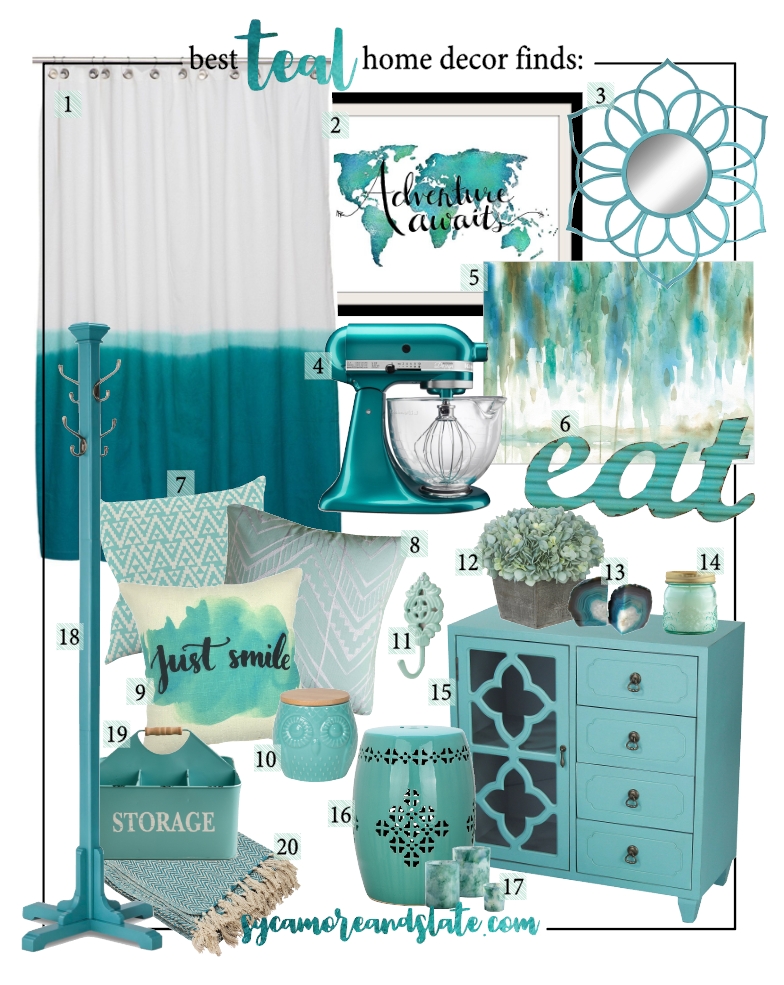 /  1  Dip Dye Shower Curtain  /  2  Adventure Awaits Art  /  3  Metal Flower Wall Mirror   /  4  KitchenAid Artisan Mixer  /  5  Rainwashed Landscape Art  /  6  'Eat' Metal Sign  /  7  Geo Tribal Pillow  /  8  Geometric Throw Pillow  /  9  Just Smile Throw Pillow
  /  10  Small Owl Canister  / 11  Cast Iron Medallion Hook  / 12  Artificial Hydrangea in Wood Cube
  / 13  Teal Agate Bookends  / 14  Jasmine Lotus Floral Stamped Jar Candle  / 15  Wooden Accent Cabinet  / 16  Garden Stool  / 17  Watercolor Glass Hurricane Candle Holders  / 18  Coat Rack  / 19  Storage Caddy  / 20  Reversible Tassel Throw  /
For plenty more teal accents and home decor pieces check out my Pinterest Board: Teal Accents.  While you're there, take a look at my other Pinterest Boards for even more ideas and home decor!
Thanks for stopping by!  See you again next Friday for another Friday Finds!