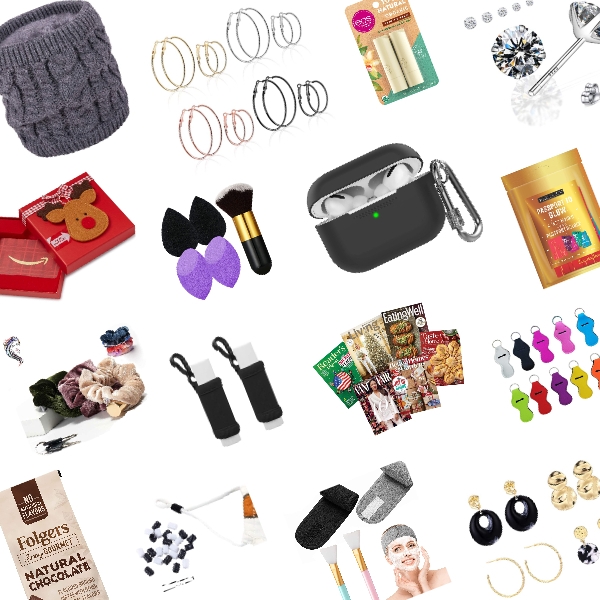 (This post may contain affiliate links, which do not change or affect your price in any way.  This simply allows me to collect a small commission when something is purchased through one of the links I provide on my page.  Thank you for supporting Sycamore and Slate! Read my full disclosure here.)
ALSO – just as a side note – Prices change A LOT on amazon, so some of these might not be under five bucks when you check. Also with subscriptions, sometimes they change the ratio of how much you get and how long you get it!
This is the second in my series of Stocking Stuffers ideas. Last week I tackled some ideas for the gents, so this week it's the ladies turn.
When making this list, it was important to me that everything be inexpensive, but not JUNK. We have enough random things to clean up everyday around our homes while we chase after kiddos, so we do NOT want to add anything else to that pile, thank you! All of these items are things that women really want, will actually use, and will not end up gathering dust in the bottom of a drawer somewhere.
BEAUTY AND WELLNESS
These beauty blenders (plus a foundation brush) are a great help to putting on makeup! It's always nice to have extras on hand!
We've all been wearing face masks lately, but not the kind that your lady really wants! Let her rejuvenate her skin with these cream, clay, and mud masks!
A neat thing to add in with the mud mask would be these silicone mask applicators, so all the product ends up on her face and not wasted on her hands! It also comes with two facial headbands to keep her hair out of the way!
If your lady is anything like me, she's in constant search of her chapstick. If I could, I'd just keep one in literally every room of my house so that I would always be able to find it when I need it! Grab her a pack of two, so she has plenty to keep her lips hydrated this winter!
While you're getting that, why don't you also grab these keychain chapstick holders! That way she can clip a set to her keys or bag or even a belt loop and always have a stick close! I would legit love this, if anyone who knows me IRL needs some gift ideas! 😉
No matter how many earrings I have (pretty much the only type of jewelry I wear other than my wedding rings), I ALWAYS could use more. So long as she has her ears pierced, I guarantee you, any lady will love getting this jewelry. If she's like me, she doesn't need (or even WANT) it to be fancy… she just wants something small that will go with one of the outfits she owns! Try simple hoops, classic zirconia studs, or if she likes something bolder go with a black, white, and gold pack:
CHOCOLATE
You absolutely cannot go wrong with a good-quality bar of chocolate.
Why not blend to of her favorite flavors into one? Coffee + Chocolate = Happy Women.
ODDS AND INTERESTS
These velvet hair scrunchies also have little zipper pockets built in, so she can store lots of little things on the go. Whether she needs to stash a key, some cash, or even her take AirPods with her. It's the gift she'll use every day that she didn't even know she needed!
Another (maybe better) way of taking her AirPods with her would be this keychain case, which slips over the charging case that keeps the ear buds safe. This is also a neat little side gift if you're planning on getting her a new set of AirPods Pro this Christmas:
Keep her warm with this cute knit infinity scarf! And with Covid mandates, she can pull it up and use it as a face mask, too.
Speaking of masks, a lot of us ladies have trouble keeping our face masks on because they are too large for us or the elastic has gotten too loose and they don't fit snugly anymore. Give her these cord locks. They make it super easy to tighten up masks without having to tie impossible-to-remove knots in the ear loops. Also, you can use them on the ends of hoodie strings to keep them from disappearing forever into the hood!
If she likes magazines, now is a great time snag a whole year subscription for her, for ONLY 5 dollars! Seriously, 12 months, 12 issues, 5 bucks total. That's 42 cents per issue! Right now you can choose between options like Better Home & Gardens, Taste of Home, Vanity Fair, Reader's Digest, Martha Stewart Living, Food & Wine, and Eating Well.
For just $4.99 per month, you can also get the lady in your life her own Personal Shopper from Amazon (she'll just need to have a prime membership). She can use the Amazon App on her mobile device to see outfits curated just for her, based on her personal tastes and within her particular budget!
She gets to choose up to 8 items from her personal list to have shipped to her home so she can try them on FOR FREE. She'll have 7 days to try the items on and return any that she doesn't want (in the provided resealable box with a prepaid label). She won't be charged for any of the items that she doesn't want to keep! This is a great option for women who aren't able to go shopping on their own very often (especially now that we're living in this crazy time with Covid!) It's also great for women like me, who don't feel like they have a good sense of style and often get stumped when it comes to making fashion choices!
Combine that with an amazon gift card, and she'll be able to enjoy an outfit or two for free! And you don't even have to step foot in a shop, let alone get stuck holding her purse while she tries everything on! It's a win-win situation!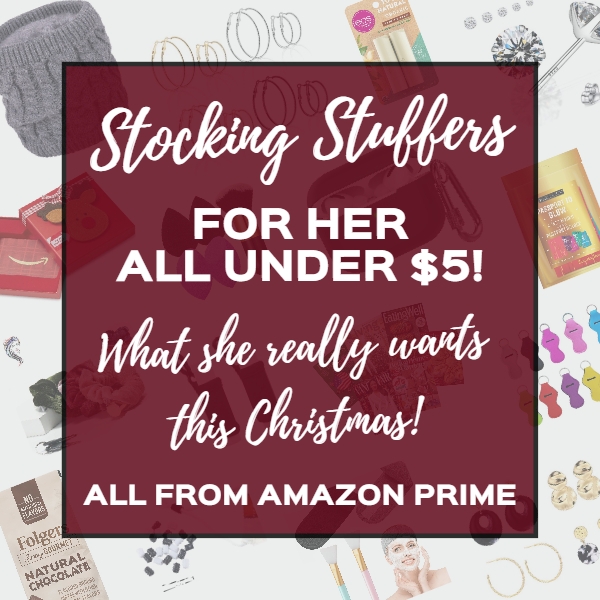 Hope some of these ideas gives you inspiration for gifts this Christmas! 🙂 Happy Shopping!