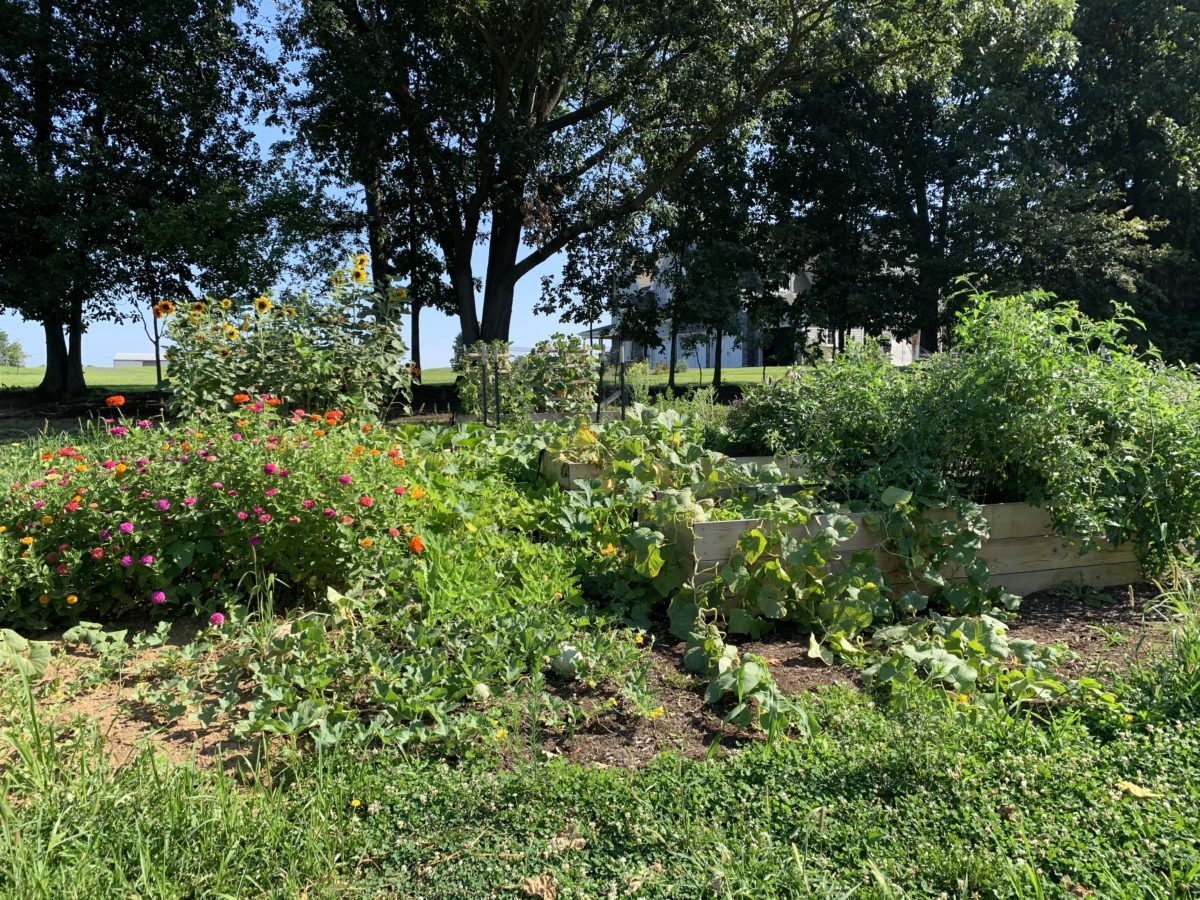 Okay, you guys, I'm going to show you some of the latest pictures of my garden. Try not to be alarmed.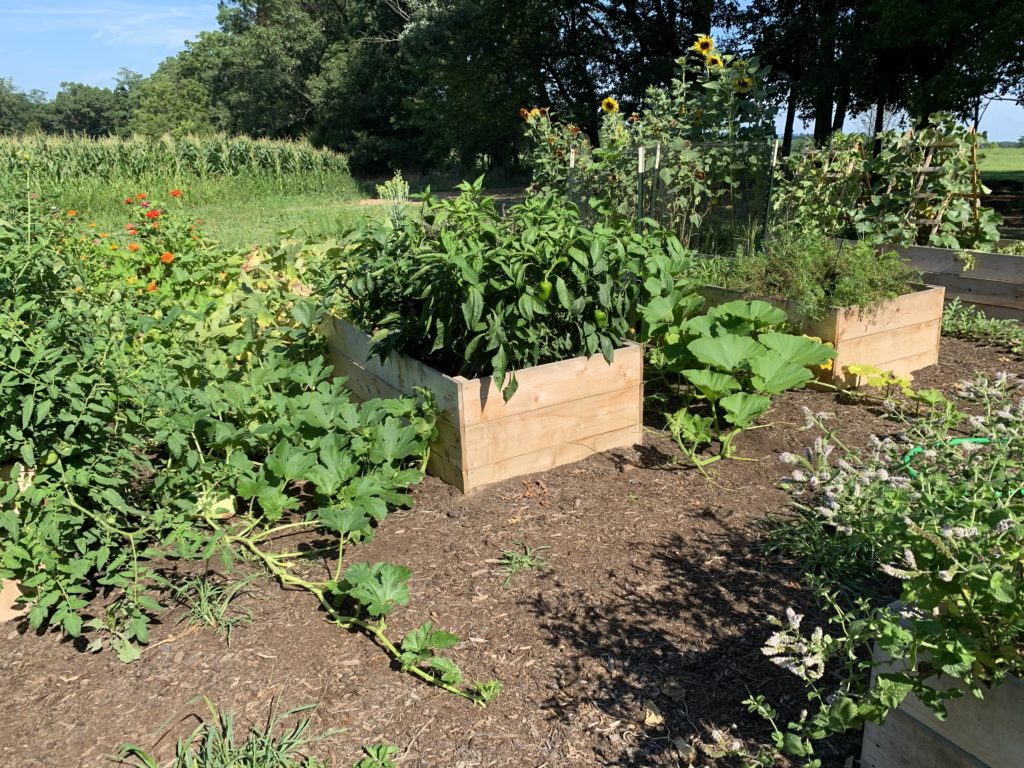 This has been such a fun, educational summer for me! I have always wanted a garden and I've grown things in past years but not anywhere near to this extent. Honestly, this year has been a lot of experimenting and taking the "well, let's try it," approach to gardening. I've truly loved the process so far and go out excitedly pretty much every day to see what's new, harvest, water, fertilize, whisper sweet-nothings to, and/or otherwise baby my plants.
I just wanted to share with you an update of how everything is going. Some things are doing so well! And some things are hanging on for dear life. And a few things have only been successes in the sense that they've taught me exactly what NOT to do next year.
Here we go!
Plants that have done really well:
Tomatoes – I have pruned these several times and they are just going and going and going. At this point they look awful because they are cluttered and intertwining and chaotic, but they are happy and spitting out so much fruit that I have to keep pawning it off on everyone I know.
Cucumbers – basically ditto to the tomatoes. They have been so happy, trailing all over the place. I get handfuls of new cucumbers almost every single day and have been dishing them out to friends and family, too. And that's after making 4 big batches of pickles (which I've somehow manged to fail at half of the time). Pickles have been another learning experience for me. I've probably picked close to 40 pounds of cucumbers so far this summer.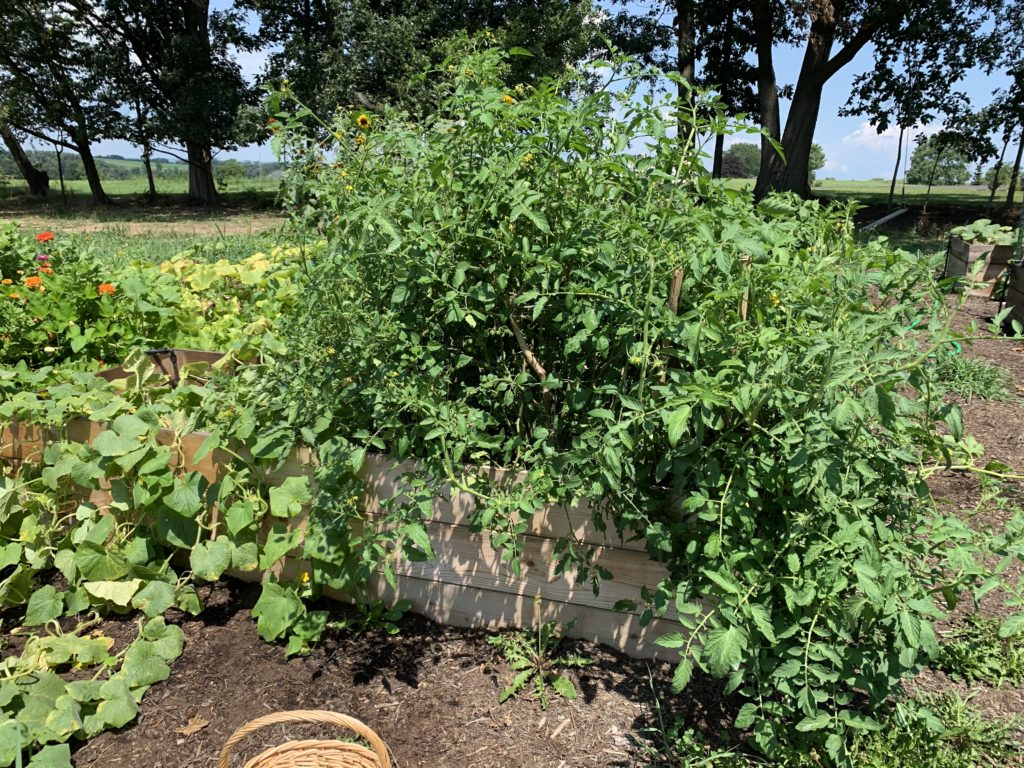 Basil – I have three different varieties of this growing and all of them are doing decent, but without a shadow of doubt, the amethyst has been thriving and overshadowing the others. I've actually pretty much stopped harvesting from that one and am now just letting it go to seed for planting next spring.
Oregano – These guys are equally as happy as their fellow herbs. They're hanging out under the Brussels Sprouts and some of them are going to seed while the rest are making my red sauces even more delicious.
Peppers – I had a bit of a slow start on these, but they are all now completely covered in peppers and still getting lots of new blooms. I'm just waiting on them to change colors before I pick them.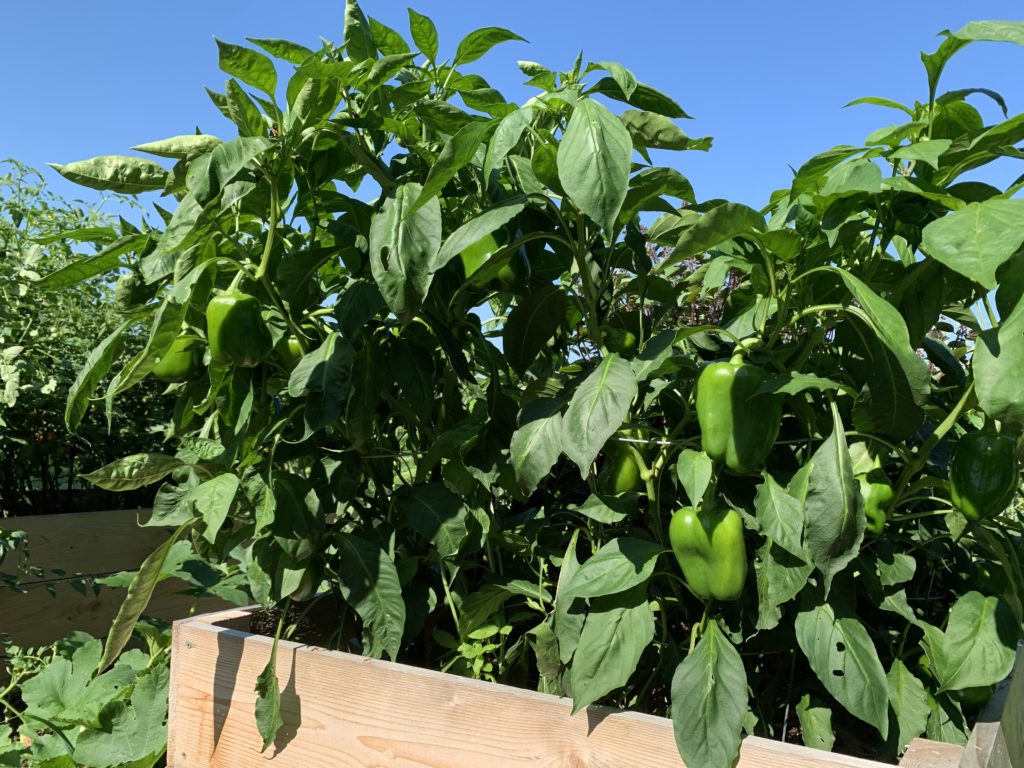 Mint – Mint is pretty hard to screw up, so I can't claim any sort of skill here. I have made SO many gallons of meadow tea so far this year from my mint, given lots of it away, and am now letting about half of it go to seed. Mint is a perennial so it will come back next year, but I'd like to fill in some of the empty spots in my mint bed with these seeds and maybe start a few plants to give to friends and family.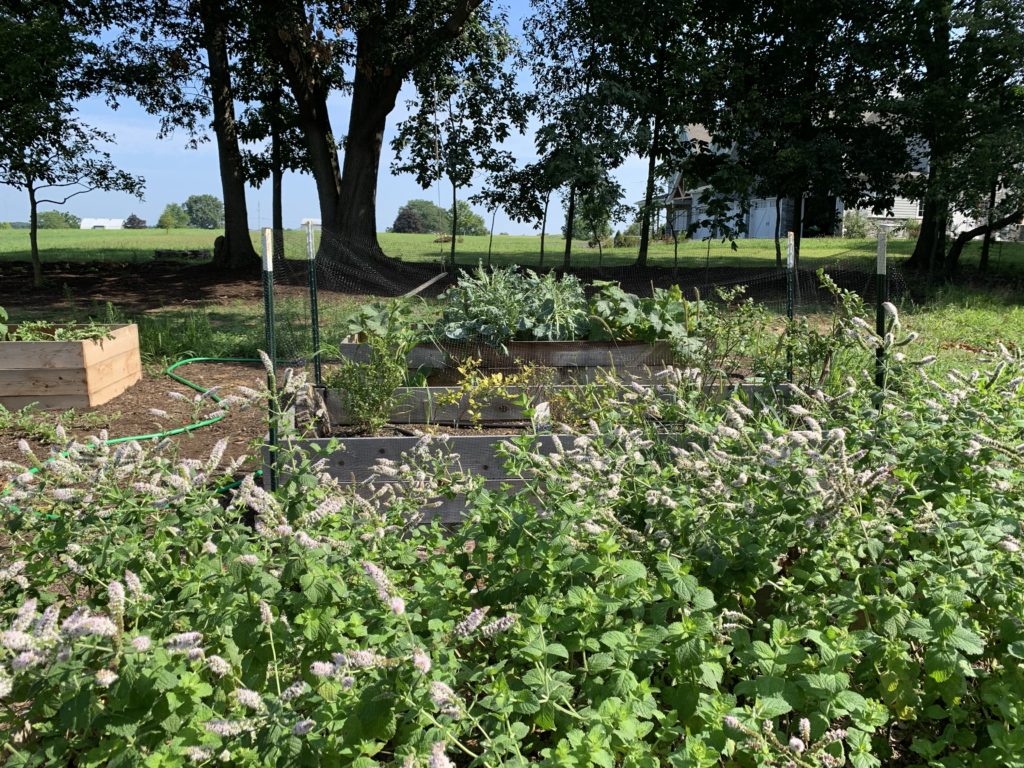 Rosemary – It's simply happy. It hasn't needed any sort of special treatment and has been growing just fine all by itself!
Spaghetti & Butternut Squash – I have one of each of these plants and they've both been really happy. In particular, the spaghetti squash keeps producing these really massive fruits. Some of them are the biggest spaghetti squashes I've ever seen! They need to harden off for storage, but I did go ahead and pick one and used it for dinner one evening. It was so good!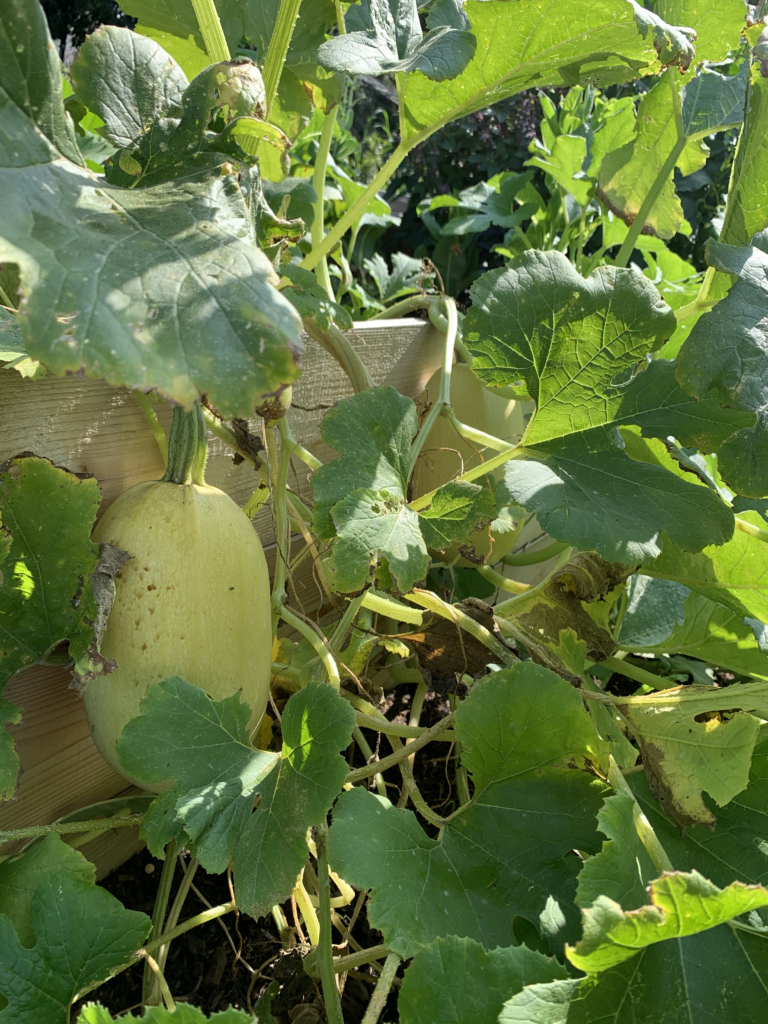 Flowers (Zinnia, Calendula, Marigold, Sunflower) – These have all been really happy and growing beautifully on their own. I love having these flowers mixed in with my garden, and I know they're doing their job. There are SO many bees and butterflies constantly around, pollinating all my blooms! It's a happy sight! The sunflowers are blooming wonderfully, but the birds are very eager to attack them, which is fine with me as I wasn't planning on using the seeds for anything. I'd rather them go for those than my berries!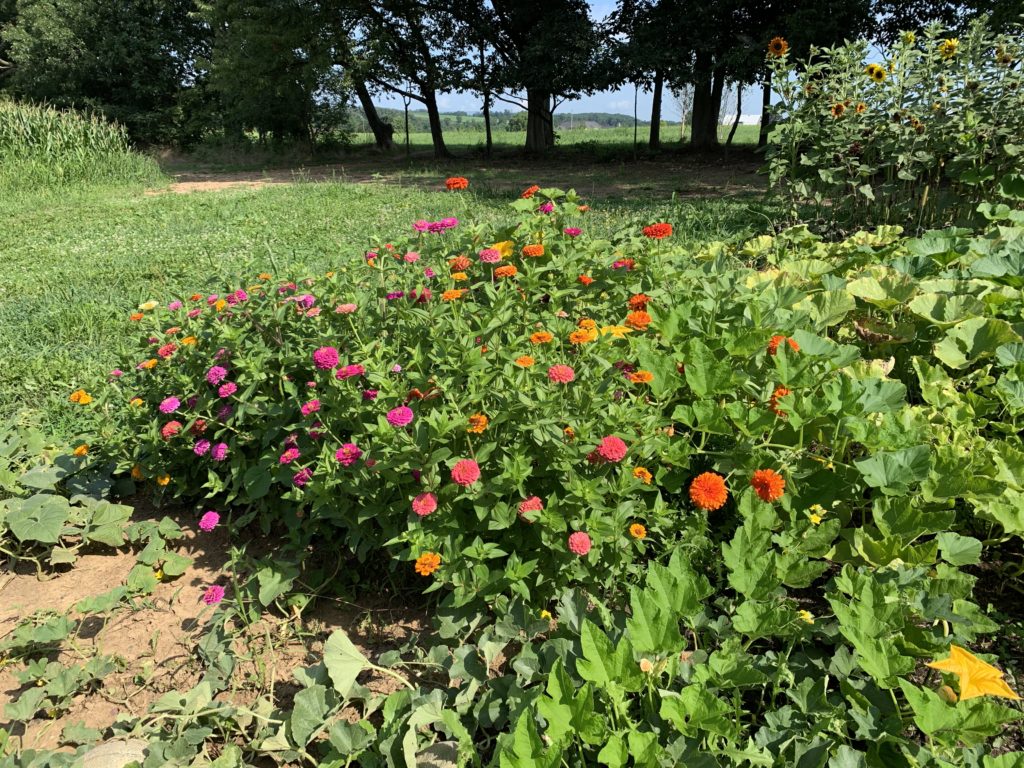 Plants with mixed reviews: There were a few things in my garden this year that have done somewhat well, but I still want to make adjustments to in the future.
Celery – this was my biggest disappointment this year, I'd say. I was able to harvest a couple stalks toward the beginning of the growing season, but then my celery got all mushy in the center. I am not sure what went wrong here to be honest. Maybe they got too wet and the roots rotted? Maybe there was a pest that ate out the center? Any ideas?? I'm not sure, but I ended up tossing most of the celery. I definitely want to read up on celery a bit more and give it another try next year.
Blueberries – most of what I harvested this year came from only three of the blueberry plants. One of them (a pink lemonade) hasn't made any berries yet at all, but it is supposed to produce in mid to late summer, so I guess there's still time for that one? Of the other two, one has had really yellow leaves this whole summer despite me fertilizing and adding in acid to the soil. It gave me a few berries, but not many. The last plant had a tinge of yellow to it as well, but not nearly as bad, and produced more berries than the other but not a whole lot either. These are surviving, but not thriving. I'm hoping to move these for next year.
Romaine Lettuce – these guys grew really well from seed and I harvested a good bit, but then I think some of them developed a pest problem. I did remove any caterpillars that I found on them and some of them bounced back okay. Others didn't do as well and I just ended up pulling them up. I think part of the problem was I didn't pick them as quickly as I should have because we just weren't using as much lettuce this summer as I expected. The plants that did bounce back, I ended up letting go to seed so I can have some for planting next year. They're producing some really pretty little yellow flowers currently.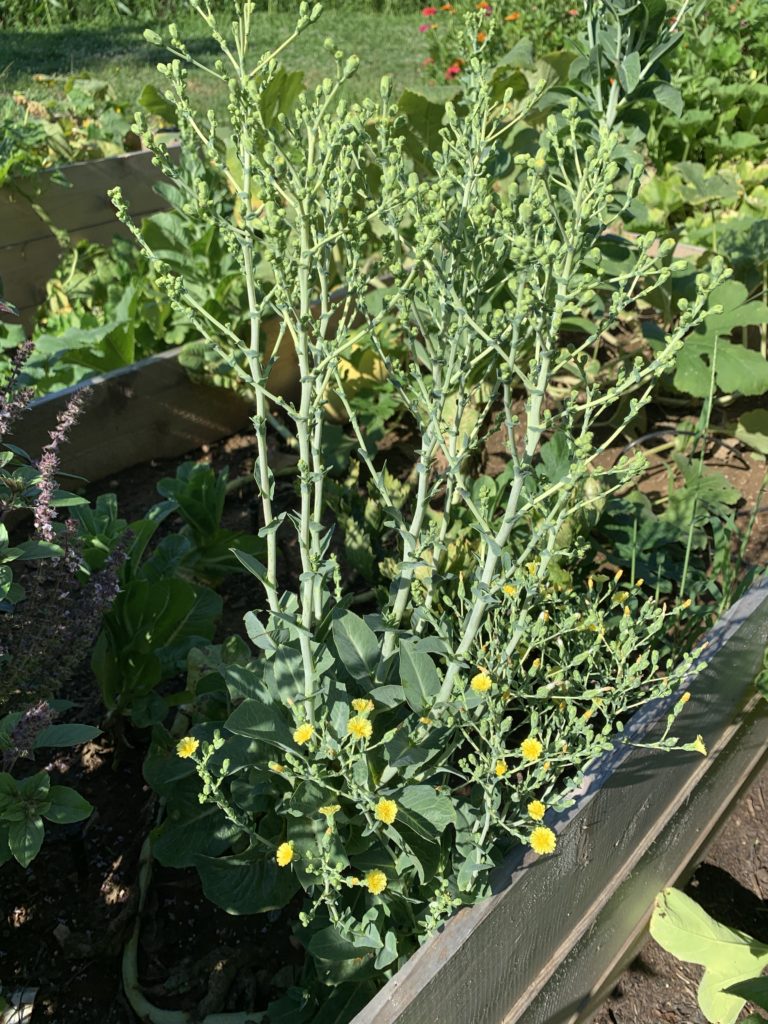 Zucchini – these seem decently happy, but their production has been slow. Out of the four of them, I really only get 1 zucchini per week, sometimes 2. I really thought they'd do better, so I'm going to research and see what needs to be done to help them have a better go of it next year.
Brussels Sprouts – these have needed a lot of babying. They are the only plants that have been consistently attacked by caterpillars and the only ones that I've stooped to spraying. Unfortunately, the bugs just kept coming back so mostly I've been picking them off by hand, or spraying them off with the hose. The leaves look really bad most of the time, but they are producing brussels sprouts along the stem. Just in the last week, one of the plants seems to have finally given up entirely and is really wilting off. I'll have to wait a little longer to find out how they all end up.
Parsley – I had two big bunches of these and they were so happy. I cut from them a few times and then they started to die off. Maybe I took too much at a time and it didn't leave them enough leaves to recover? In any case, as it turns out, I don't really like fresh parsley that much. At least not a lot of it. I have actually been giving most of my parsley away, anyway. I don't know that I'll bother with this guy again next time around.
Borage – I've told my borage, "bon voyage," for this year. They did so well. Too well. They really took up so much space and when my other plants started coming up and getting really full, there just wasn't room for them. Evie and I had a lot of fun picking the flowers and snacking on them in the garden and they drew the bees like crazy which was so good for the other plants! But then they got massive and leggy and started leaning into everything and the hollow stems would snap in storms and make them bend awkwardly, and I finally decided to put them out of my misery. I will definitely do these again next year, though. I actually have quite a few volunteer baby borage plants starting and I'm just letting these pop up to see what becomes of them yet this year.
Strawberries – these have been very happy, but not producing a ton of berries. Which is because I keep letting them put all their energy into runners. I know I should cut these off. I know I should. But I just don't do it. I don't know what's wrong with me. I have the same problem thinning out my carrots. I know I need to do it, but it's… painful. I don't want to get rid of anything that could produce more fruit. This is a short-coming I need to work on next year, by which time I think I'll have double the strawberry plants I actually planted this year. HA!
Plants up in the air (or… down in the dirt): There are also a few plants that I haven't gotten to harvest yet, so I can't say for sure if they're a success or not!
Carrots – I have pulled a few of these here and there just because I wanted to know what was happening with them. They have been seeming super happy, but just recently I've been noticing that some of the tops are turning brown and dying off. So now I'm a little concerned for these now. We'll see, I guess??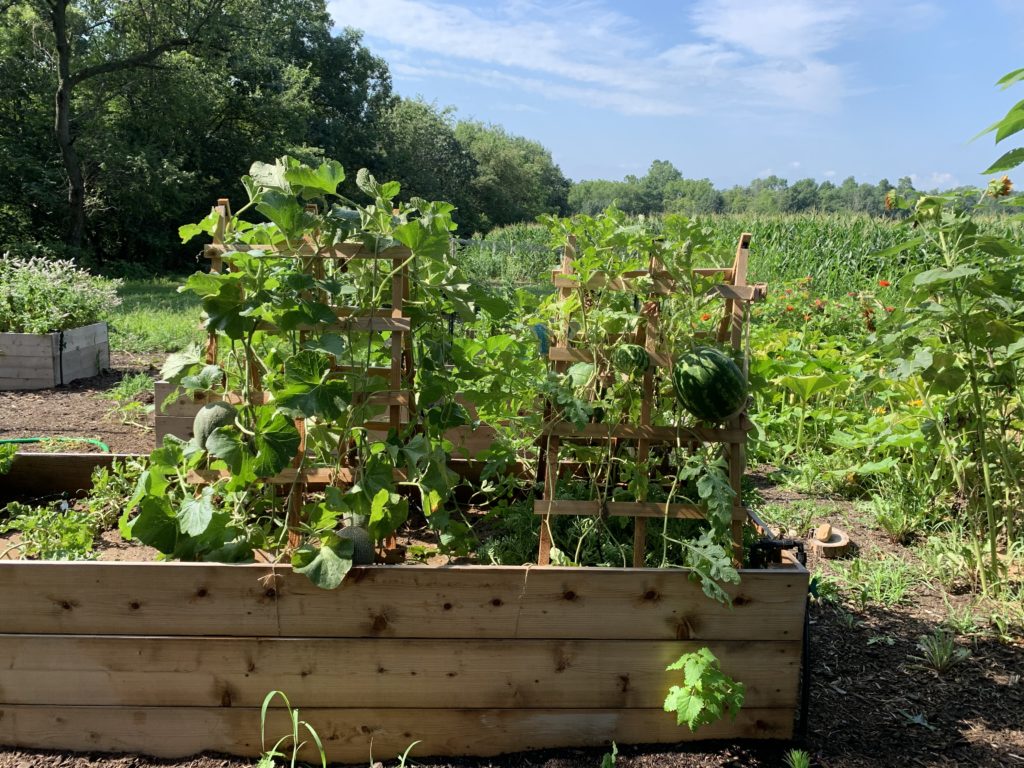 Watermelon & Cantaloupe – These actually did so well until we had a bad storm. I was so excited because they were all growing so happily and fully, up on trellises in a raised bed, but then the wind came. I should have staked the trellises in place, but you live and you learn, right? The trellis with watermelon broke a bit and slipped sideways into the cantaloupe trellis, which fell completely out of the bed, ripping out several of the plants by the roots. 🙁 I did try to replant them, but I had a lot of fruit already started on those vines and they really suffered for it. I lost several of the vines and a lot of fruit. Some of them are still going, so I'm hoping I'll still get some more melons out of them. So far, we've picked and ate three watermelons and two cantaloupes and they were so yummy!
---
As you can see from the pictures, the whole garden has become a little bit of a hot mess. When I planted a lot of these plants (following square foot gardening rules) I knew they were getting planted closer than what is recommended on the plant tags. Some of the things did fine in close quarters, but some I definitely will try to get more space next year. Mostly for my sake, because it's become quite the circus act to jump around trying to avoid stepping on all the vines, and contorting my body trying to reach through branches to get to the fruit.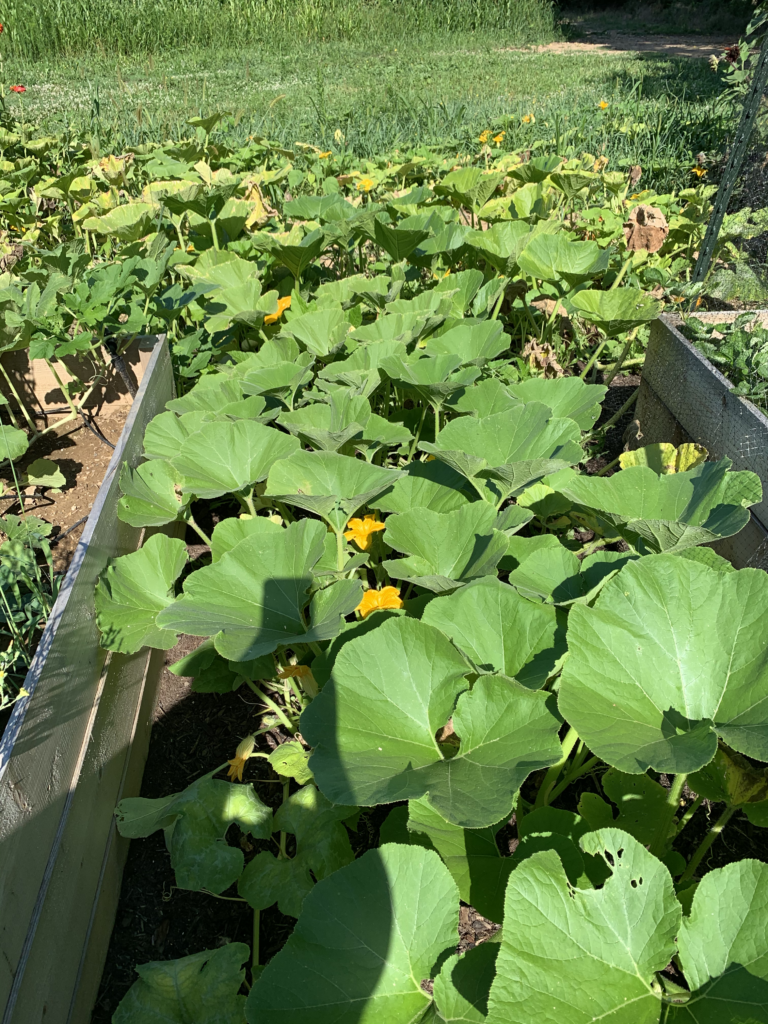 The pumpkins in particular have really vined out – something like fifteen-twenty feet, and have taken root in the walkways between my raised beds. I knew I was planting those WAY too close together, but I didn't have any more tilled area for planting this year, so in they went! Next year I'm planning on extending my garden out further into the cornfield and tilling up a good portion of the ground for planting more pumpkins and melons and squash.