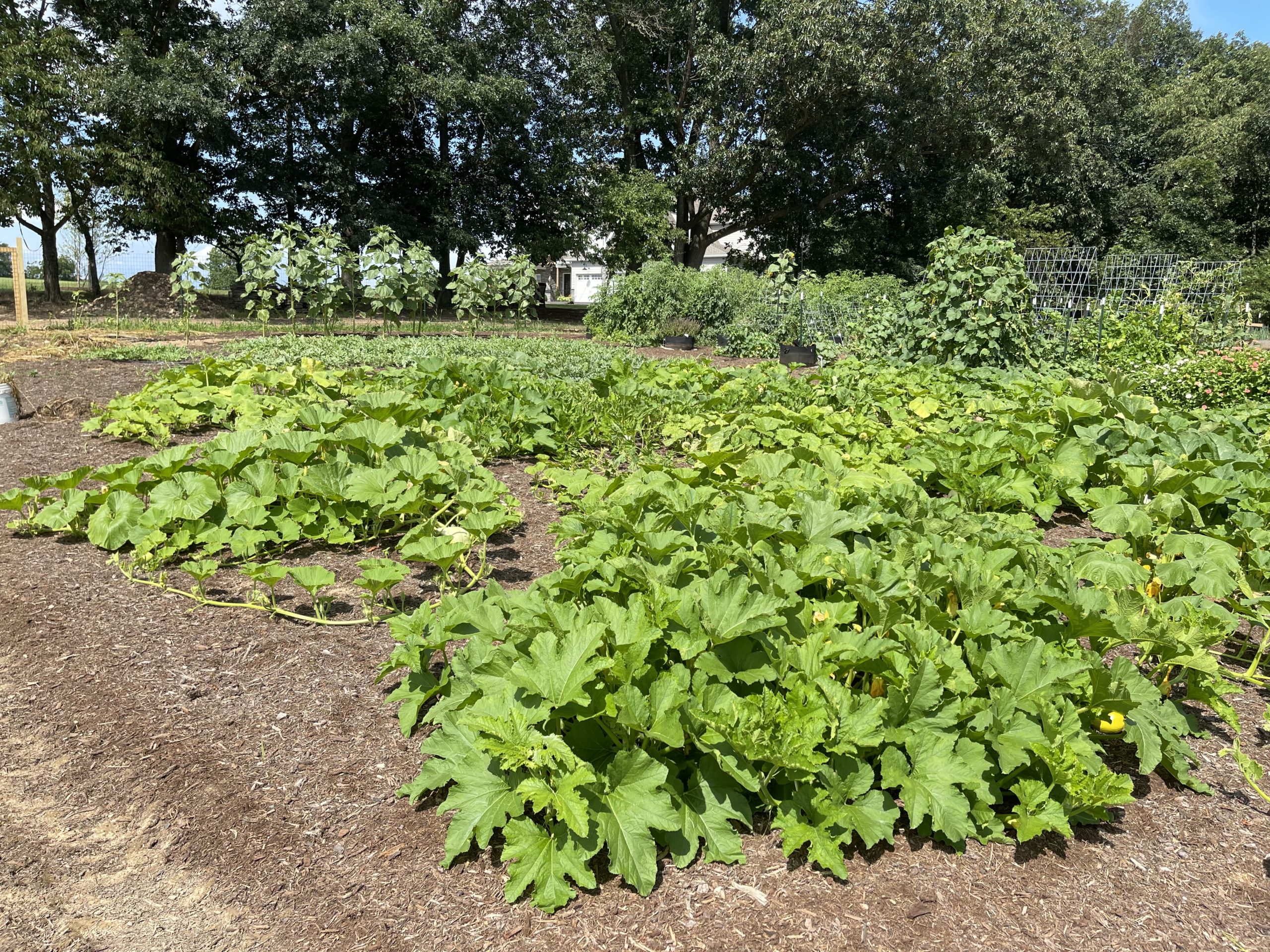 I'm back FINALLY for a garden update! I've changed the name of this post three times from 'June' to 'July' to 'August' and I am not changing it to 'September' now too! I never seem to have time to actually finish and post it.
This year has been crazy. Absolutely bonkers. Blood-sweat-and-tears. We installed the vast majority of the garden infrastructure and built the base for a great garden area for years to come. I explained a lot about the bed prep in my last update, HERE. To briefly recap most of what it consisted of: Rocks and weeds.
I spent so much time over the last few months raking up rocks and yanking out weeds that I legitimately developed carpal tunnel in both wrists. It got so bad that I was waking up multiple times every night because my hands were falling asleep. Then they started falling asleep while I was raking or working in the garden. And then while I was brushing my teeth or putting on mascara or if I just held them at the wrong angle for too long. I took a trip to the doctor at that point, and they told me I had to wear wrist braces for 10-12 weeks and chill out on all the raking nonsense or I'd end up needing surgery.
Luckily, I'd completed the vast majority of the raking already and my husband gallantly forbade me from doing any more of it and took over the task of cleaning up the rock piles I had sitting around everywhere. And then I really dug into tackling the weeds. Literally. I pulled and pulled and pulled weeds (also not especially good for my wrists, yes, I know). I went section by section all around the garden and we (my husband) put down a layer mulch over the weeded areas. (I did help a little with mulching some)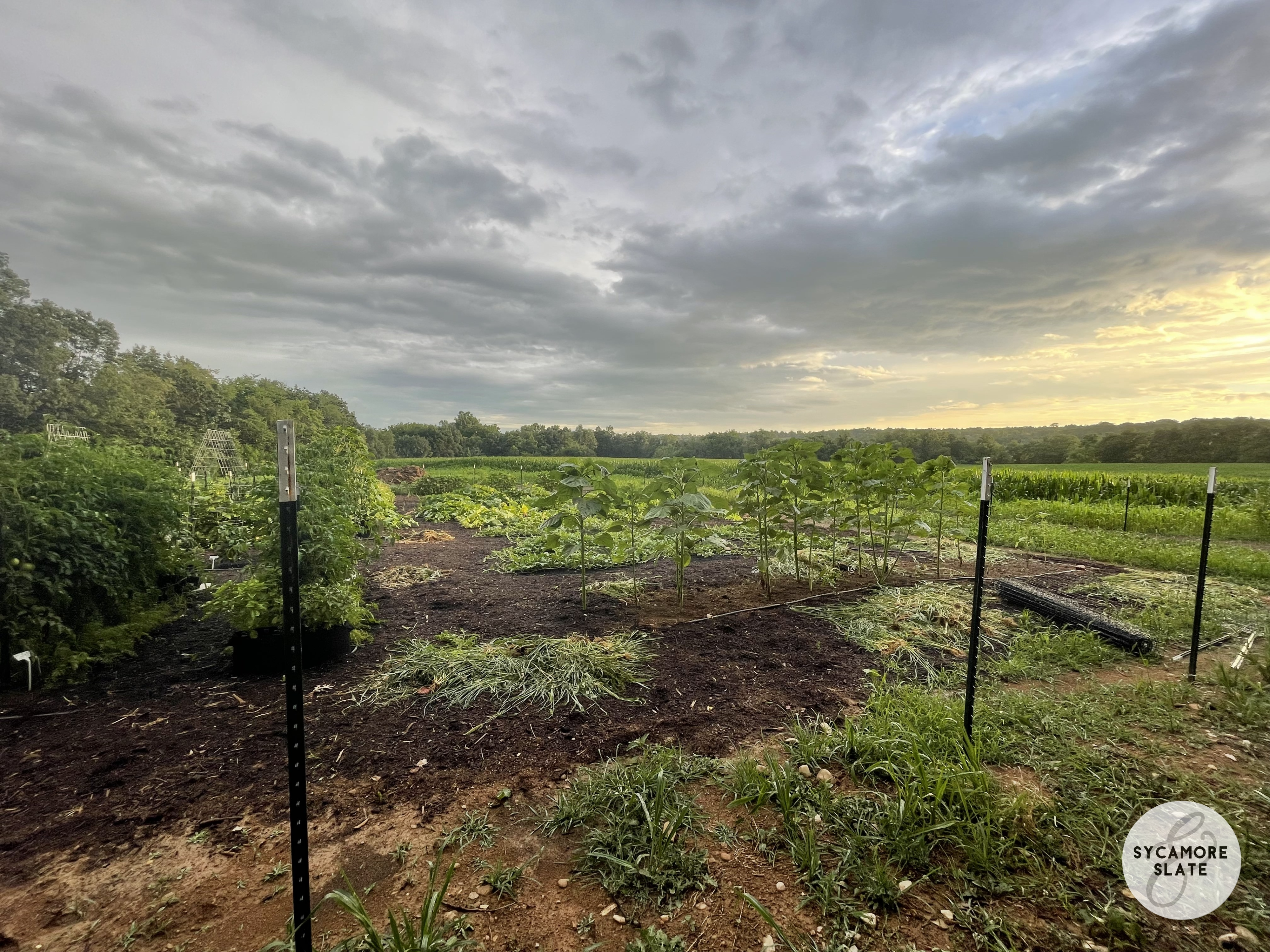 You don't even want to know how much mulch we've gone through so far. But I'll tell you anyway. We're not even done yet and we've had three triaxle dumptruck loads dropped off. And it's NOT EVEN DONE YET! We did use some of that for other areas of the house but the vast majority of it when to the garden area. There were other options we considered for ground cover like straw, gravel, pine bark, etc… but in the end we decided that mulch was the best option for us.
I was also working planting during this process, getting all the things in the ground that I hadn't been able to previously. Which meant I then also spent a lot of my time watering things.
We'd run irrigation to the garden previously, but with it becoming exponentially larger this year, we (my husband) had to run quite a lot of new lines all around to the new beds and set up emitters for each plant. And I have a LOT of plants. This process still isn't entirely completed yet so I do continue to do a bit of hand-watering, but we're in the process of finishing that up now. We prioritized putting a fence around the garden first, to keep out pests and we (my husband) worked basically every evening and weekend to get that completed.
Besides putting up all the t-posts and attaching the fencing himself, he also built three gates to access the garden through; two are 8-foot which we can drive the tractor and UTV through, and one is a walk-in 5-foot gate that easily will allow for a cart or wheelbarrow.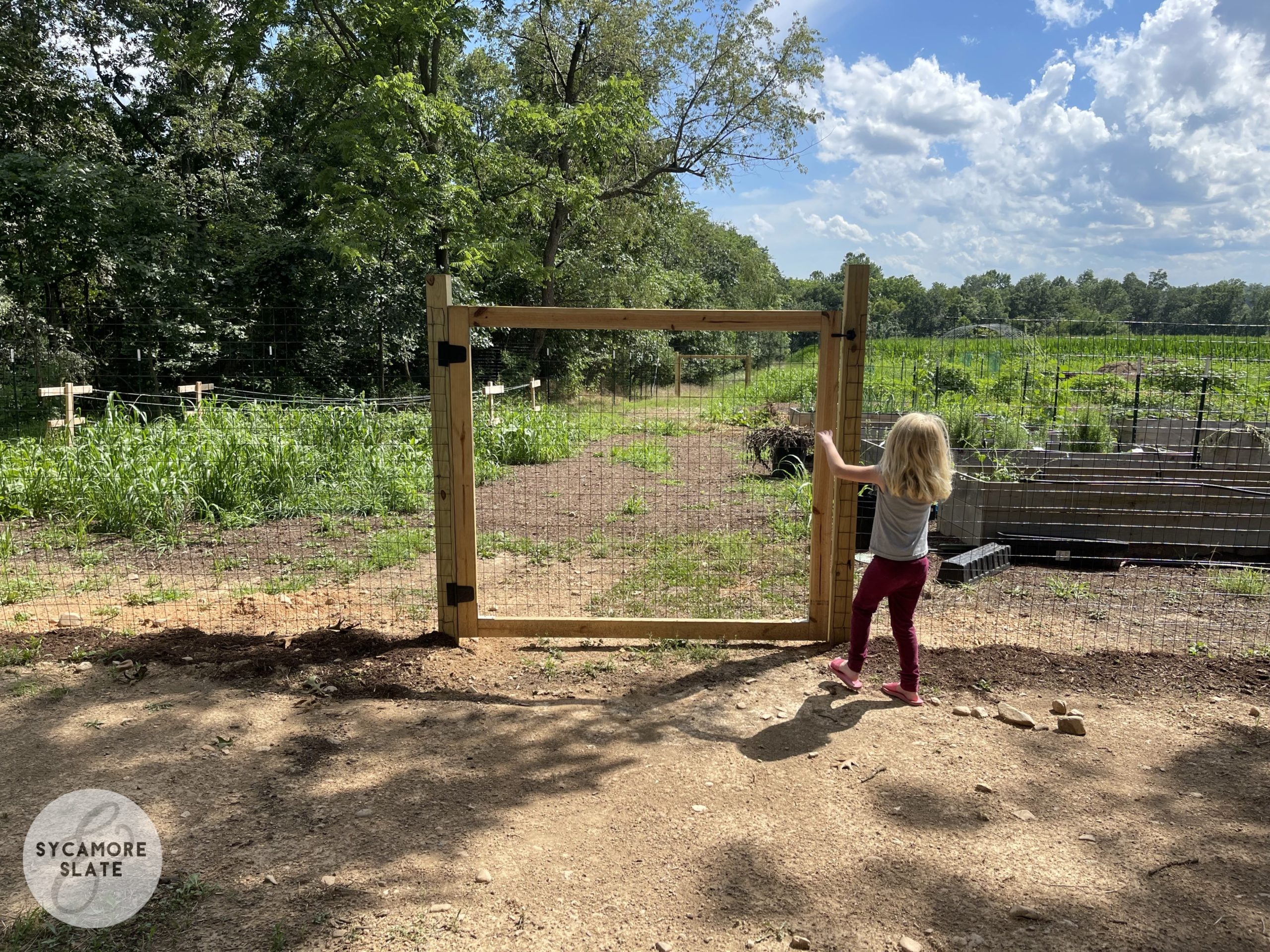 The fencing we used was recommended for rabbits in particular and other smaller animals. It also mentions protecting from deer, who are a big issue for us here in rural PA, but at 5 feet high, the deer could still easily jump this fence if they really wanted to. From what I've read and my experience in previous years, I'm really hoping that the deer decide it's not worth the extra effort to get in and will leave the garden alone. Living on a crop farm, there are tons of other options readily available to them (hay, corn, and soybeans), not to mention all the other things growing in the woods. Supposedly if they have other options that are easier to get to, they'll go for those. You know, like my roses on the other side of the house… but that's another story!
There are a few things we are probably going to have to adjust here and there to make sure no animals can get it, but so far it's been up for about a month and has been working really well and I'm just incredibly grateful to have it!
Moving onto the actual plants, things have been growing well for the most part!
We had a good number of strawberries and still are getting some random ones. I had enough to make some freezer jam which turned out so, so good!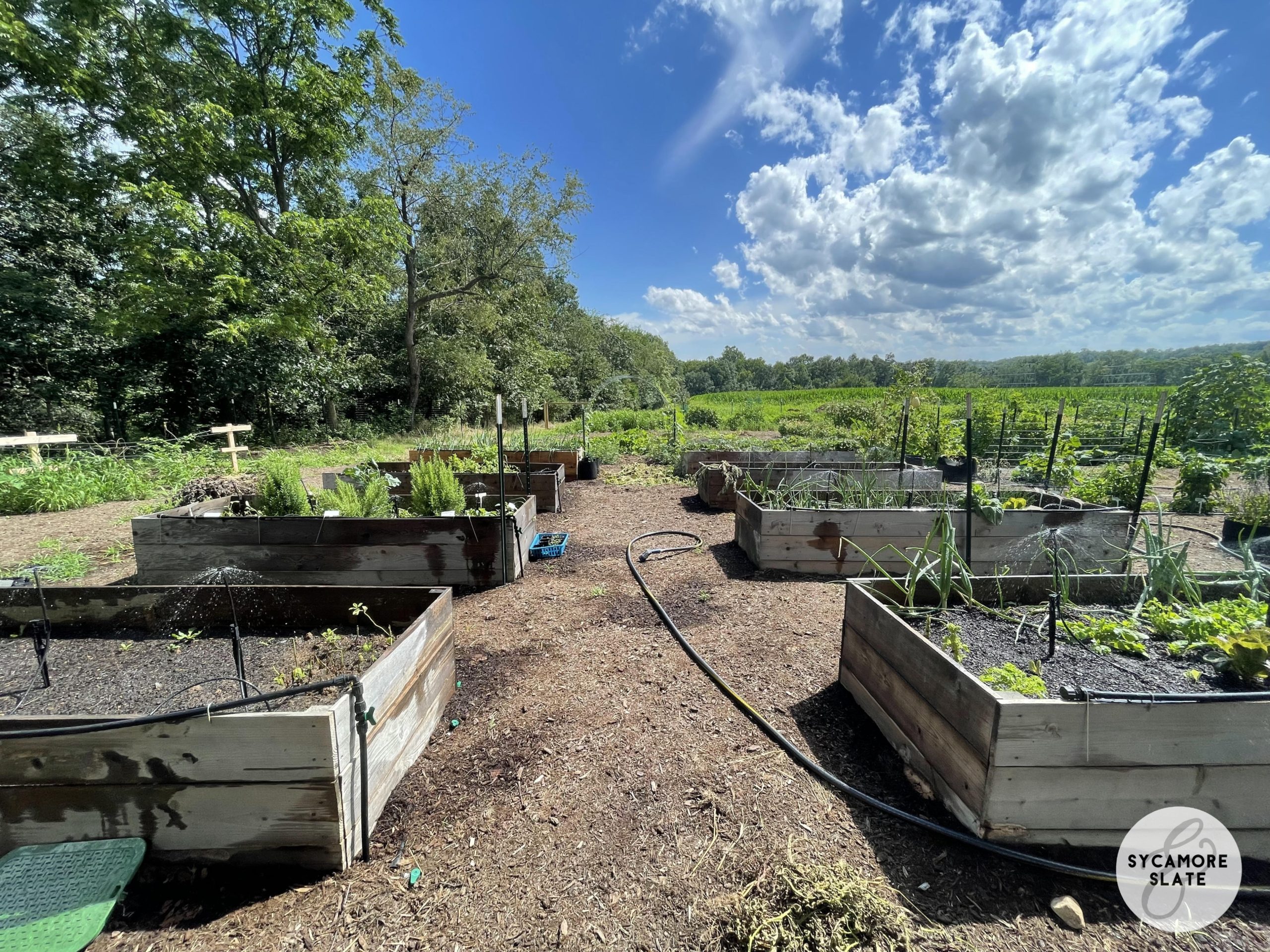 I had a few varieties of lettuce that didn't grow well, but mostly I've cut more than we can eat. I did have some deer munch on these in June, though only on specific varieties. Picky deer?? I also had ants in some of the raised beds, which I killed with bait traps, and I dealt with aphids early in the season but started putting all the ladybugs I came across on the lettuce and that problem improved greatly. Then it really heated up and the plants started bolting so I lost a few to that as well.
I do succession planting with lettuce and as I harvested and replanted, I also adjusted my spacing a little wider and that seemed to help keep the bugs and pests from spreading plant to plant.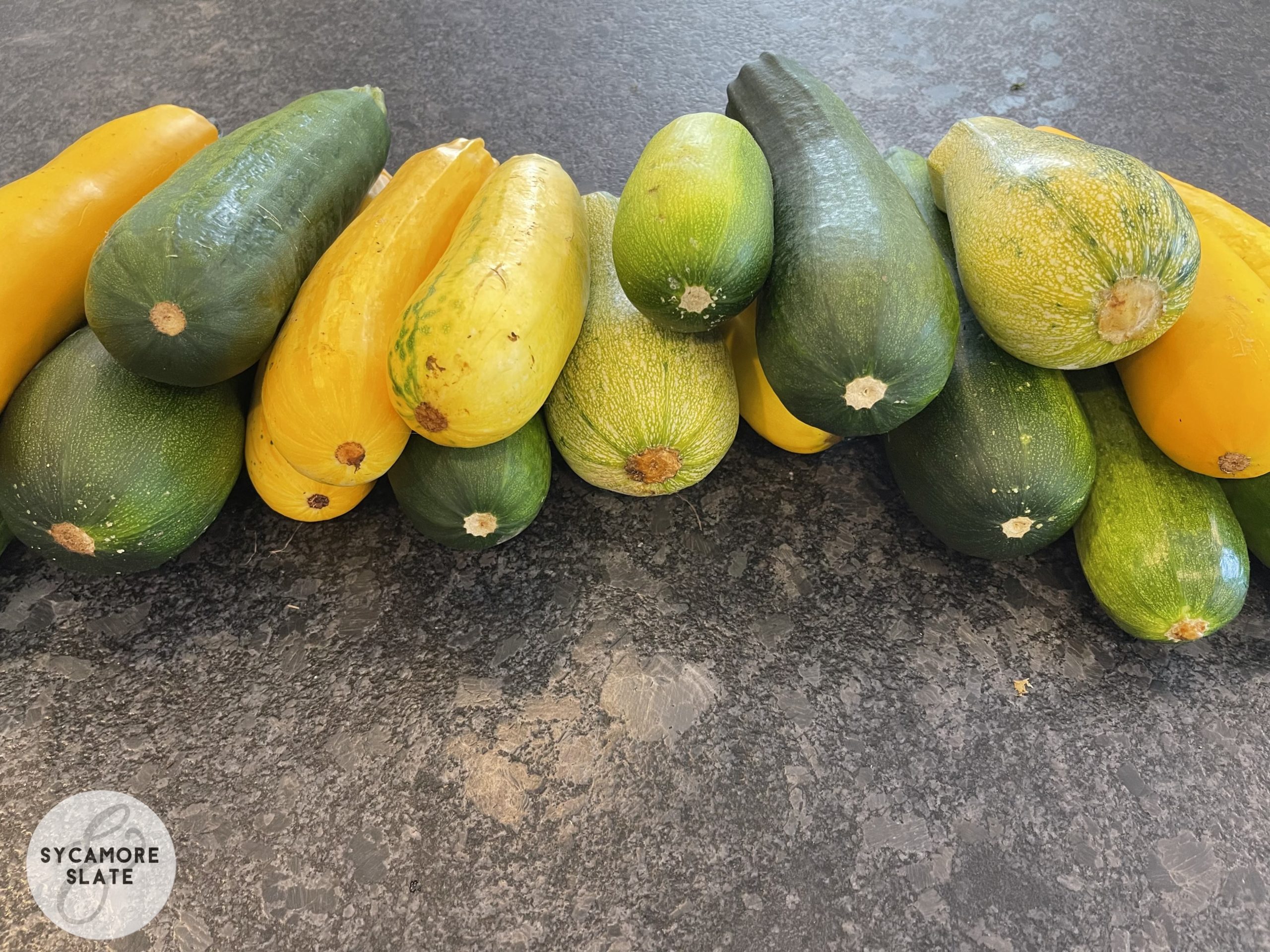 The most prolific vegetable was my summer squash. I overcompensated with these. Last year mine did really poorly and I had basically no zucchini. This year I've had so much that I literally can't give it all away. It's basically done now and I've ripped out a lot of my plants. One good thing about me having overplanted these is that I dealt with what I think is a bacterial squash wilt disease which started killing the plants off literally one by one, but having planted so many to start with meant that I still had so many. I have made a pile in the woods for the deer from all the zucchini that starts to go bad so at least someone is enjoying it!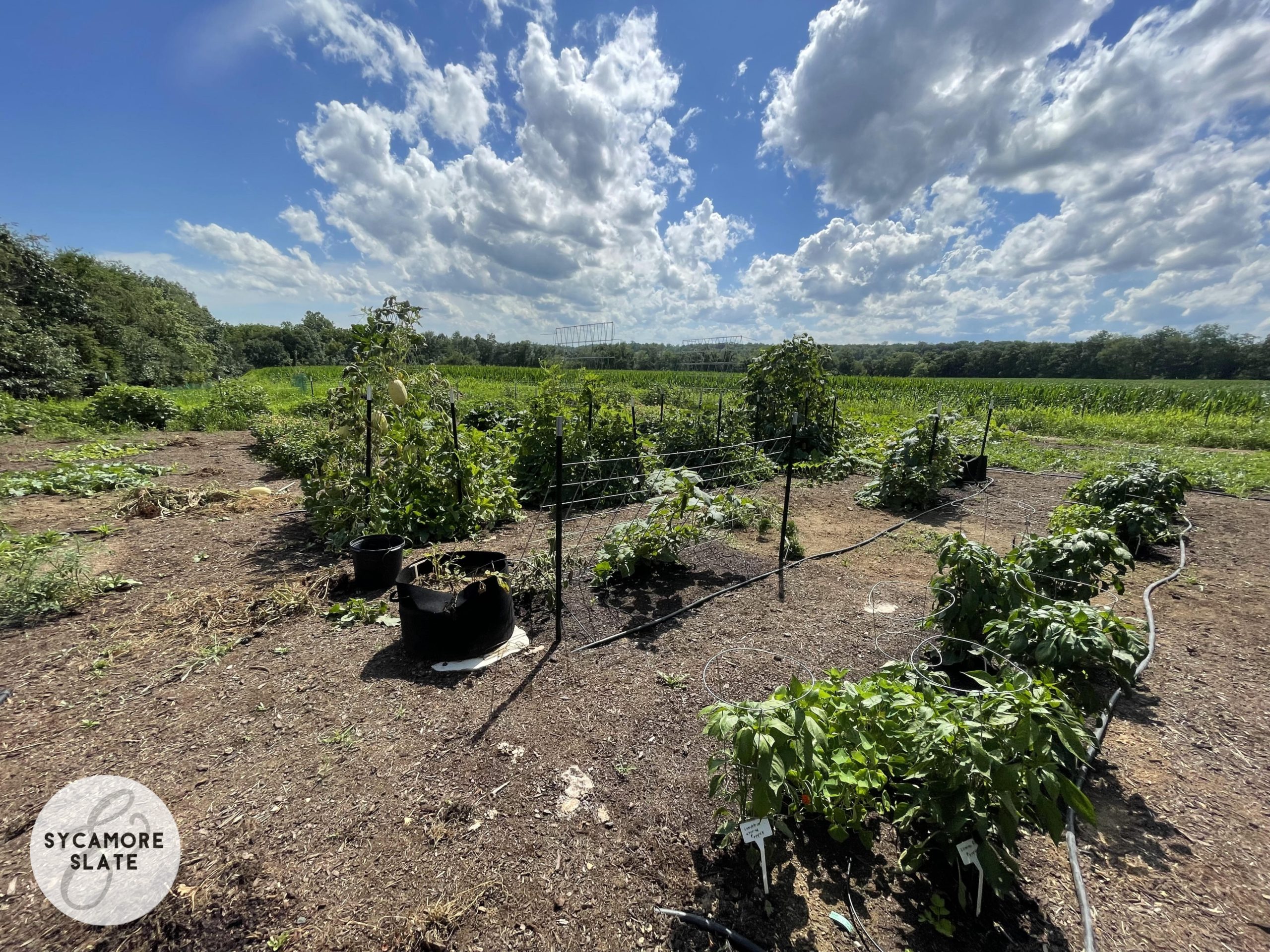 There are a ton of winter squashes which are on the v-shaped trellises. The picture above is from several weeks ago and they have since grown substantially and also started to die off.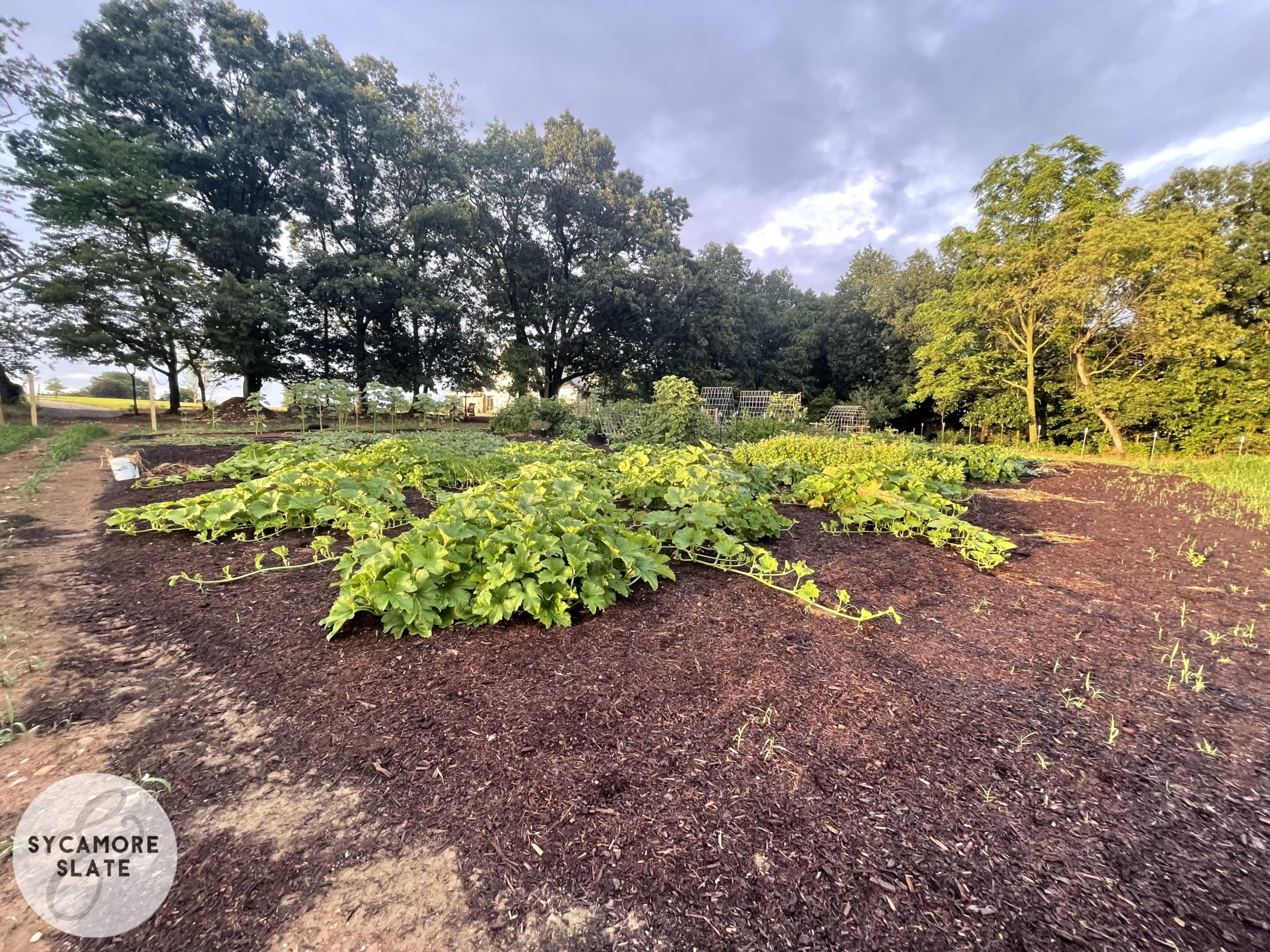 My pumpkins are growing really happily and should be ready in time for fall decorating very soon! This is the biggest patch I've ever had (obviously) and I just love to walk around it and see all the pretty colors and shapes. 🙂 I have had some of the vines die off, even though they are all irrigated and well-watered (I think) so it's possible that they are dealing with a virus as well or some other pest or disease. But mostly they are happy and I can't wait for fall to come so I can get in there and see what I've got!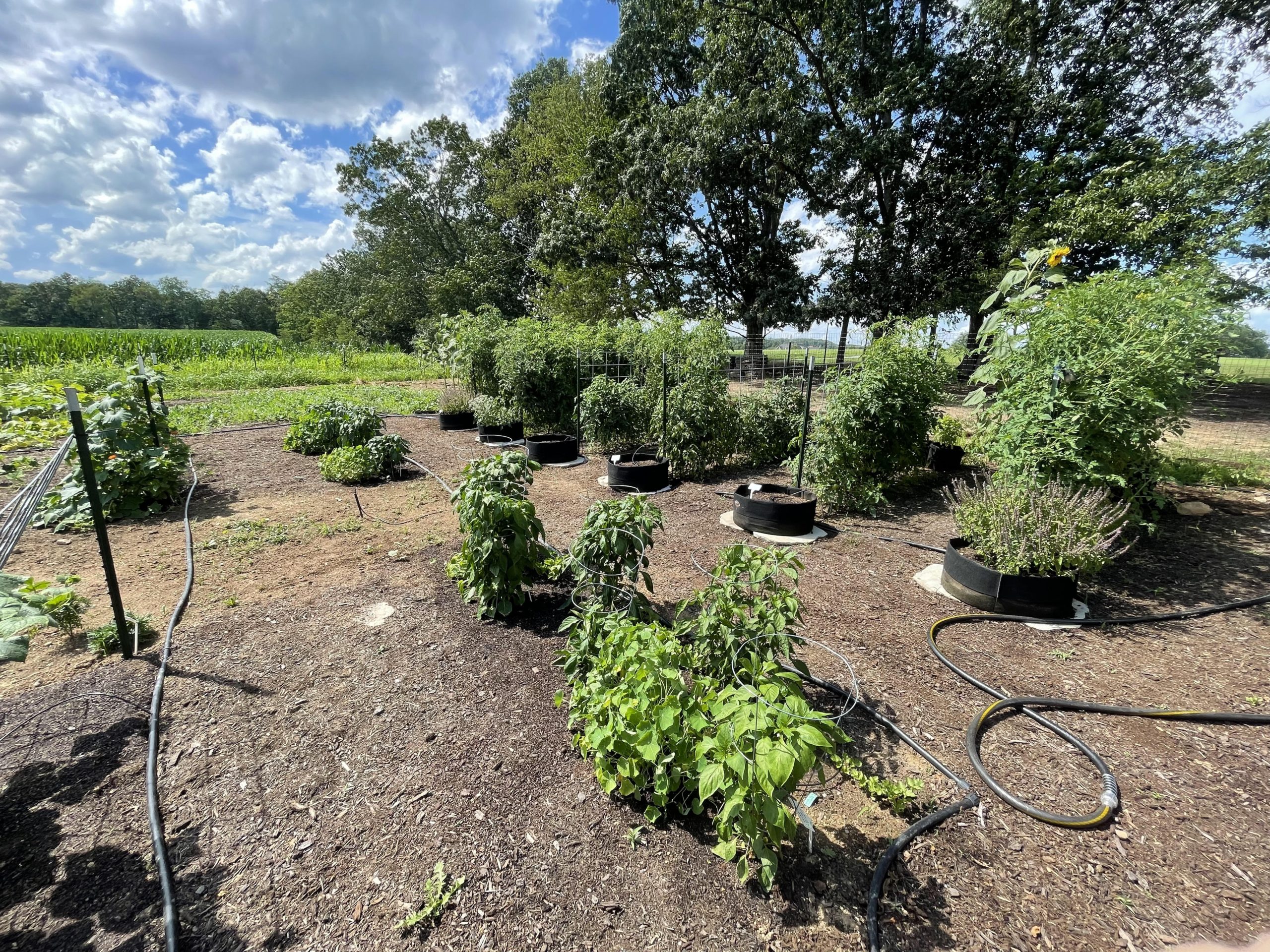 My tomato vines are so happy and full! I've had to prune them back at least 4-5 times now and when I do that, I literally make the most massive pile of vines and small unripe tomatoes, which makes me so sad, but it's a necessary evil. They get so full and heavy that I can't even get in to pick ripe tomatoes if I don't do it, and it helps the more mature tomatoes on the vine to get bigger and ripen better.
I've eaten so many tomatoes this year and also given a ton away. Literally, almost daily I pick a basketful of tomatoes. I canned salsa for the first time using my own tomatoes, peppers, onions, and garlic and it turned out so so so delicious that I made a second batch and may make another yet!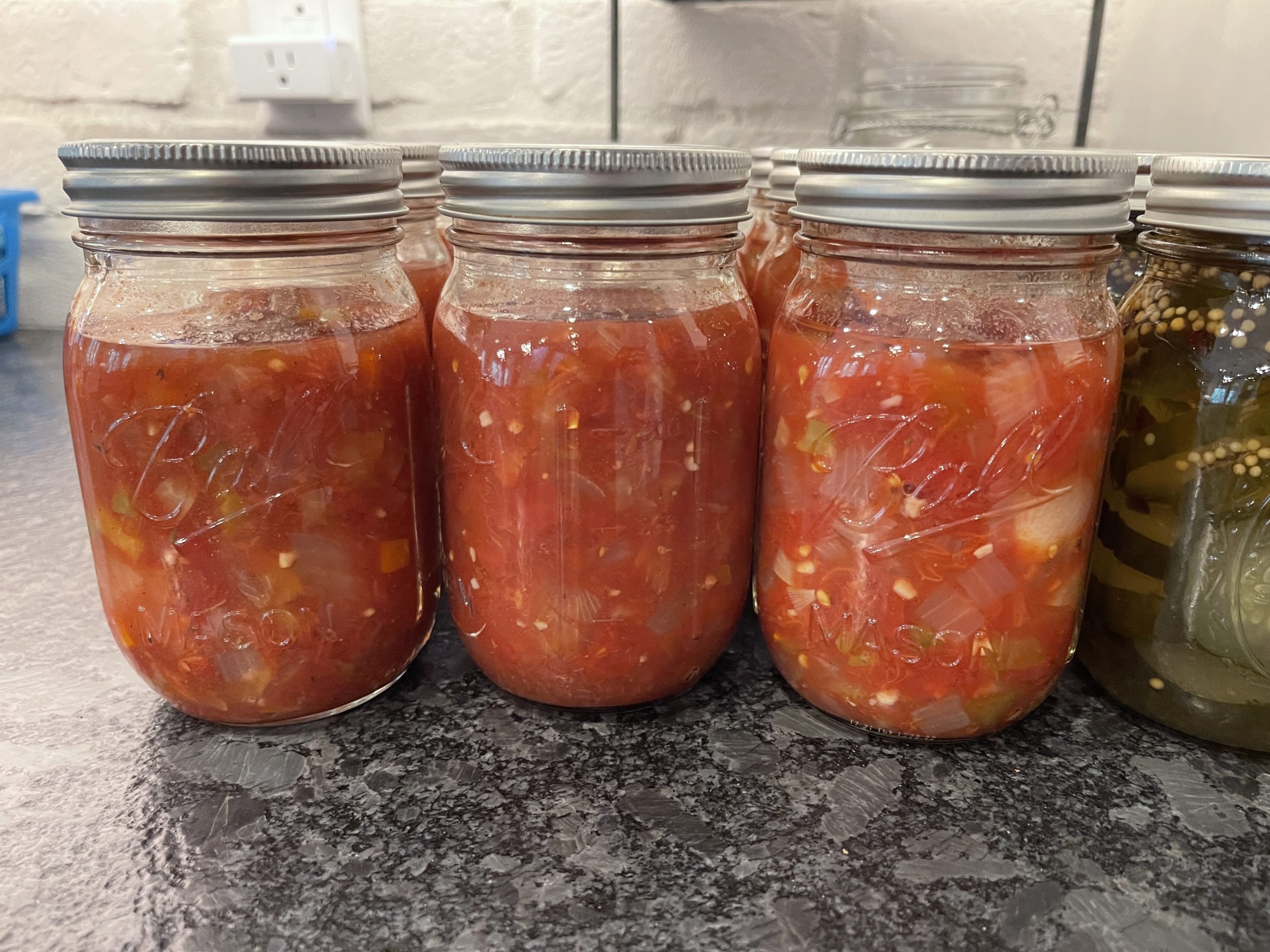 Cucumbers are also producing, though about half of my vines have died. They are in the same family as squash and I think have also been afflicted with the same wilt disease. I have still gotten more than enough cucumbers for our usage from these so far, though. Way more than enough. I made Dill Refrigerator Pickles and canned 7 Day Pickles so far and will be doing another batch of pickles probably before the week is out.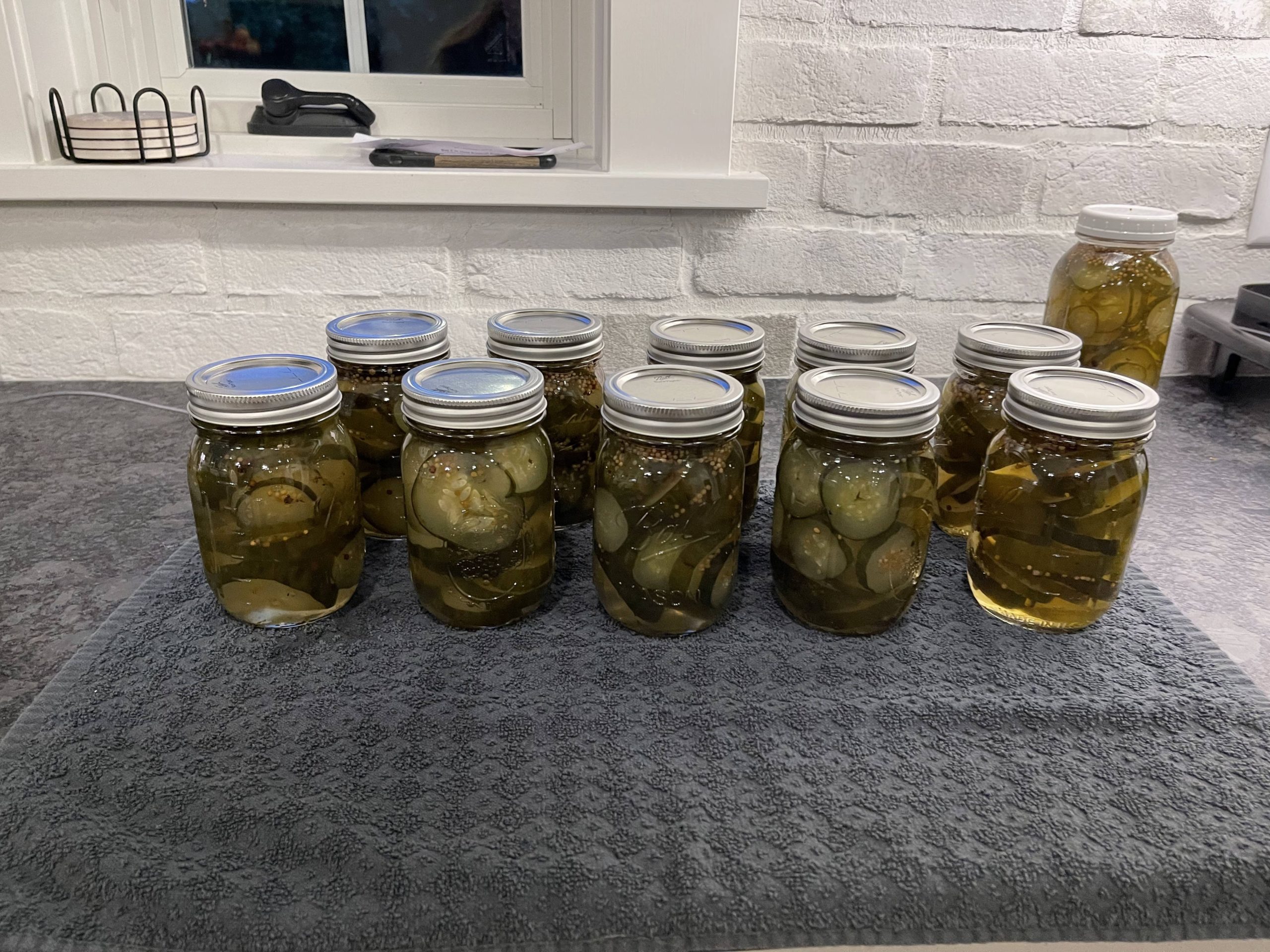 We've had a few watermelon so far and there are a ton on the vine ripening up! These are the hardest things in my garden to determine if they're ripe! I sacrificed one to an early picking and it was not ready but mostly they've been good. I'm a little bummed because they are less sweet than I hoped for. The problem is that for the last week or two of ripening they should not be watered, which is what makes them sweeten up, but we've been getting rain almost daily and that ends up making them watery rather than sweet. I've also had about 5 or so split now from having too much moisture too quickly, which is very annoying when you've been waiting for them for months and watching them grow!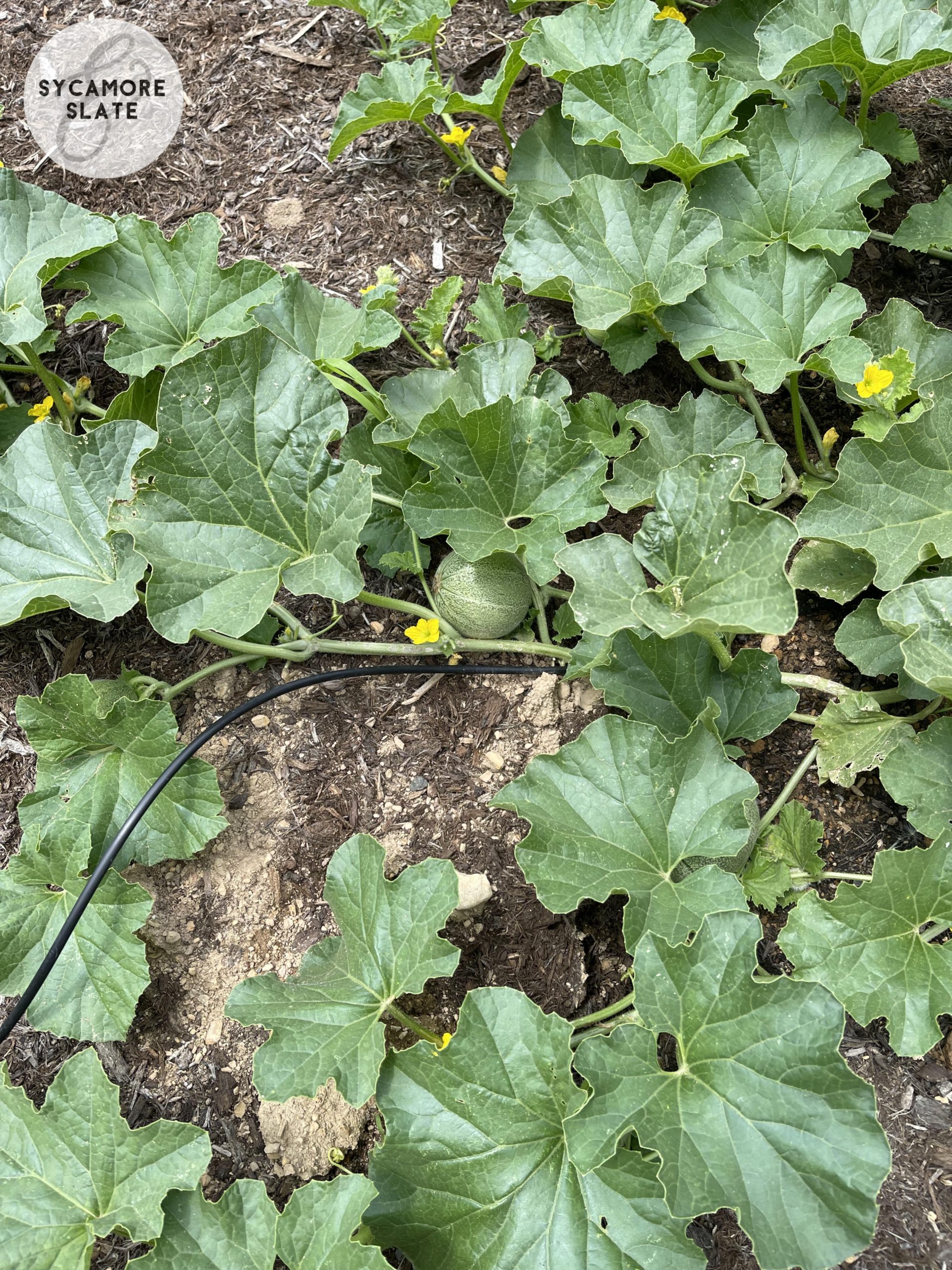 I've picked several cantaloupe and they've been yummy despite all of them being really small. I have at least 10 on one vine alone which makes me think that maybe they are small because of sharing so many nutrients with the rest.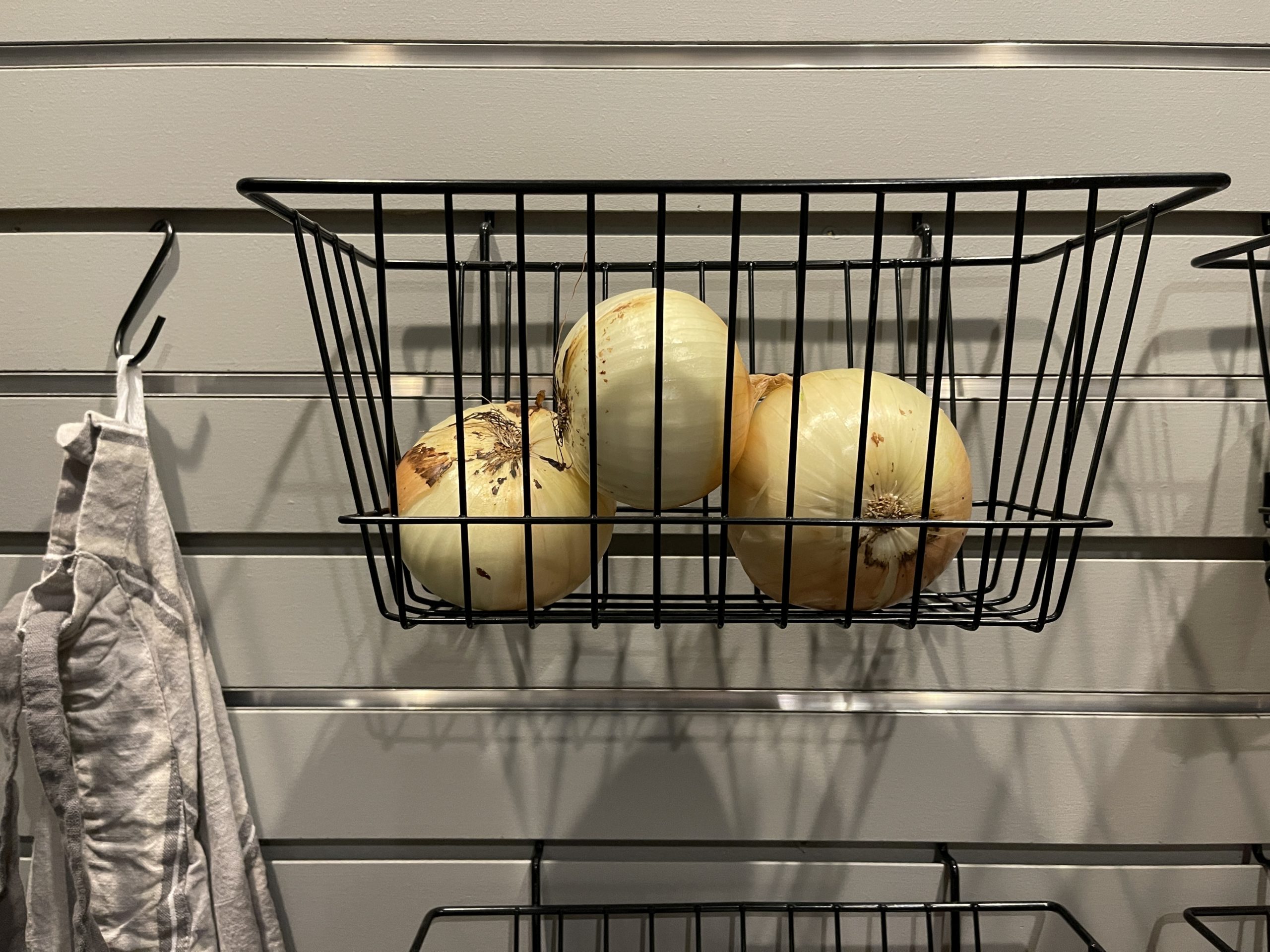 Onions are growing nicely! I've been picking here and there to use in salads and in recipes and they've all been delicious! It's so exciting to see my own home-grown produce sitting in my pantry, ready to use!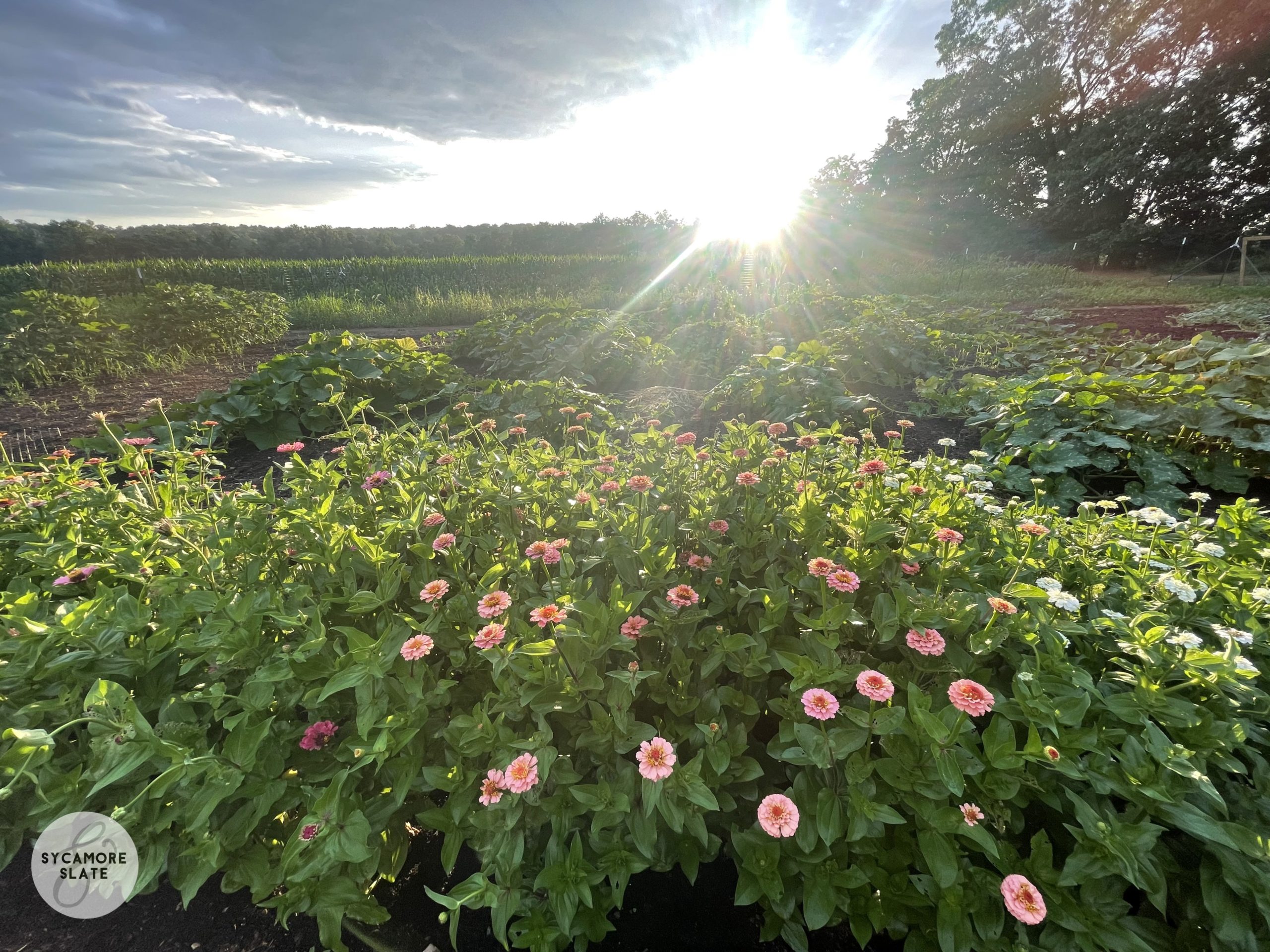 I planted a lot of flowers in the garden as well as food, and I've had most come up really well. but some things didn't grow at all. The things that have done the best for me are sunflowers, zinnias, marigolds, and nasturtiums. My poppies are done now, but they also did pretty well! My rudbeckia and snapdragons were horrible and nothing came up, though I did replant a few rudbeckia so maybe I'll still get a few of those! Calendula was sort of scattered – some did well and others didn't. I just got around to planting a few more other flower seeds last weekend. Some varieties of Zinnia (I went heavy on my Zinnia seed order in the fall).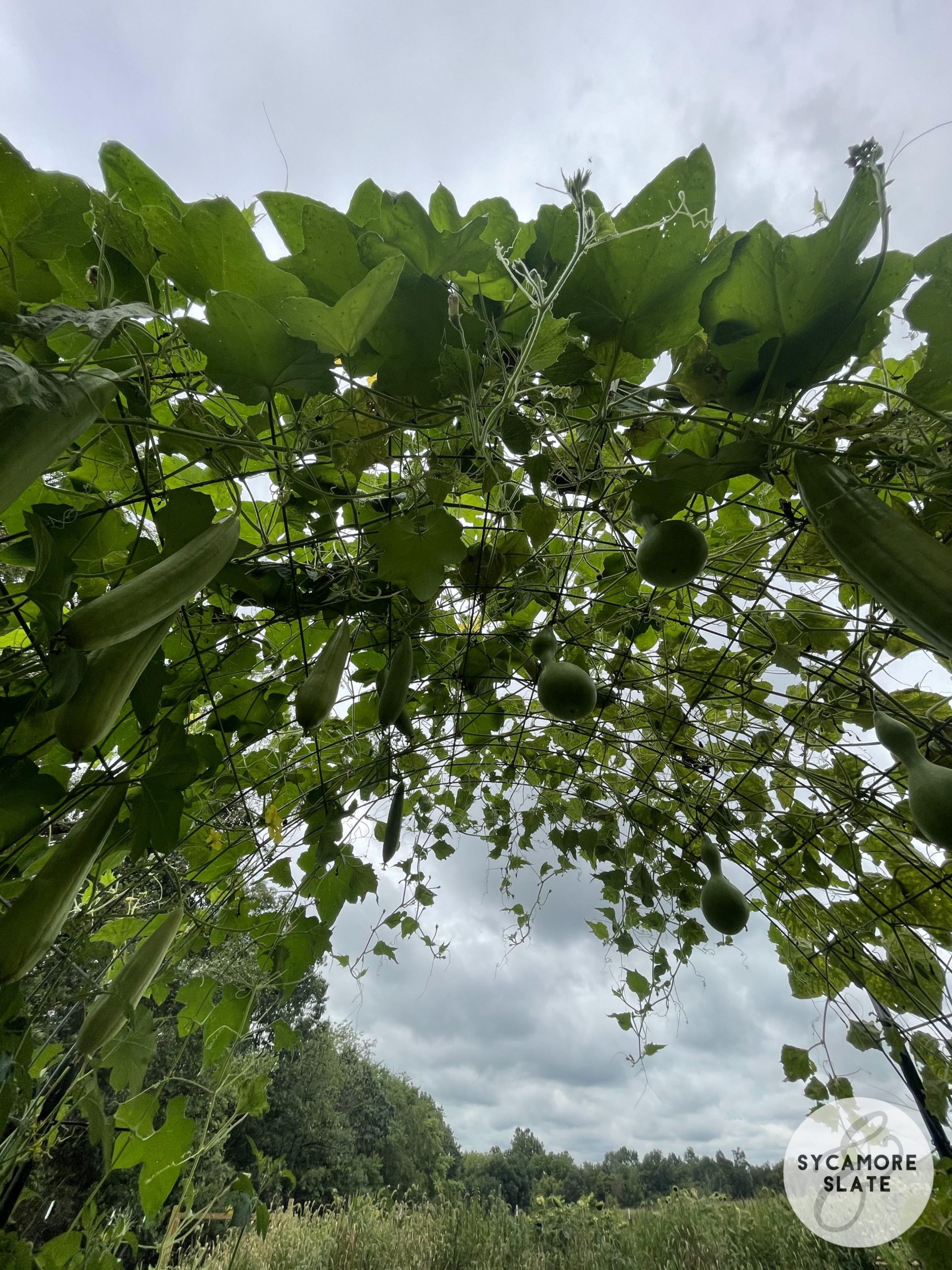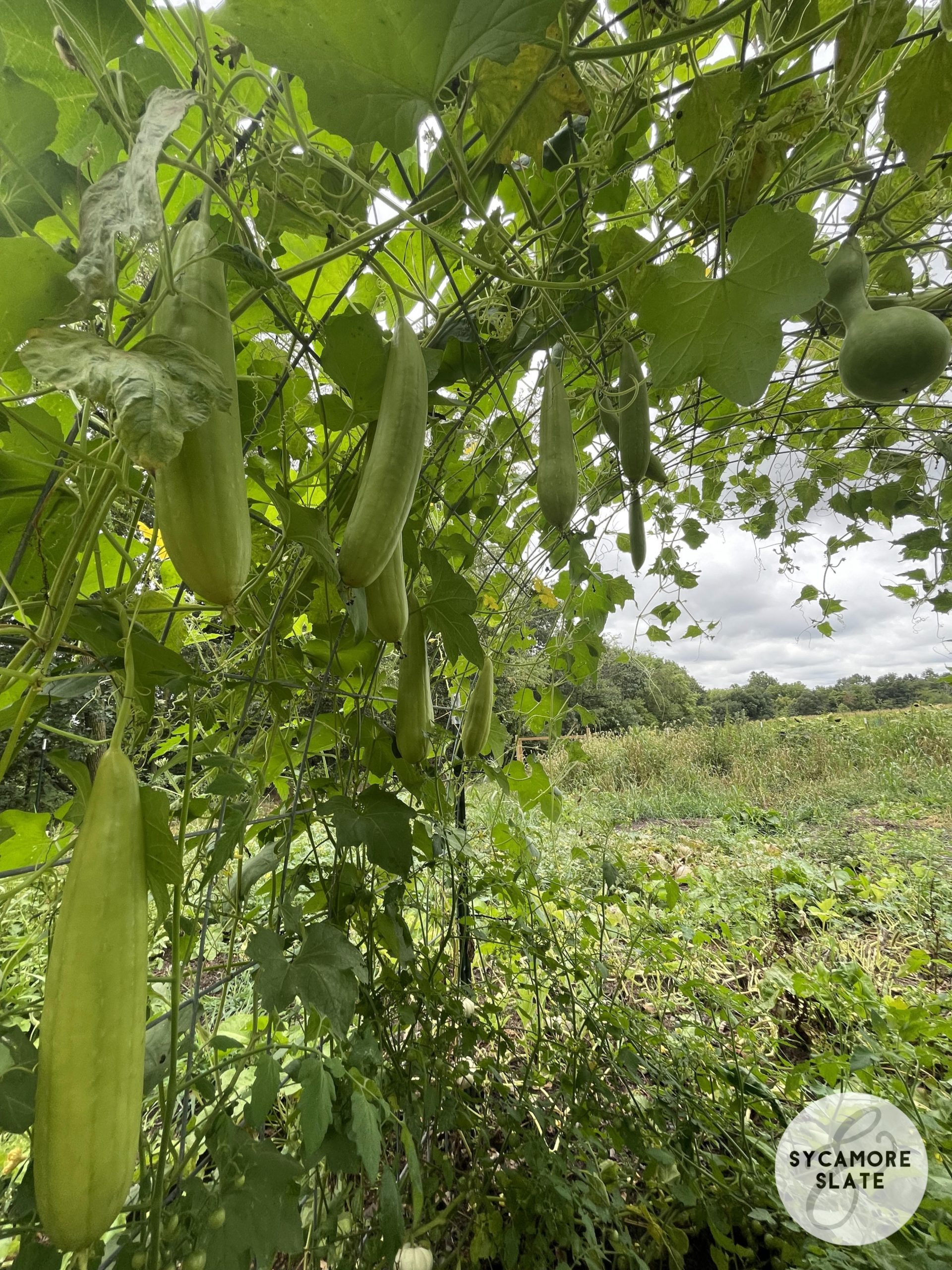 There are quite a few other things here and there, like gourds, pictured above. I'm so excited for some fun projects I want to do with these over fall/winter. There are honestly so many other yummy things growing, but I just have no time to go over everything!
As you can see in the background of the two images above, the garden has devolved a bit into a big ole' hot mess. I'm hoping to really clean it up this fall and have it weed-free and ready for an even better growing season next year. It's been so much to keep up with, mostly just because we still don't have all the mulch down and some of the beds don't have any compost yet. Next year, already having all the "infrastructure" done, I think I'll be able to keep after everything much better.
I keep hoping that I'll be able to update more often, but then I get so overwhelmed and busy in my day-to-day life and have no spare time to sit down and write up these posts or stop and take pictures. Plus we just had Evie start school again as a first grader and preparing for that has been the priority around here lately!
If there's anything in particular you want to know more about, please let me know in the comments below or send me a message and I'll be happy to answer any questions! Thanks for reading! I hope your own gardening is going great!!