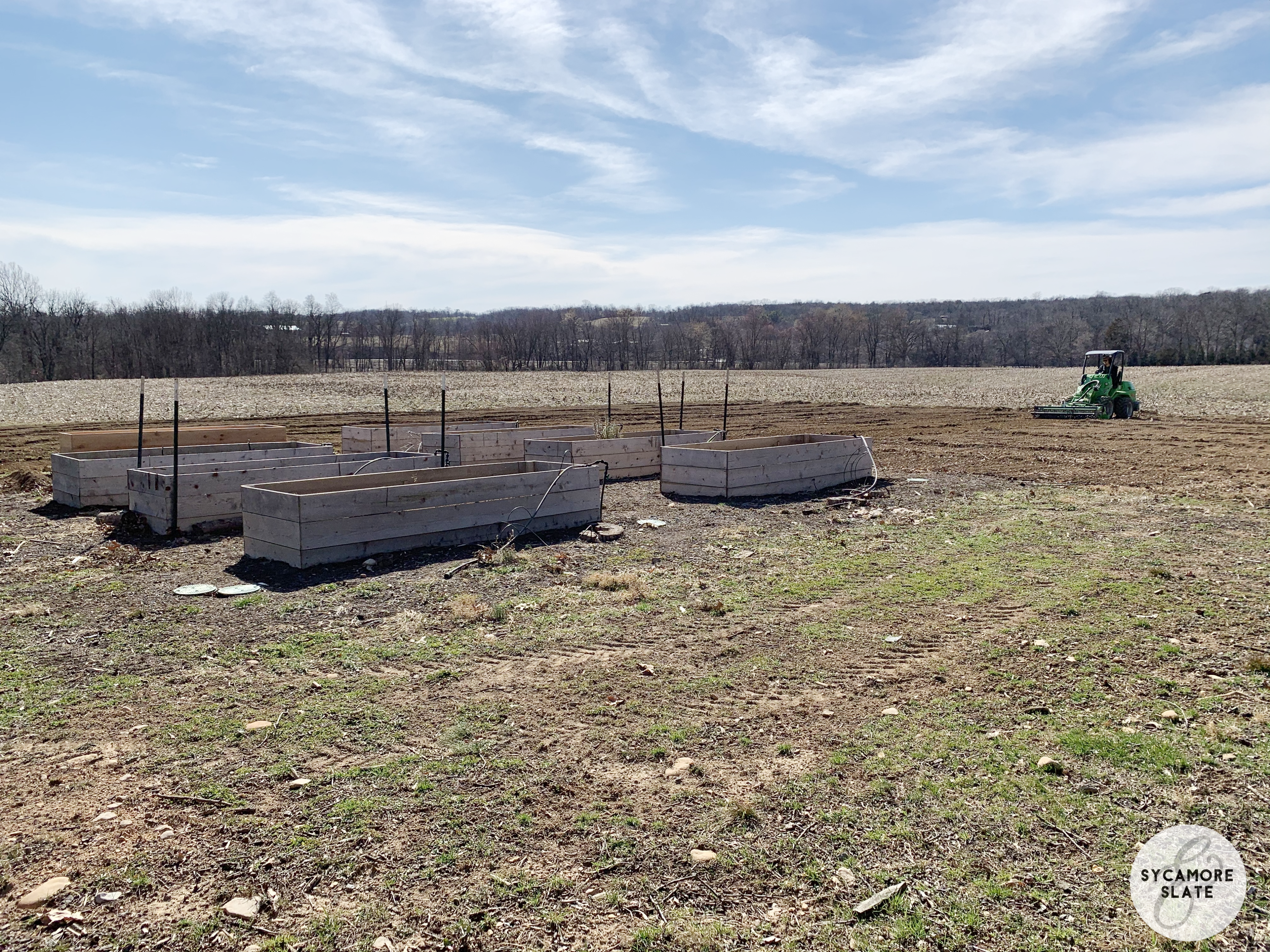 (This post may contain affiliate links, which do not change or affect your price in any way.  This simply allows me to collect a small commission when something is purchased through one of the links I provide on my page.  Thank you for supporting Sycamore and Slate! Read my full disclosure here.)
This year, my garden is growing SUBSTANTIALLY from previous years. Last year I had a total of 7 raised beds and one smallish ground bed. This year, we're rounding out the raised beds to an even 8, and I'll also have at least 6 larger ground beds.
Main Vegetable Garden Layout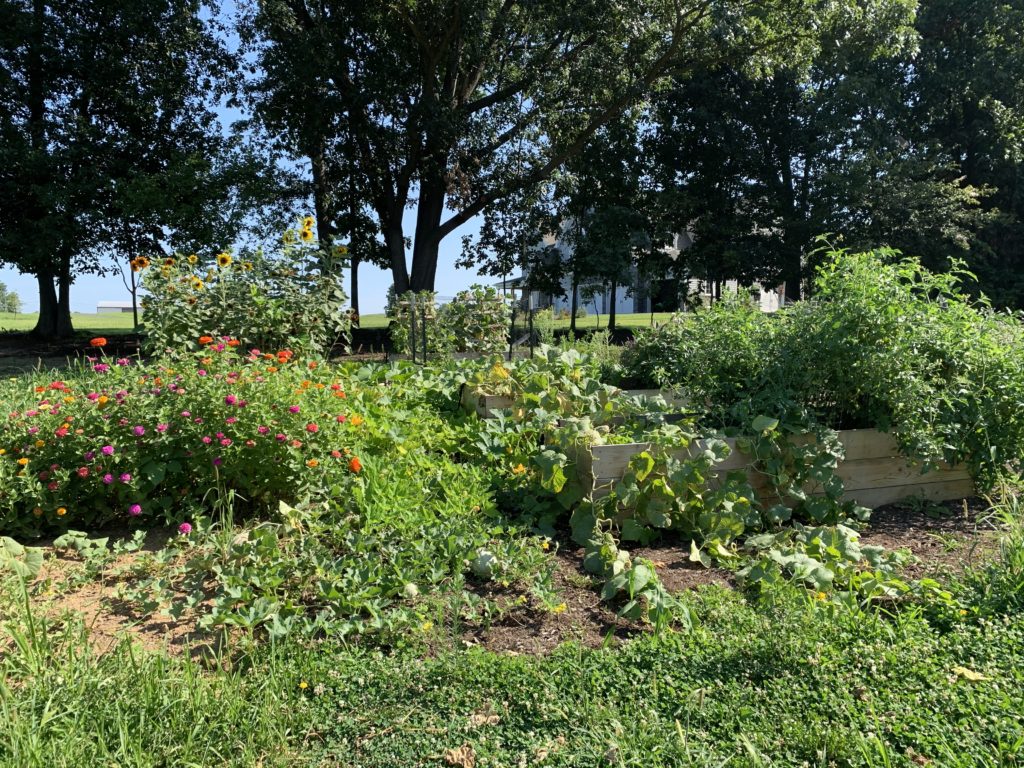 My garden was all very wild and smooshed last year since I was working with limited space and also didn't have the proper equipment to till up large areas for planting. (Entering picture above into evidence).
We purchased a tiller attachment for my husband's tractor last fall (YAY!) so you can be sure I'm putting that to good use this spring.
A lot of the taller, bigger, vining plants will go in these new ground beds where they'll have plenty of room to spread out. That will free up room in my raised beds for smaller plants like lettuce and root veggies.
Here is what I came up with for the main layout: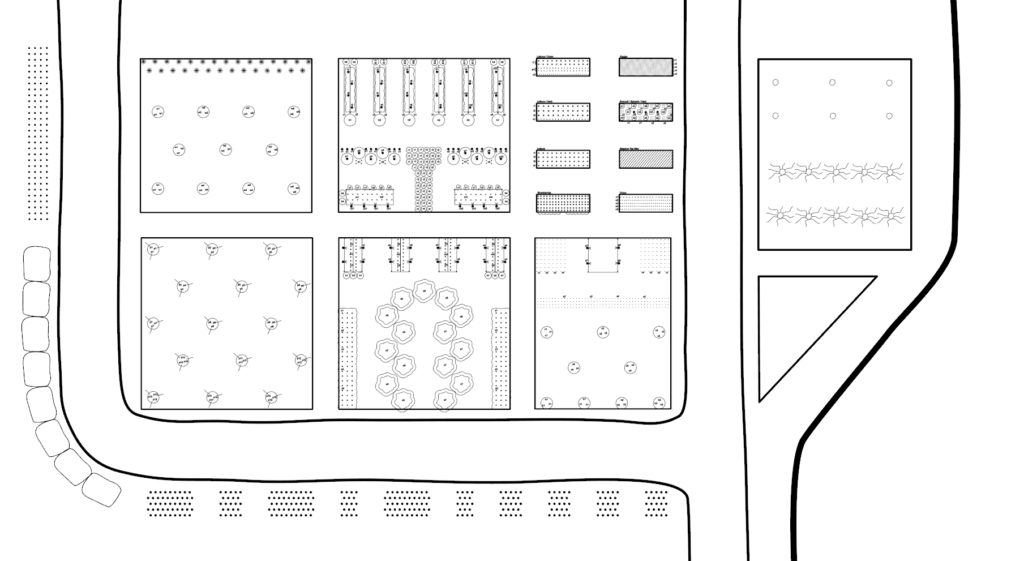 It's going to be so different from last year's garden, which all fit inside the red area below: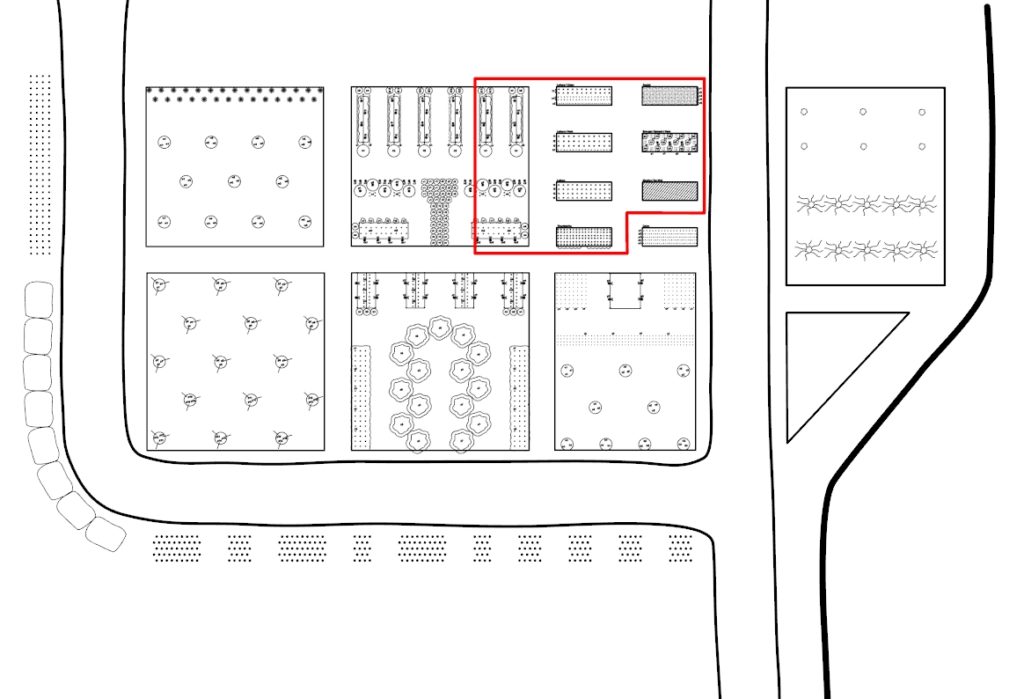 Over this past weekend, the weather was cooperative enough for Chad to till the whole area I'll be using this year. It looks so fresh and beautiful now and I can't wait to plant it up!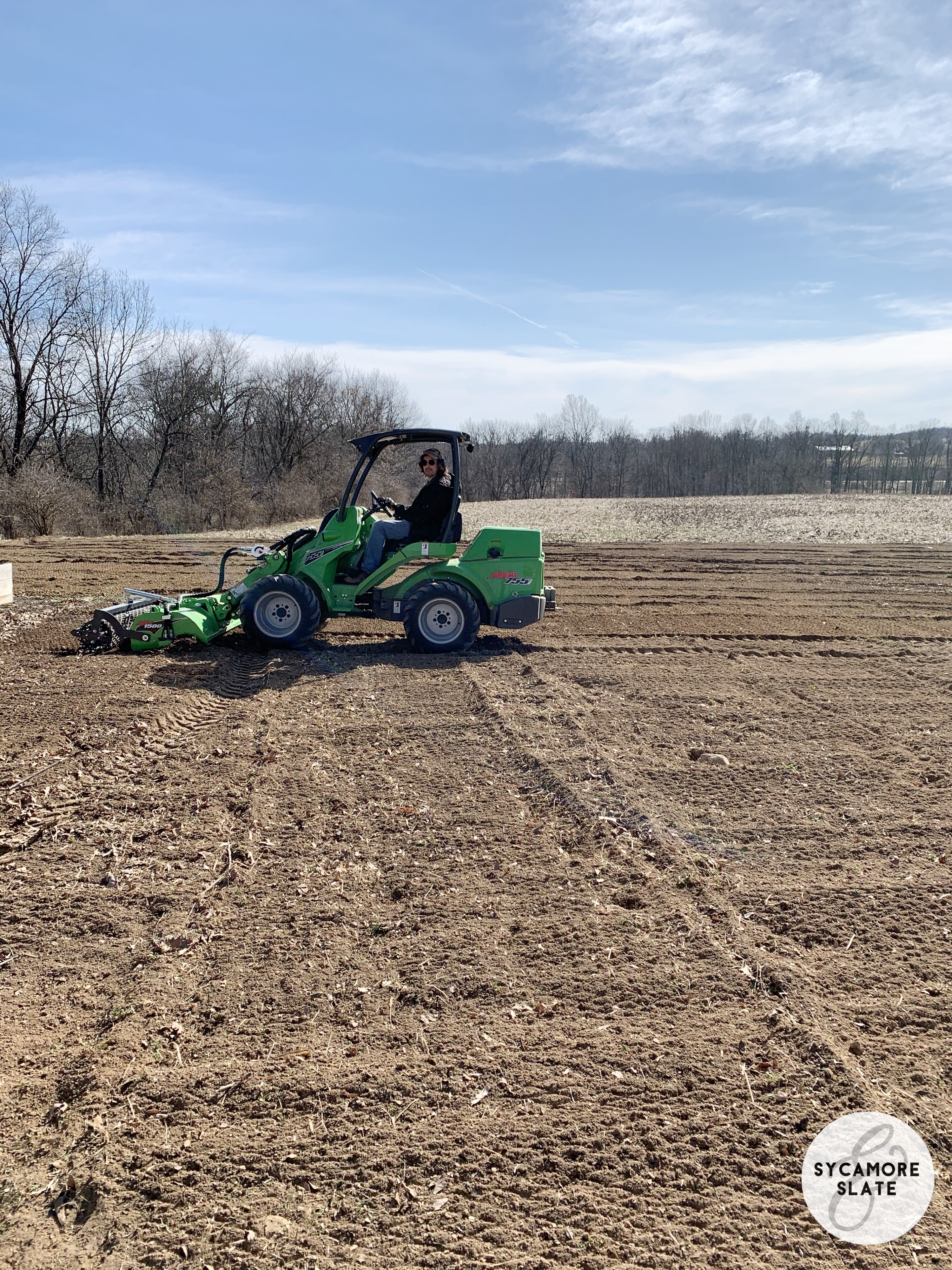 If you're interested in what exactly I have planned for this massive garden, stick around and I'll show you each of the beds and what I'm planning on putting in this year.
Watermelon / Sunflower Bed
I have five varieties of watermelon spread out in this bed – 11 hills, three plants per hill, 33 plants total. I may not have quite as distanced spacing as recommended, but it'll be WAY better than last year, and they did fairly well even then.
At the back of the bed will be 2 rows of Giganteus sunflowers. These are the biggest ones I'm growing this year.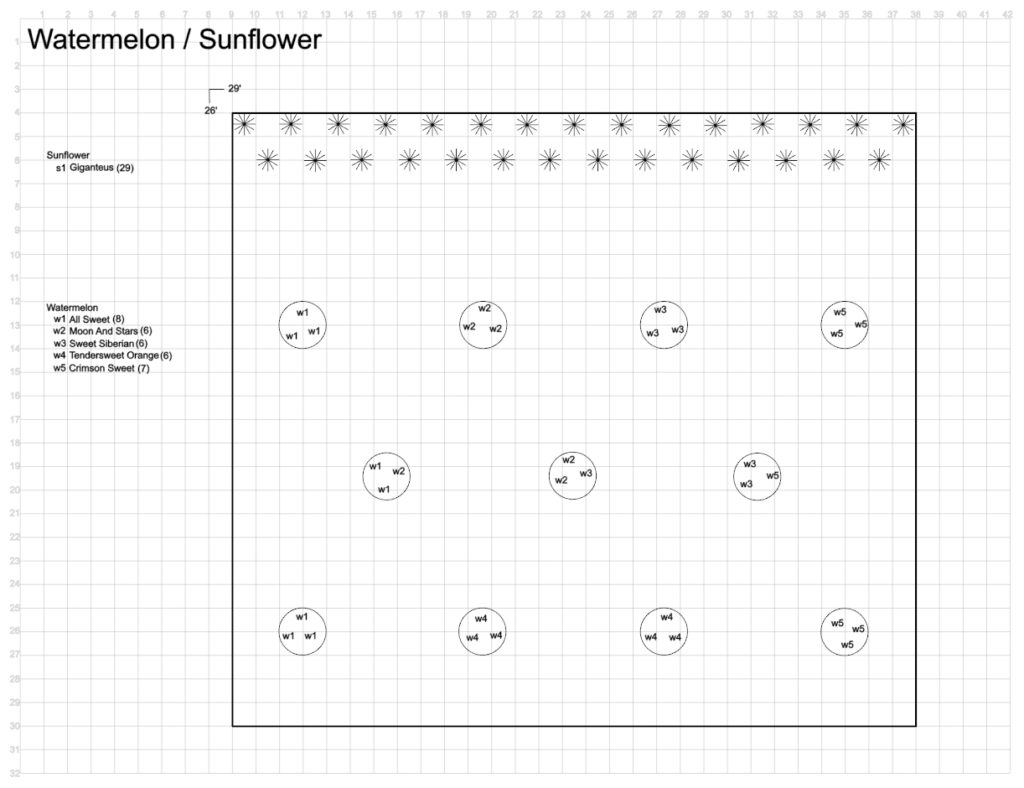 Ground Bed – Tomato / Carrot / Beet / Herb / Pepper / Flower / Celery / Cauliflower / Cucumber
This bed might be my favorite, just because I feel like I was able to make the most of the space with lots of companion planting.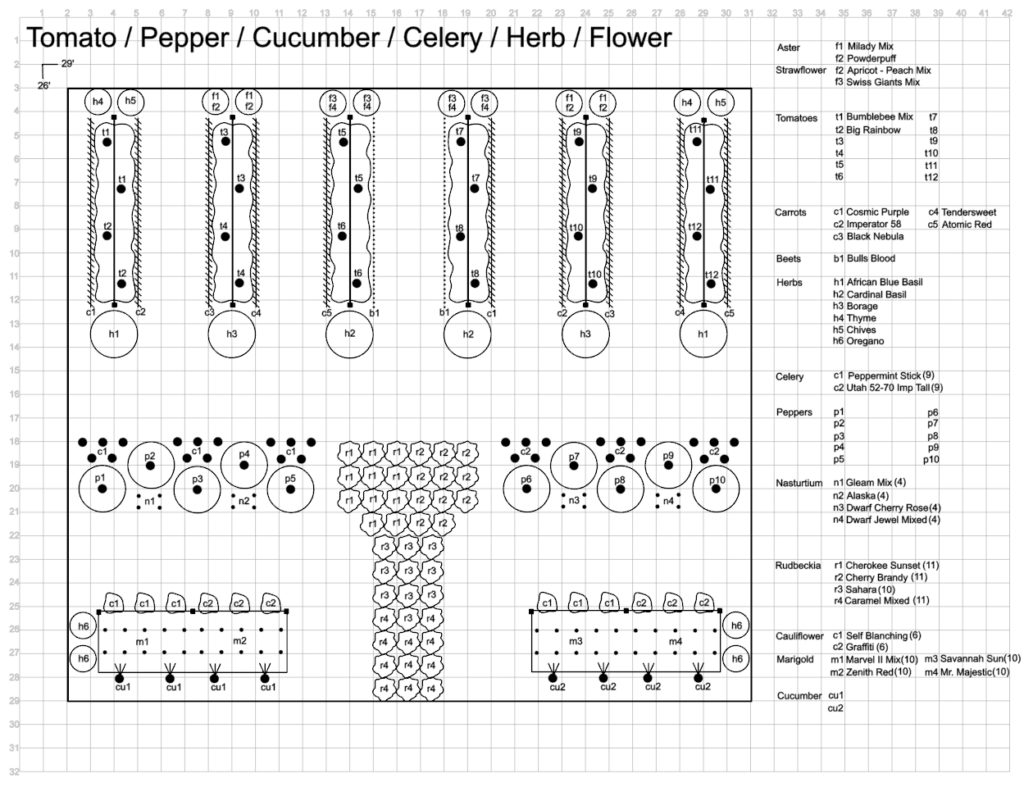 I started with 6 rows of 4 tomato plants each, which I'll be trellising on 8′ long cattle panels. Last year, I did the tomatoes in one of my raised beds and they got so tall and unruly (even after pruning!). I decided these will do better directly in the ground. I'm also going to be growing considerably more of them, which means that (in theory) I can prune the plants to be more manageable without sacrificing tomato production. I had 8 tomato plants last year, and this year I'm planning for 24. I use a TON of tomato sauce and diced tomatoes in my cooking, so I'm really hoping to try my hand at canning some of my own this year, or maybe freezing it if canning seems too overwhelming…
At the base of these tomatoes on each side, is a hilled row of various varieties of carrots and also bull's blood beets. My carrots were in raised beds last year which gave them plenty of depth to grow, but carrots are known to work well with tomatoes so I am going to try them here this year, with a lot of good compost worked in.
On each end of the tomato rows, I'll have raised containers with flowers and herbs growing in, which will draw pollinators into the garden and also help keep pests away.
This bed also has 10 pepper plants (a few more than the 8 I had last year). On the back side of these, I'm putting celery which will benefit from the shade in the hottest part of summer. Nasturtiums are going on the other side of the pepper plants because they draw away pests from good plants. I'm planning to brace up my pepper plants with tomato cages, which is what I had them in last year and it worked really really well. Tomato cages for peppers = YES!! Tomato cages for tomatoes = NO, DON'T DO IT!!!!
In the center of the bed, running down toward the bottom will be Rudbeckia. I'm so excited to grow these beauties this year! These are the varieties I picked:
The bed will be finished with 2 (8′ wide) angled cattle panel trellises for cucumber plants. There will be 8 of those, which is a similar amount to what I grew last year (a bush variety which I had in a raised bed). Underneath each trellis, I'm going to put a row of marigolds to help deter pests, and then cauliflower which will appreciate the shade provided from the cucumber vines once summer really heats up. There will also be a few containers beside the cucumber trellises for more herbs.
Raised Garden Beds – Lettuce / Onion / Herb / Strawberry / Radish / Broccoli / Spinach / Mint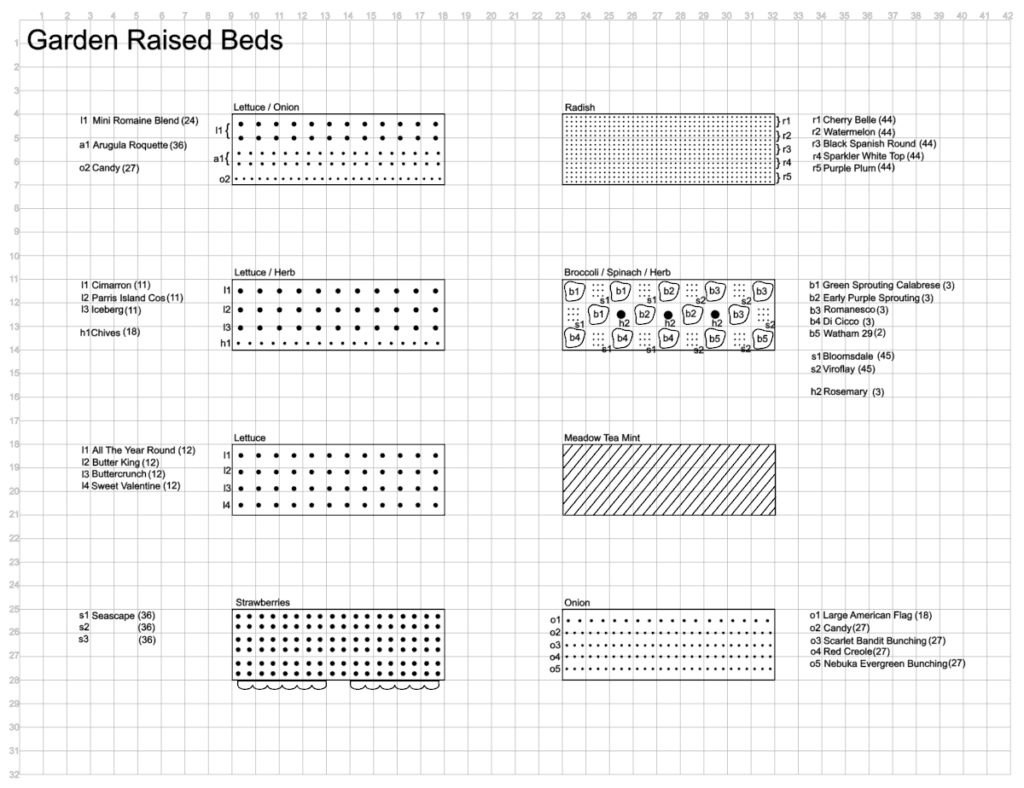 These beds will be mostly lettuce and root veggies. Really, I could almost call the raised bed my "salad garden" because most of what I'm growing here will be used in salads. I am doing it this way because these plants all stay smaller and are favorites of the local wildlife. It'll be easier on my back to have them up in raised beds and also keep them up, out of reach of pests. The strawberries will need to be netted to keep away birds. I had 21 seascape strawberry plants last year and I'm eager to get out in the garden once the snow all melts to see how many I have now. I did not do a very good job of cutting off the runners last year and therefore had many new plants rooting when I left the garden in the fall. It'll be interesting to see how many there are now.
Besides lettuce and strawberries, I'll have onions and radishes in two of the beds, broccoli, and mint (a favorite item in my garden). It came from my mom's own garden two falls ago and it is perfect for making delicious meadow tea in the summer. Mint is highly invasive and needs to be planted in a container or some sort of confined area or it will spread and take over ALL of your garden.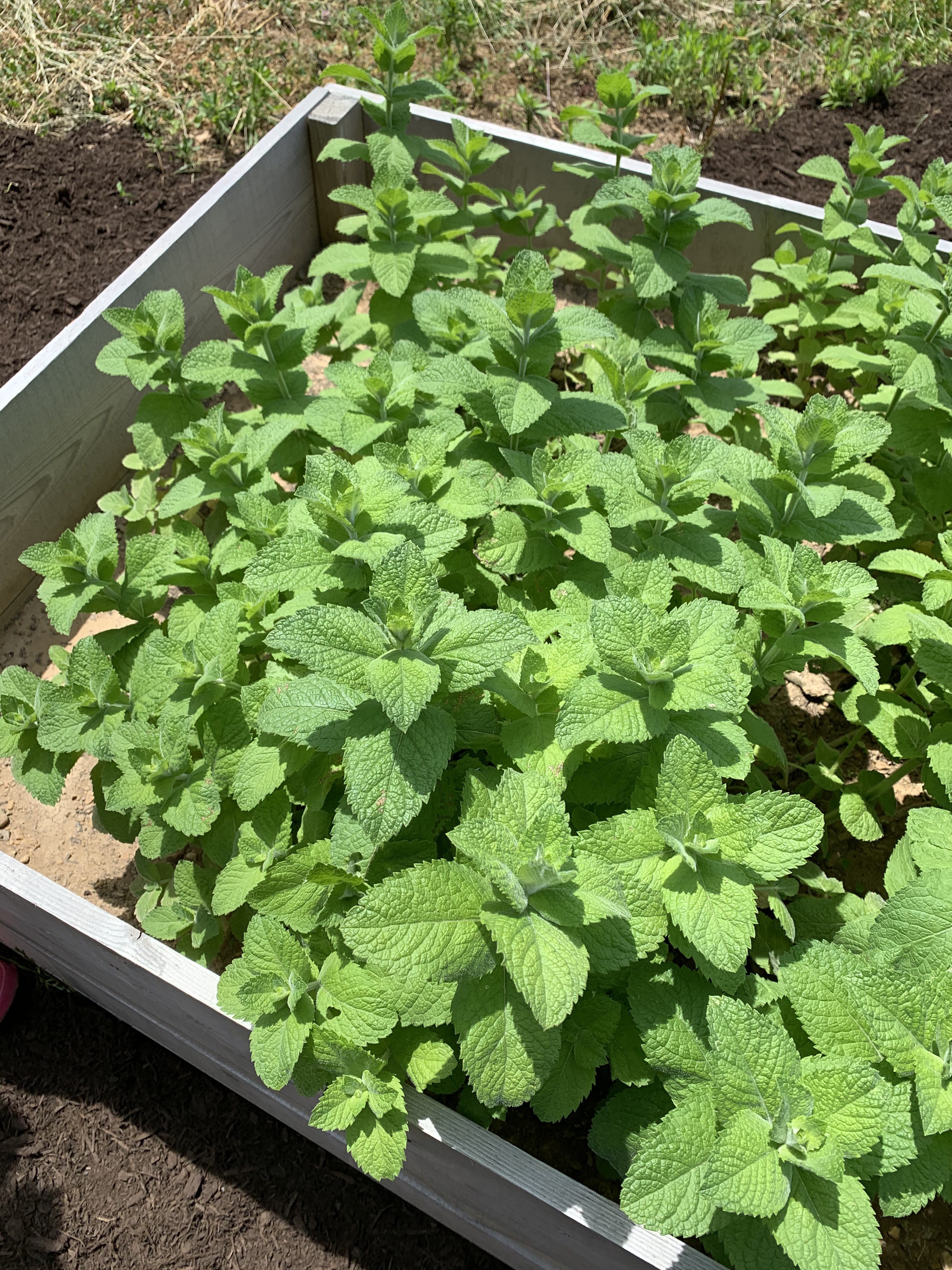 Berry Bed – Blueberry / Black Raspberry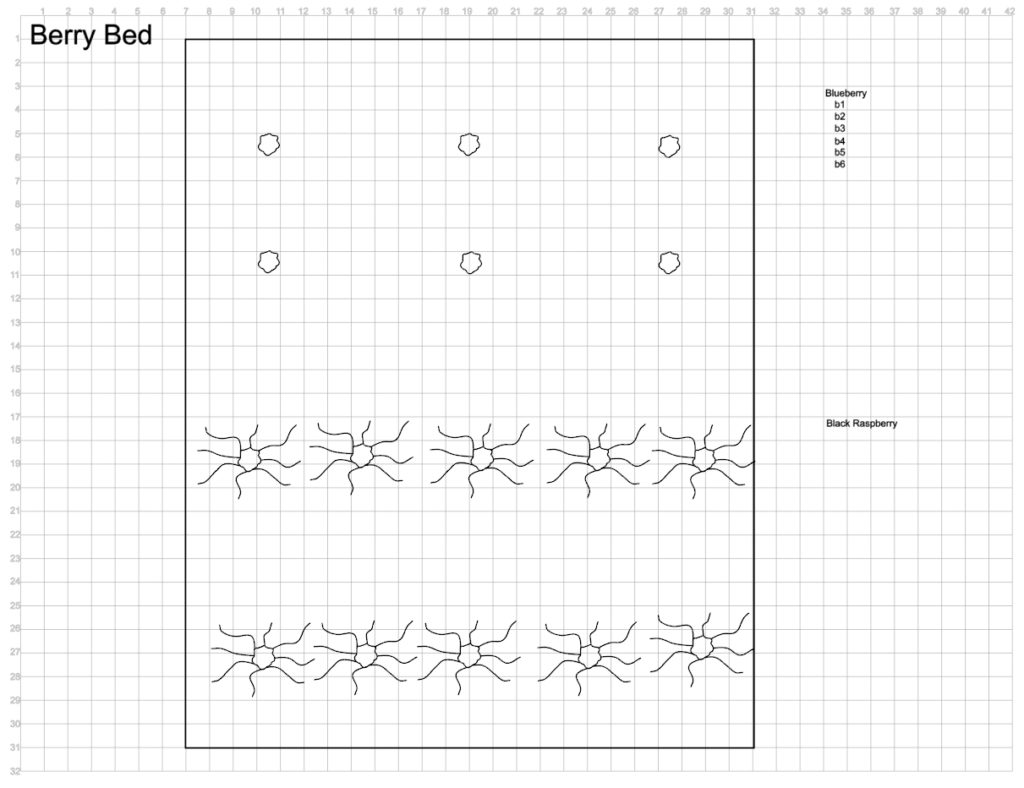 I had my blueberries in a raised bed last year and decided to move them out into a ground bed last fall. They would have eventually outgrown the space allotted in the raised bed and it made sense to put them with the black raspberries we had also just planted in the fall. My in-laws generously gave us some black raspberry babies from their own garden and I wanted the blueberries and the black raspberries together to make it easier to net them all, to keep birds away from the berries.
Pumpkin Patch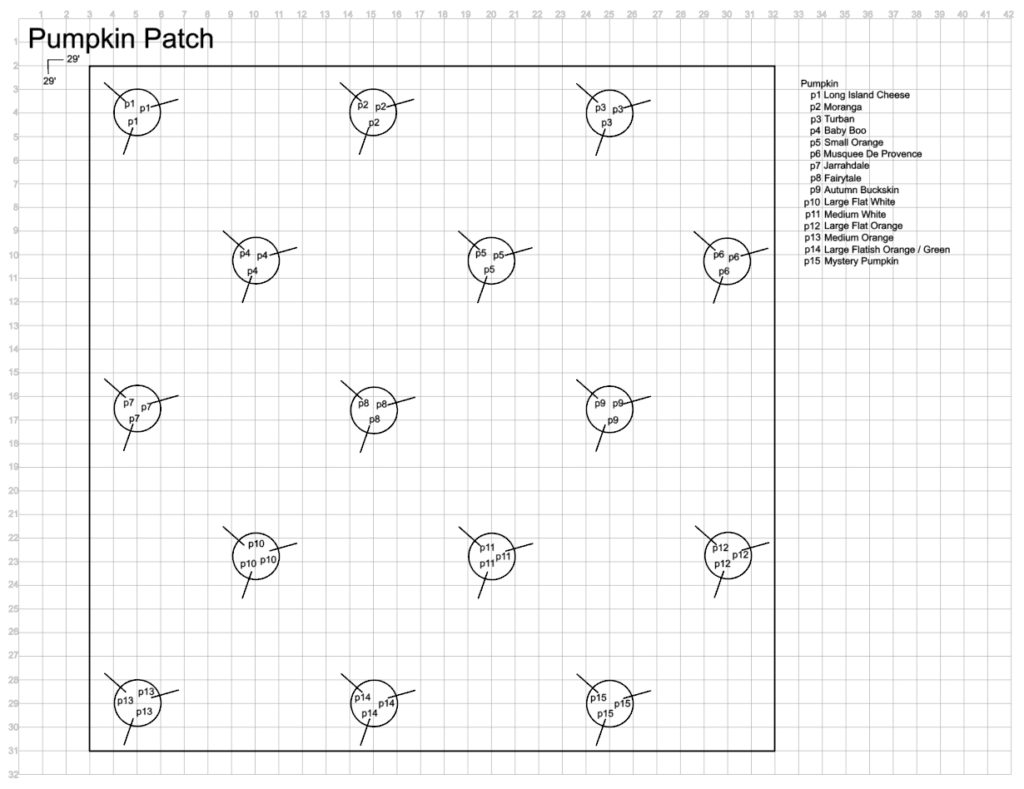 I had 4 varieties of pumpkins last year. This year I'm planning for 15ish. Each variety will be thinned to 3 plants per 2′ diameter hill, and each hill will be spaced roughly 8-10′ apart from each other. This gives them world's more room to vine than they had last year. I ordered several new types of seeds, but I also saved some of my seeds from last years pumpkins and I'm excited to see what ends up growing. I have no idea what some of the varieties were (because they bought from the store) and others that I grew may have crosspollinated, so we'll see what we end up with!
Squash / Flower / Herb
I'm planning on using cattle panels and zipties to build tall trellises for my winter squash to vine on. Each trellis will hold 4 plants. There will be Acorn, Spaghetti, Buttercup, and Butternut squashes. More nasturtium and marigolds will be tucked in under the trellises here and a few raised pots with herbs sit on the ends.
In the center of the bed, I'm doing my summer squash in a cute little zigzag loop. This was the best way I could think to get as many plants in as possible while still having access all around them for harvesting.
Rows of Zinnias will go on either side of the summer squash. I went a little crazy and ordered a ton of varieties of these so not all of what I have will fit in this bed.
Melon / Gourd / Flower
In the center of the bed, I'm planning on putting an arched cattle panel trellis with gourds growing over it. I have birdhouse gourd seeds already, so those will for sure get planted and I'd love to find some luffa seeds/plants locally if I can!
A little plot of Calendula will go on either side of the gourds and snapdragons across the middle of the bed will separate the gourds from the melons, which include 5 types of cantaloupe and 3 type of honeydew.
Perimeter Planting
There is a path around the outside of the garden where we can bring our UTV and other equipment in and lining that perimeter are more flowers. Zinnias, Poppies, and Sunflowers.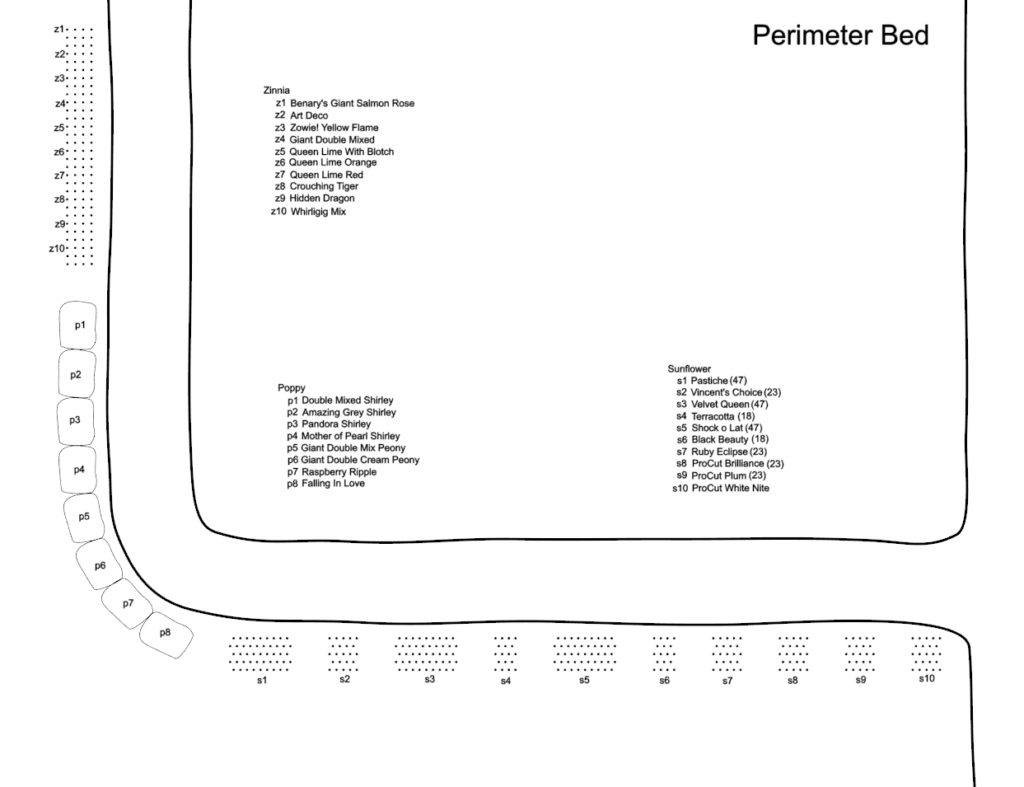 I still have just a few varieties of flowers unaccounted for in my plans, so there will be some minor adjustments/additions as I plant. I will probably add some more containers here and there and put some of the flowers in those. I'm sure, too, that as I start to go out and physically put things in place, I'll need to make changes. Sometimes things don't work as perfectly in practice as they do on paper!
This garden is truly massive in comparison to anything I've done before. I'm blessed to have enough space for a sprawling garden this year and I'm definitely going to make use of it! It'll be an adventure to get everything setup and underway for this growing season, and to see how it all ends up turning out. I'm sure I'll be doing just as much growing as my garden does, learning a ton as I go!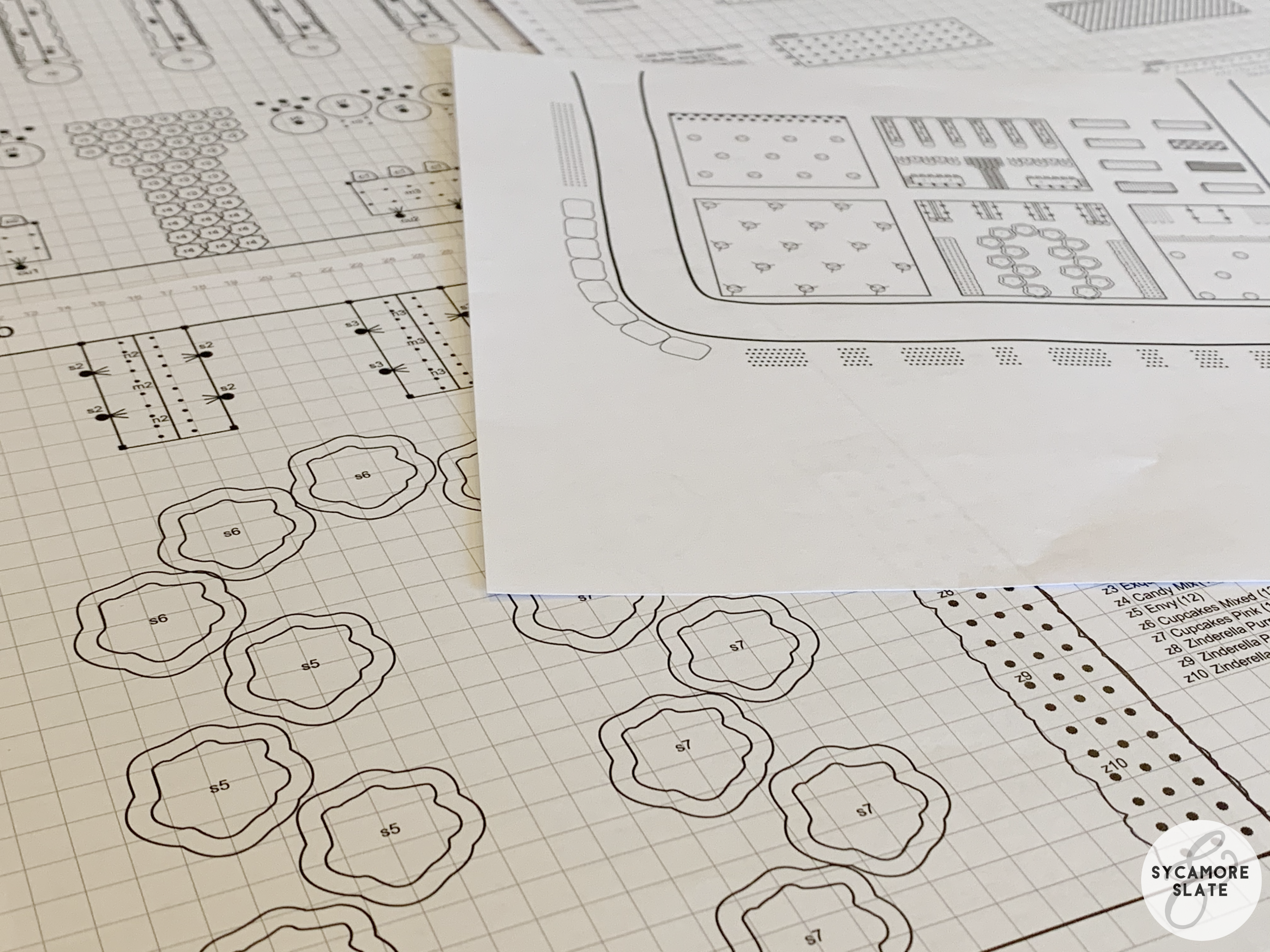 Thanks for reading this long post! Let me know if you have any suggestions for me and Happy Garden Planning to you all!