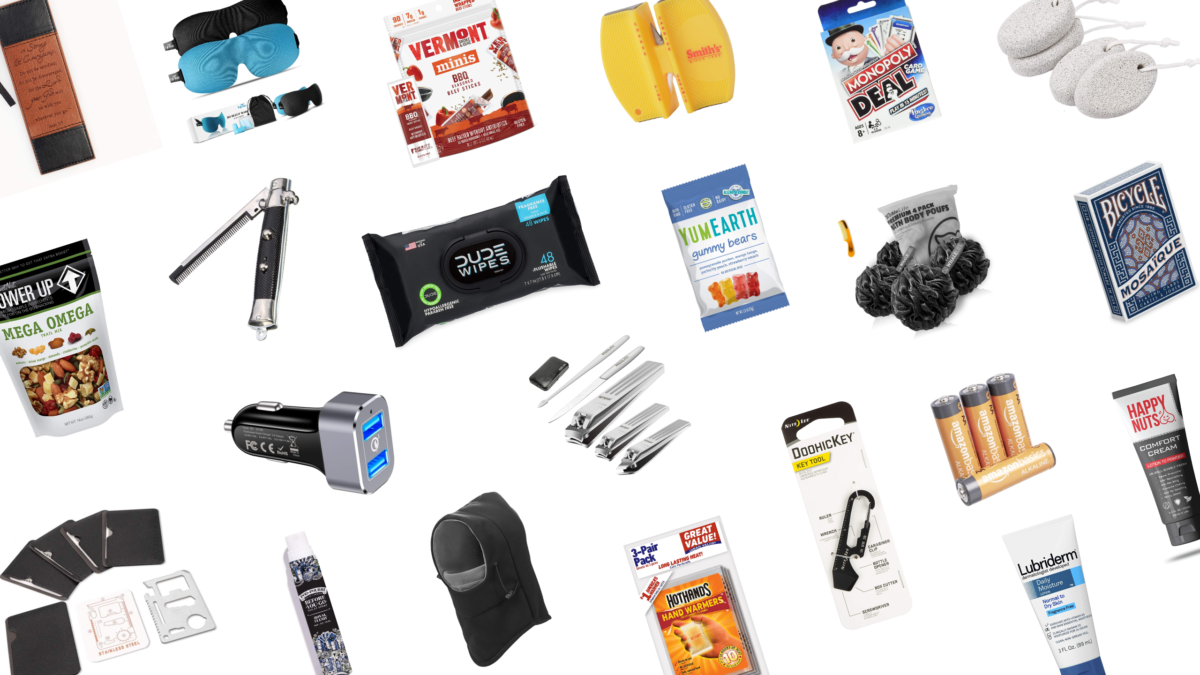 (This post may contain affiliate links, which do not change or affect your price in any way.  This simply allows me to collect a small commission when something is purchased through one of the links I provide on my page.  Thank you for supporting Sycamore and Slate! Read my full disclosure here.)
We're living in a world of less-is-more and minimalism, which means that people don't want a lot of useless junk sitting around cluttering up their lives! BUT. Then we get to Christmas and we still HAVE to do the stockings because, come on! It's tradition! Who doesn't love digging through that giant furry sock that's been staring at you, all lumpy and inviting for the past few weeks??
Here's some stocking stuffer ideas to help you fill up your man's stocking for CHEAP, with things that he actually NEEDS and will USE! None of this stuff is junk!
All of this list is Prime eligible, which means it ships super fast, for all my fellow last minute shoppers out there! BUT if you do find yourself buying early, a lot of this list is available for subscribe and save, which is amazing because you can add these onto your normal subscribe and save orders, get up to 15 percent off, and then cancel the subscription for future months! It's such a great way to get some of these products even cheaper!
CARE AND GROOMING
Guys need pampering, too! It's winter time, which means a lot of places start getting chapped. Start with the standard lip balm…
add in a little hand moisturizer…
And if you you're really comfortable around your man, maybe throw in some of this "comfort cream" too!
If you think he'd be a fan of the last one, he'd probably appreciate a pack of these Dude Wipes, as well!
This bathroom spray could be a life-saver if you're having a lot of friends/family over during the holidays!
Poufs and pumice stones are essentials for in-shower lathering and scrubbing!
Every man should have a professional set of nail trimmers! This one even comes with a leather case to store them in!
Does your guy like to keep his hair combed back? This one gives me serious "Grease" vibes, but honestly, this switchblade comb is perfect for the hair-obsessed man in your life!
These eye masks are perfect if your guy needs it to be completely dark when he sleeps! Especially good if you're traveling over the holidays!
WINTER WARMTH
Don't let him get cold hands or feet! Buy him this 6-pack of hand warmers to keep in his gloves or shoes on those bitter cold days.
Speaking of gloves, pretty much everyone could use an extra pair. These are touchscreen-friendly and inexpensive!
Another must have for snow days is a balaclava like this simple option:
FUN AND GAMES
If your man enjoys games, here are some ideas great for playing over holiday vacations. Start with a standard deck of cards. They have neat new patterns, like this "Mosaique" one:
Monopoly Deal is a fun game for 2-5 players.
Blink is a super fast, 2-minute, 2-player game you can play together while dinner is finishing up!
If he loves the game Cards Against Humanity, please get him this Seasons Greetings Expansion Pack:
It's all fun and games until someone gets hurt, right?? If your guy ends up with a scrape or cut, you'll have him covered (PUN!) with these bandages. Perfect for the Bacon-lover in your life. And if he doesn't like bacon, they have plenty of other options, like tacos, donuts, pizza, and even avocados.
SNACKS
This classic, healthy trail mix is a great place to start!
Also healthy-ish, these YumEarth Gummy Bears:
If your guy loves BBQ, give him these mini beef sticks to snack on:
And you can't forget chocolate! We're partial to the dark variety, but Alter Eco has a lot of other options too!
ODDS AND INTERESTS
Give your man a hickey! (A DoohicKey) that is! This a neat 5-in-1 keychain tool that he will find many uses for!
If he's a fan of all-in-one tools, he'd probably really like this credit card 11-in-1 tool, too, which is made to fit in a wallet! You also get FIVE in this pack, so you can keep one for yourself, or gift them to ALL the men in your life!
If he's a fan of knives, he probably could use this sharpening tool:
Make sure he always has his phone charged up with this inexpensive car charger:
If your man is a reader and likes to have a physical copy in his hands, he might like a new leather bookmark! This one is masculine, and has a great message:
Something we all end up needing is a new pack of batteries. These are a great idea to include in your man's stocking, especially if you're giving him a gift that doesn't come with them. He'll be able to put these to use right away and use whatever cool gadget you bought him!
Happy Shopping!!