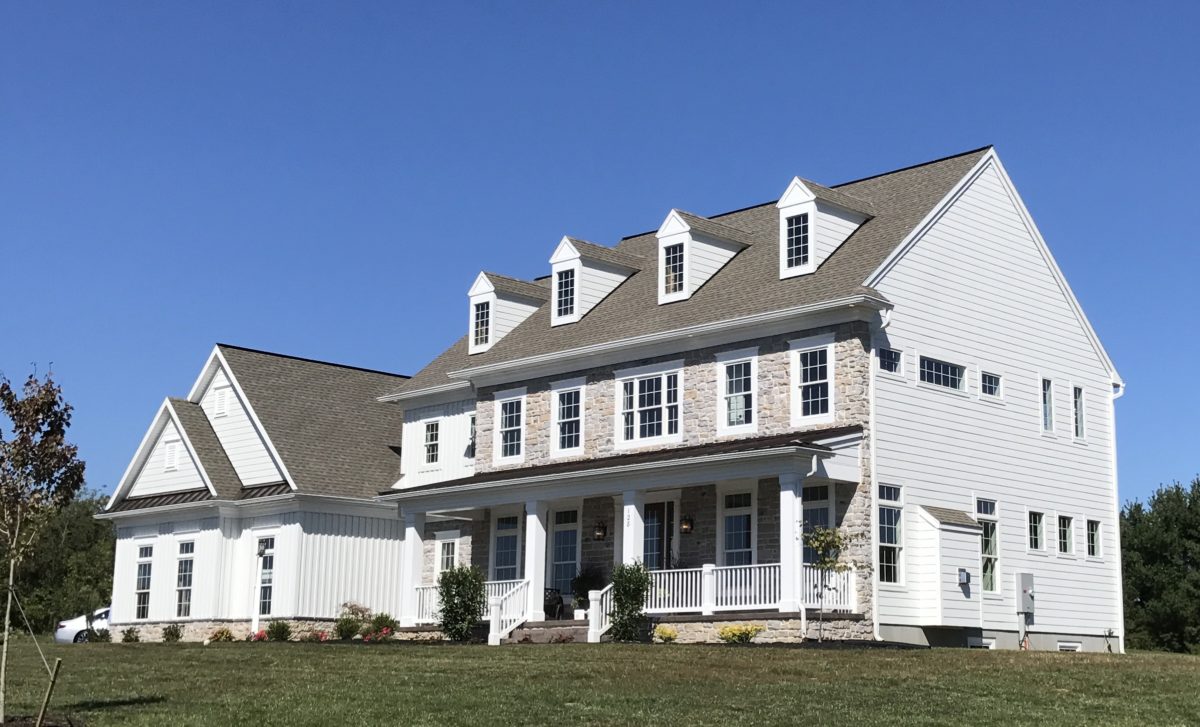 It's home touring season in my state and we love to see what the latest designs and trends are locally.  This is a great way to figure out what we do/don't like and get ideas for building our own home.  Plus, my husband's company supplies the stone and several other materials for some of these homes, so we love to go check out how the products look after they're installed.
Today's home was done in a lovely farmhouse style.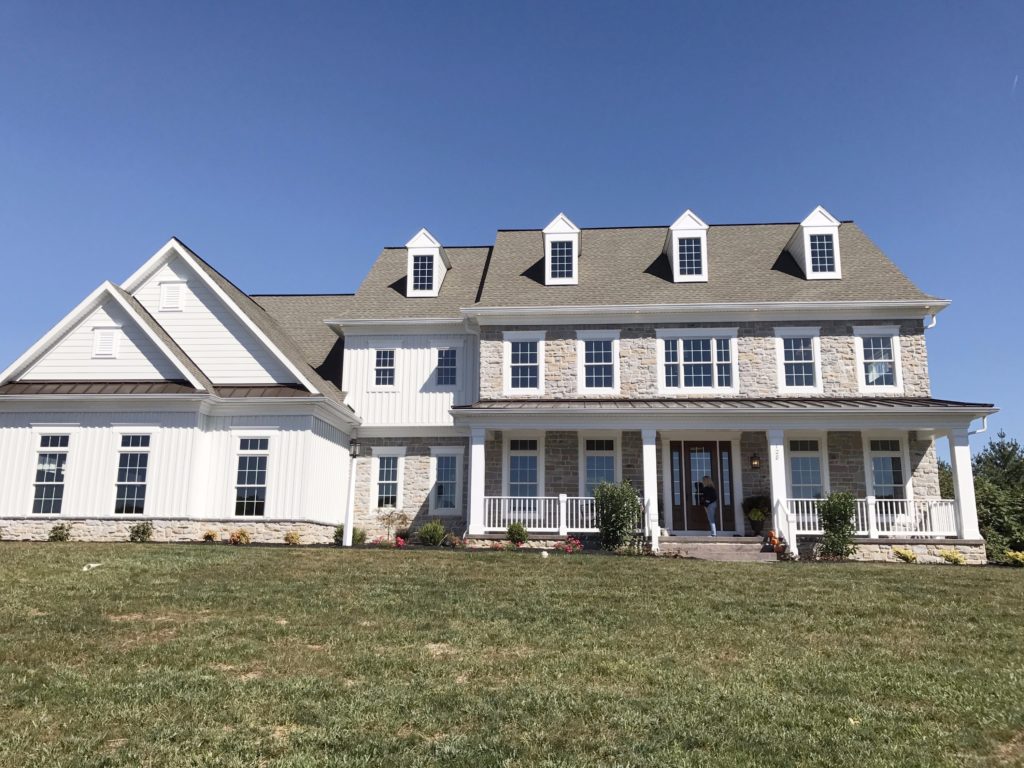 I love all the light colors and the tin roof over the porch.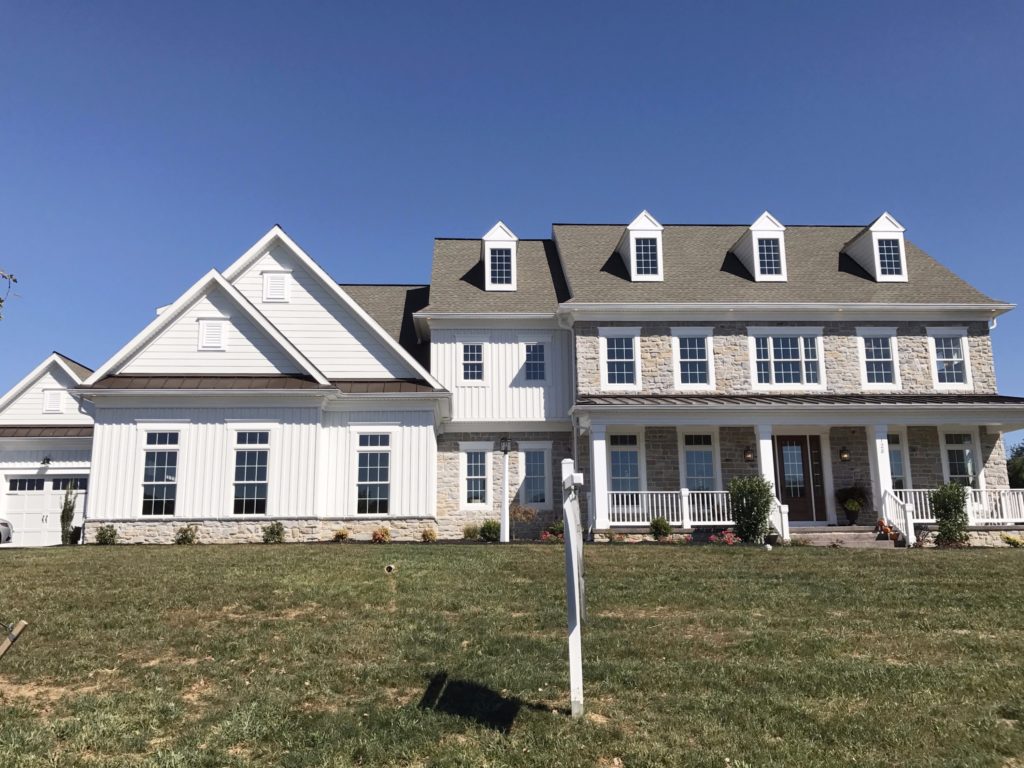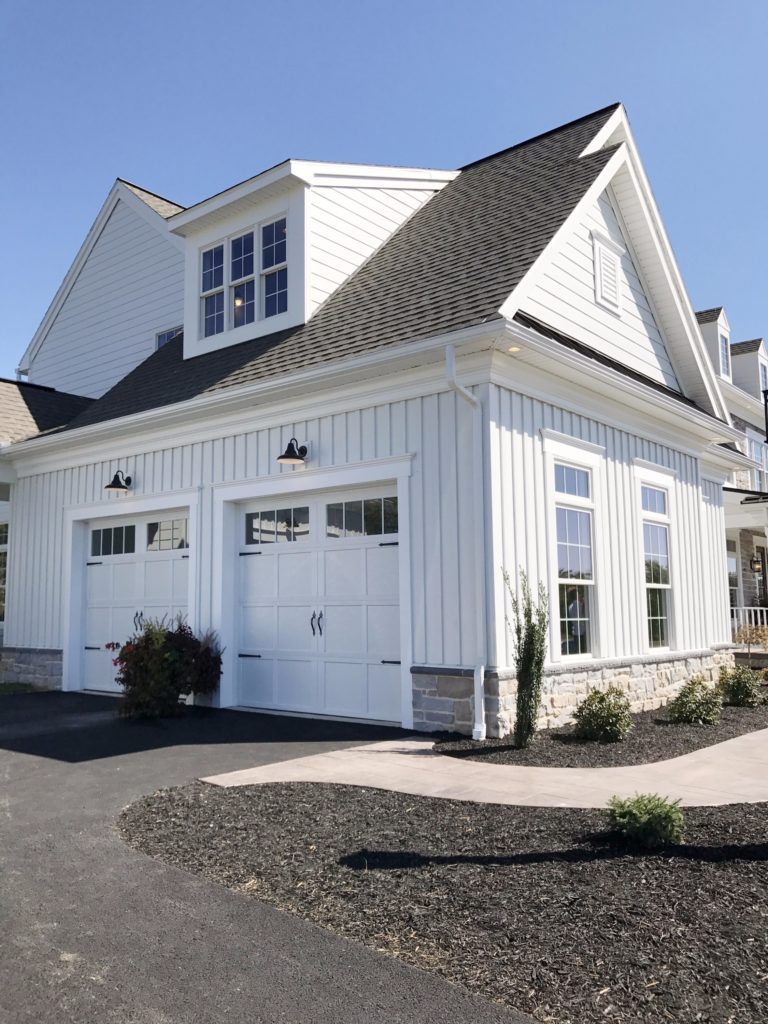 Check out those gorgeous lights over the garage doors.  I also love the detached garage, connected with a breezeway.  So pretty.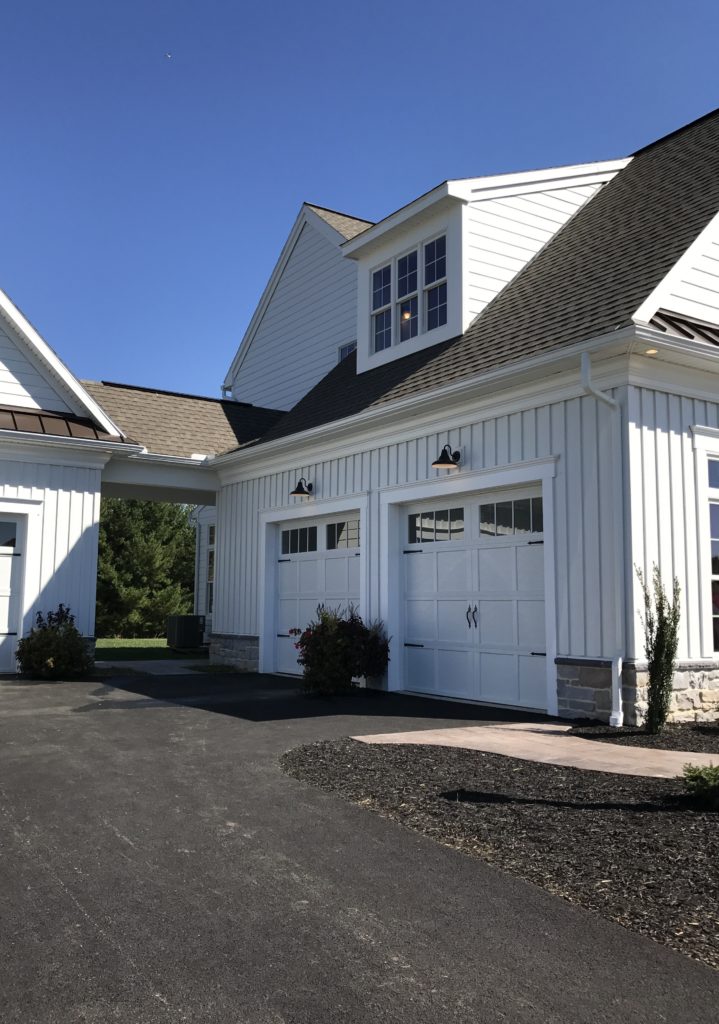 The sidewalk leading up to the house and on the front porch was stamped concrete.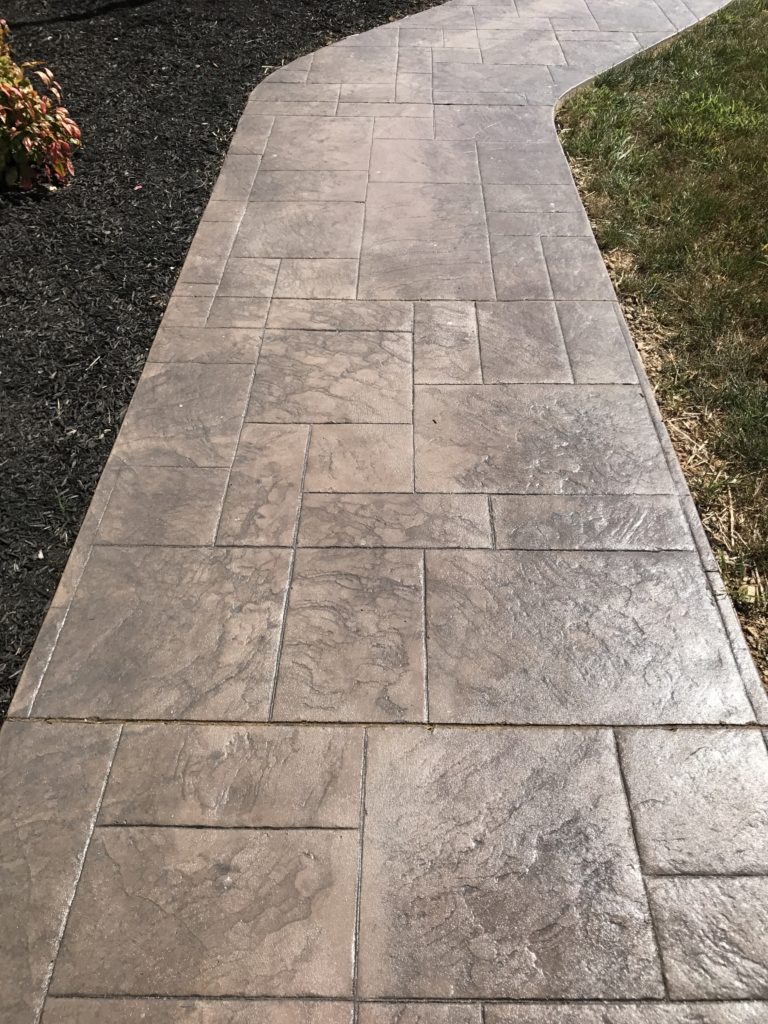 Right inside the front door, to the right, there was a little sitting room with a cozy fireplace.  I've never been one for formal living spaces, but I did think it worked well in this house.  The main family room isn't huge, so this would provide extra entertaining space.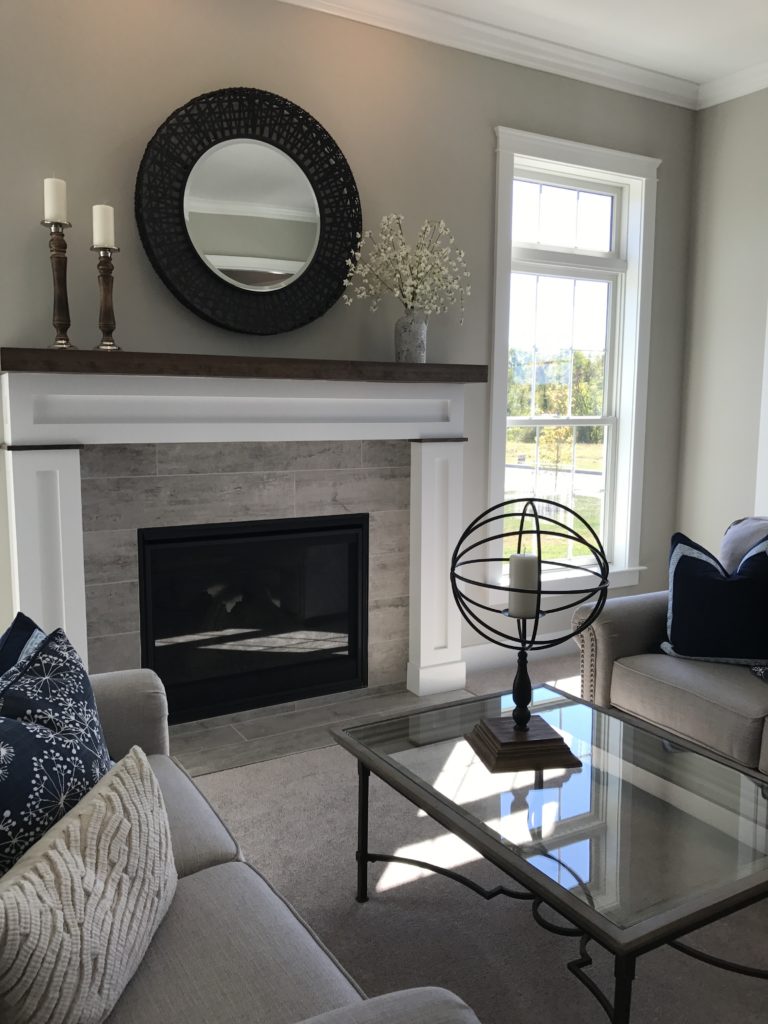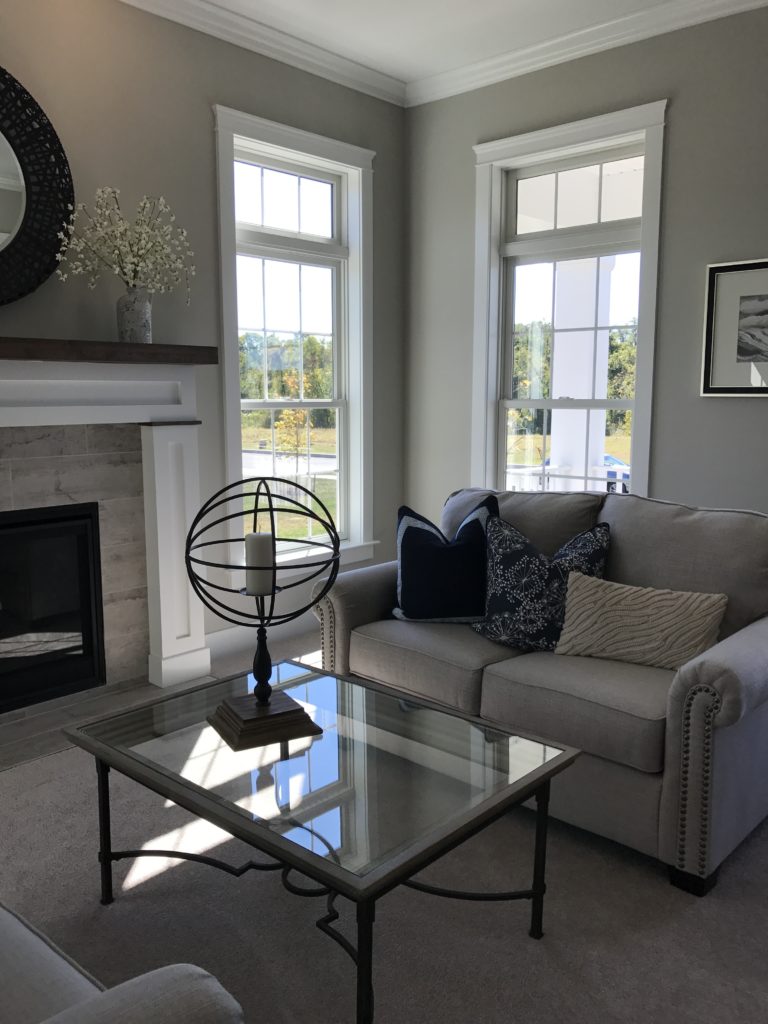 At the base of the stairs in the main foyer area, they had this adorable little bench.  Perfect spot to slip off/on shoes.  You can even tuck them away in those drawers!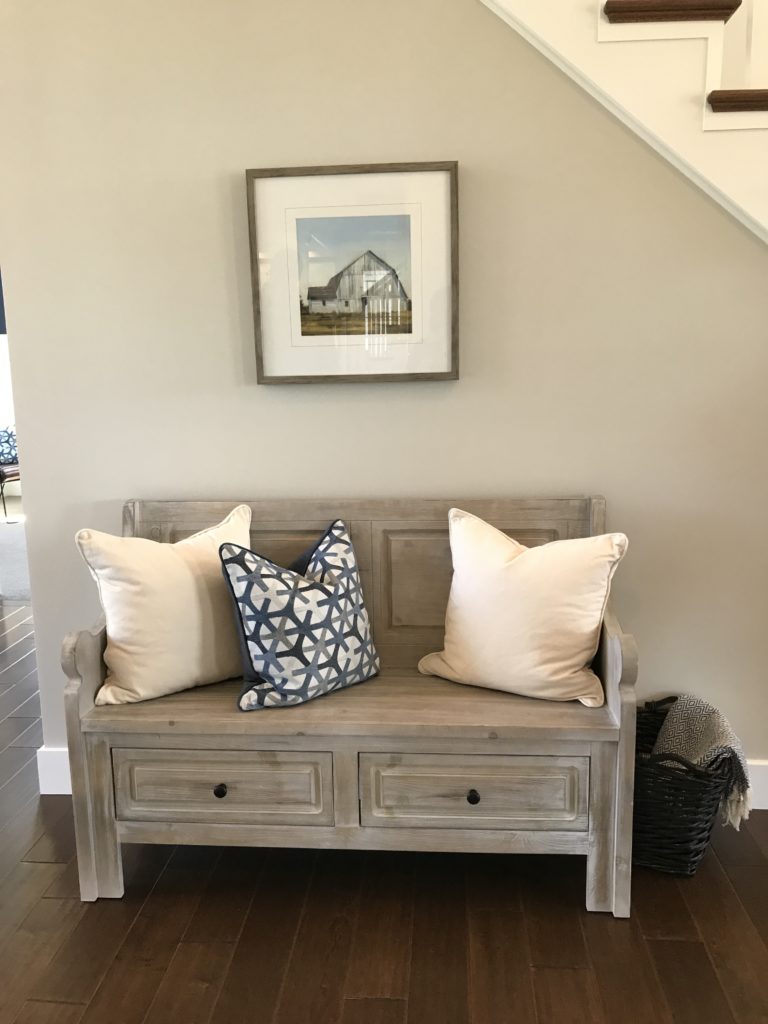 The kitchen and living area was open concept, with the kitchen opening to an informal dining space, and a comfy living room.  This home also had a formal dining room (not pictured) just inside the front door, to the left, across from the formal living room.  And the island had an eat-up bar as well.  This might be a little overkill on eating spaces, but you have PLENTY of seats for throwing dinner parties.  I would have liked to see a little more seating in the living room, though.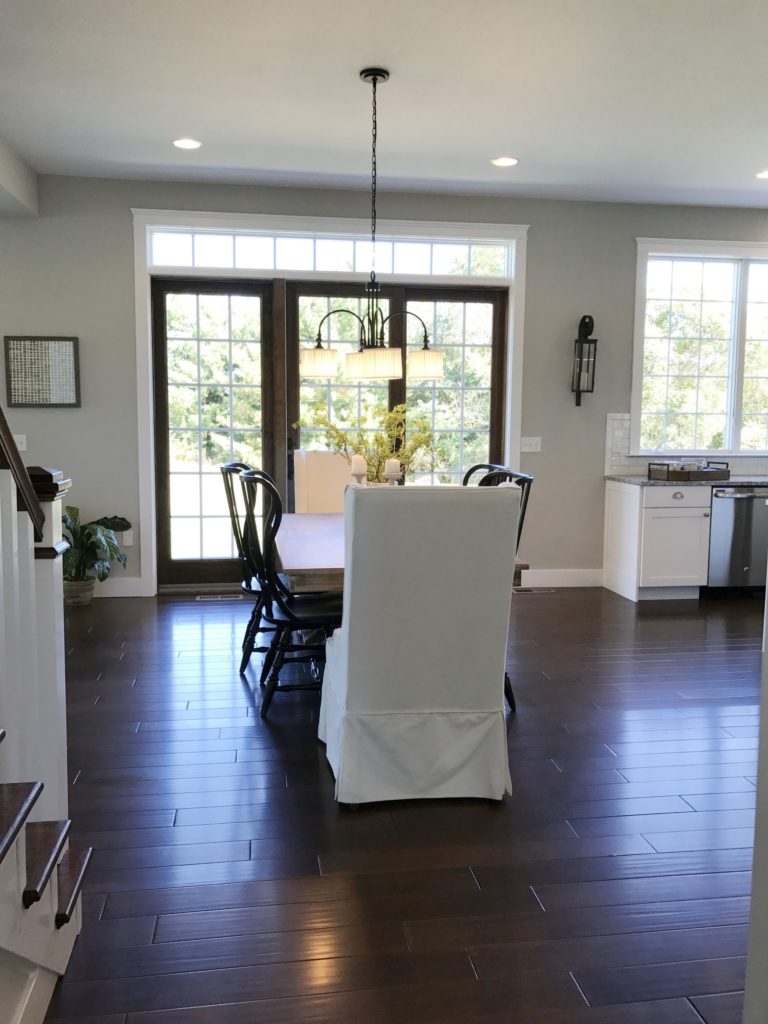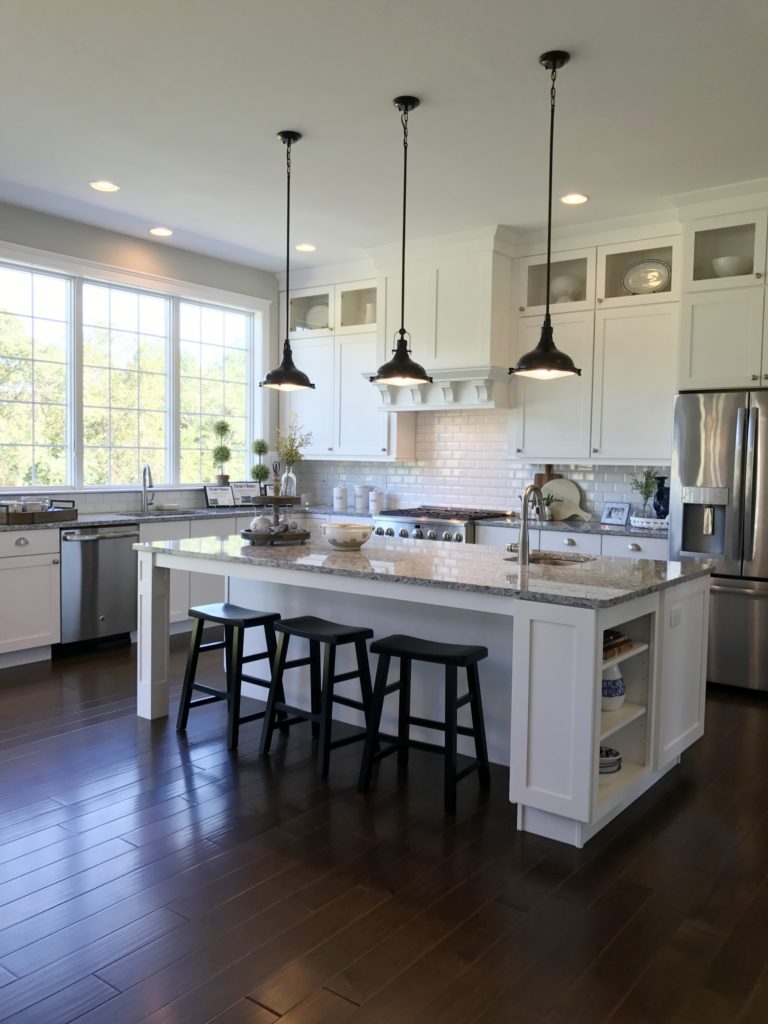 I LOVED the light fixtures over the island and the huge windows over the sink.  You could clean a lot of dishes here, while looking out over your big backyard. Also, those stools are really wide, and I think you could easily squeeze one more in that space if you picked a smaller, round stool.  Perfect for a family of four.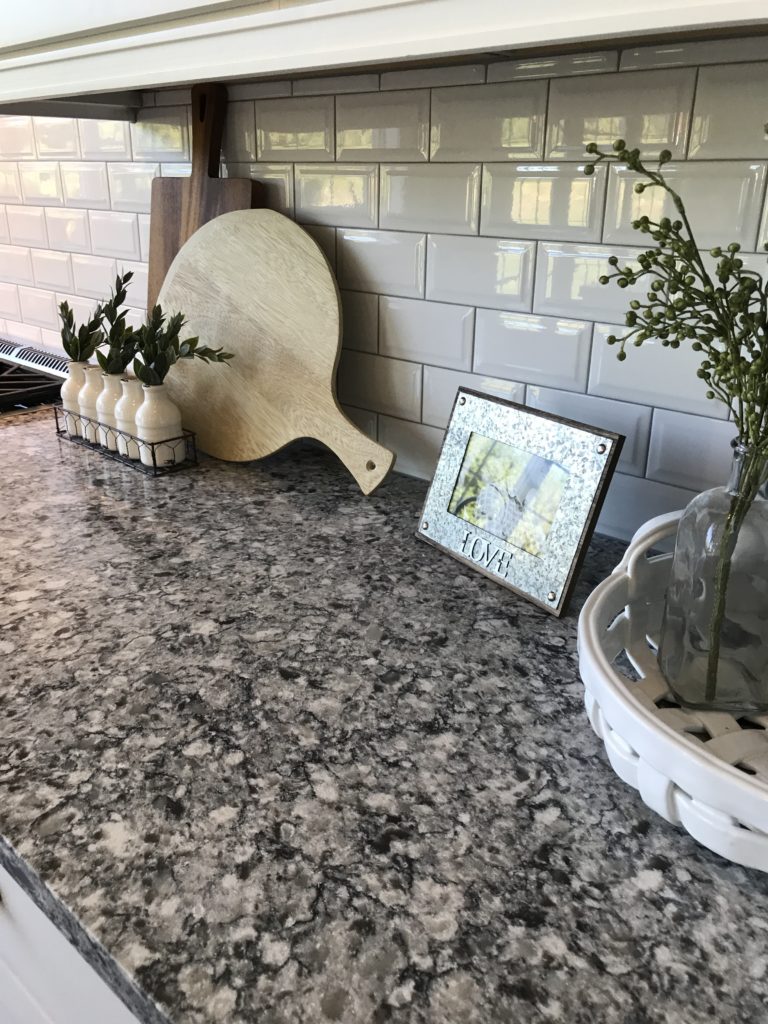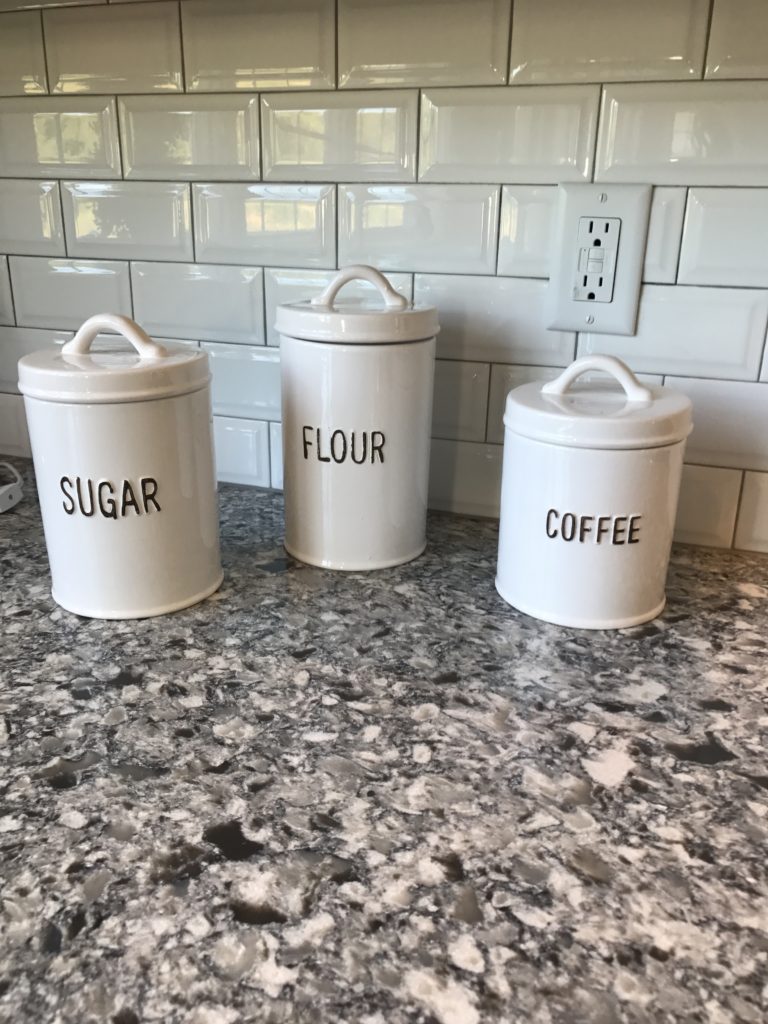 Aren't these canisters the cutest?  I definitely picked them up, trying to figure out where they were from!
I also really like the granite color in here.  The backsplash was the traditional subway glass tile, but I really love that their beveled edges.  That, plus the dark grout, gave the kitchen a little bit of extra interest.
The living room had a subtle fireplace with a stone surround, covered with super trendy shiplap.  This room wasn't massive, but it would make for a comfy entertaining space.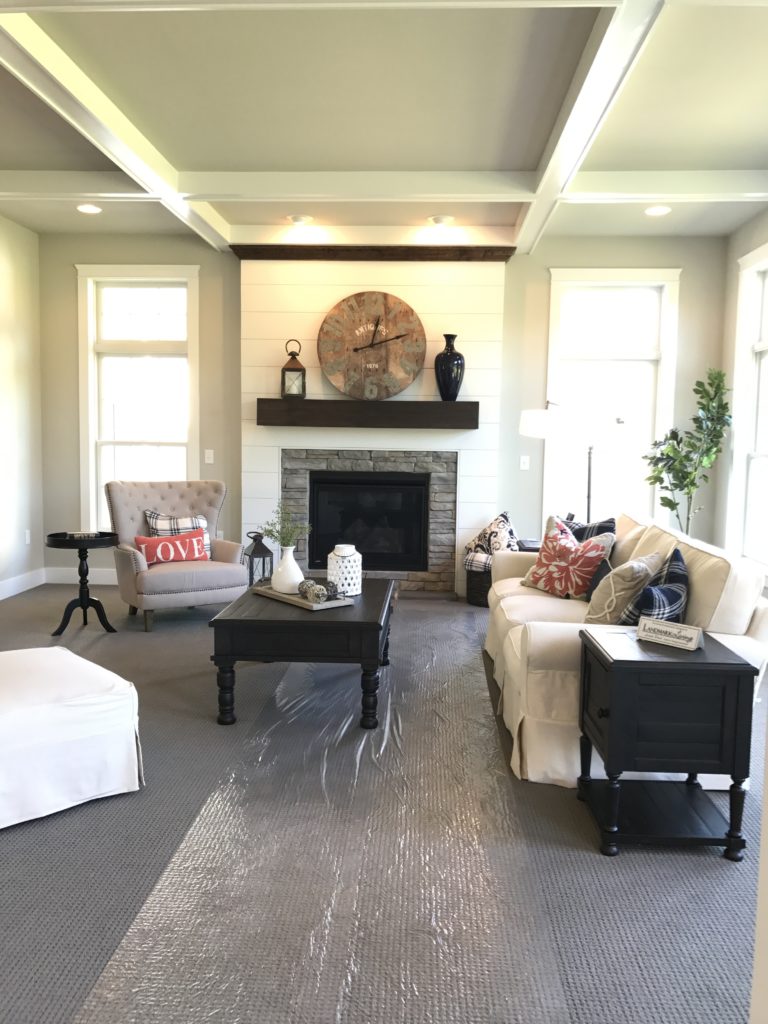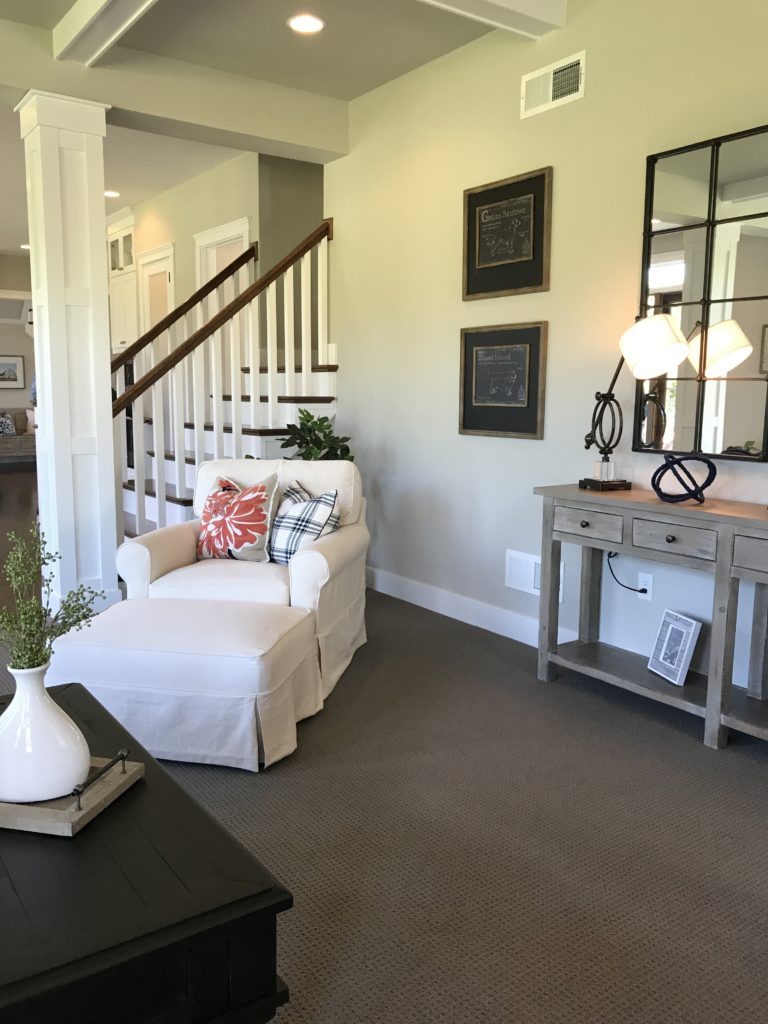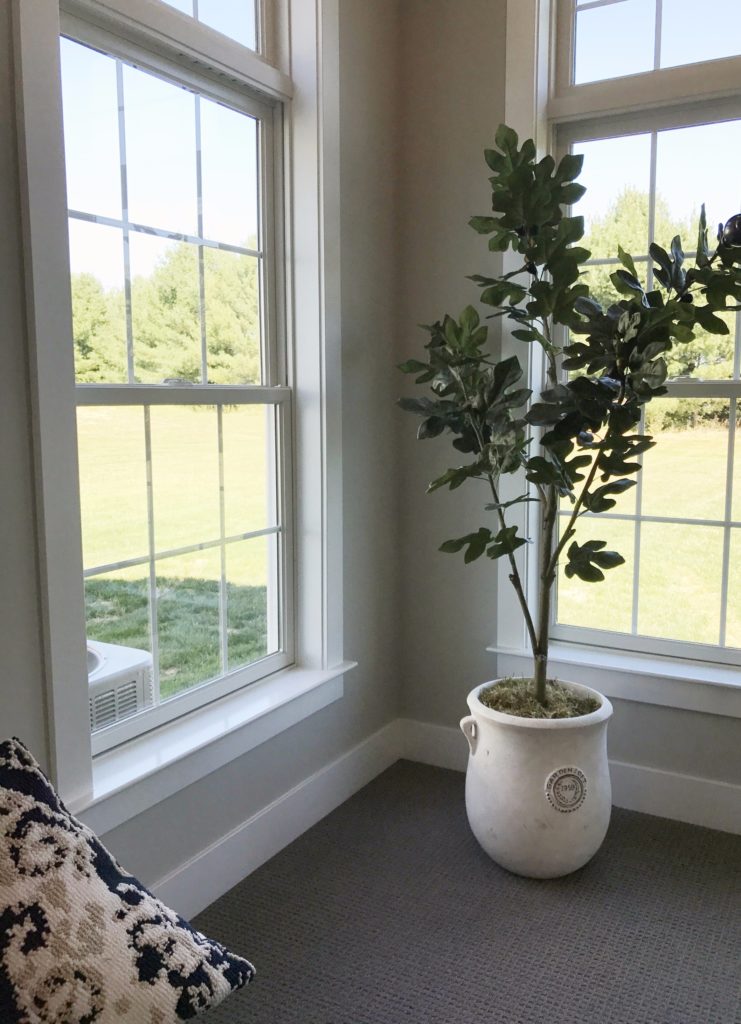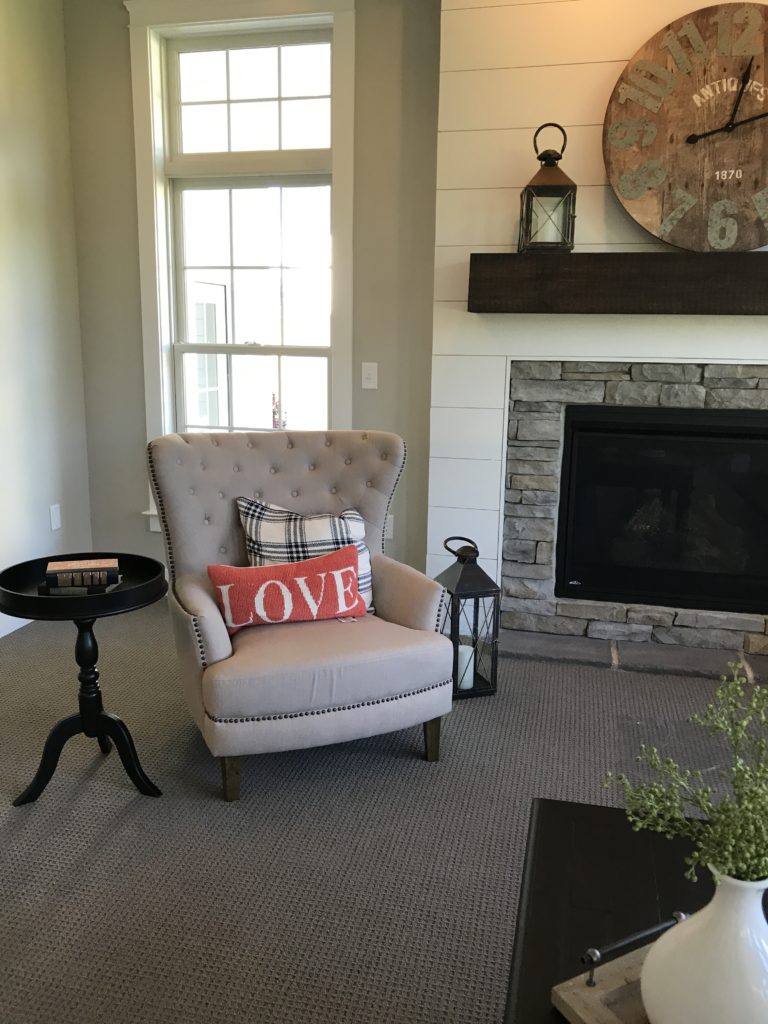 They opted for sliding doors leading out to the back patio, instead of the usually coveted french doors.  But I, surprisingly, loved it.  They were really well done.  They had a french door look but a barn door feel, and it just worked.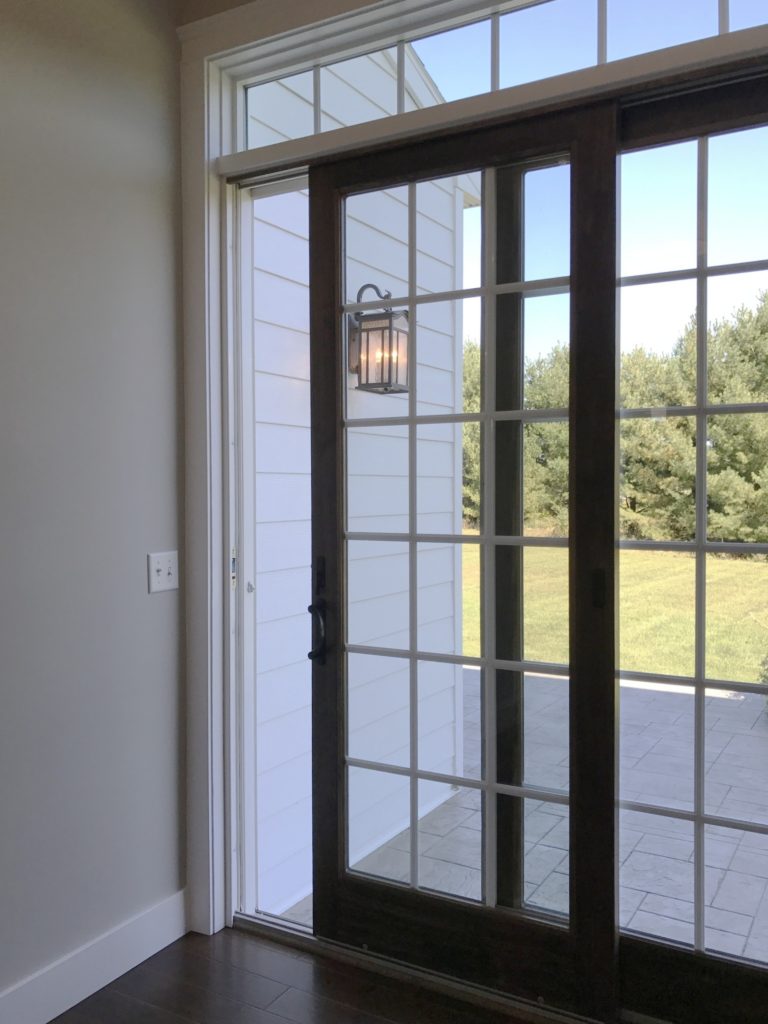 Now we've come to my favorite room in this house, the mudroom. I love the look and functionality of this space.  The shiplap walls, utility sink, and big bench were everything that a mudroom should be.  Perfection.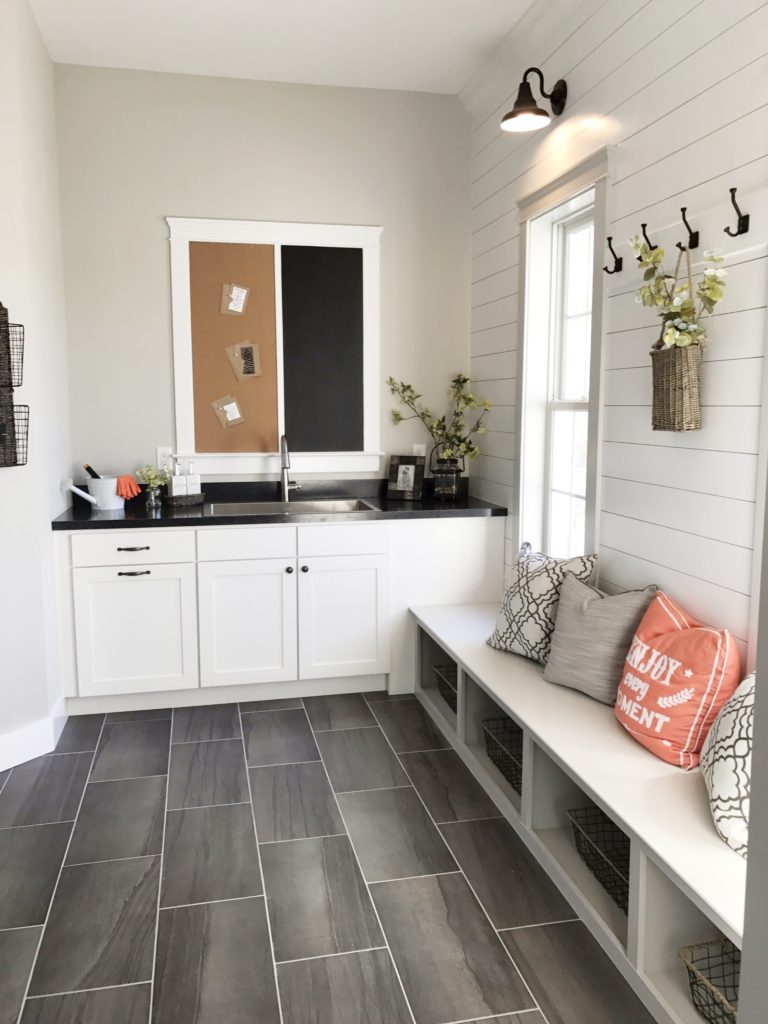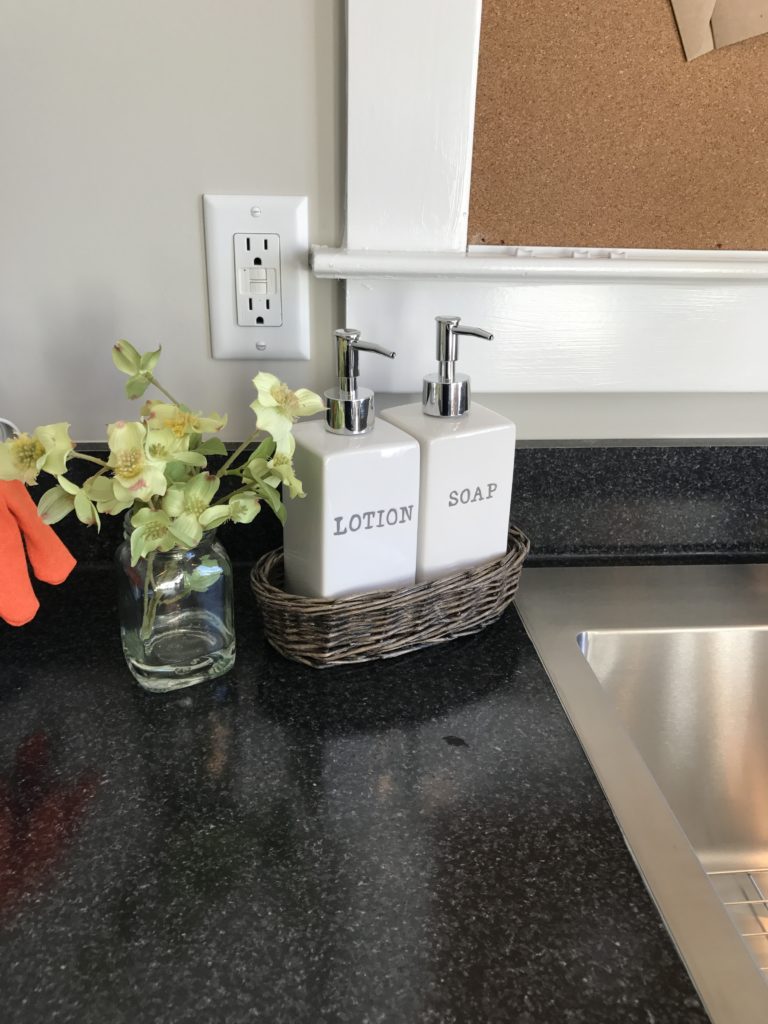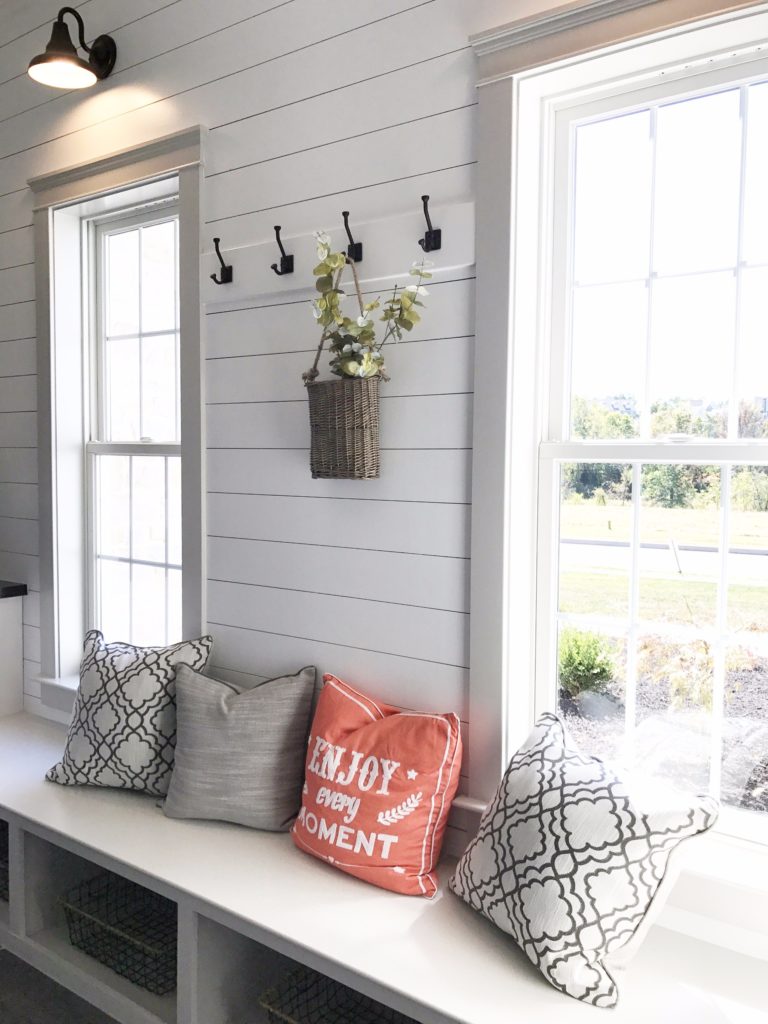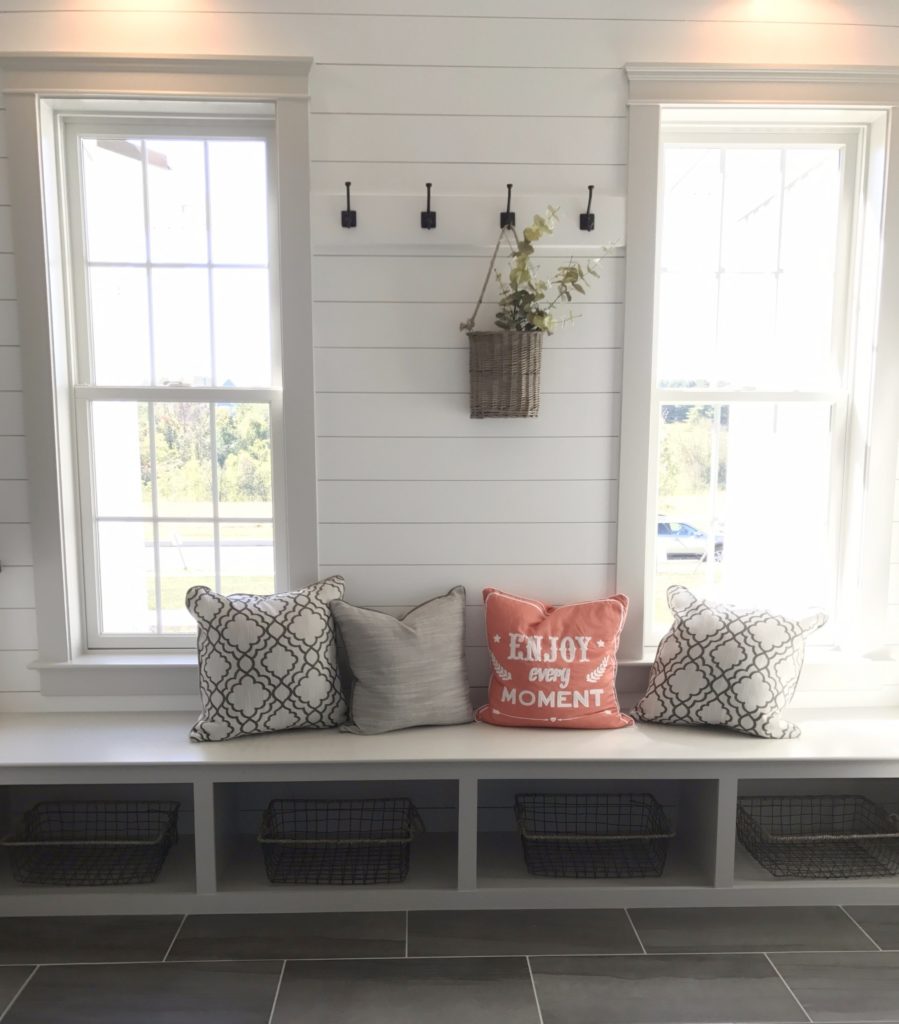 Okay, let's head upstairs.  This home had two sets of stairs, which will make it so easy for the homeowners to navigate their house.  I am not usually a fan of plant ledges over stairs, but I thought this one was cute, and I loved that huge potted plant!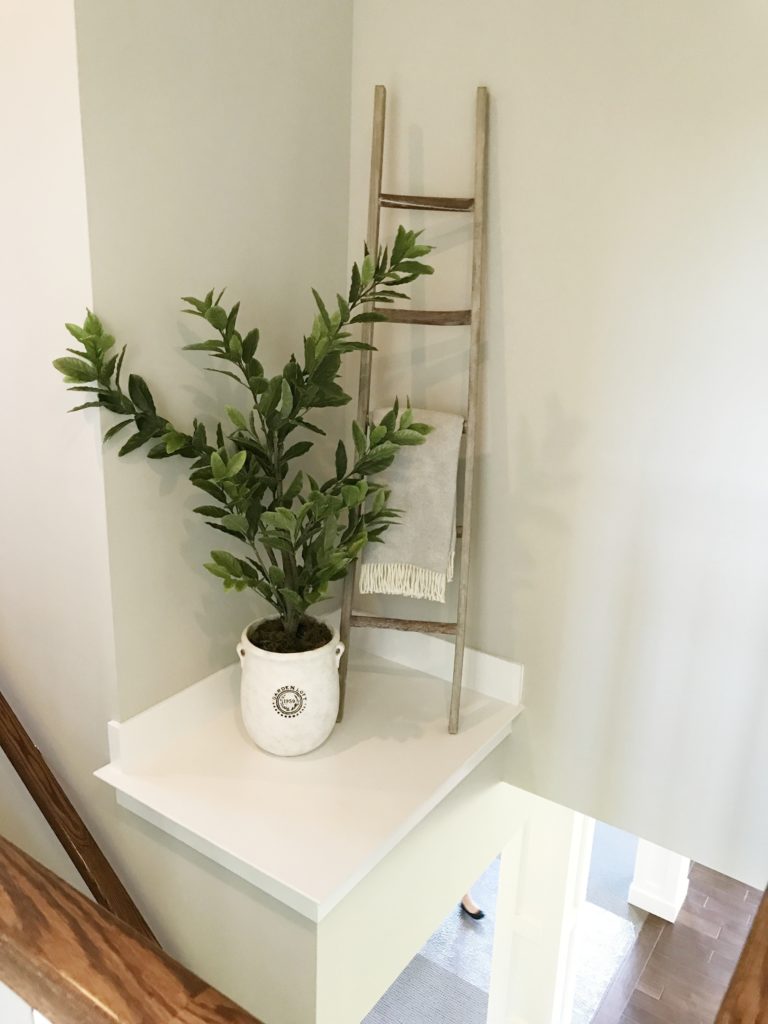 At the top of the back set of stairs, there was a little landing are with a bench.  On the right, there was a big storage closet, and to the left, they had this adorable bonus room.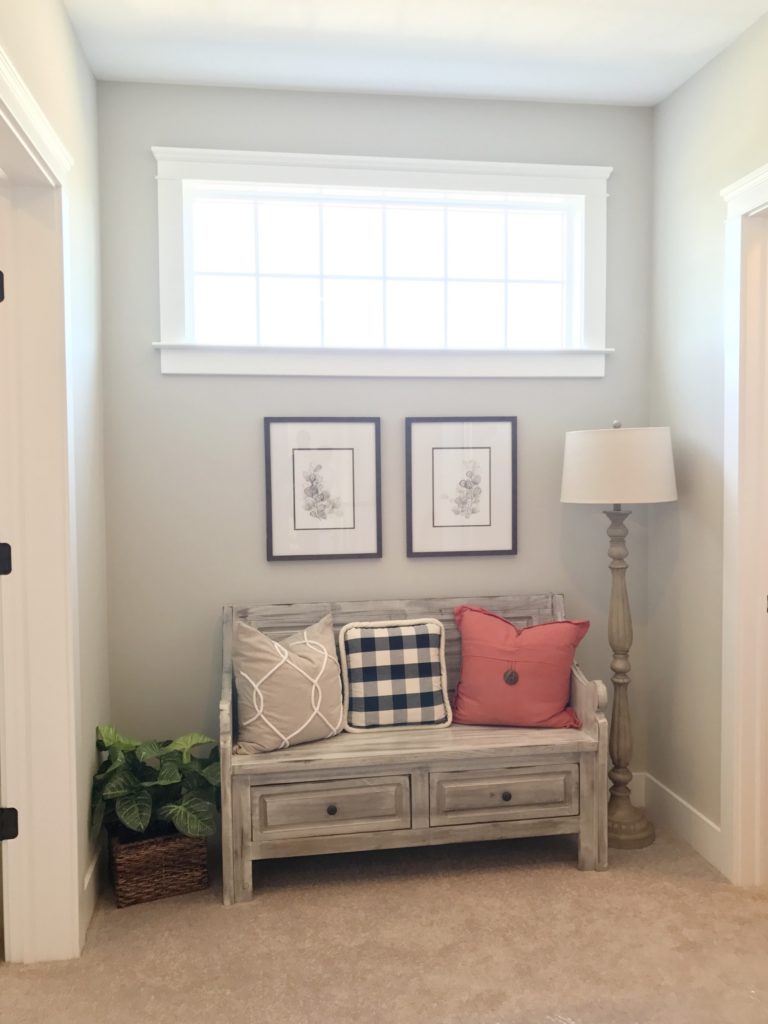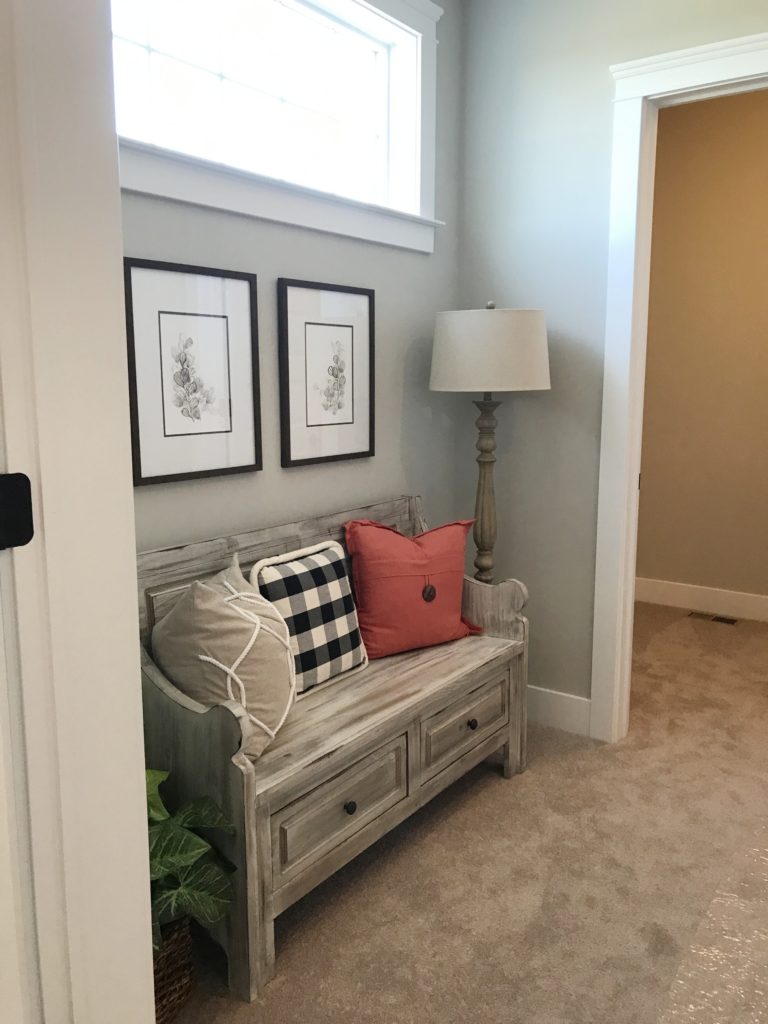 If you haven't noticed yet, they had a little theme running through this entire house with little pops of that orangey coral color.  I loved this idea and thought it was such a neat way to give the whole house a cohesive feel, while still allowing you to decorate individual rooms differently.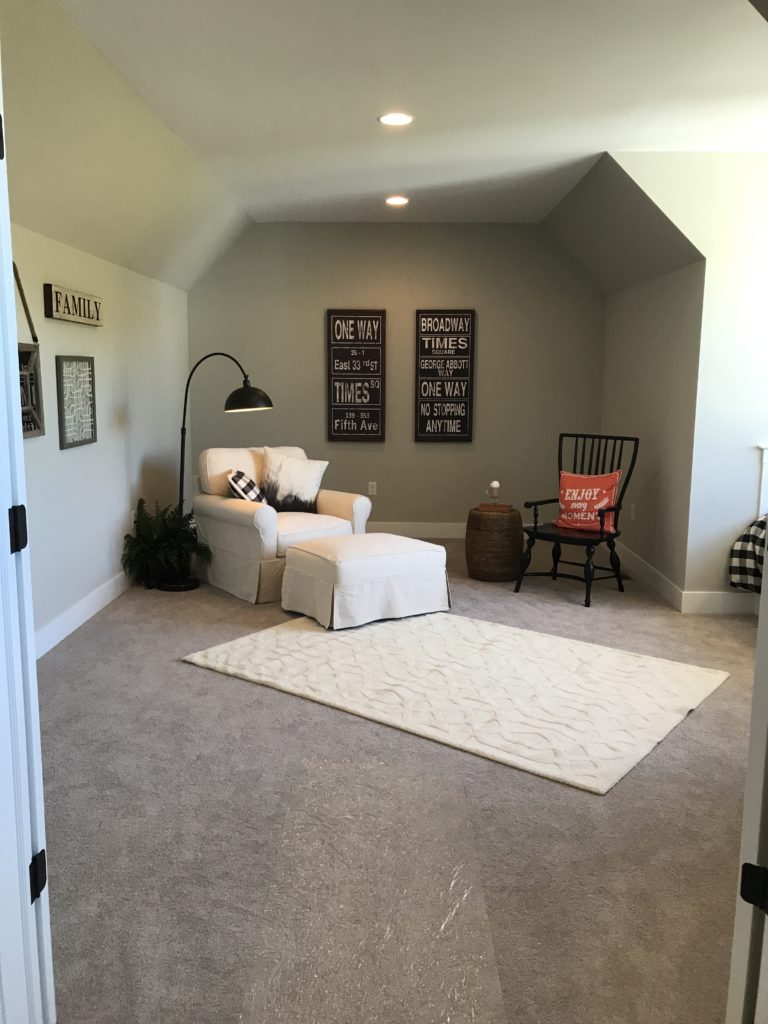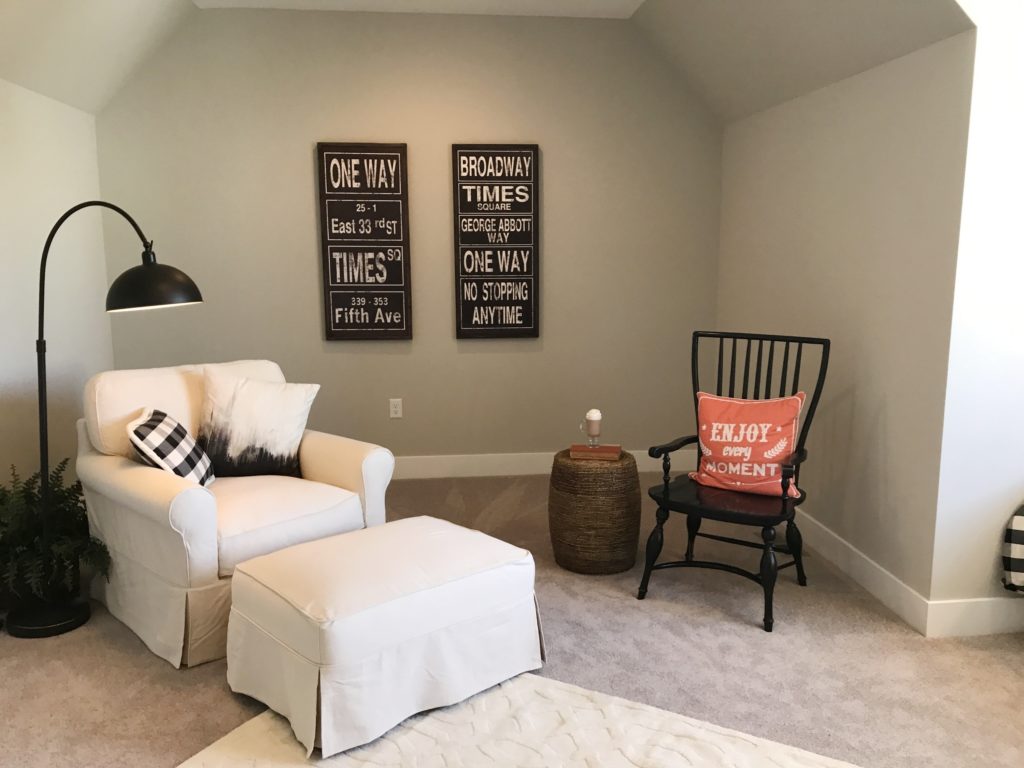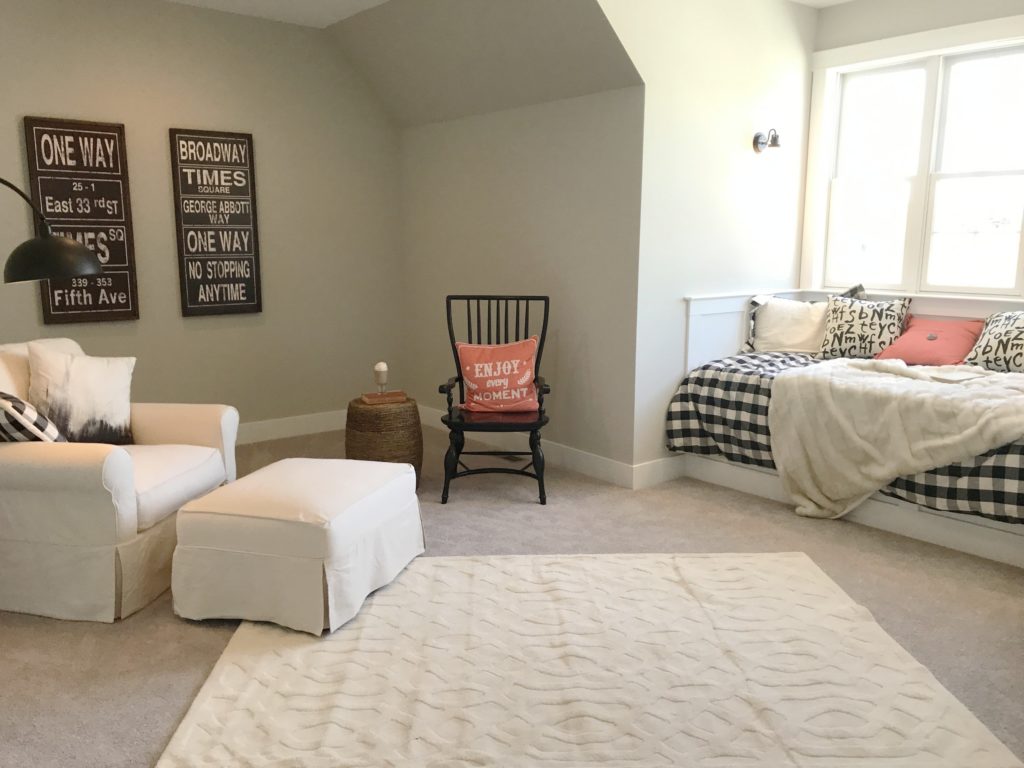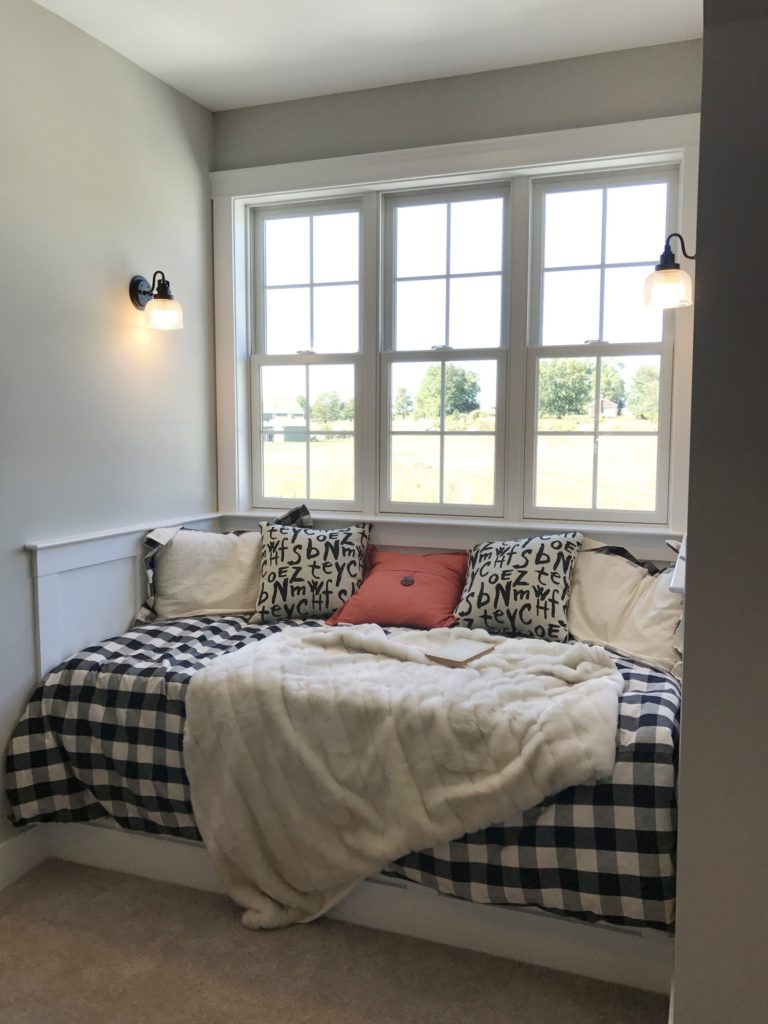 Uhhhhhhhh. That window bed nook.  I would live there.  This would, hands-down, be mama's reading nook.  My family would not see me for days…
Besides this bonus room, there were three spare bedrooms upstairs as well as the master suite.  The master was one of my favorite rooms in this house, too.  It was sooo bright and airy in there.  I don't know if you want a bedroom to be bright, necessarily, but it definitely drew me into the room and made me feel happy.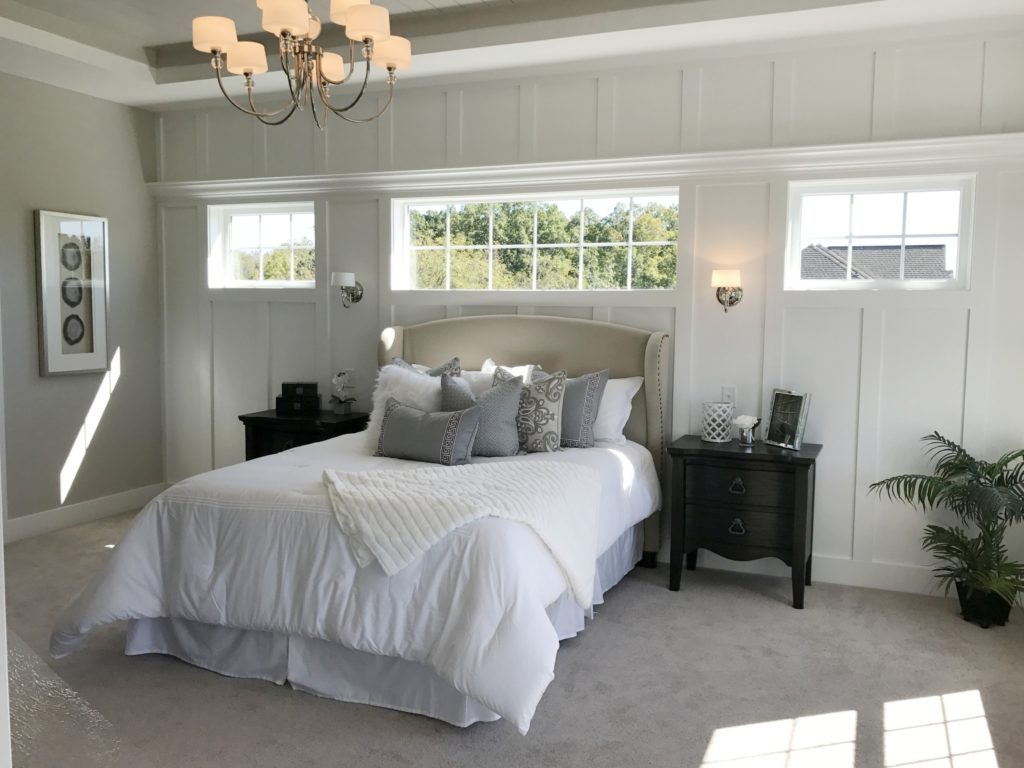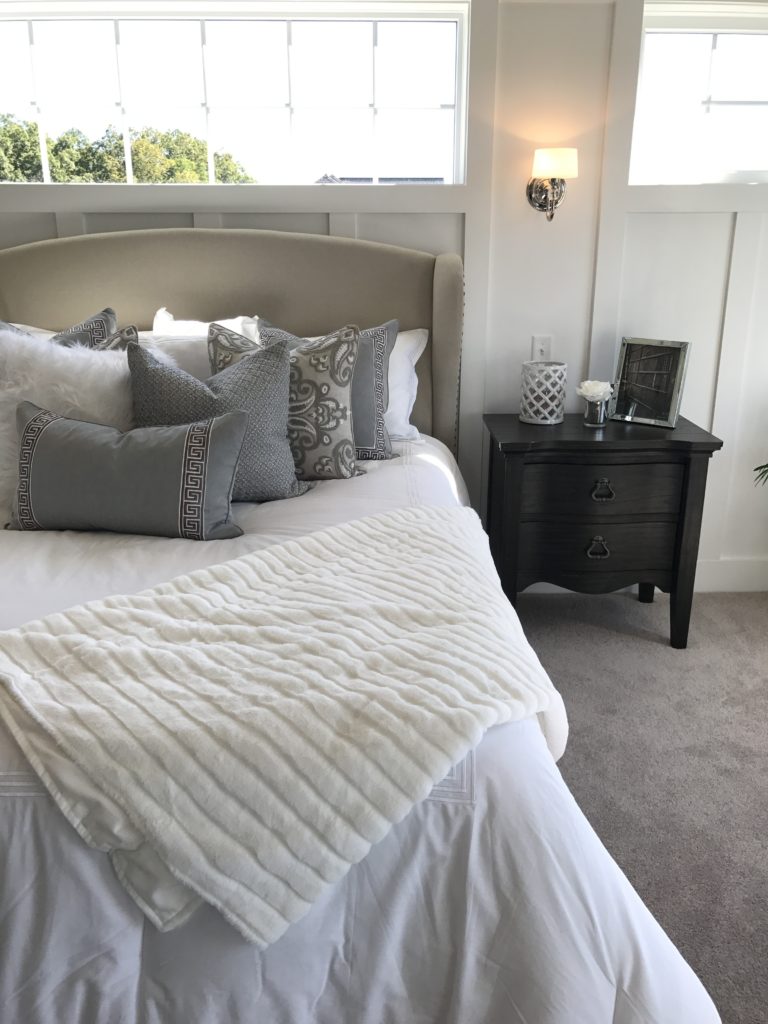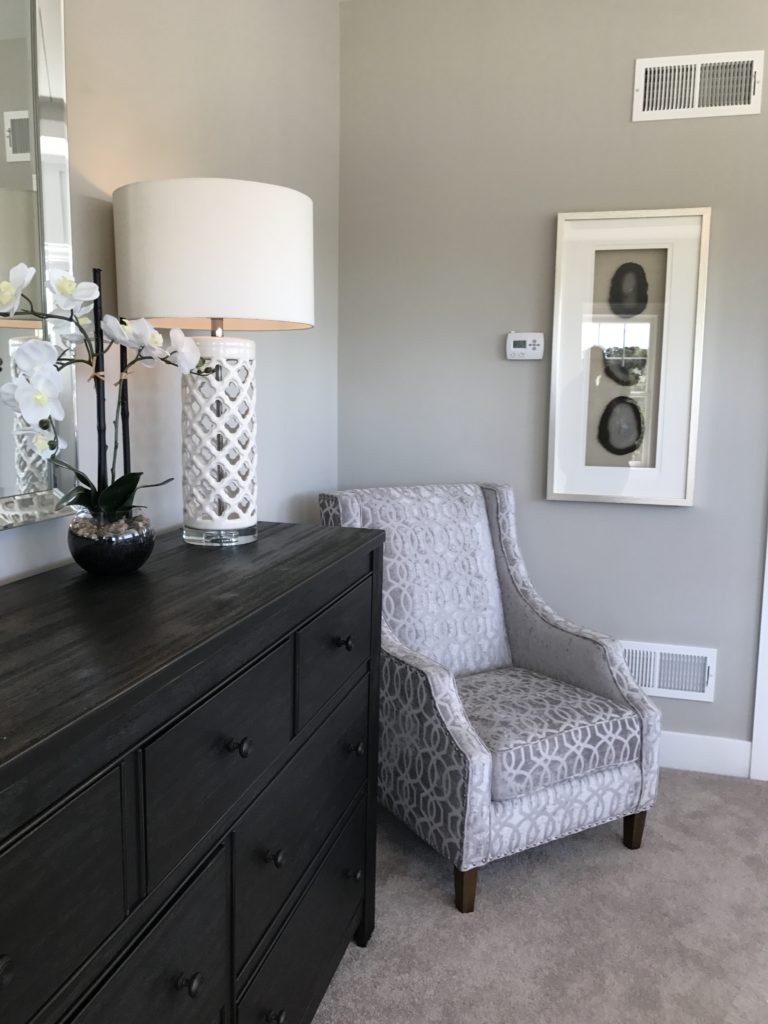 The master bathroom was a really good size.  And look at this deep freestanding soaking tub.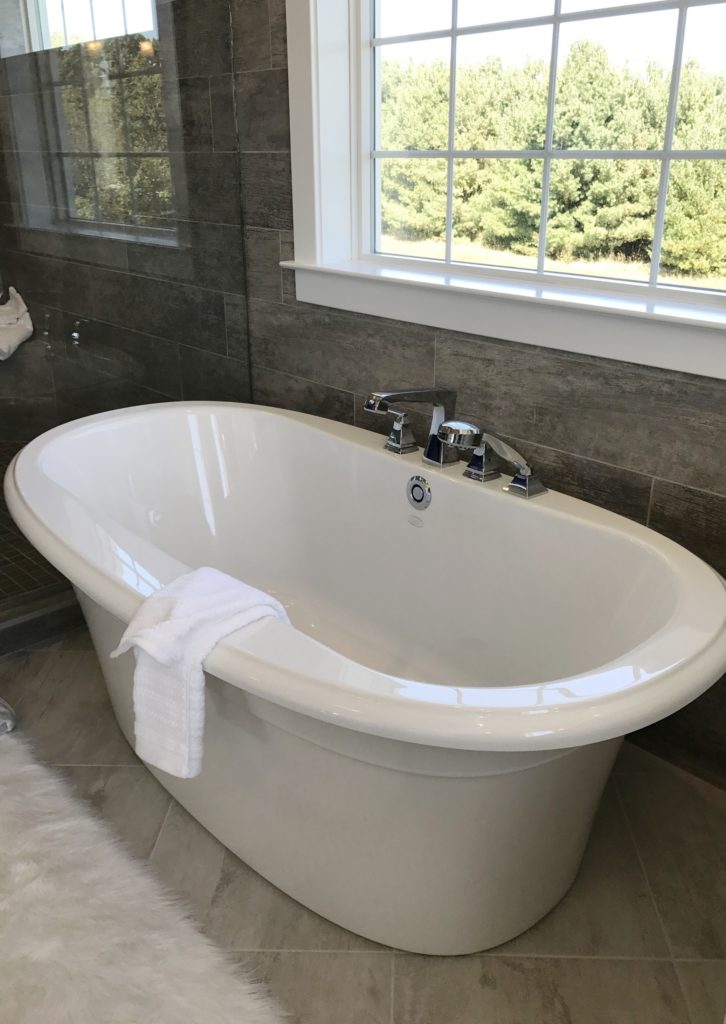 With all the bedrooms upstairs,  I was so glad to see they put the laundry room up there too!  There is nothing worse than carting laundry up and down steps all day (trust me, I know!!)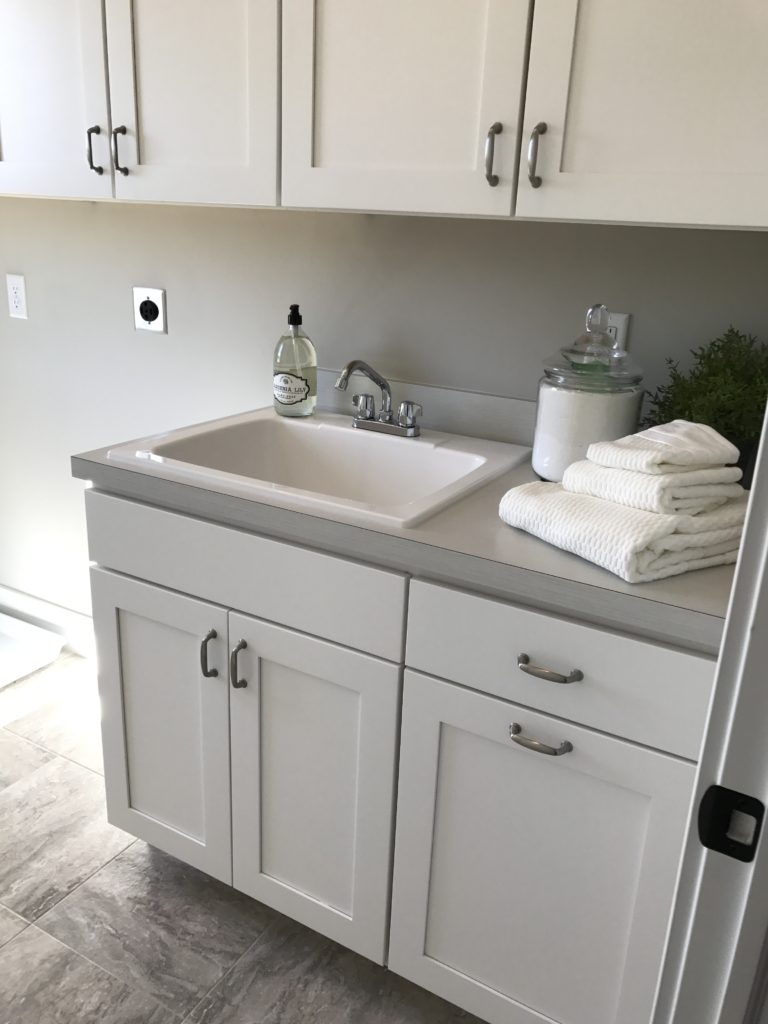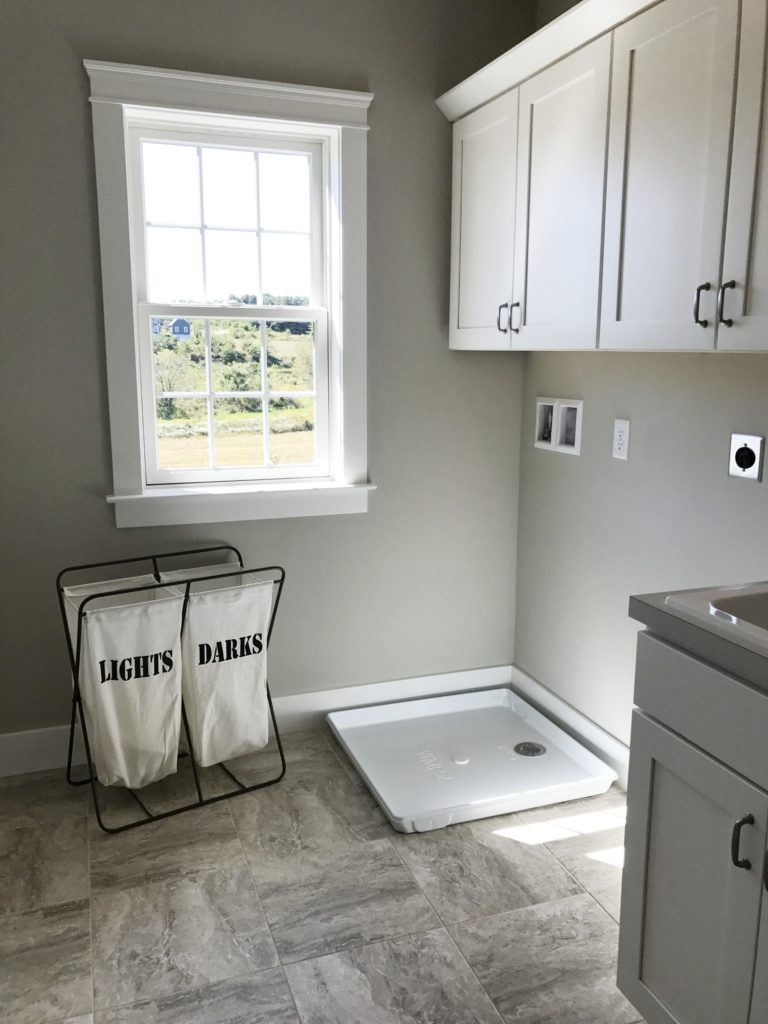 When I'm touring these homes, I'm almost just as interested in how they've decorated them as I am in the house layouts themselves.  I love to see how products really look in a home and get some ideas for what I'd like to see in my own home.  If you spied anything you in this house you love, tell me about it in the comments!
SHOP THIS STYLE
More home tours are coming soon!