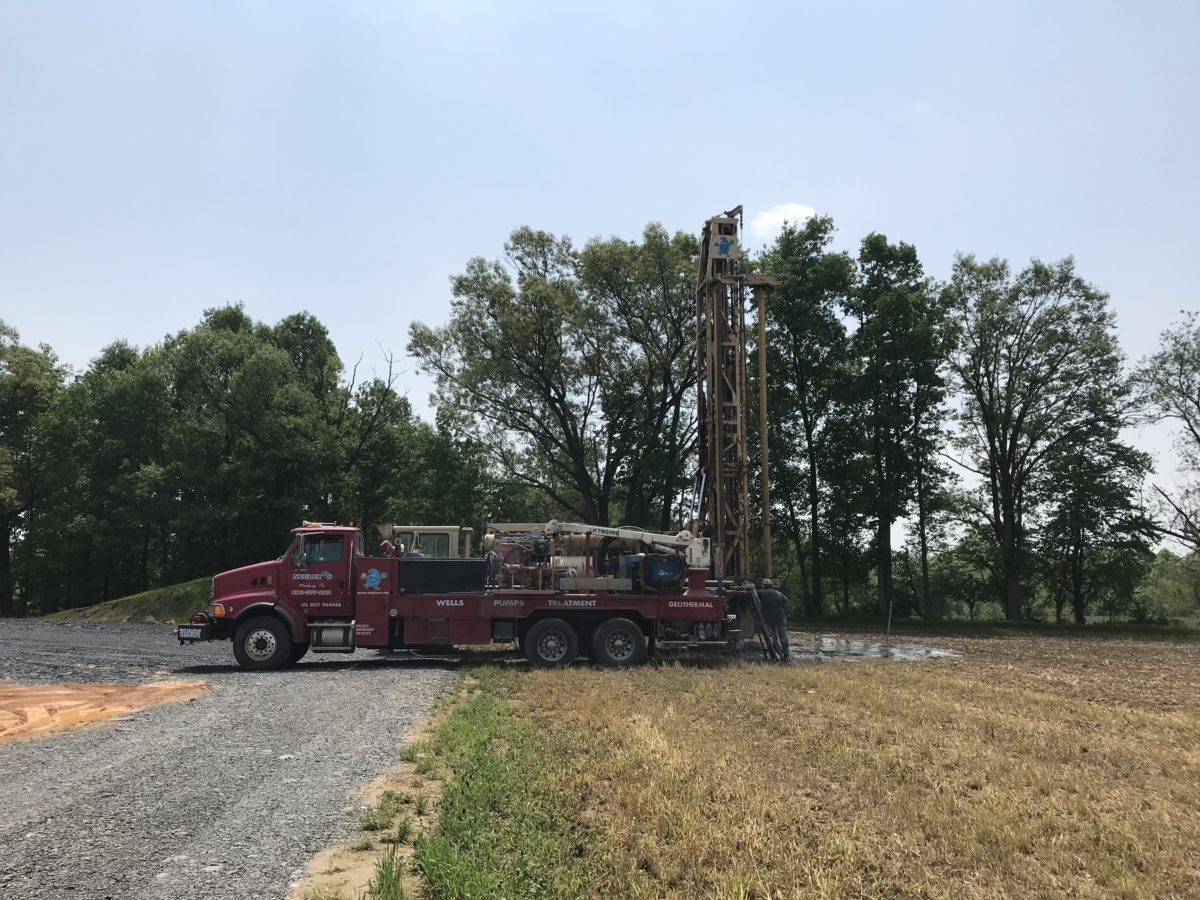 It is well.
It was a VERY rainy, slow week on the house building front.  My husband has been crazy busy at work, plus I was busy prepping for our daughter's 3rd birthday party on Sunday, so it was a good week for us both to be able to step back a little from thinking about the house.
We're still waiting for the builder to receive some quotes on floor trusses, which should come in any day now.  Hopefully, next week he might be able to start the framing the basement.
What was accomplished this week was digging wells.  The very first well they dug, on Tuesday, ended up getting 7.5 gallons per minute at about 440 feet, which is great to feed the house water supply.  In other words, it will be what we use for drinking, bathing, cleaning, etc.
They needed a 2nd well for irrigation, which they like to get at least 10 gallons per minute out of, but ideally even more than that – maybe 15-20.  On Wednesday they attempted to dig another well about 50 feet away from the first one and they basically hit no water at all at 300 feet.  Since there was no water there, we decided to use that well for our geothermal system since we'd already spent the money for them to dig it.
We are doing a geothermal heating/cooling system, which basically works by utilizing the fact that the ground under the frost line stays a pretty steady temperature between 50-60 degrees F.  A series of wells are dug deep down into the ground in a closed loop of piping.  A mixture of antifreeze and water is then pumped through these pipes.  It travels from the house, down into the ground, and then back up into the house, over and over.  Every time the liquid is returned to the ground, it gets brought back to ground temperature.  In the summer, the ground cools down the antifreeze and in the winter, it heats it up.  When it get's pulled back into your house, a heat pump uses the regulated temperature to either heat or cool your home, as needed.  Geothermal systems tend to be a little more costly upfront, but if you plan to live in your home for a long time, you will definitely see the cost-savings one day.  While geothermal still uses some electricity to work the pump and fan, most of the energy it uses is straight from the earth.  It's clean, renewable, and cheap cheap cheap to run.
For our size home and the amount of HVAC systems were using, we needed 6 wells for our geothermal system.  Since the second well we dug didn't have water, we decided to start our geothermal ground loop there. Over the course of the rest of the week, they systematically dug out the other 5 wells in a cluster all around the 1st geo well.  It worked out pretty decently because they didn't end up hitting water on any of those wells.
So, now we have one well left to dig.  This well needs to be the "best" one, getting at least 10 gallons per minute.  This will be what will feed our irrigation systems in the lawn, garden, and flowerbeds, so it needs to have a good bit of water available.  We are a little nervous about where to dig next after hitting 6 places with next to no water.  The company that we're using to dig wells had an expert come and attempt to find the areas he thought we could expect to find water, so now we just need to decide which of these places we want to try.  It takes pretty much the whole day for them to dig out these deeper wells, so we'd really like to not waste the time and money and end up with no water again.
Wish us luck!