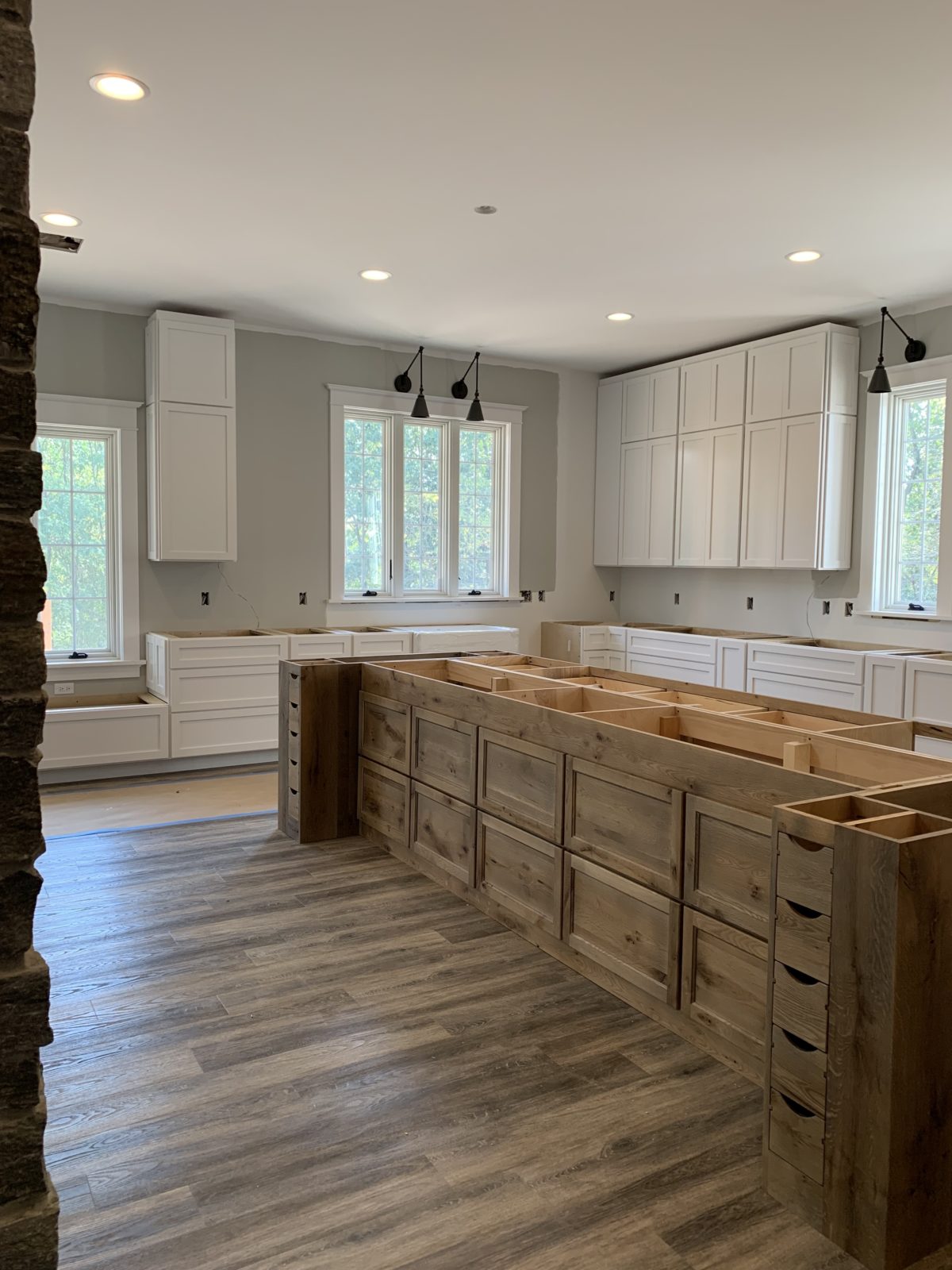 The past few weeks have been a series of EVERYTHING happening at once and then almost nothing happening for days on end.
The main change inside was that the kitchen cabinets were installed. Our cabinet guy did all the outer wall white cabinets, while our woodworker built our island! It's the same wood as the beams in the great room and will match other accents in the kitchen (when those are eventually installed)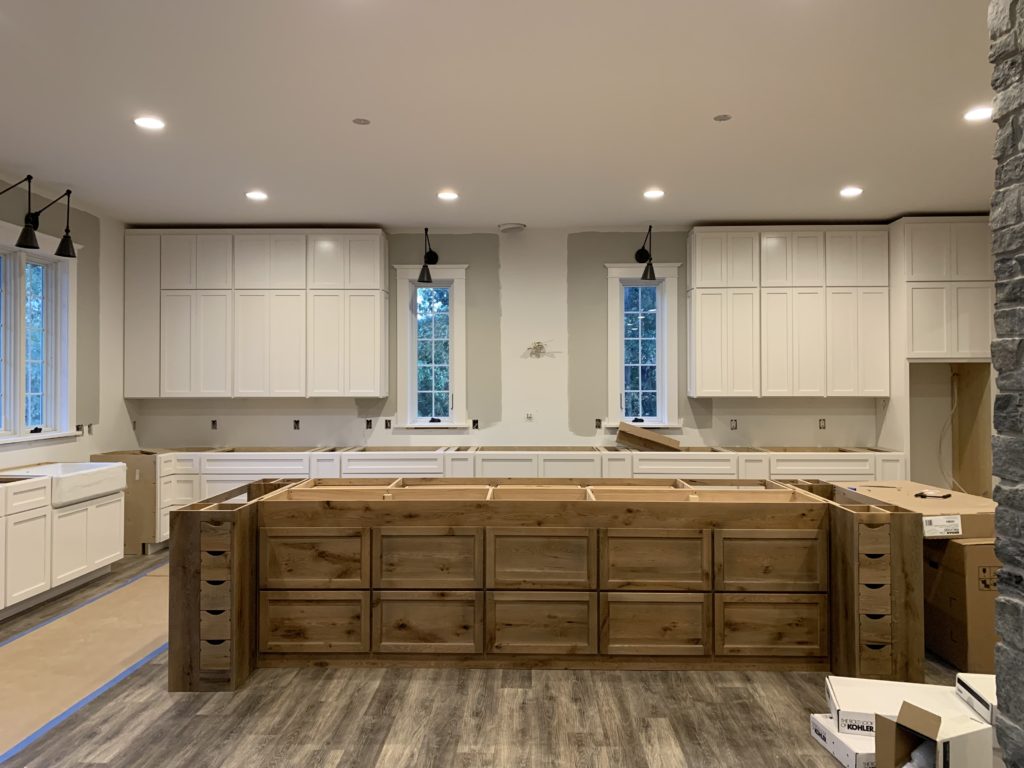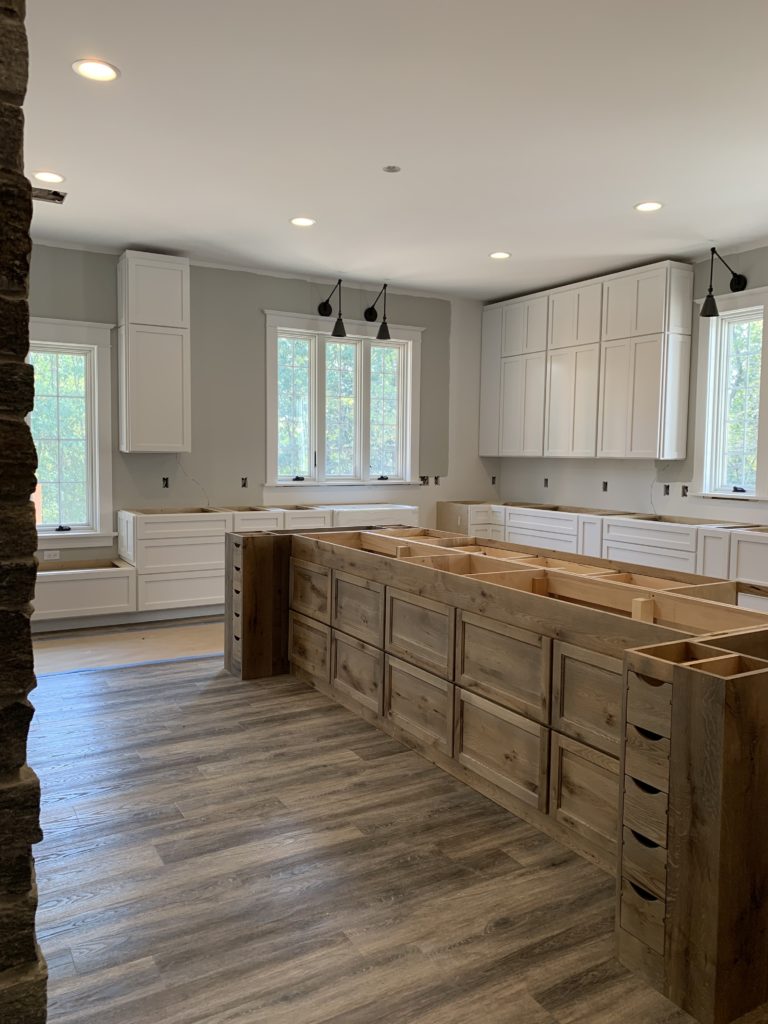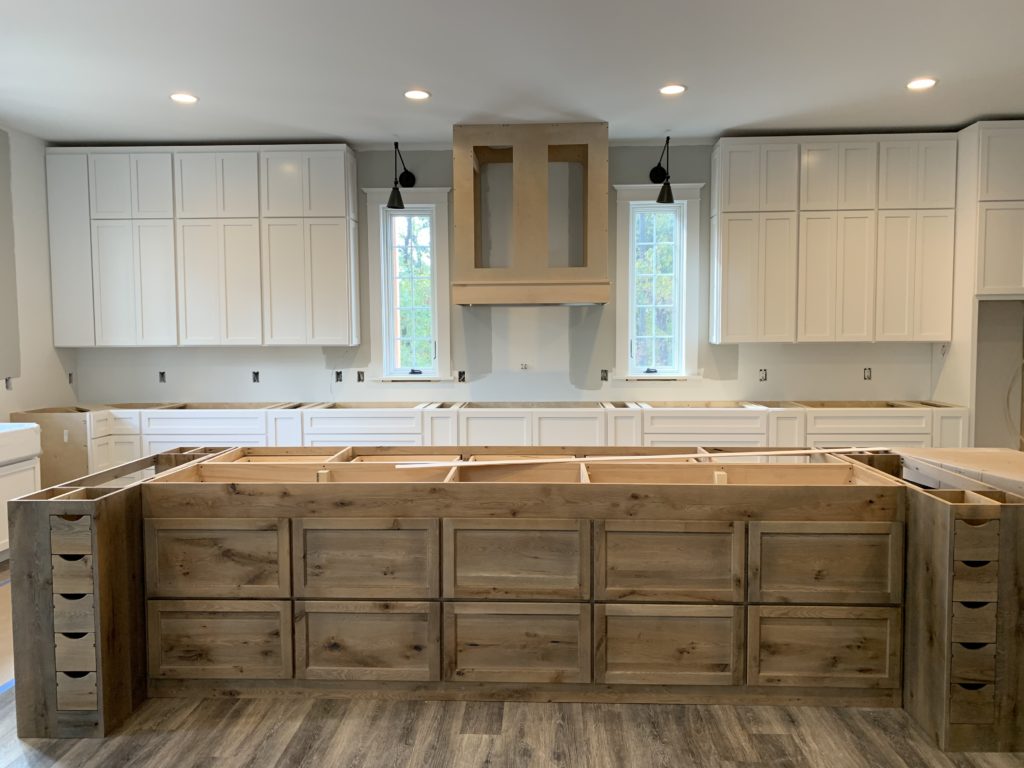 We were supposed to get our countertops the next week, but we went in person to look at the quartz we were expecting to get and discovered it was horrible. We'd fallen in love with it based on the pictures we saw online, and I'm so glad we went in person to look at it. The color was "rugged concrete" from Caeserstone. Check out the picture below… what do you think?? Close enough or too different??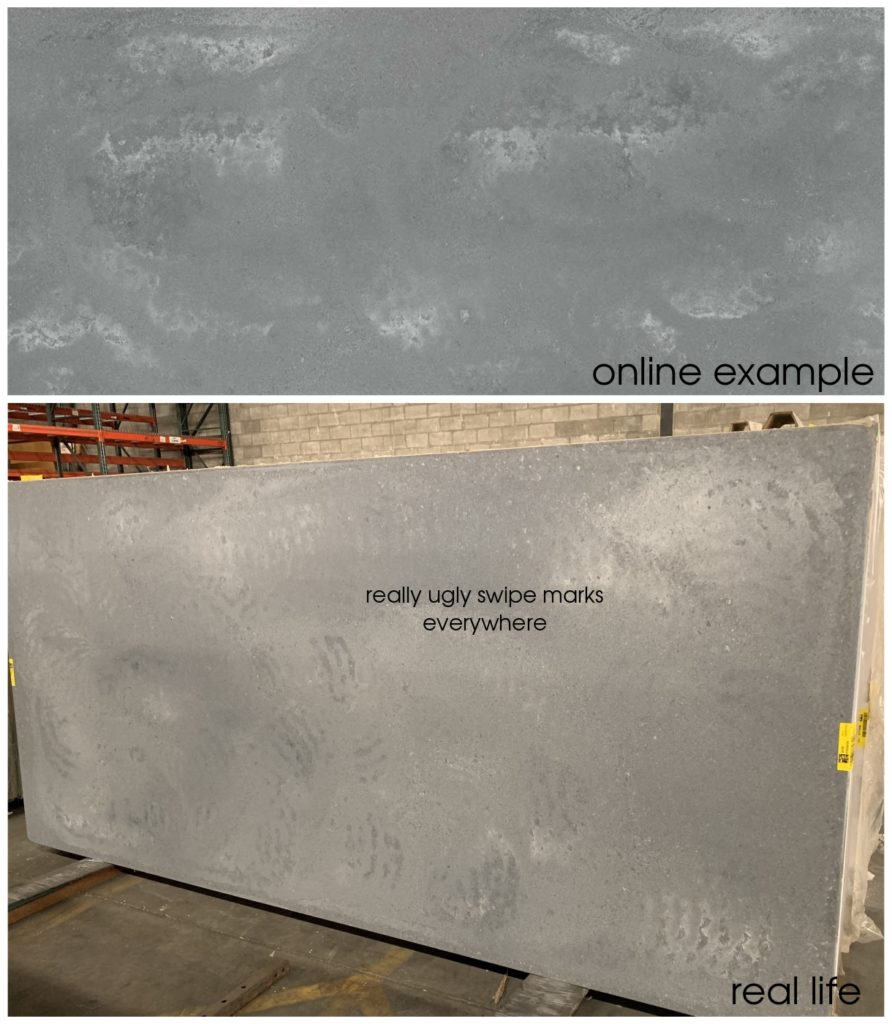 All of us looking at it (even the countertop distributor and our fabricator) kept saying that we all felt like a giant with oily hands swiped his fingers across it. I think at least two of us were starting to get anxiety about not being able to wipe the marks off. Our fabricator then talked to a Caesarstone rep who agreed that the swipes were "tooling marks" and not supposed to be so obvious, but then after searching near and far, determined that every single piece in their warehouses has them. Whomp-whomp. We were bummed and had to start over on countertop choices.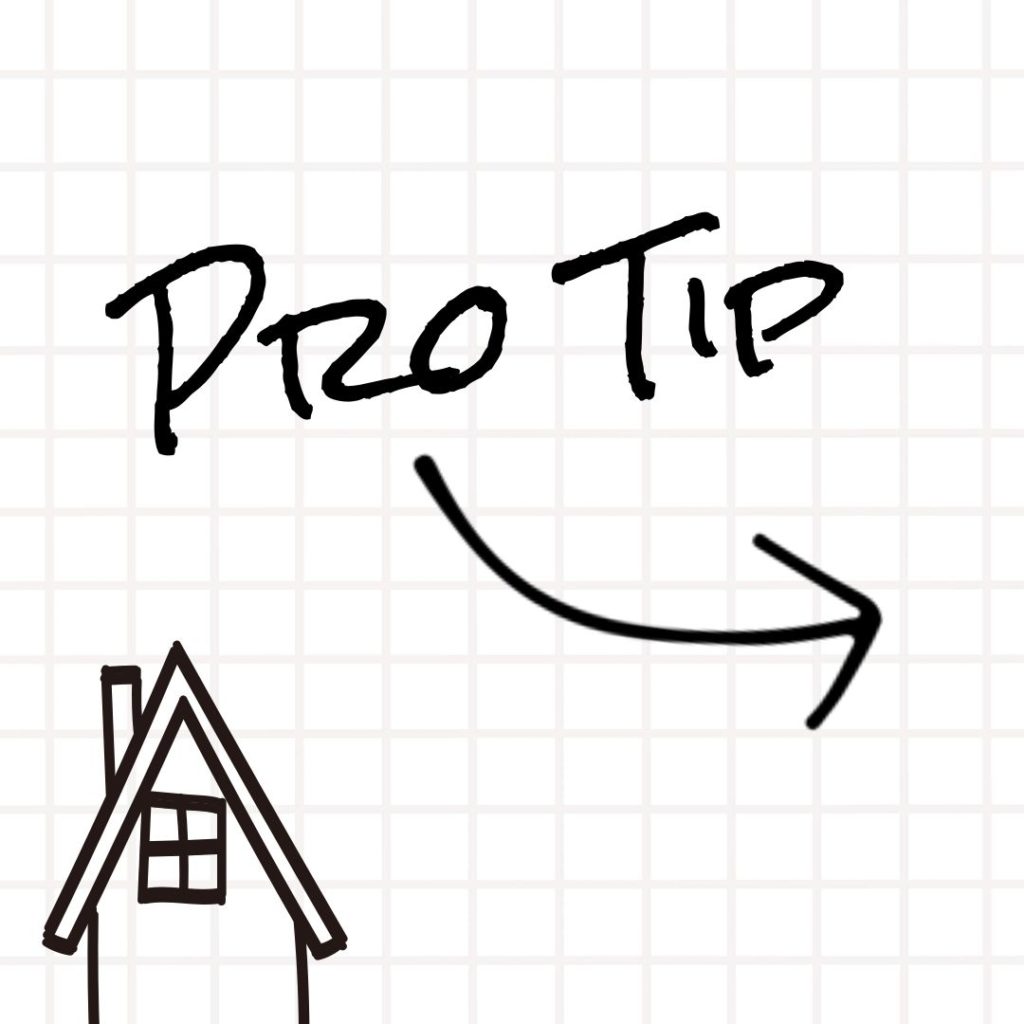 Make sure you go in person to see your countertop! It can look completely different online and in photos than it does in real life! If possible go and select the EXACT slabs of material that you want so that there are NO surprises come install time!
We went back to a granite warehouse with a very open mind, and what we ended up picking really surprised us: "Grey Steel".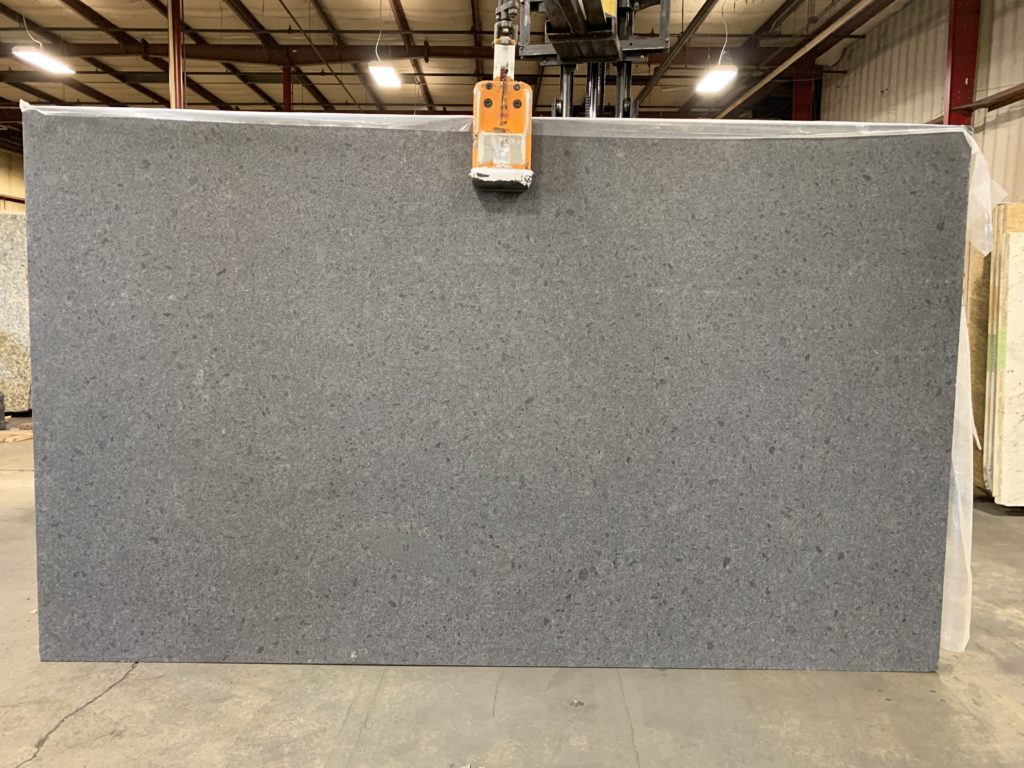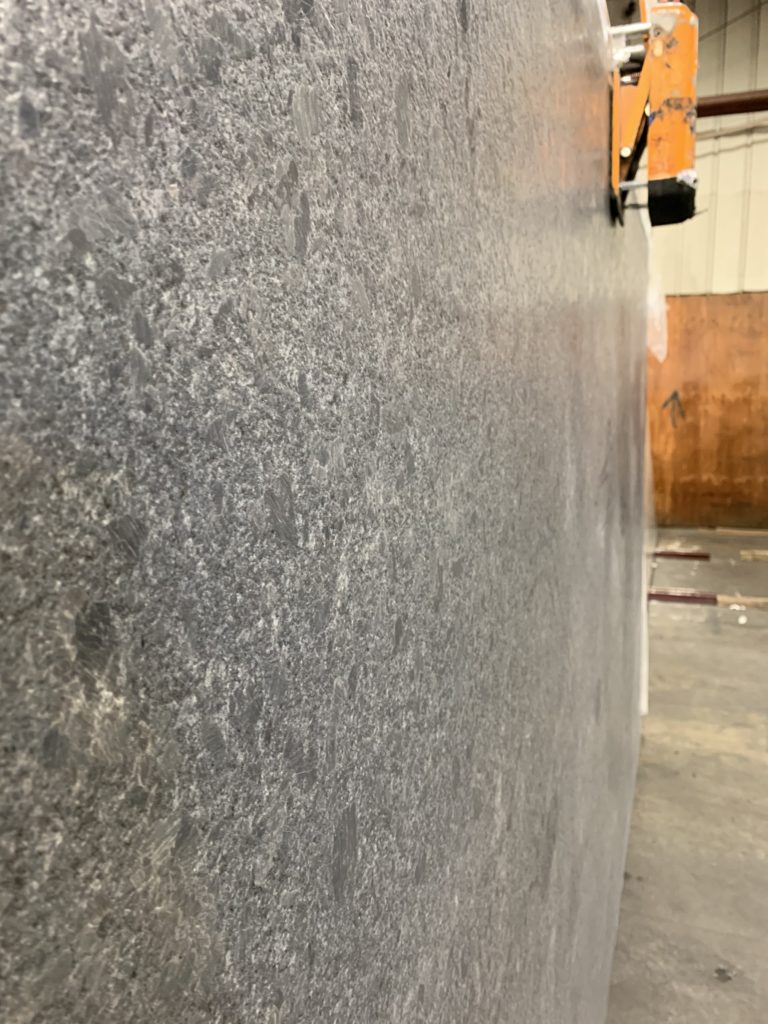 A lot of people will probably find this boring, and it's not what I would have EVER initially chosen, but we wanted something that kept in the same color family as the rugged concrete. We also didn't want something busy, but that still had enough variation to keep the stone interesting. We definitely wanted the matte look and a textured feel, too, and this granite had a really beautiful leathered finish that we loved. It hasn't been installed yet, but I'm content with our decision so far. It definitely helps that this granite was HALF the price that the quartz would have been.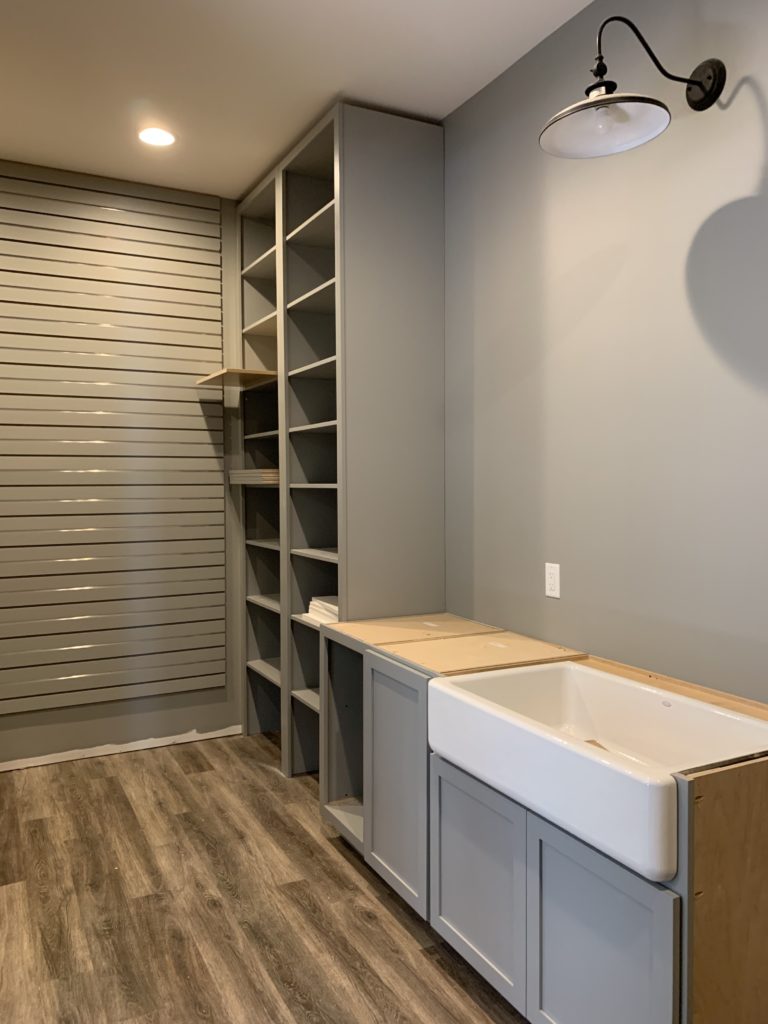 They also installed most of the walk-in pantry cabinets (shown above) and the butler's pantry cabinets (shown below).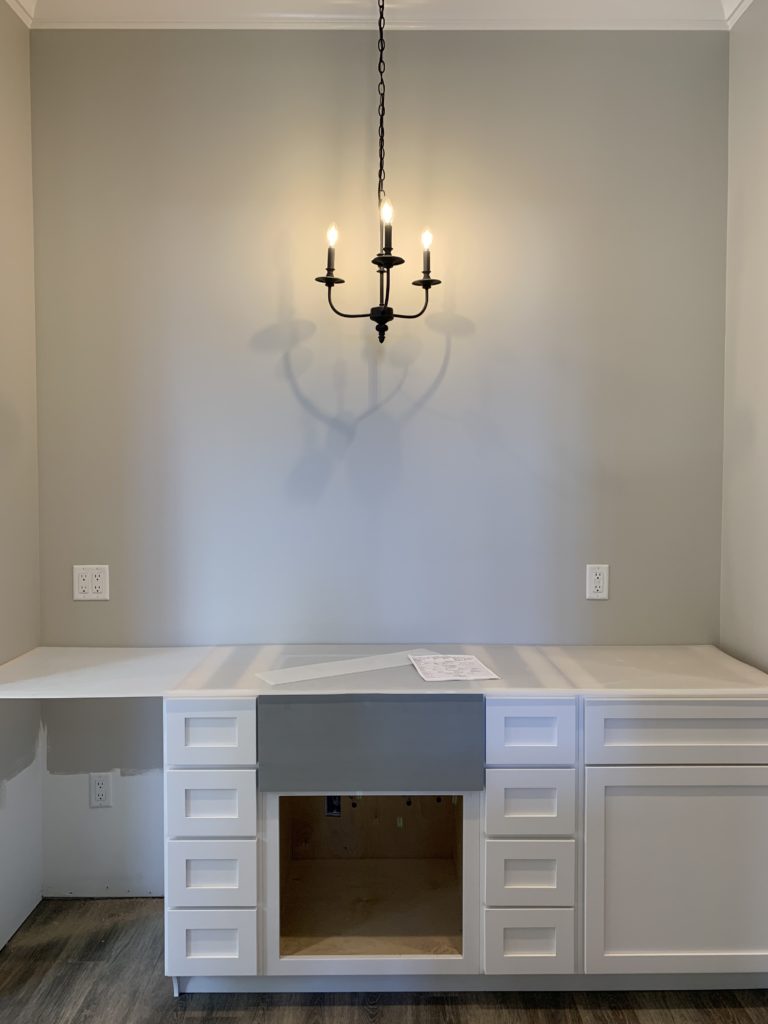 The laundry room cabinets are mostly still not here yet, but he did bring in the cabinets around the sink so that the countertop people could come in and template.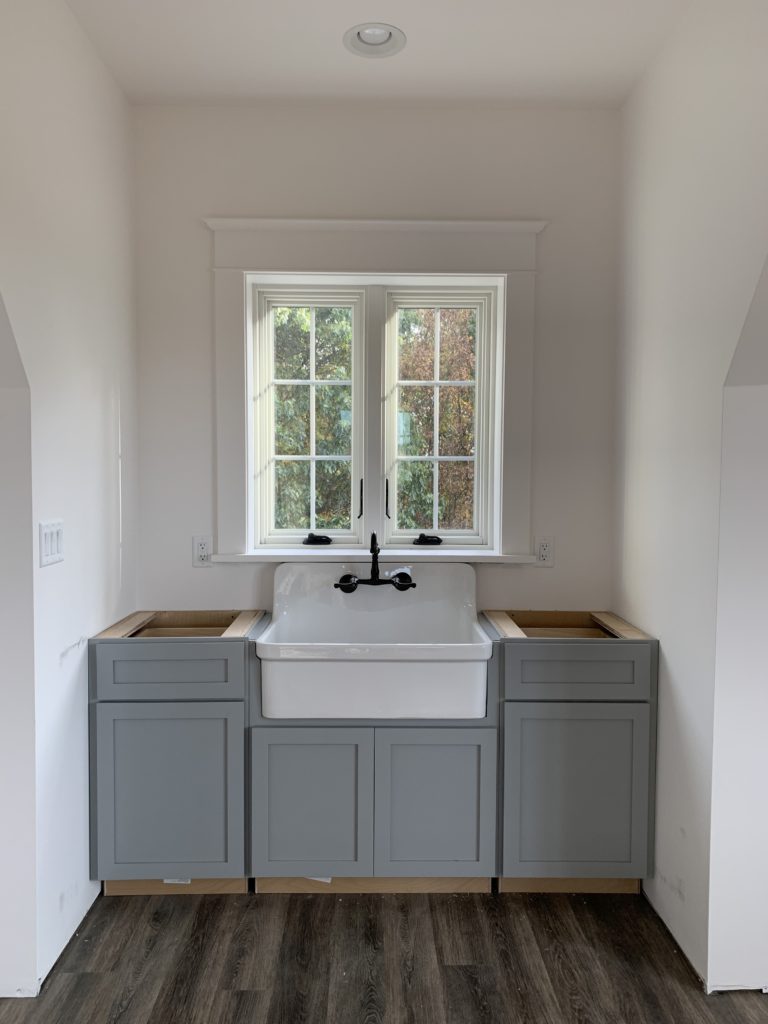 Our woodworker installed more of the railings upstairs, this one overlooking the library.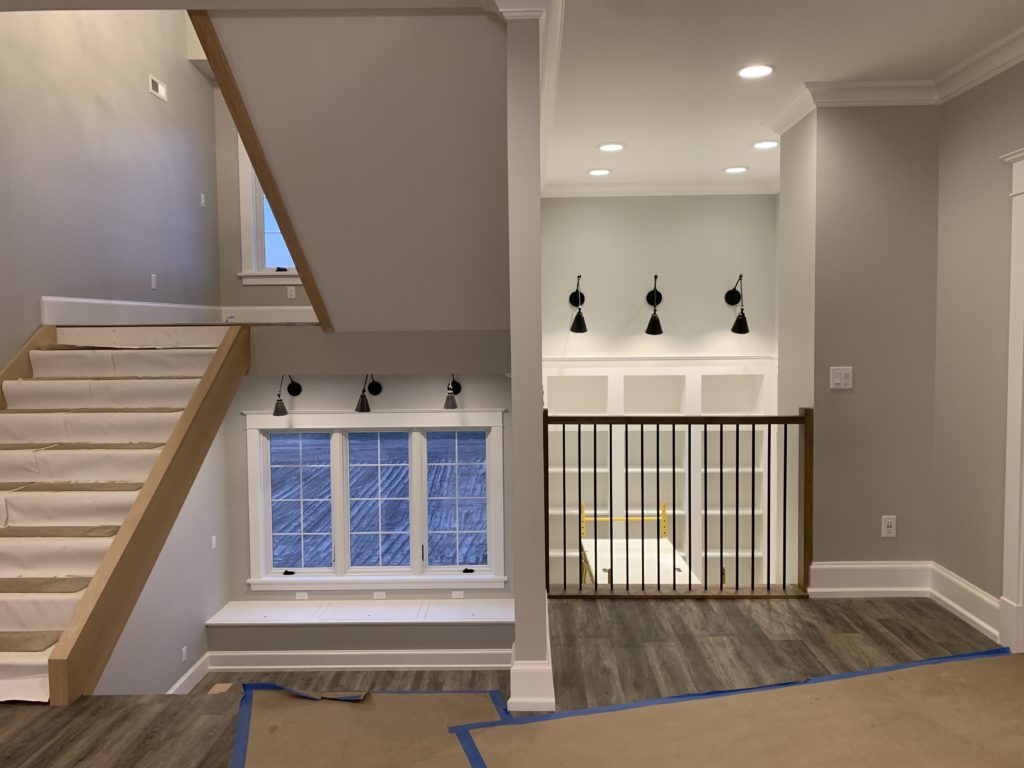 I was able to start cleaning up a few areas that are mostly done. The first space I cleaned and organized was the master closet, so we could start moving a few things over and use that space to store things if we need to. I'm loving the layout of this space. It's going to be a great his/hers dressing room.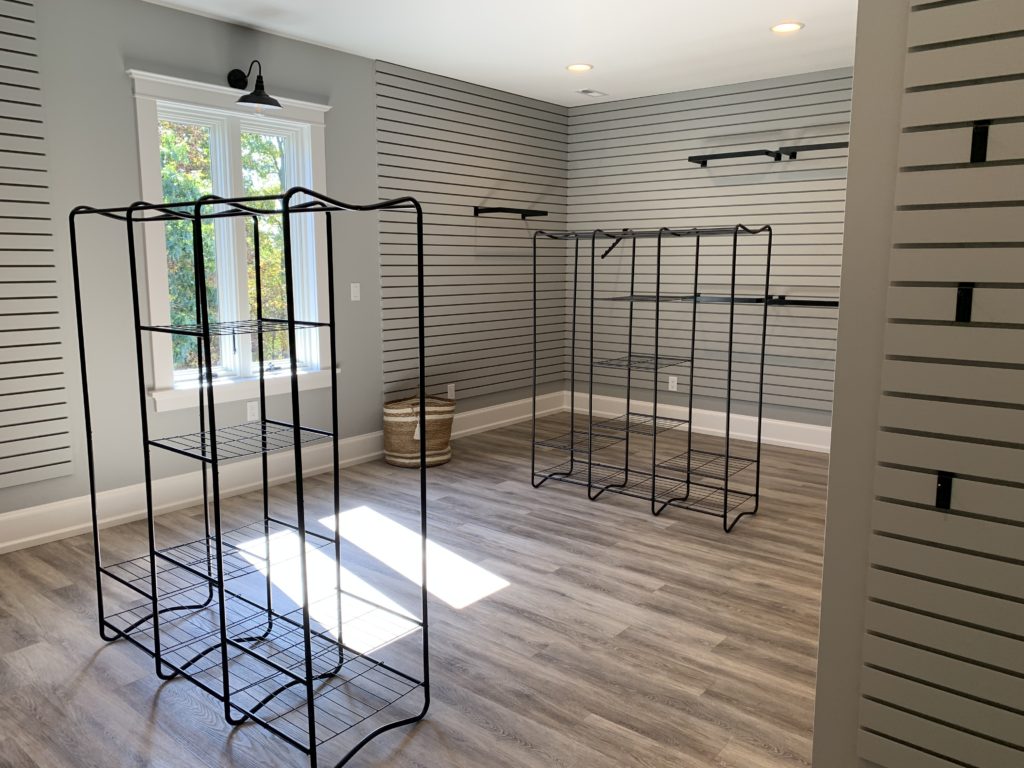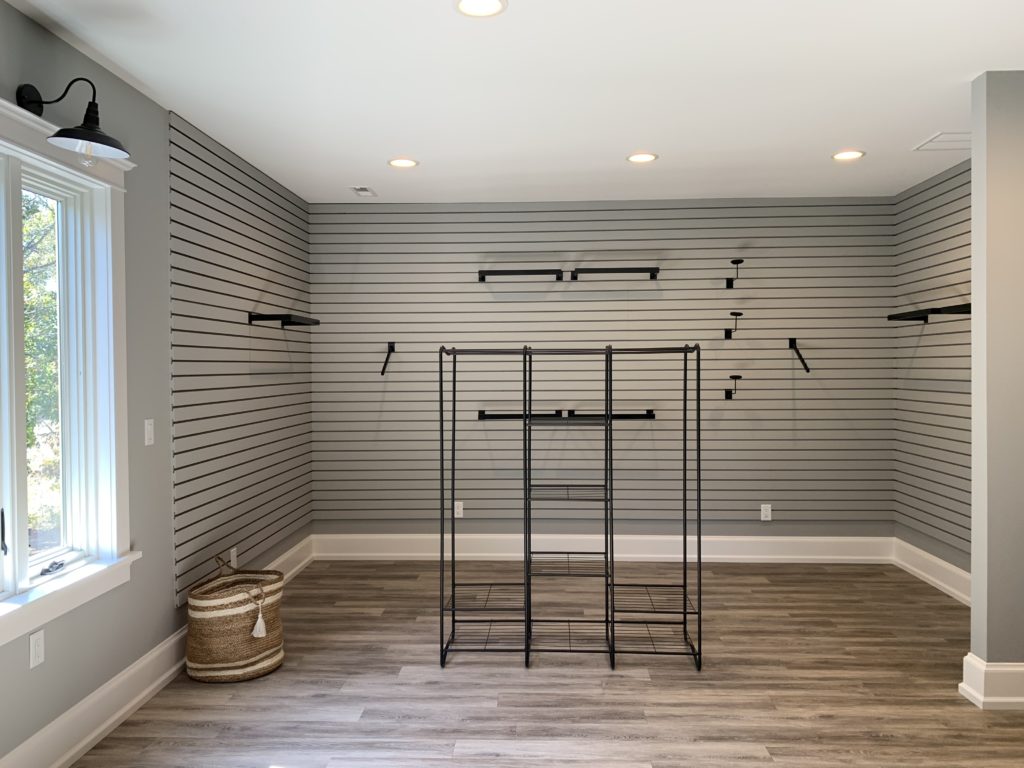 Unfortunately, that's most of what happened inside. We are at the point where a few things are holding up progress (like installing the laundry room cabinets and the rest of the railings and carpets). Once those things are done, the painter can come in and touch up all the damage done to the walls while everything is getting installed. Fingers-crossed that all those things will happen VERY soon!
Outside, the yard was graded, which was really exciting for us. All the huge piles of dirt sitting around the house finally went away. It was like a whole new world for a week or two until we got used to it. Our yard is so much bigger than we thought it was going to be! It's amazing how those piles of dirt really made everything seem so much more crowded. I'm loving the openness of it all, and can't wait for my daughter to run around and play here.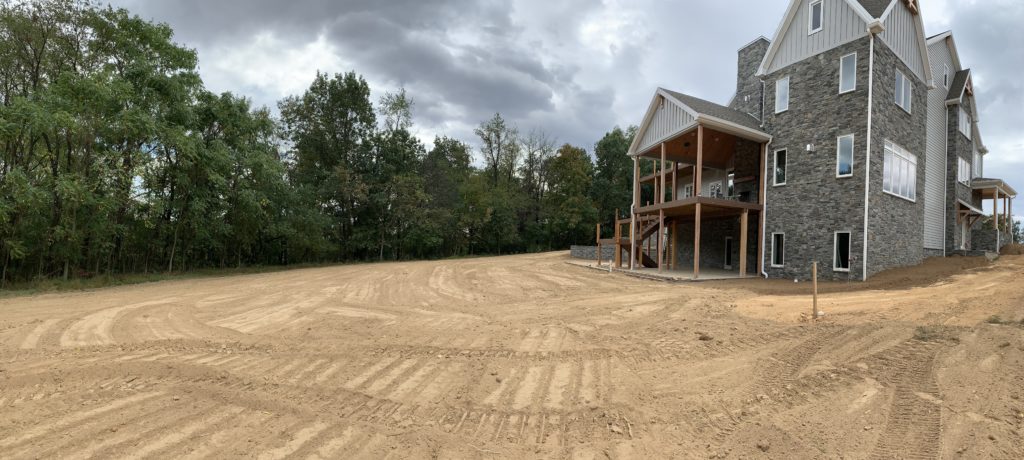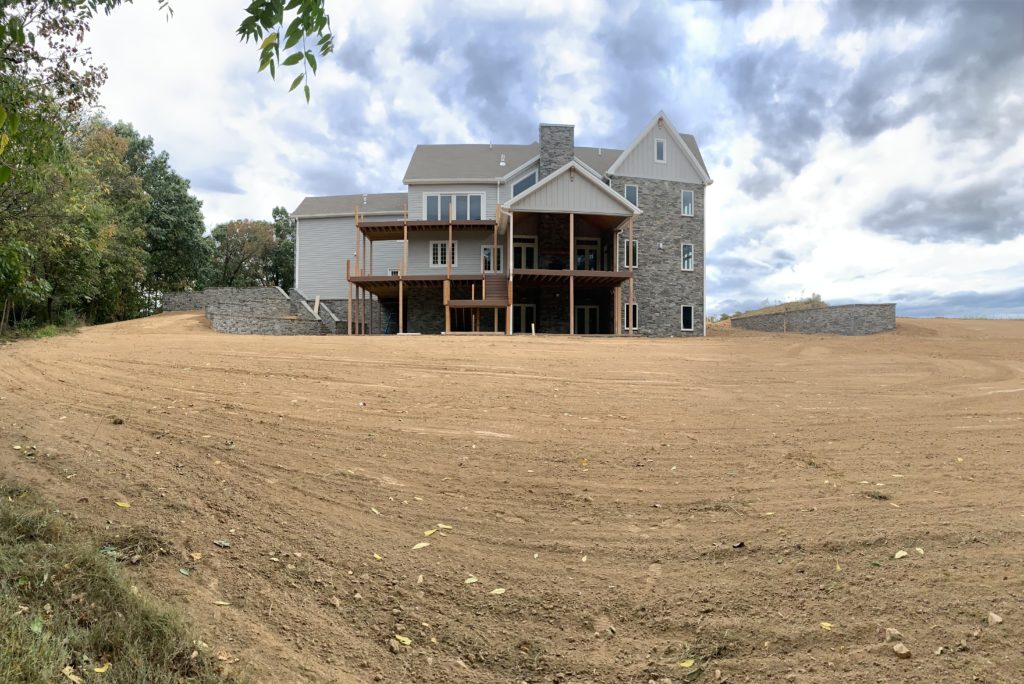 The driveway was also reworked at the same time, to its final shape so it can be paved.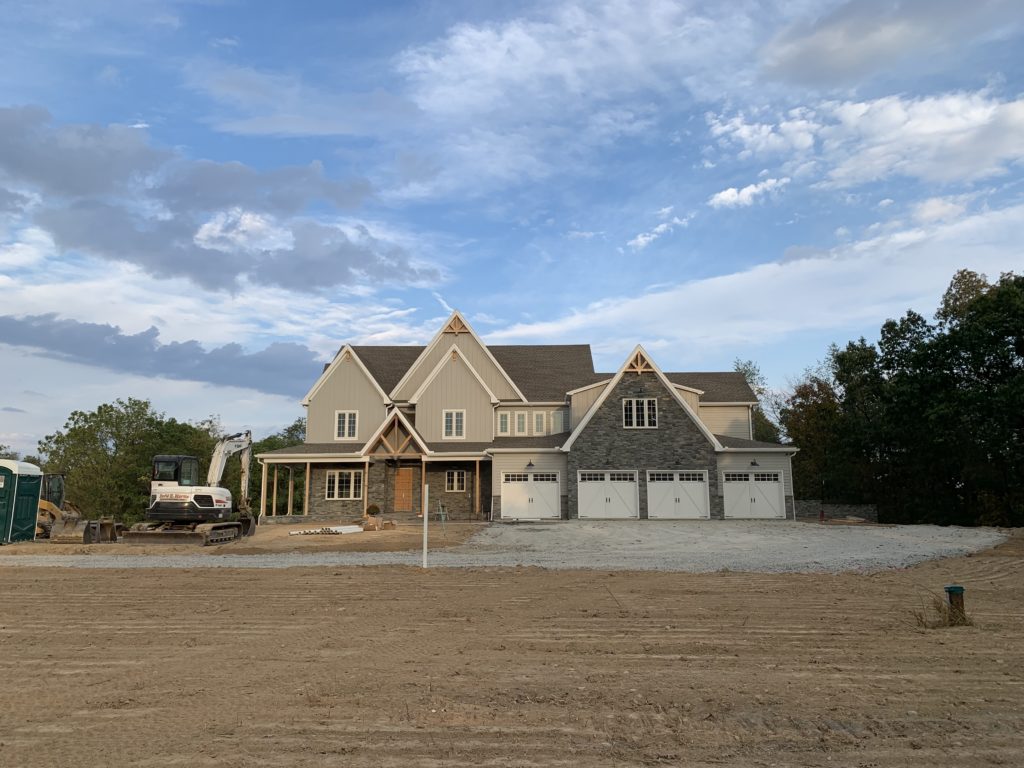 After grading, the irrigation guys came in to install our systems. We have sprinklers throughout the yard as well as hydrants going in all the landscape beds so we can run soaker hoses to the plants there. There is also a watering zone being run out to my garden for watering that.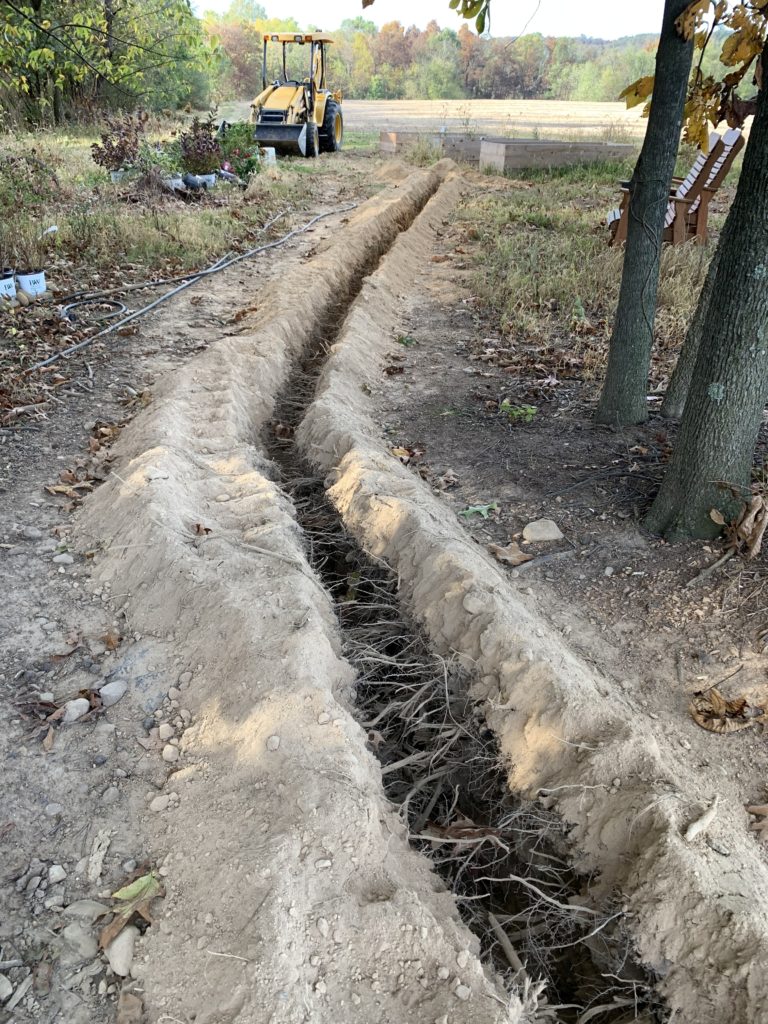 To accomplish all this, they have to trench lines all throughout the yard (the one running to my garden is shown above) which they're working on now and should be done by the end of next week.
Hopefully, in the next few weeks they will have seeded the lawn, put down the base coat of pavement on the driveway, and we'll have all our fall planting done! I'm anxious to get the outside work completely done before it gets too cold and the ground freezes.
Thanks for reading! Check out the house building section to see all the farmhouse progress we've made so far! You can sign up for my newsletter at the bottom of the page to receive an email as soon as I post an update!