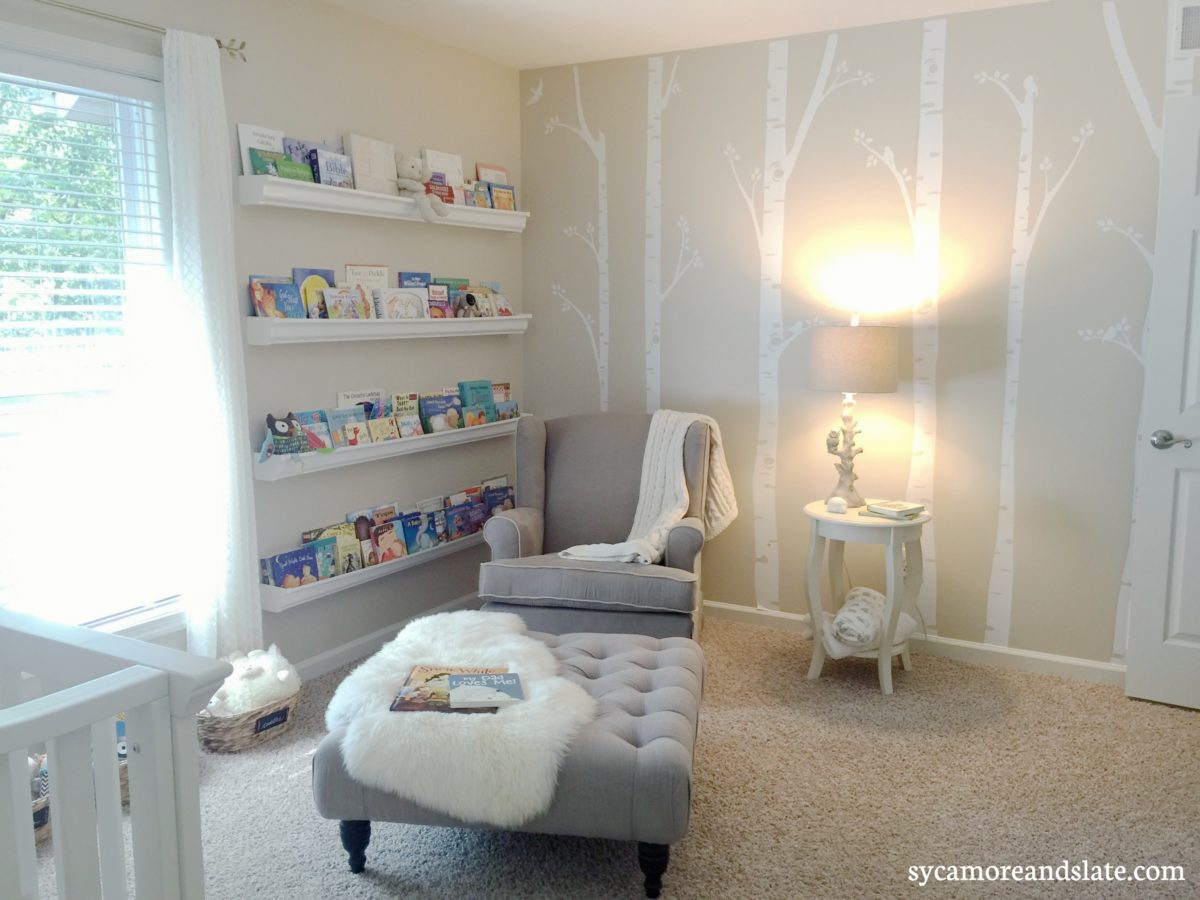 I am so excited to share with you, on my brand new blog, my baby's nursery. This was such a fun and exciting room to put together while I was pregnant.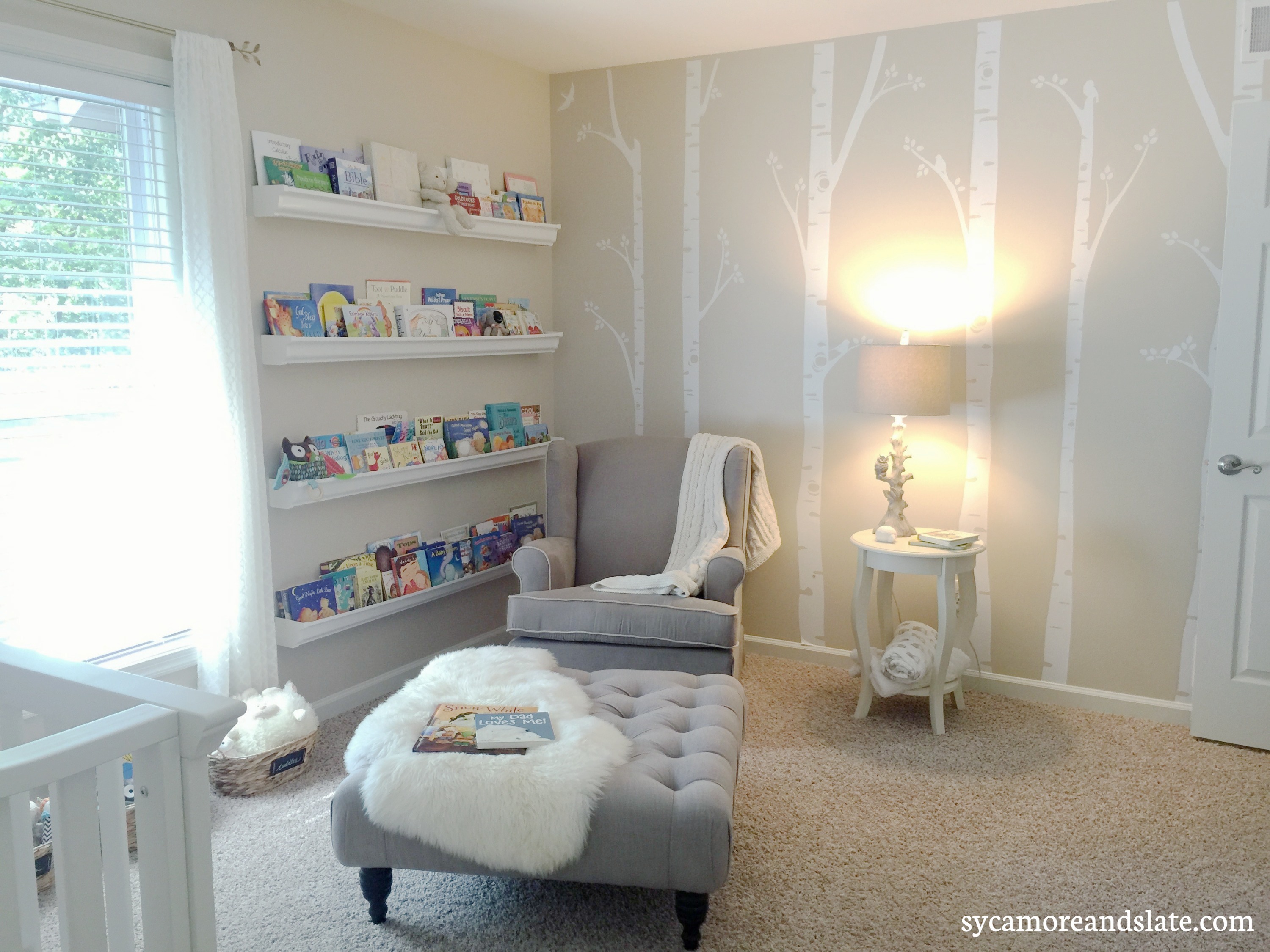 I was so excited to get started on the decor that we scheduled an ultrasound to find out the gender of the baby at sixteen weeks, four weeks earlier than my OBGYN would look! We found out it was a GIRL (wahoo!!) and then we literally stopped on the way home to buy girl-themed baby accessories.
I'm telling you, I just could. not. wait.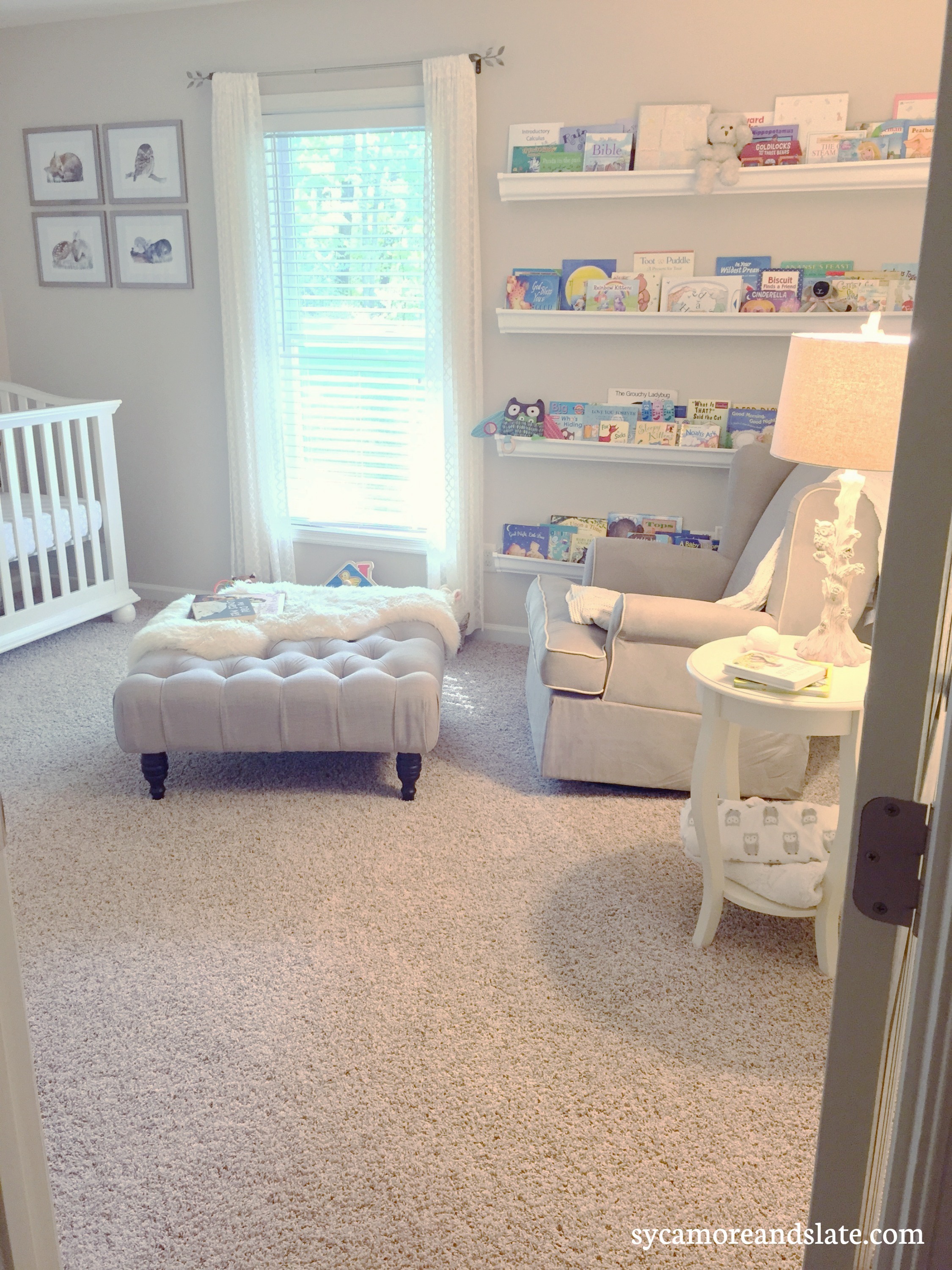 (This post may contain affiliate links which do not change or affect your price in any way. They simply allow me to collect a small commission if you purchase something through one of the links I provide, which keeps this blog going! Click to read my full disclosure.)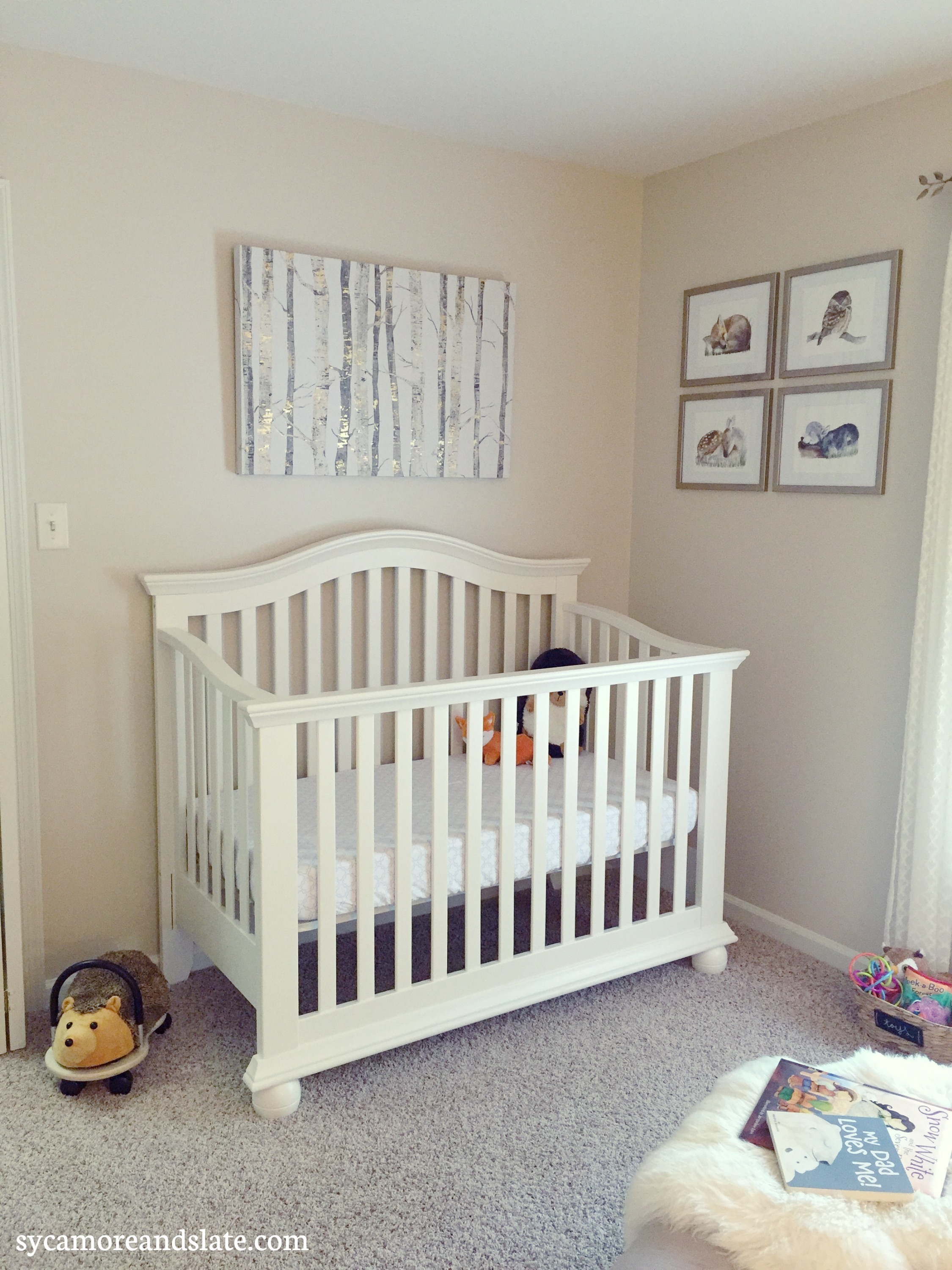 This room became one of my favorites even before my daughter was born. It was such a calm and relaxing place to be. I would sit on the glider and rock and rock and just imagine what it would be like after we brought a little baby girl home from the hospital.
Our baby girl is a toddler now, so the room has shifted a bit to accommodate a more active little person. It's become a little less… calm. But it's just as lovely as ever and even more fun.  I will link to a new post soon showing how her room has evolved in the last three years.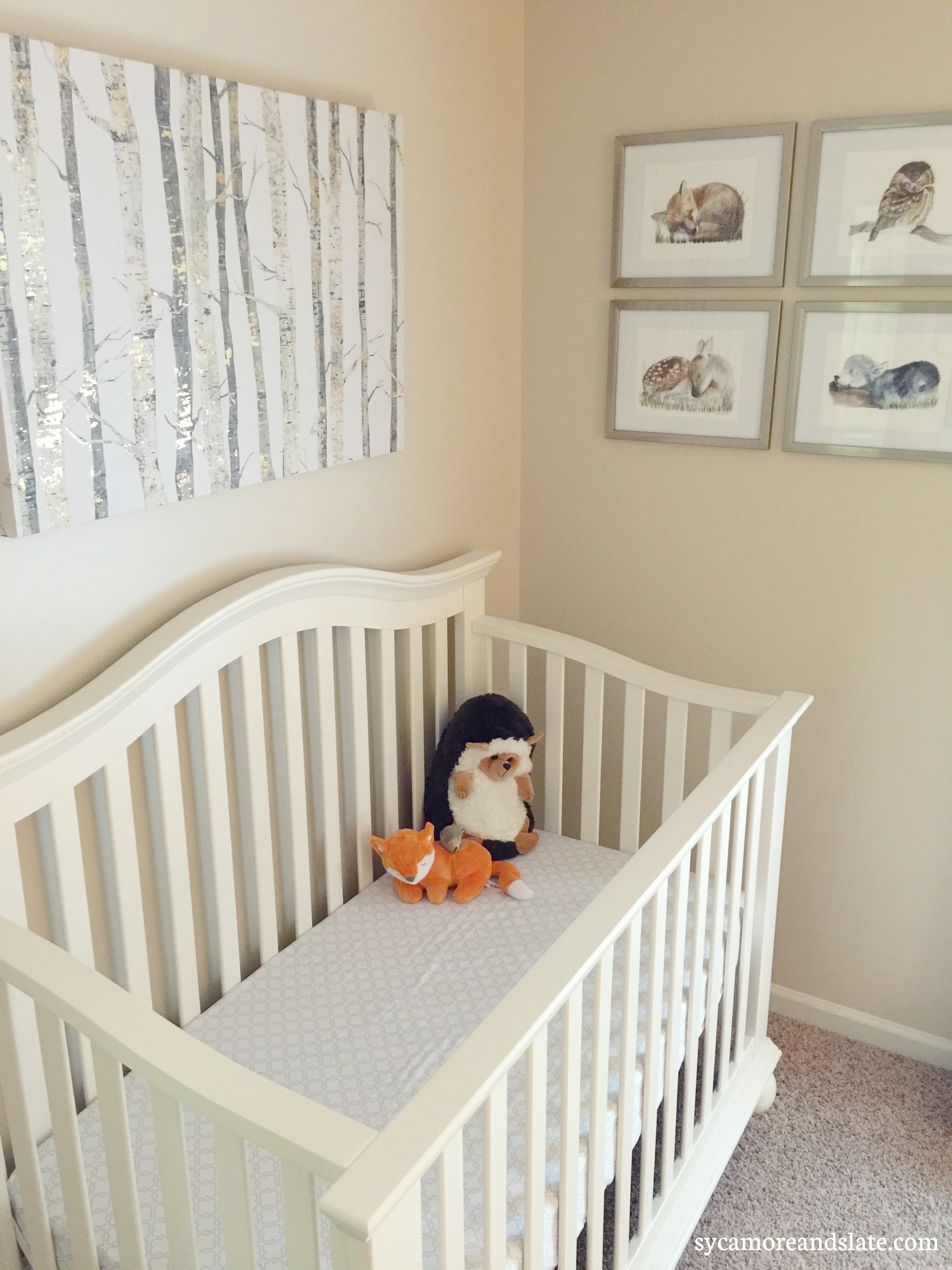 I knew, regardless of gender, I wanted a woodland theme. I love owls and foxes and hedgehogs, and they just seem like great little companions for any baby boy or girl.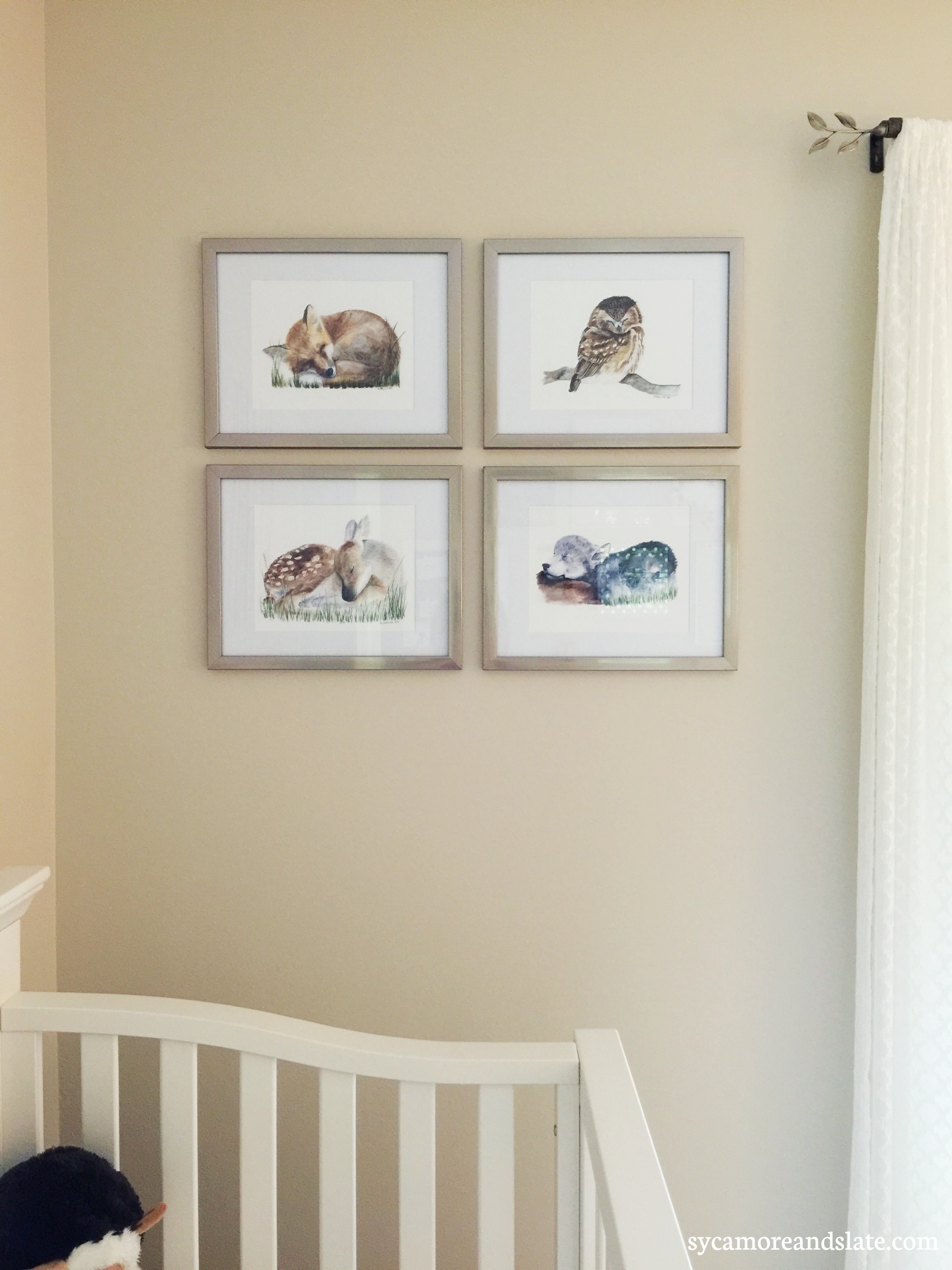 I found the art shown above on Etsy shop, tiny toes design by Brett Blumenthal and absolutely fell in love.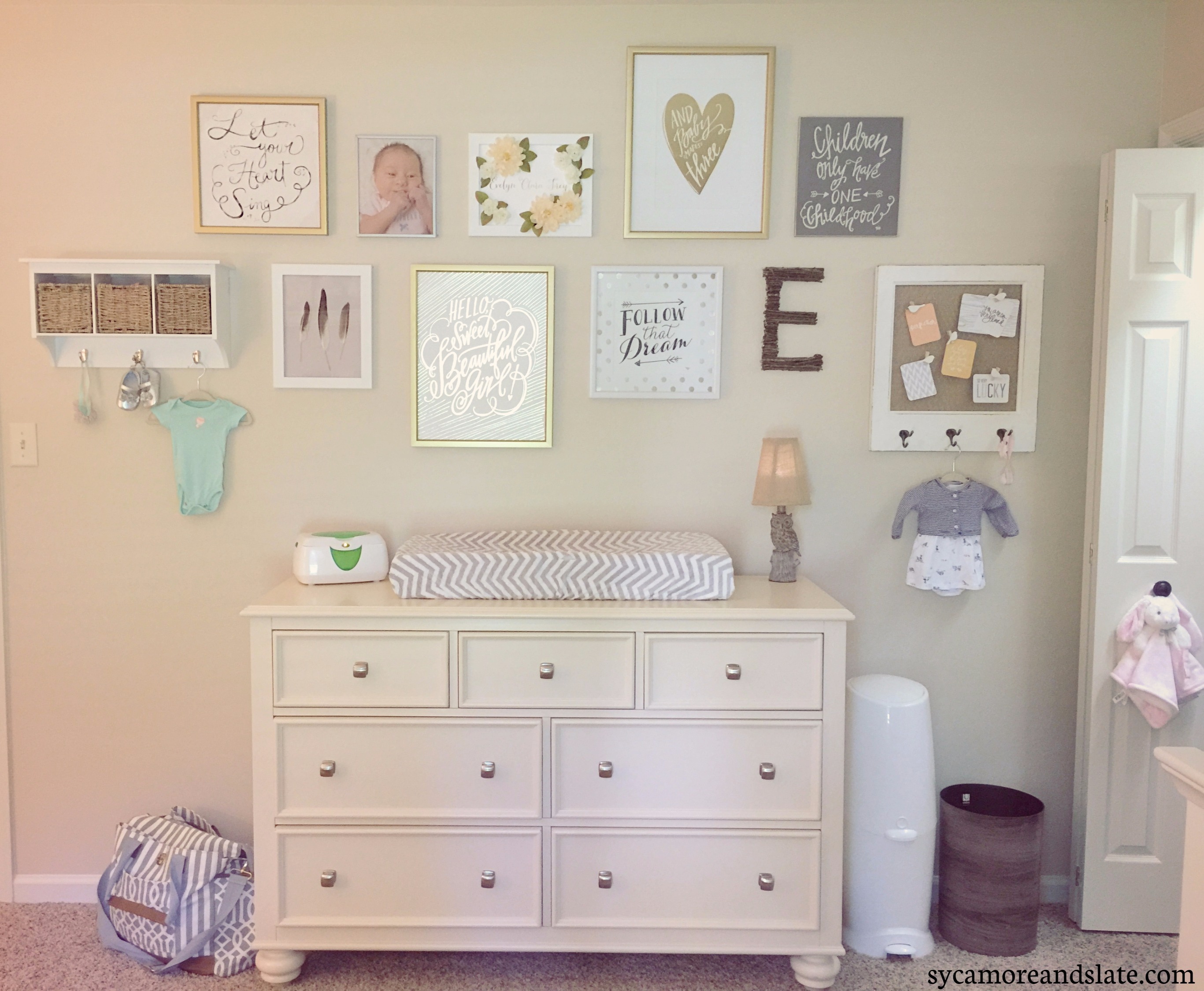 The dresser is from American Drew. It was probably the thing I most struggled with choosing for the room. I was a little worried about buying it online without ever seeing it in person. I wanted to make sure the shade of white wasn't too yellow so it wouldn't clash with the other white furniture pieces I already had.
I ended up going for it and I was so glad I did. It turned out to be a lovely piece, and totally perfect for the room.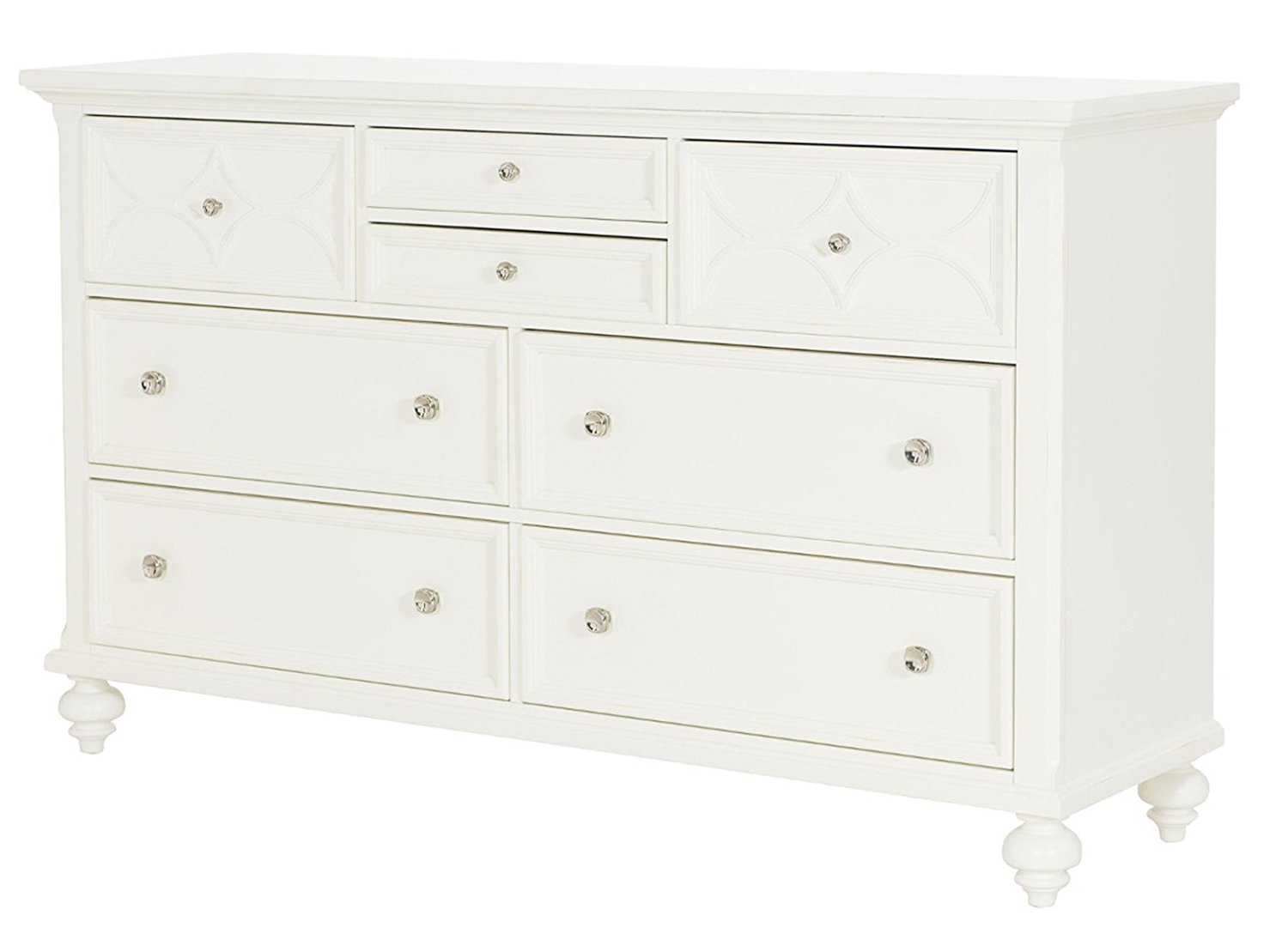 The dresser above is another American Drew dresser that I'm just as in love with.  Sighhhh, I love the glass knobs.  Those turned legs are gorgeous.  And I'm really digging the double drawer in the center.  I bet that would be great space for all those little things like pacifiers and hair clips that get buried in the bigger drawers.  I don't think I saw this one when I was in the market because it sure would have given the other a run for its money.  See it >HERE<.
I got most of that art from Hobby Lobby, in case you're wondering. They always have the cutest stuff for great prices. The last image (with the framed feathers) was a super quick, five minute DIY project.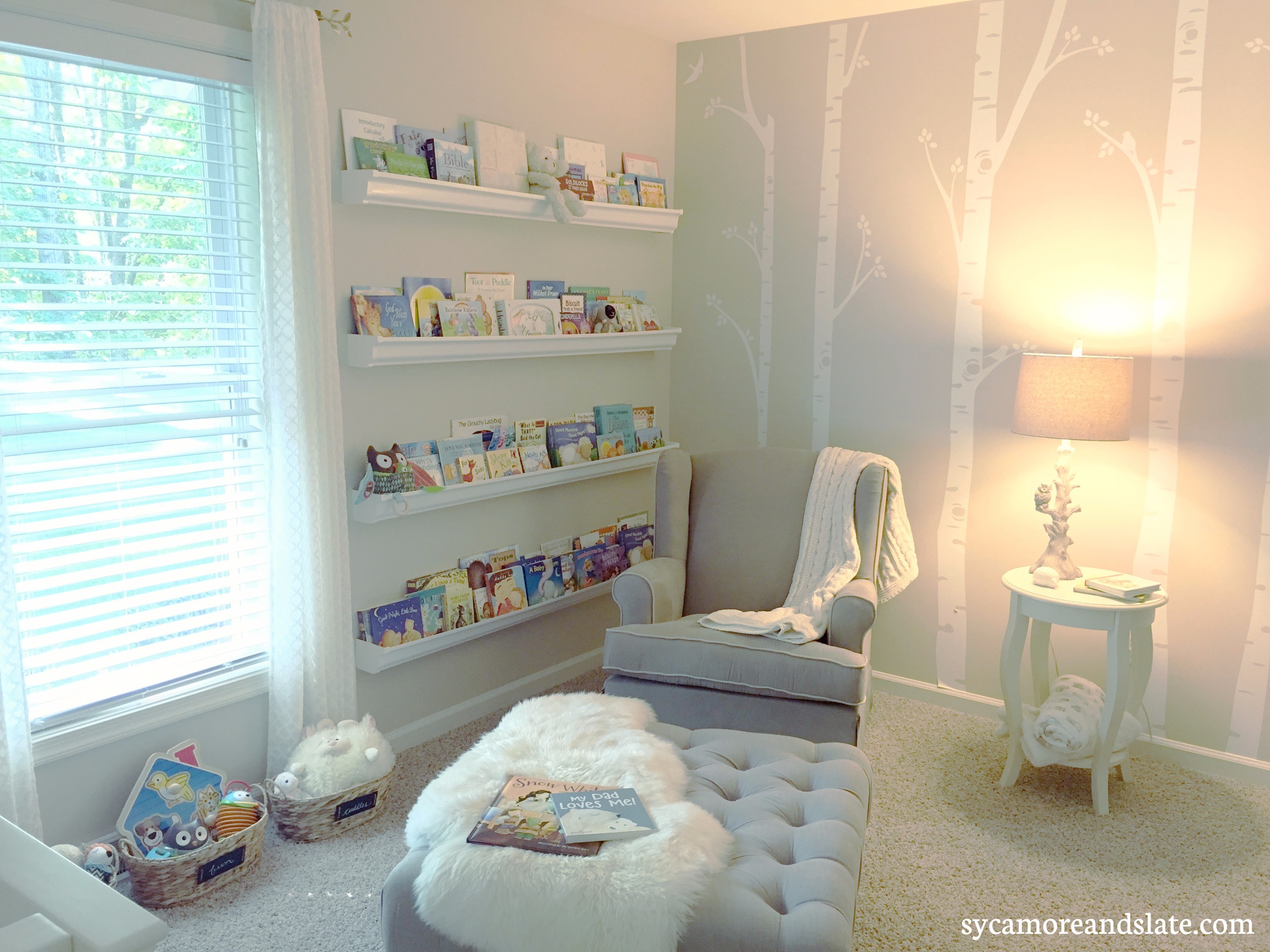 The little reading/rocking nook is pretty much my favorite place ever. I just love it. We've read countless books on this glider. Now that Evie's gotten older, she sometimes climbs up here all by herself and flips through her books, pretending to read. It's so adorable, you feel like your heart will explode.
I love love love reading and it's one of my goals to foster the love of reading in my children.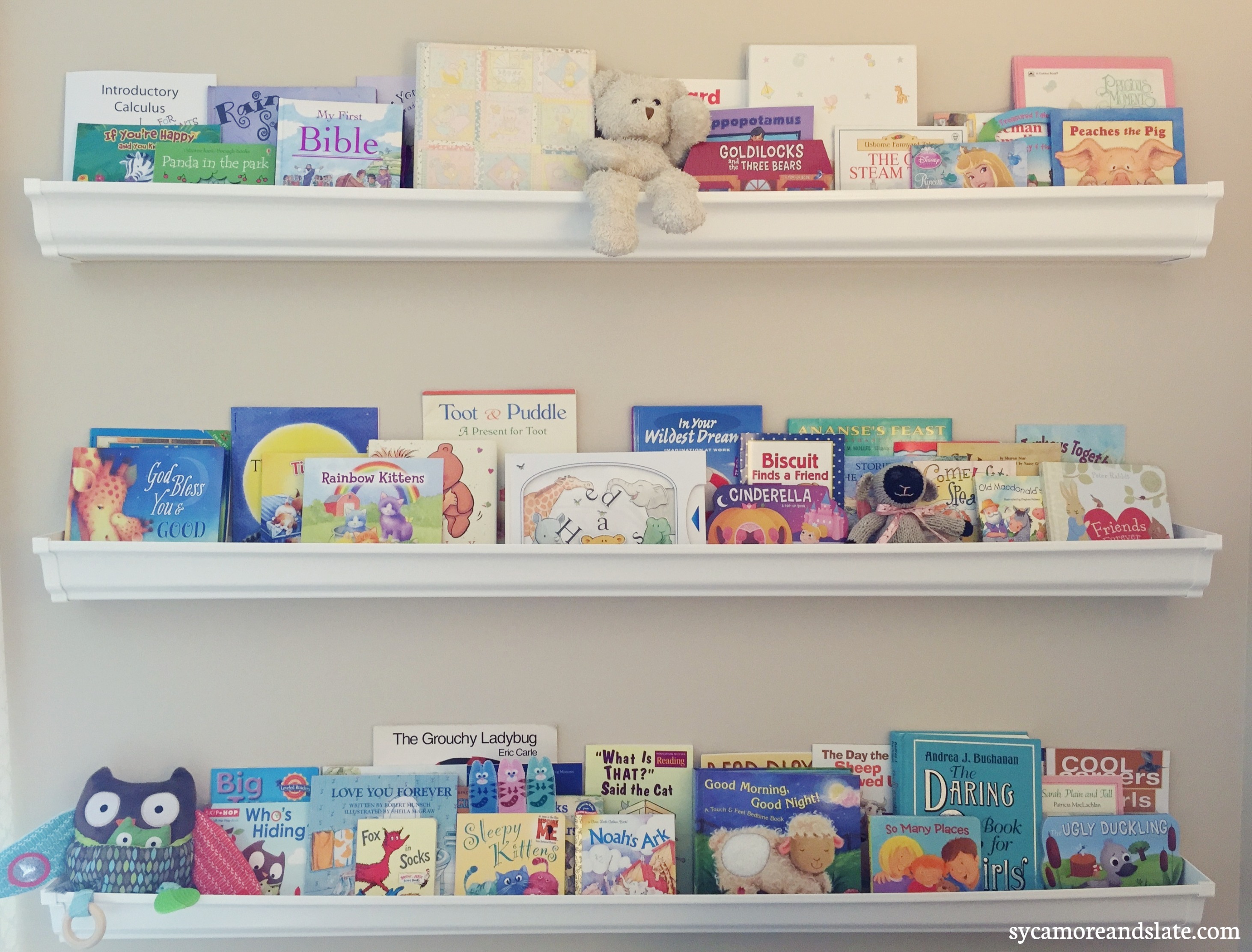 These shelves were a DIY project using gutters from Lowe's.  I LOVE how it turned out.  My favorite thing about it is that my daughter can easily reach the bottom row of books, so I keep all her favorites there, and she can come get them anytime.  I cannot tell you how many times she's brought me a book off this shelf for me to read to her.
You can purchase the exact ottoman I have, >HERE<. I absolutely love this ottoman. The size is definitely large, so you will want to measure to make sure you have the room for it, but if you have the room, I highly recommend it. This thing has had so many uses besides a footrest. We've dressed and changed our little girl on it. We've folded countless tiny baby clothes on it. Now that Evie's older and needed more room to run in her room, we've moved it to our living room and it's seeing more use than ever! We REALLY love this thing!
Little details, like the curtain and rod, and baskets of toys, ended up adding so much interest and warmth to the room.
The trees on the wall are a vinyl DIY project. They were the very first thing I ever did in this room to turn it into a nursery.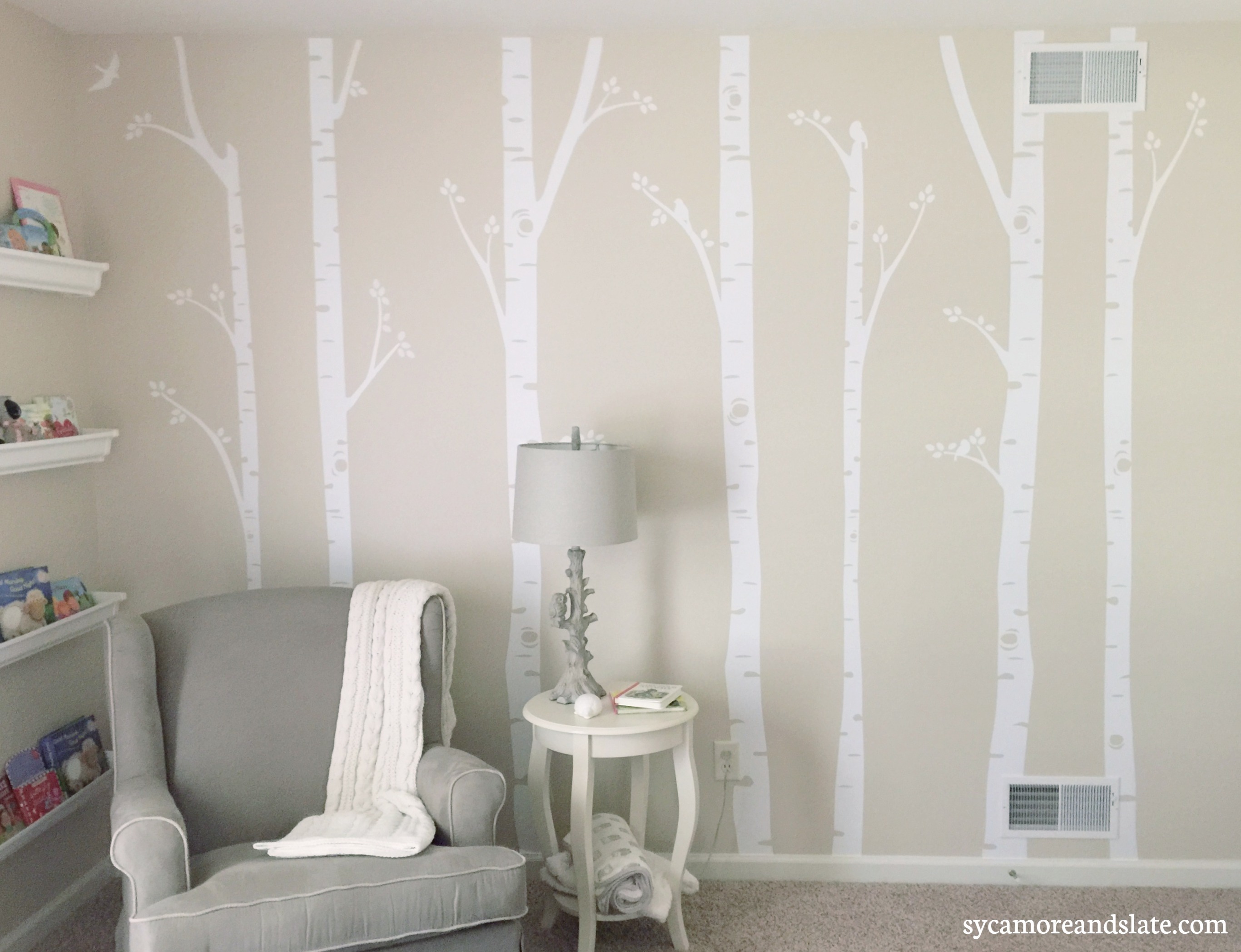 Last, but not least, we have the closet. We used a system from Lowe's and it's been the perfect solution for baby storage. And of course, the closet needs a little pizzazz, too, so I put this beautiful art piece there. It was a special gift made by Evie's aunt and uncle and this seemed like the perfect spot for it.
Now that Evie is almost two, the room definitely looks a little different. I hope to take some pictures of the way it's changed over the last two years so you can get some ideas about the ways this space can easily adapt into a toddler-friendly area. In the meantime, here are a few pictures of my daughter, enjoying her special space. Stick around until the bottom of the post for a list of some of the items you saw in this room and links so you can get them, too!
PRODUCT LIST
sleeping baby animal art – Tiny Toes Design
owl lamp – Hobby Lobby
owl nightlight – Hobby Lobby
'let your heart sing' art – Hobby Lobby
'hello sweet beautiful girl' art – Hobby Lobby
'follow that dream' art – Hobby Lobby
'and baby makes three' art – Hobby Lobby
'children only have one childhood' art – Hobby Lobby
chicken wire wall rack – Michael's
project life cards – Amazon
floor chalkboard baskets – Michael's
dresser/changing Table – American Drew
crib – Wayfair
hedgehog riding toy – Amazon
hedgehog stuffed animal – Amazon
gutter bookshelves – Lowe's
curtain – JCPenney
curtain rod – Lowe's
closet system + water hyacinth baskets – Lowe's
ottoman – Amazon
glider – Amazon
white knitted throw – Target
side table – Amazon
If there are any other products you have questions about, feel free to ask me in the comments, or you can always contact me!)