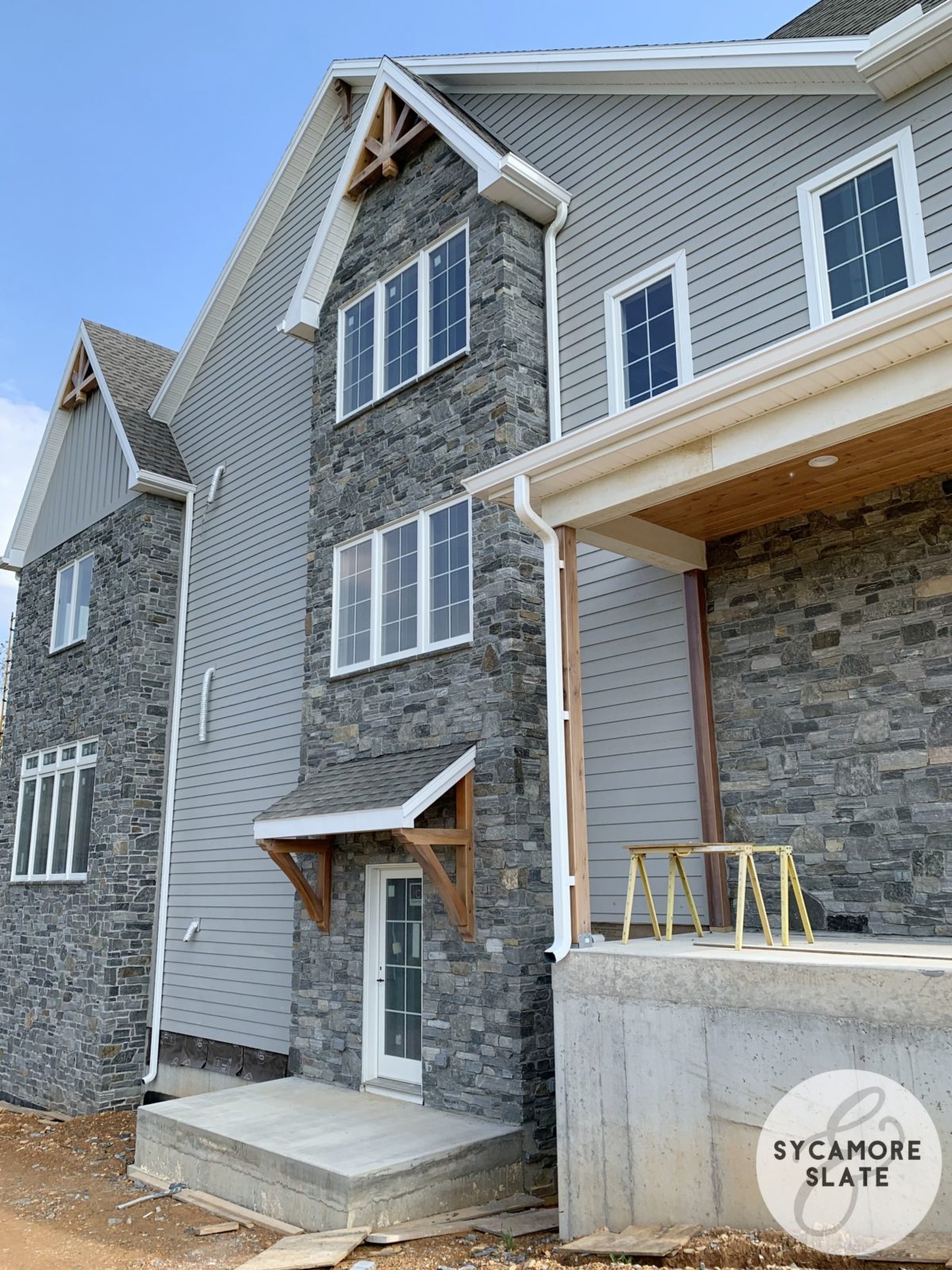 Welcome back to another exciting chapter in Building Our Dream Home! It's been almost a month since the last time you've seen the house and a lot has improved!
The weather got warm enough to start back up the stone work on the outside of the house. The stone under the porch and on the stair tower is now completed. There is still plenty more to do outside, though, and the inside stonework is just getting started (which you can see in the pictures below of the master bathroom). What's done so far is beautiful!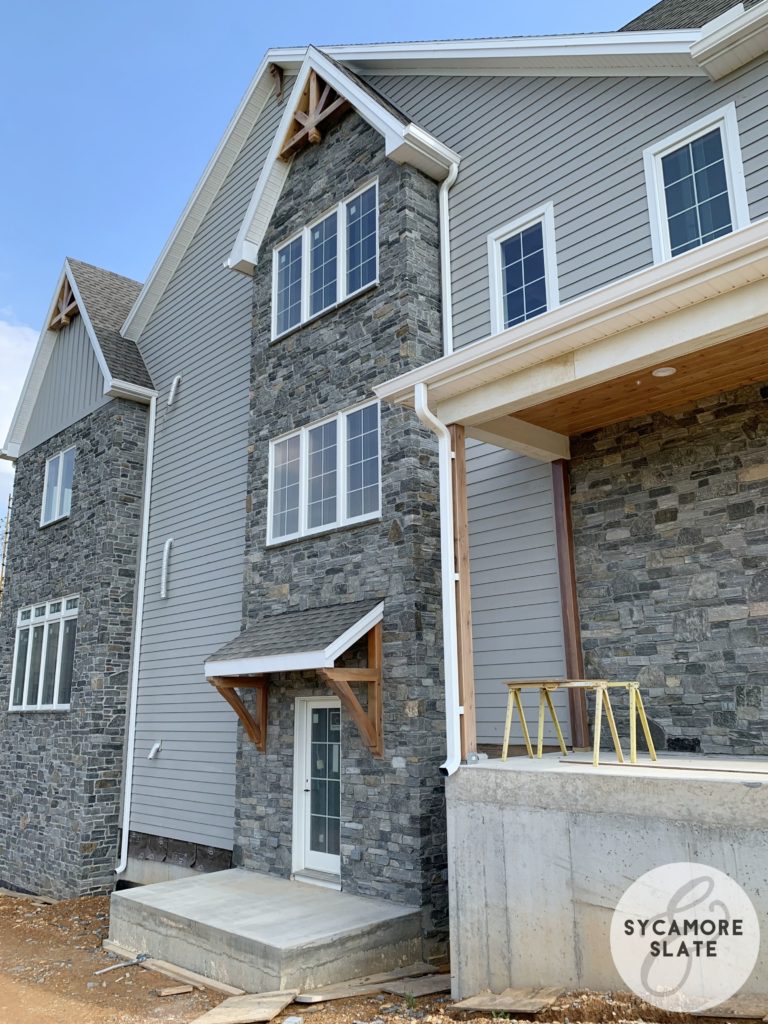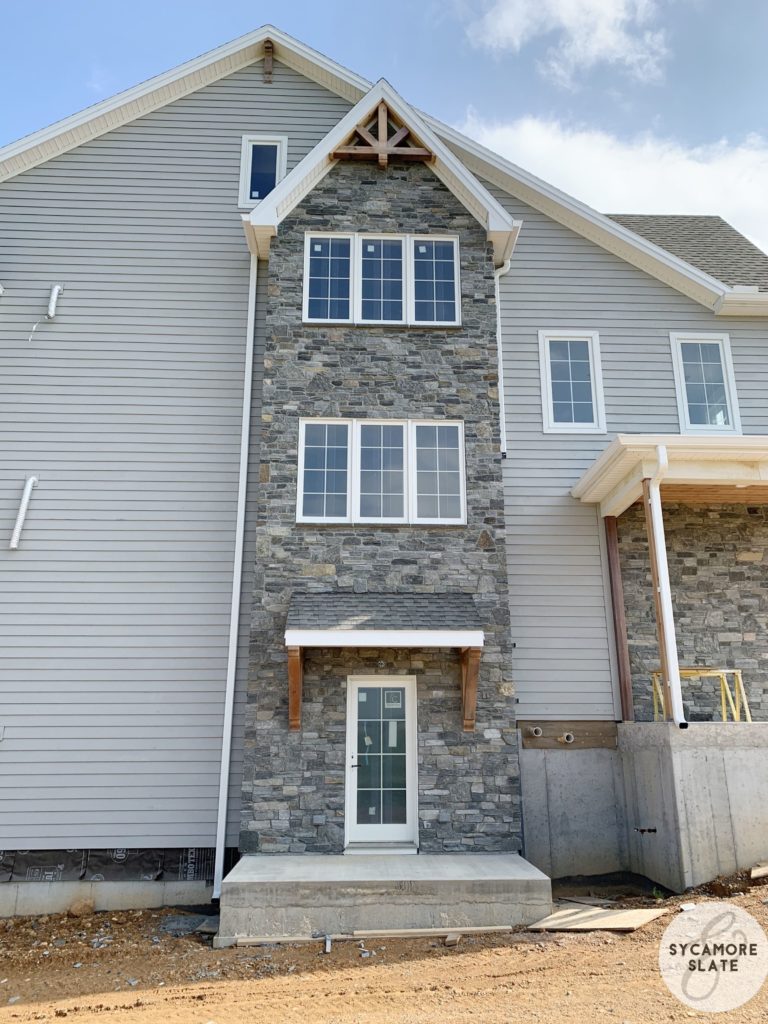 We also worked out the retaining walls on the side of the house. We always knew we would put a retaining wall here because the steepness of the grade, but after thinking about it for maybe ten seconds, we realized it was going to have to be one monster of a wall. We elected instead to have them build three walls in total, allowing the grade to drop more gradually.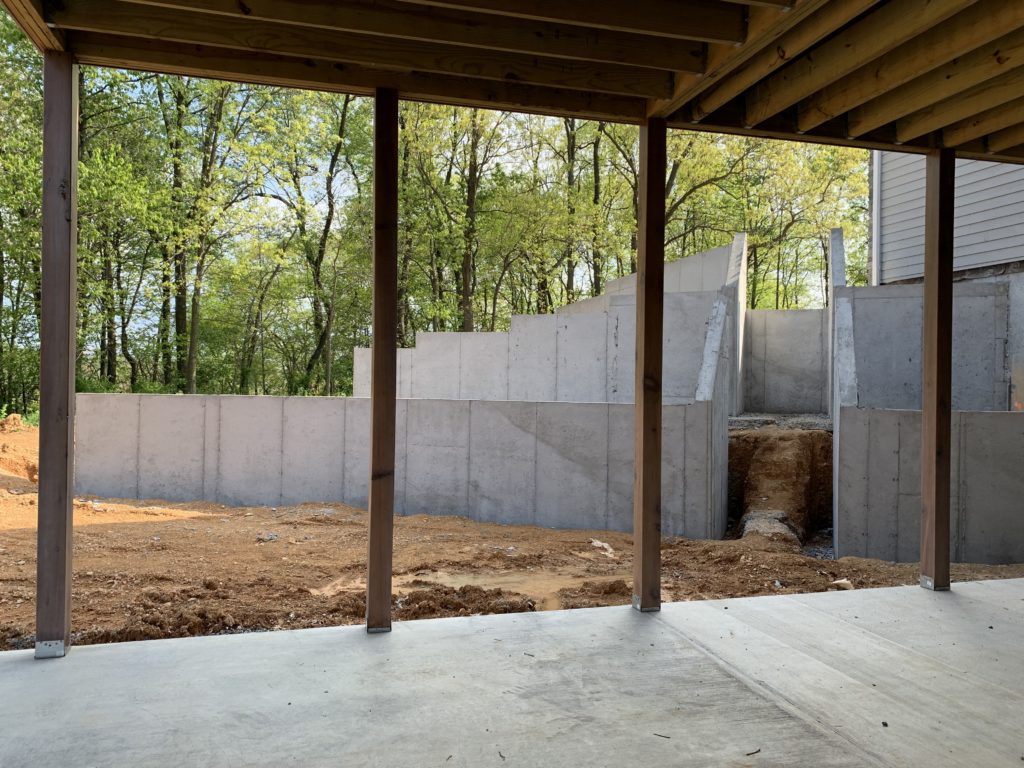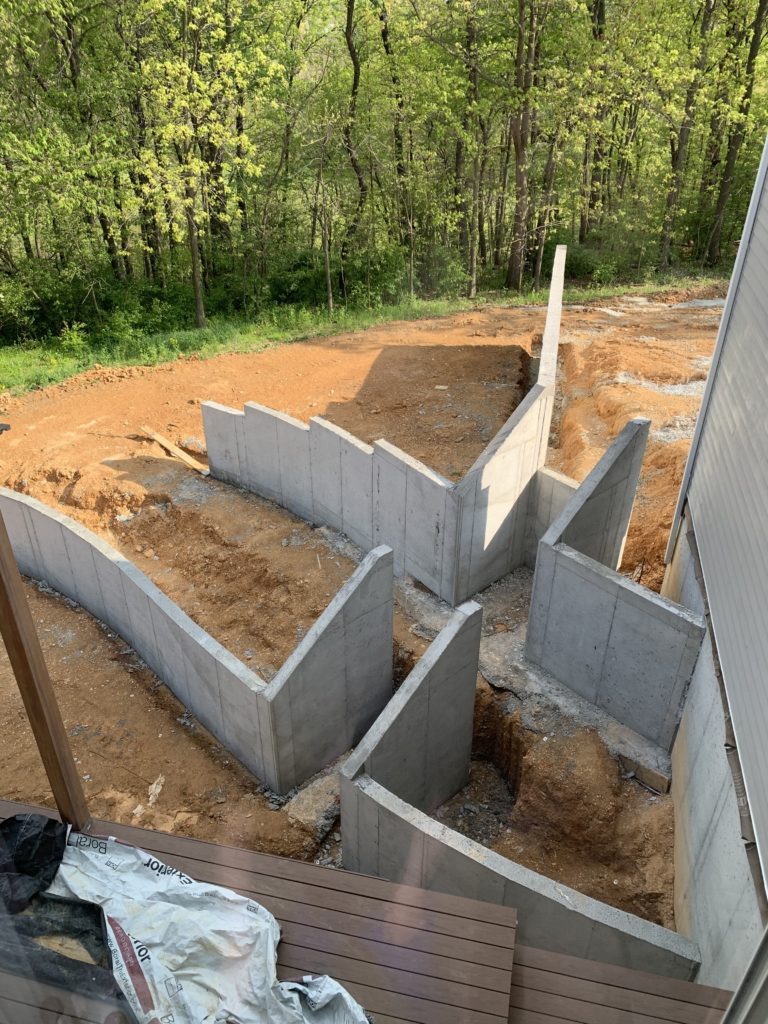 Now, I am so excited about this space, which I had mostly just thought about as dead space until the design change. I can't wait to put in some flowerbeds and plant some pretty things and really make this wall a beautiful addition to the landscape. It's directly outside my kitchen, so I'm really thinking that if it gets enough sun, I'll put some of my herbs there.
Inside, the second floor trim and painting is all-but-finished. I had so much fun picking paint colors and figuring out which combinations to use. I'm really pleased with the colors we ended up using.
Throughout the main areas, the walls are painted "Repose" by Sherwin Williams. It's such a soft neutral gray and we love it. When it started to go up on the walls we were worried it looked to beige, but as soon as it was over a larger area, we could tell that it was perfect. It no longer strikes me as beige at all. Just a light gray that provides a perfect backdrop to the furniture and decor that we'll be putting in these rooms.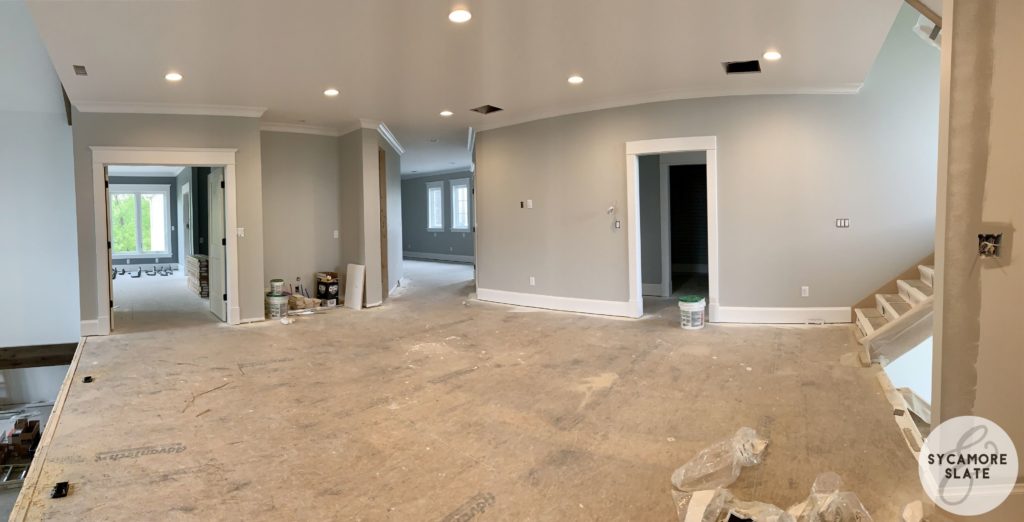 The back bedroom and bathroom, which will be a spare suite for now (but MAYBE a nursery someday!) is painted a gorgeous color called "Unusual Gray" by Sherwin Williams. It's a slightly green-toned medium-gray and my husband's favorite color from Sherwin Williams. This is also the color he chose to paint the office on the main floor.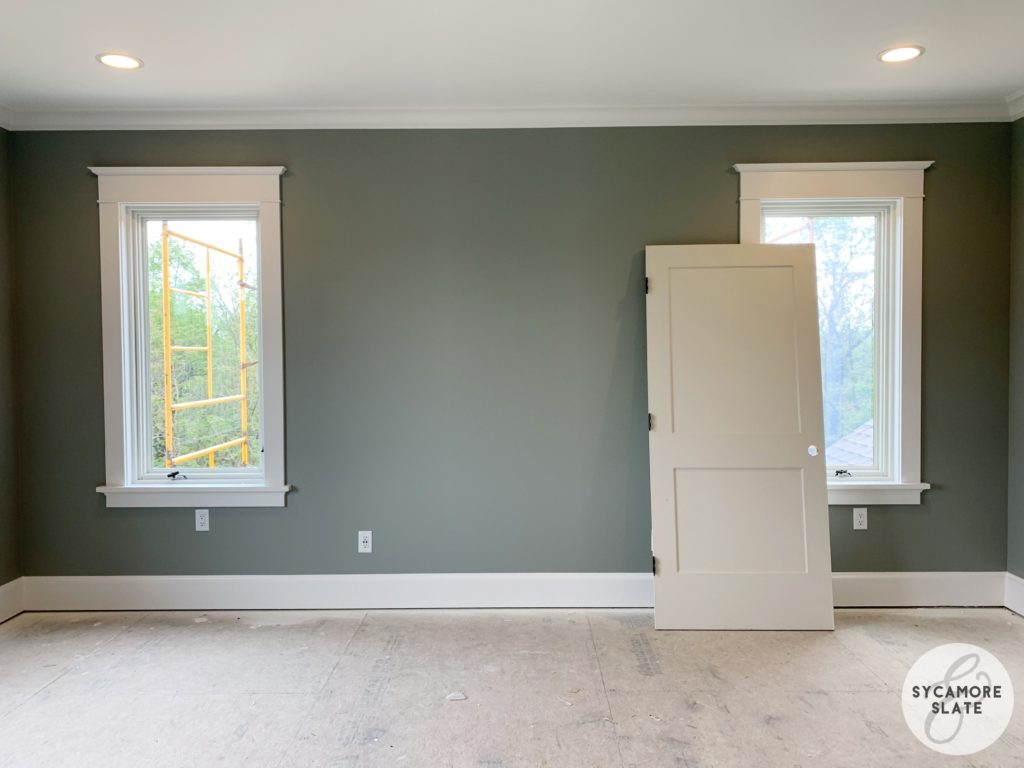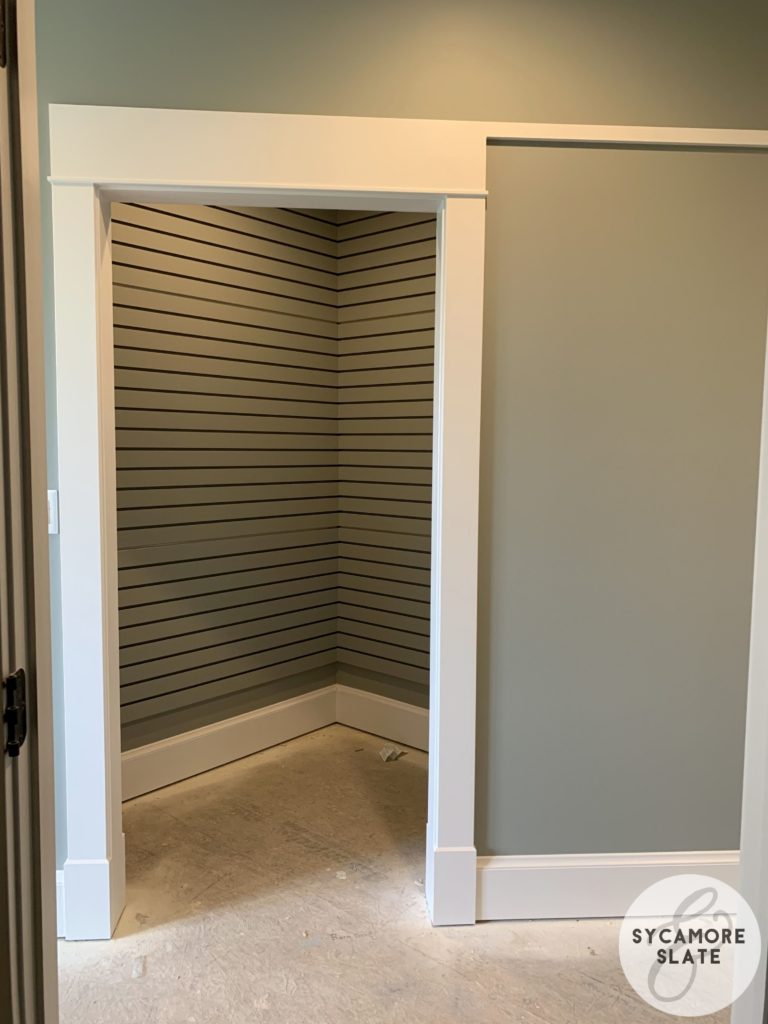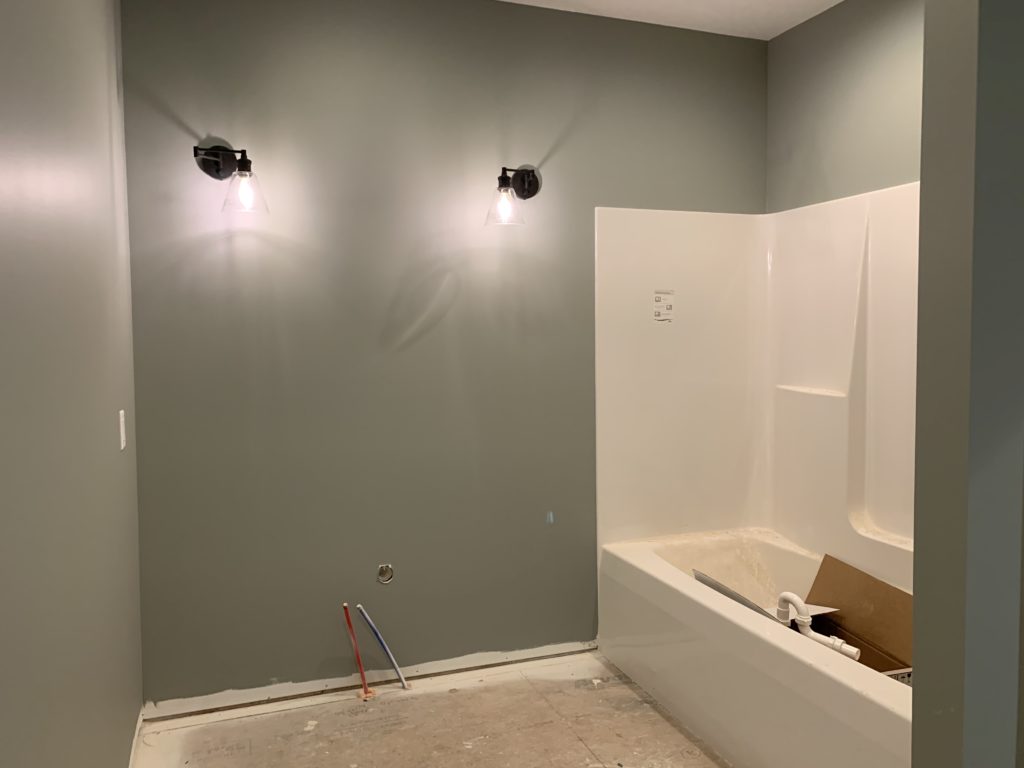 To me, it/s the perfect color for a nursery. The soft gray/green hues make a lovely neutral backdrop for a little boy or girl… Since we have no way of planning the gender of any future children. 😉 If it turns out that we don't have any more kids, the color is sophisticated enough to make a nice guest space.
Our daughter, Evie, has the color "Argos" by Sherwin Williams in her bedroom. This is another favorite of both my husband and myself. The color leans just slightly blue but still looks solidly gray in most lighting. I can't wait to pair it with wood tones and splashes of peachy-pinks throughout her bedroom. It's going to be absolutely gorgeous. Fun and feminine without being too babyish or overtly girly. I really think she's going to love this space for years to come.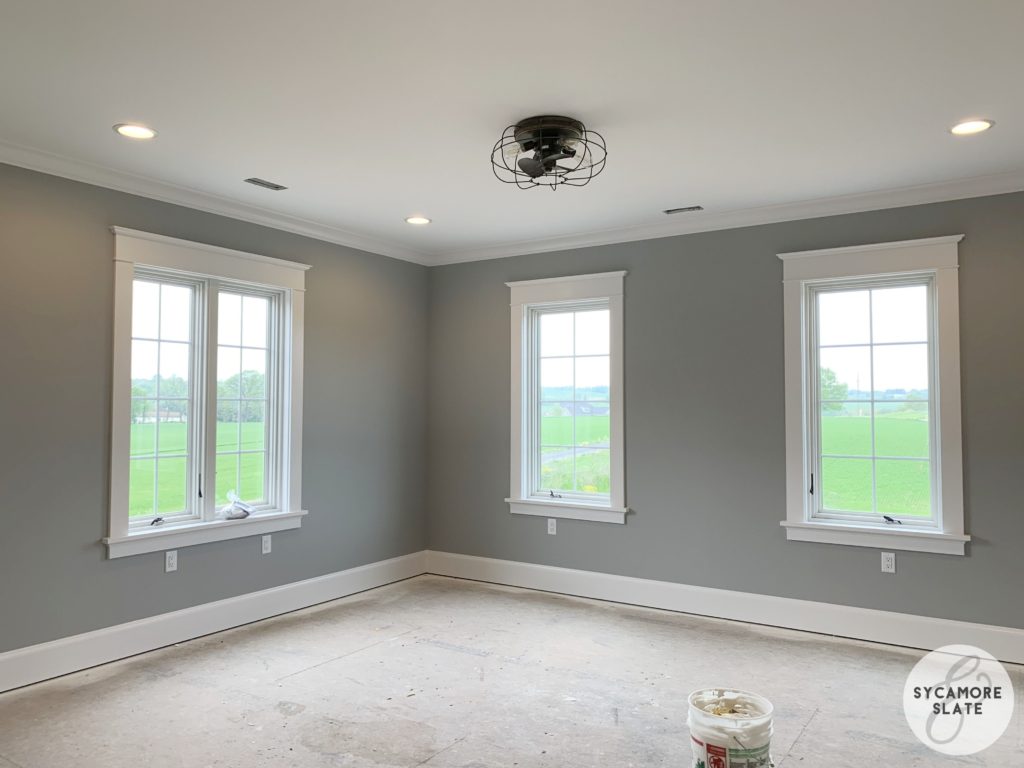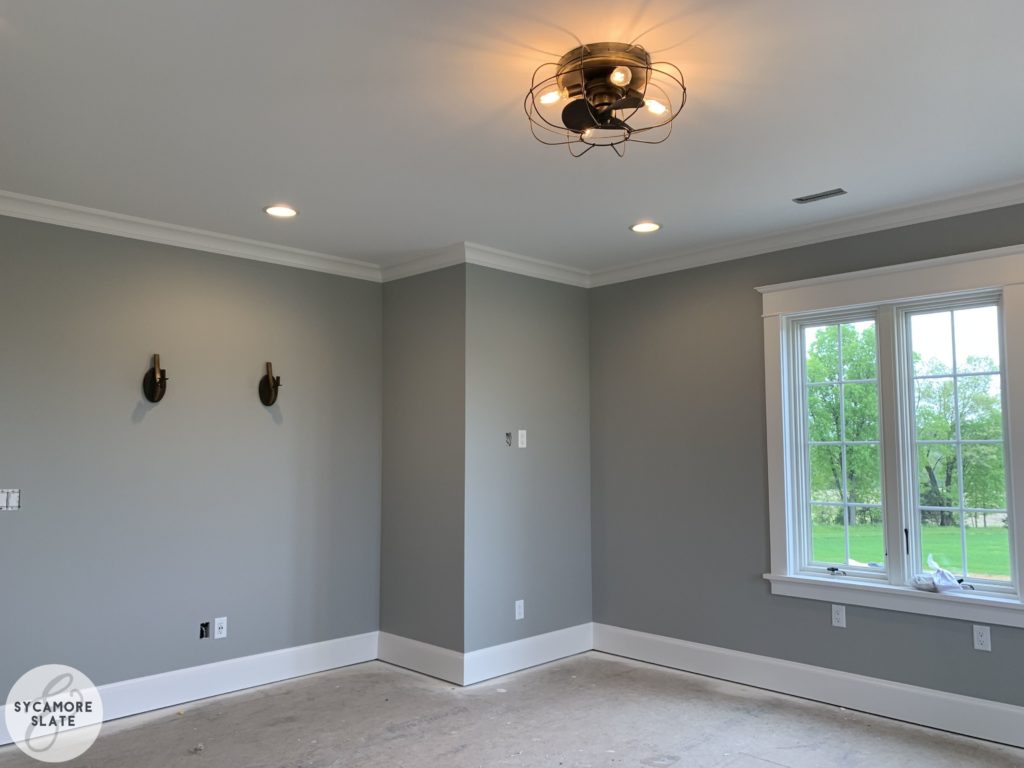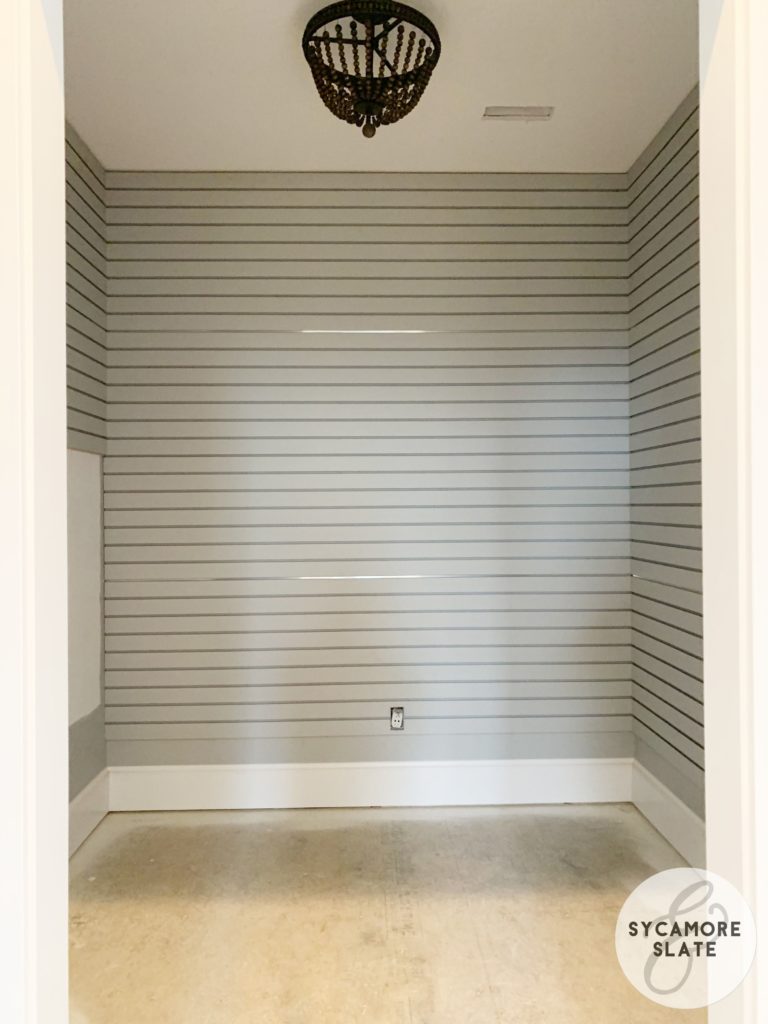 The master bedroom is painted one of my all-time favorites, "Tin Lizzie" by Sherwin Williams. It's a medium-to-dark shade of gray that hints at blue and green undertones. It's really sophisticated and just gives me this sense of calm every time I walk into the room. I love it with the black wall lights that we have throughout the room and the wood accents. I very much wanted a dark color in our bedroom because the room is quite large and there are a bunch of windows to let in a lot of natural light, which in turn lightens the color of the walls.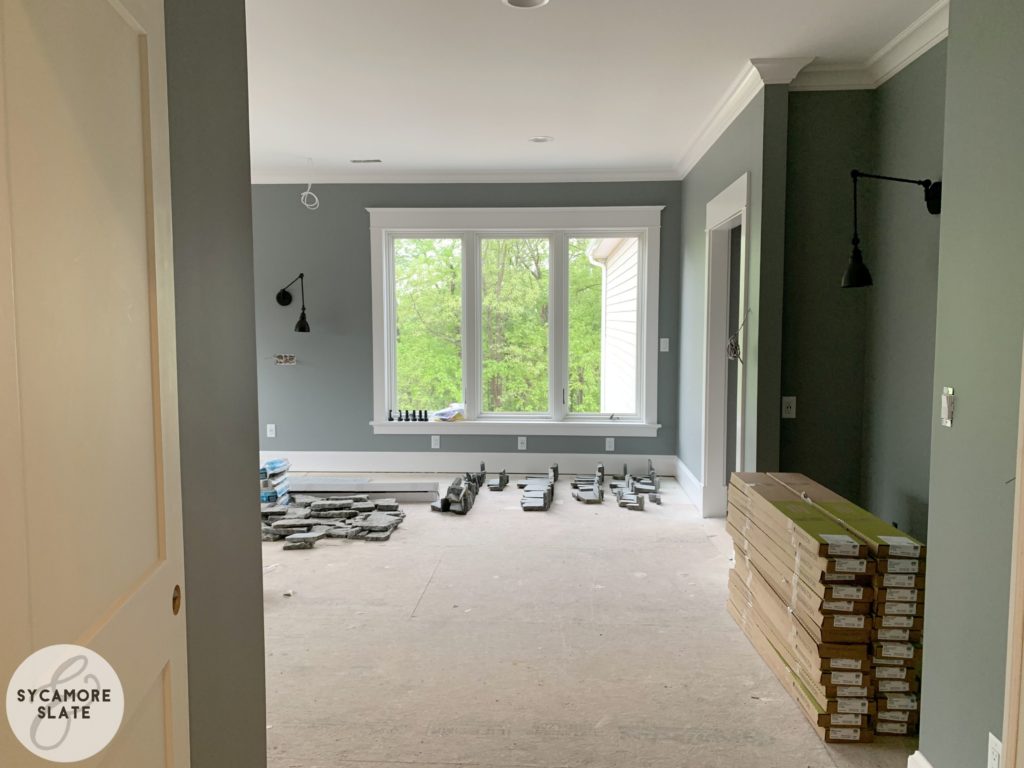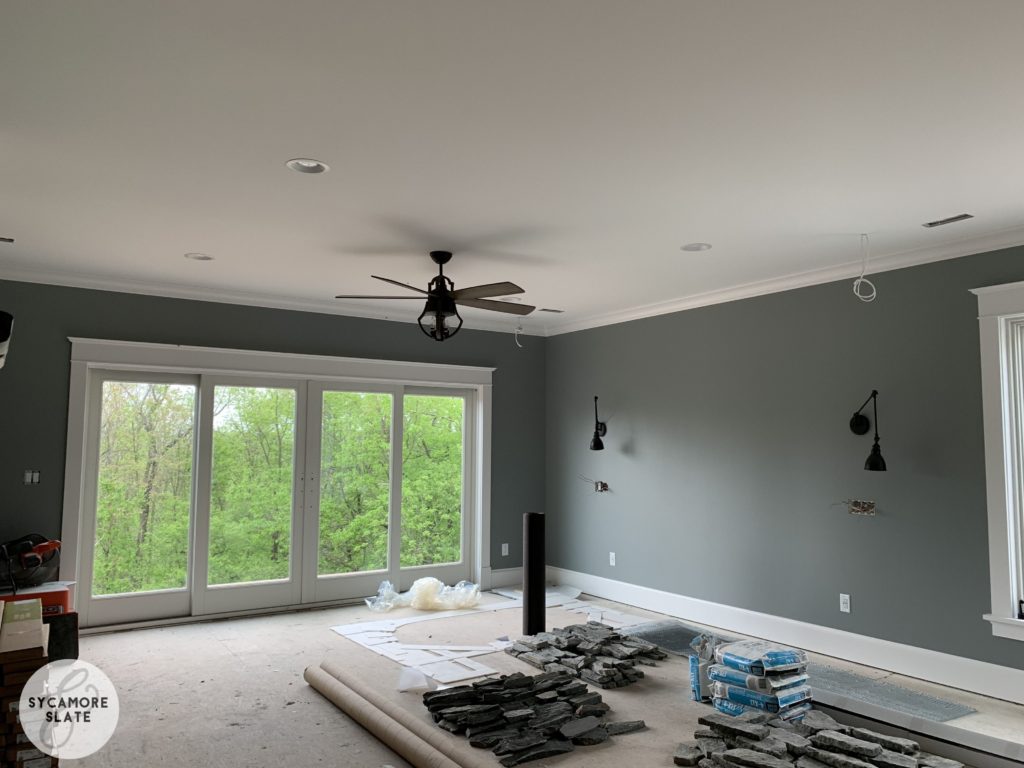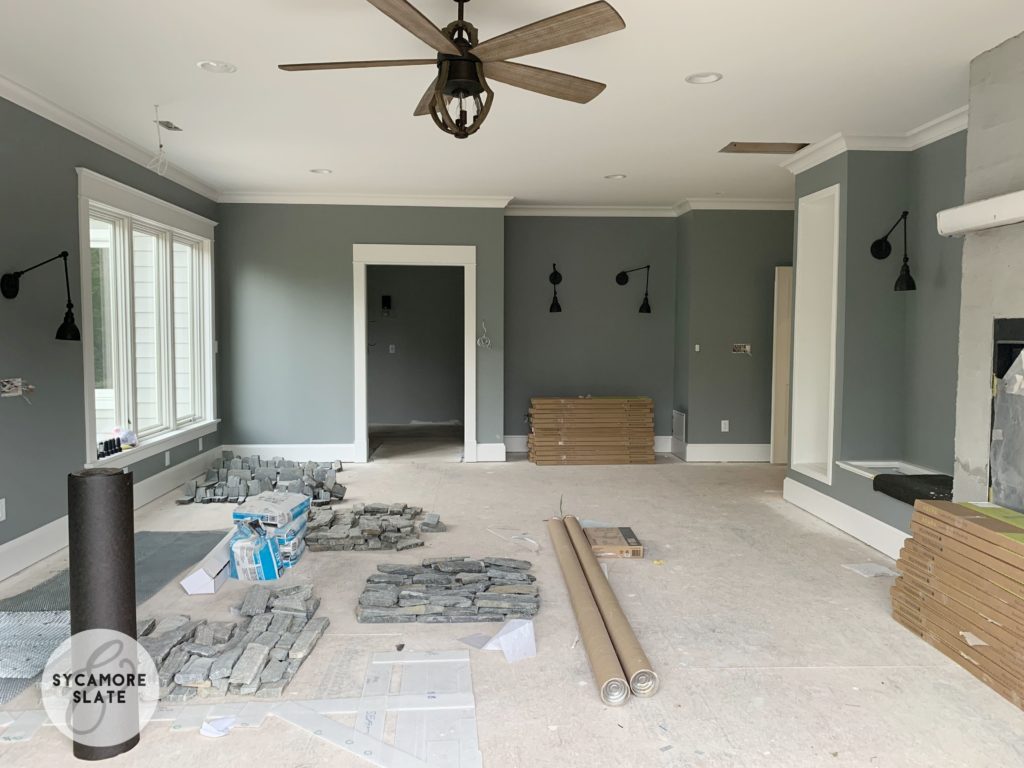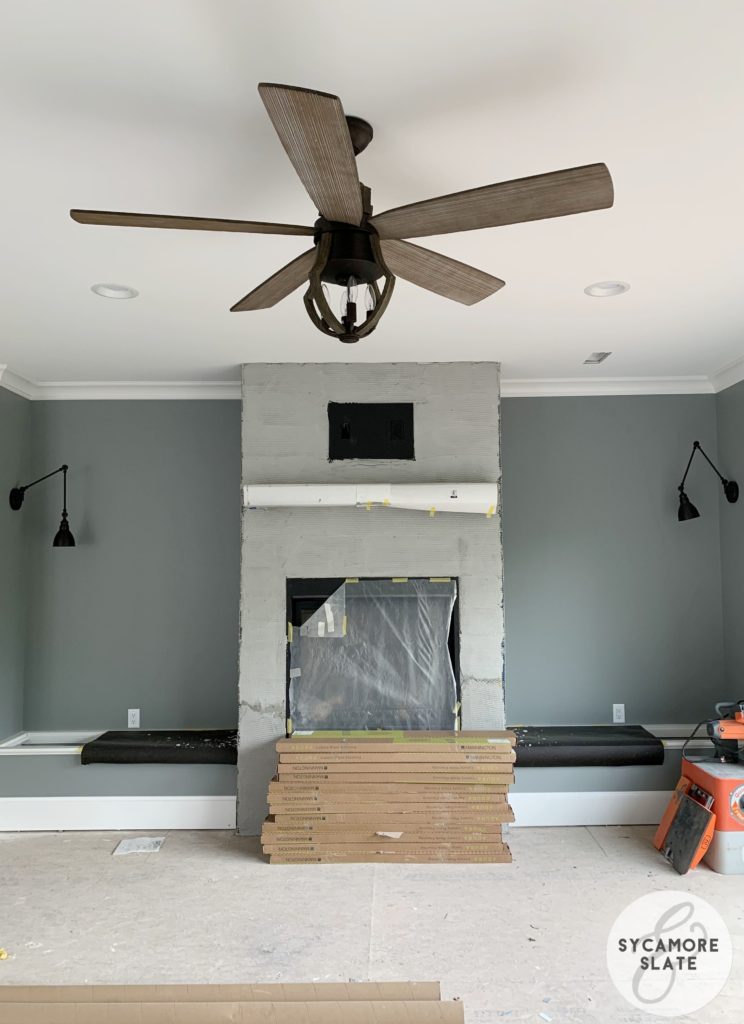 Our master bedroom and closet are both "Argos" again and it looks great with the "Tin Lizzie".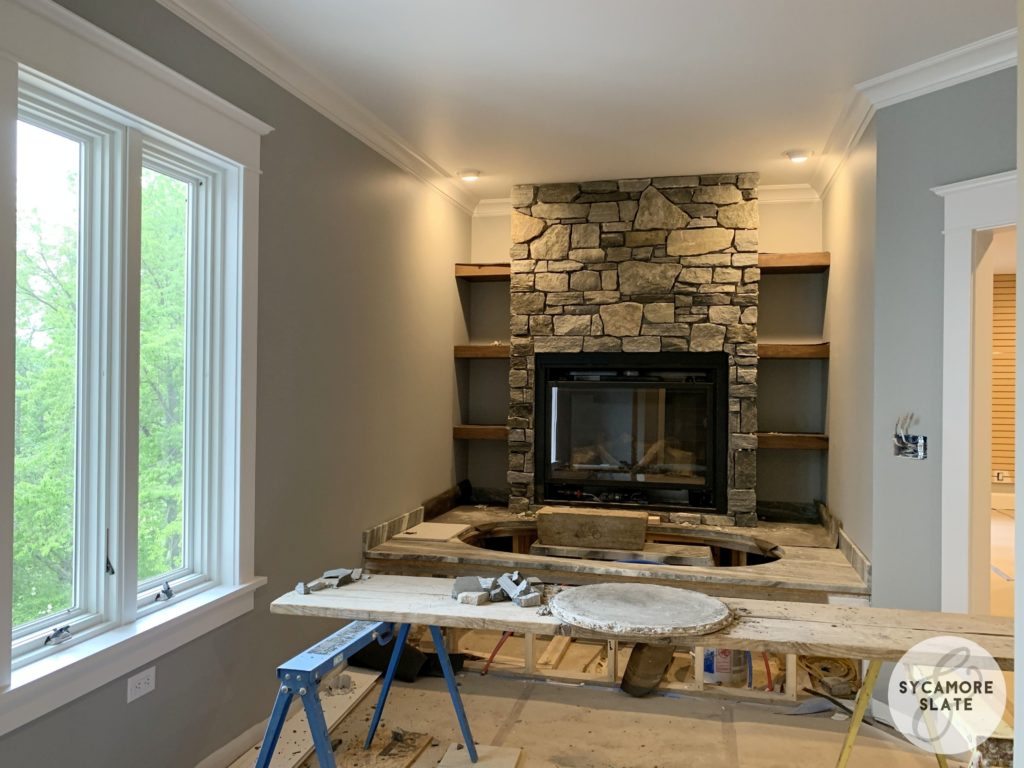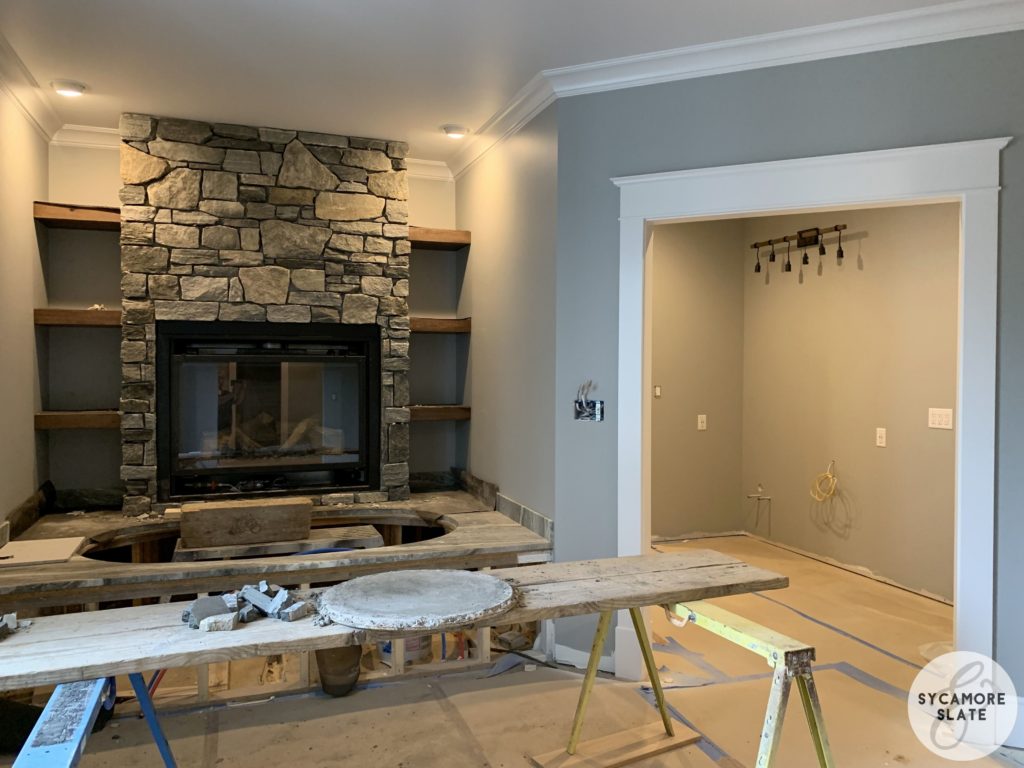 We're using Slatwall in all the bedroom closets upstairs and a few other places in the house. We ordered a paint-grade version and our painter is painstakingly painting all the slats and grooves.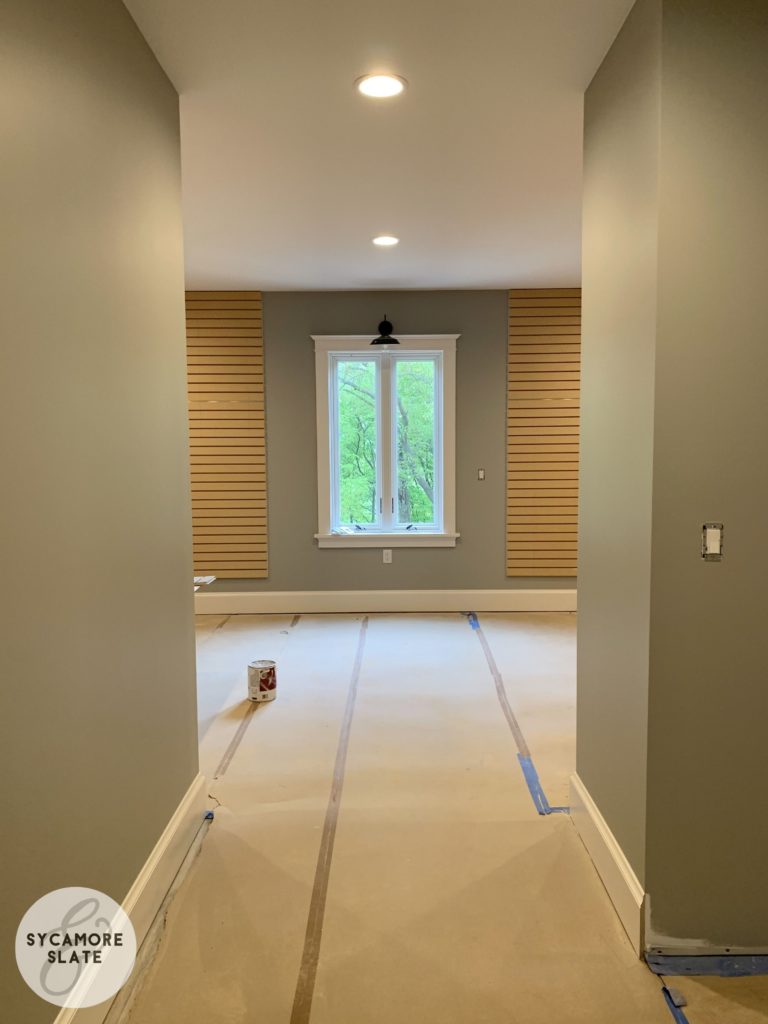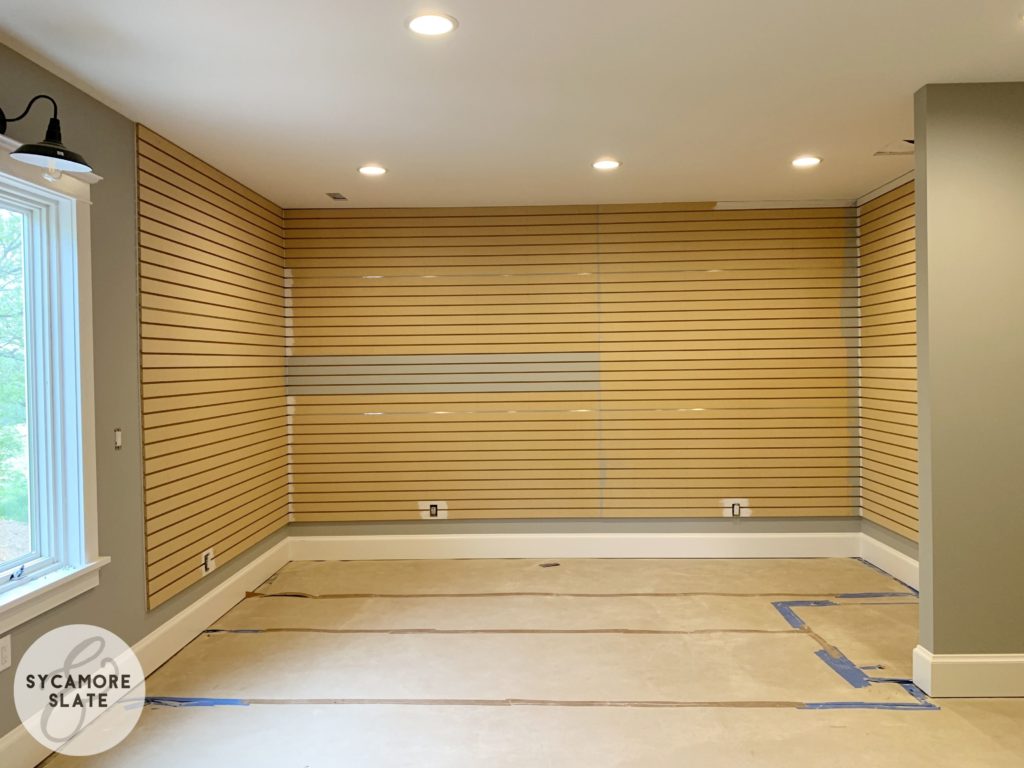 The laundry room has a steep-pitched cathedral ceiling and the walls will be mostly covered with deep-gray painted cabinets. Because the ceiling slopes down so far and only a little bit of the walls will be showing above the cabinetry after it's installed, I opted to paint everything the ceiling color, which is "Snowbound" by Sherwin Williams.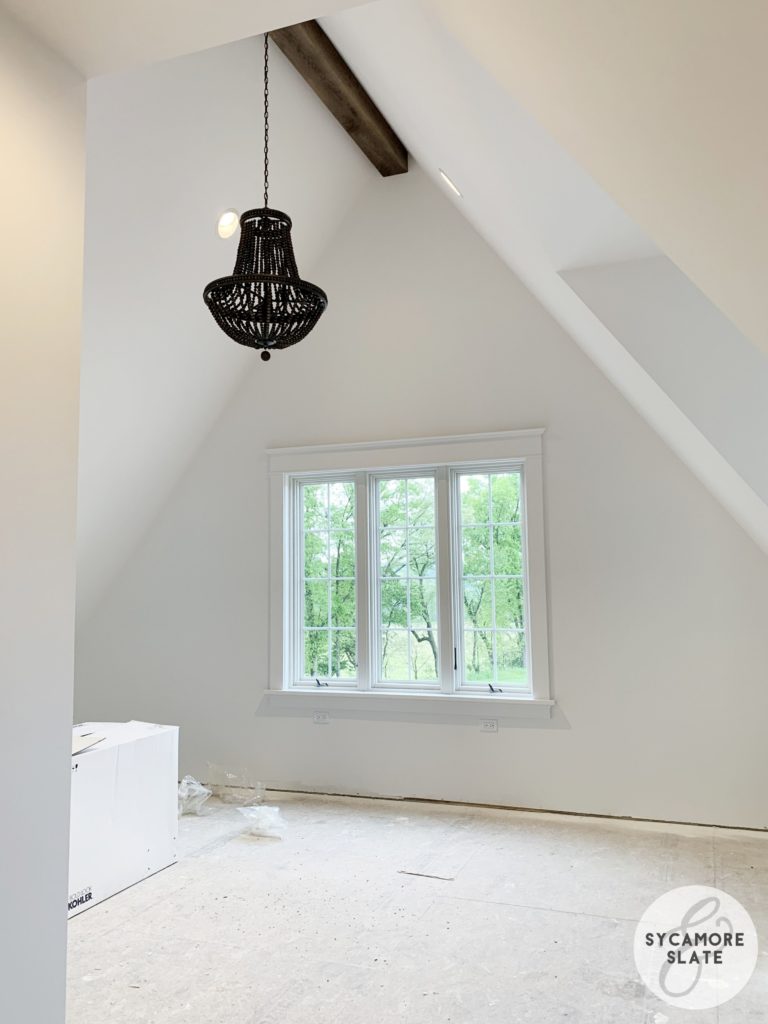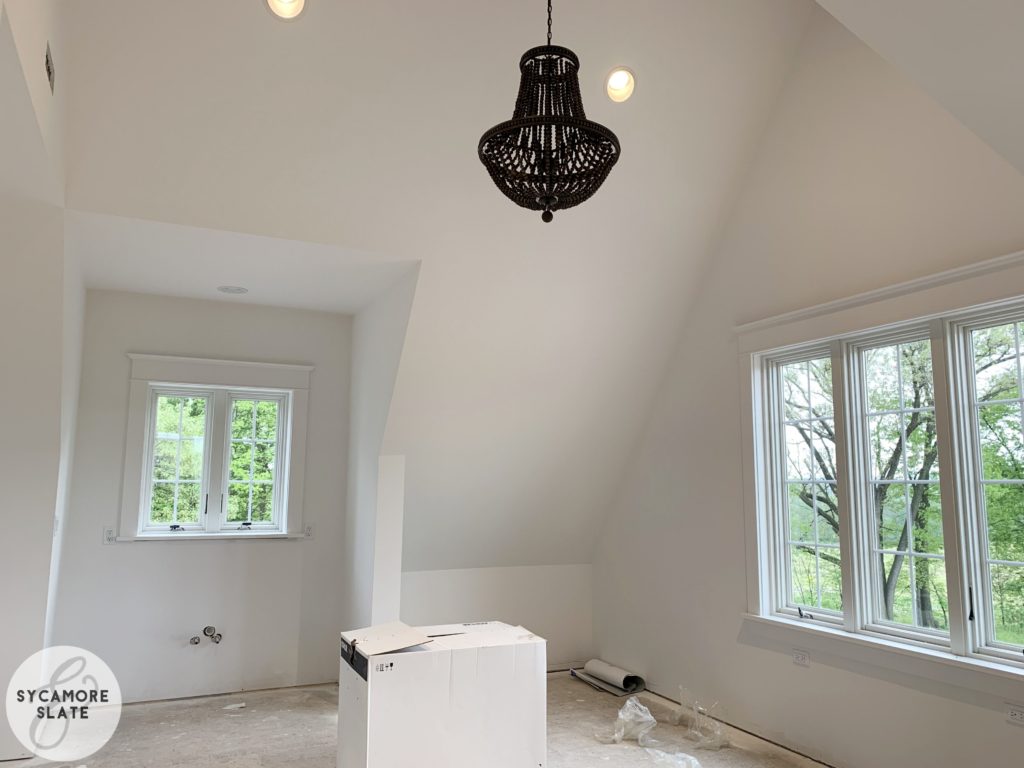 The laundry room is one of my very favorite spaces. I love the ceiling. Look at that chandelier!! There is an incredible about of natural light coming from three of the four sides of the room. The white ceilings and walls will contrast really nicely with the gray cabinets once they're in.
You might have noticed the new lights and fans in the pictures above. It's been so exciting to see them get installed! Each of them makes the house feel so much more like a home! They've started to hook up the lights on the main floor now, too!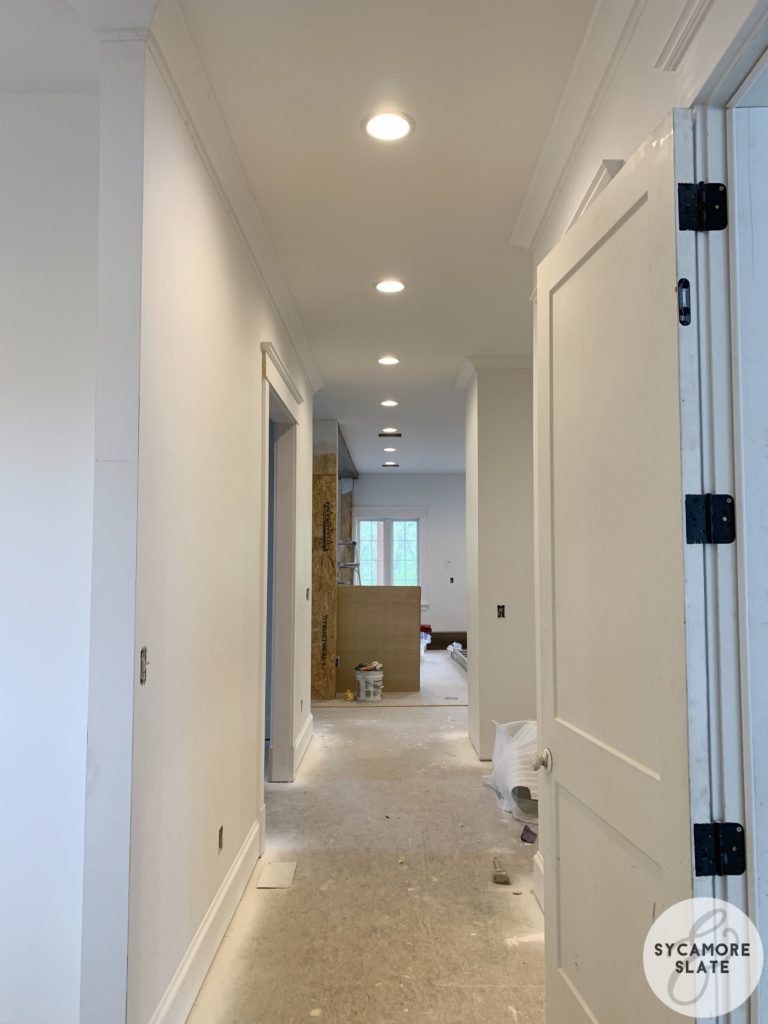 Thanks for reading! I'm going to try to update a little more often now that we're getting to the point again that we can really see progress happening. Check out our Home Building page to see all our progress so far! You can also sign up to receive our newsletters at the bottom of this page – You'll get an email when I post a new update!