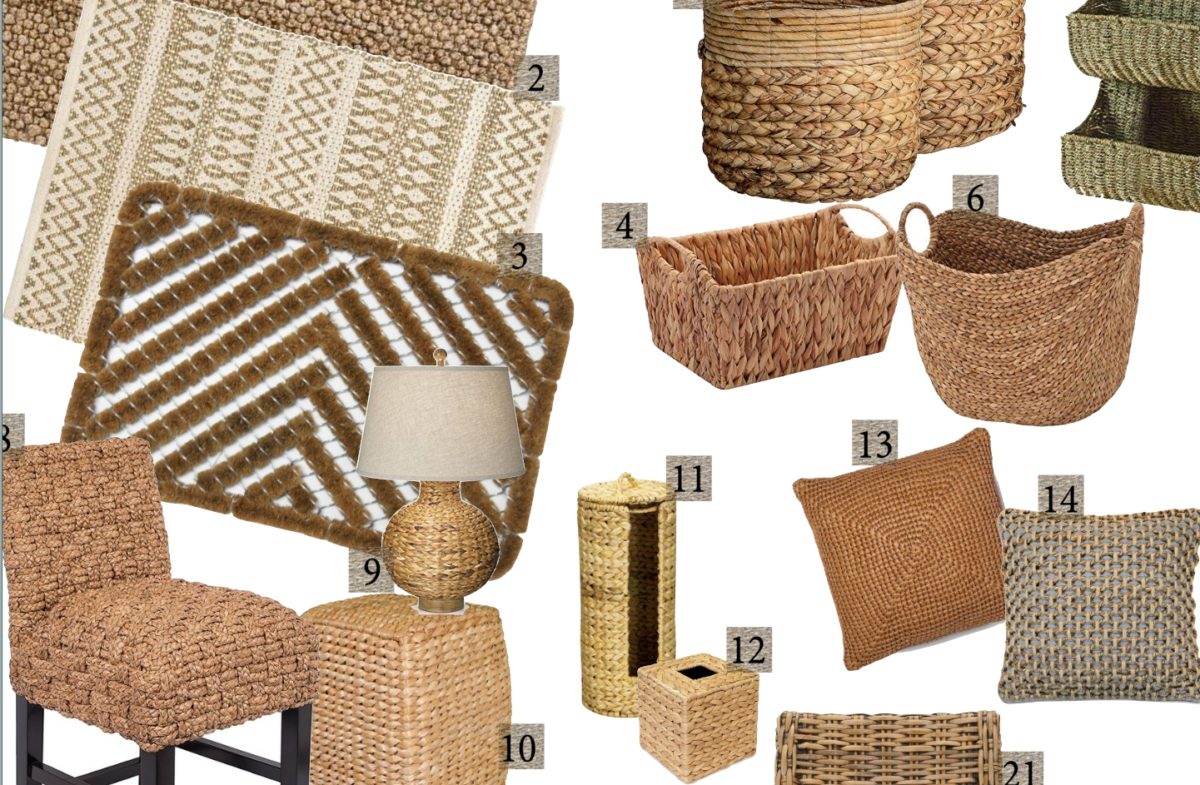 Look at this stuff.  Isn't it neat?  Wouldn't you think my collection's complete? Wouldn't you think I'm that girl… that girl who has everything?
I've got Rattan and Wicker a-plenty.  I've got Jute and Seagrass galore!
You want Water Hyacinth?  I've got twenty.
But who cares?
No big deal.
I want moooooooooreeeeee.
Okay, so now that I've got "Part of Your World" from The Little Mermaid stuck in your head, it's time for Friday Finds!!! You may have already worked this out, but this week it's all about home decor made of natural woven plant materials.
What is it about these items that are just so addicting?  Maybe it's because they fall into the beautiful-but-still-functional category that makes decor work double duty.  Maybe it's all the interesting shapes and weave-patterns that make each item feel so unique and fun.  Maybe it's just the simple and natural use of plants and grasses that gives out good vibes.
The most common use of these materials is, of course, for baskets. Which I can't get enough of. I have a lot of baskets. I have more baskets than I probably need. (Blasphemy!!) But that's still not enough.
Baskets are my one weakness.
But, you guys, let's take a minute to think outside the… basket.  There are SO MANY other gorgeous products made with natural woven fibers.  Placemats and furniture and lampshades and rugs! The list goes on and on.  These items may not be quite as easy to find, but they definitely are out there.  And they are adorable.  There are some really interesting and unexpected things people have made out of these materials and I'm completely in love with all of them.  It's a problem.
So, without further ado, here are some of the prettiest natural woven plant products available on the world wide web. Prepare your mouse-clicking finger; it's about to get a workout.
(This post may contain affiliate links, which do not change or affect your price in any way.  This simply allows me to collect a small commission when something is purchased through one of the links I provide on my page.  Thank you for supporting Sycamore and Slate! Read my full disclosure here.)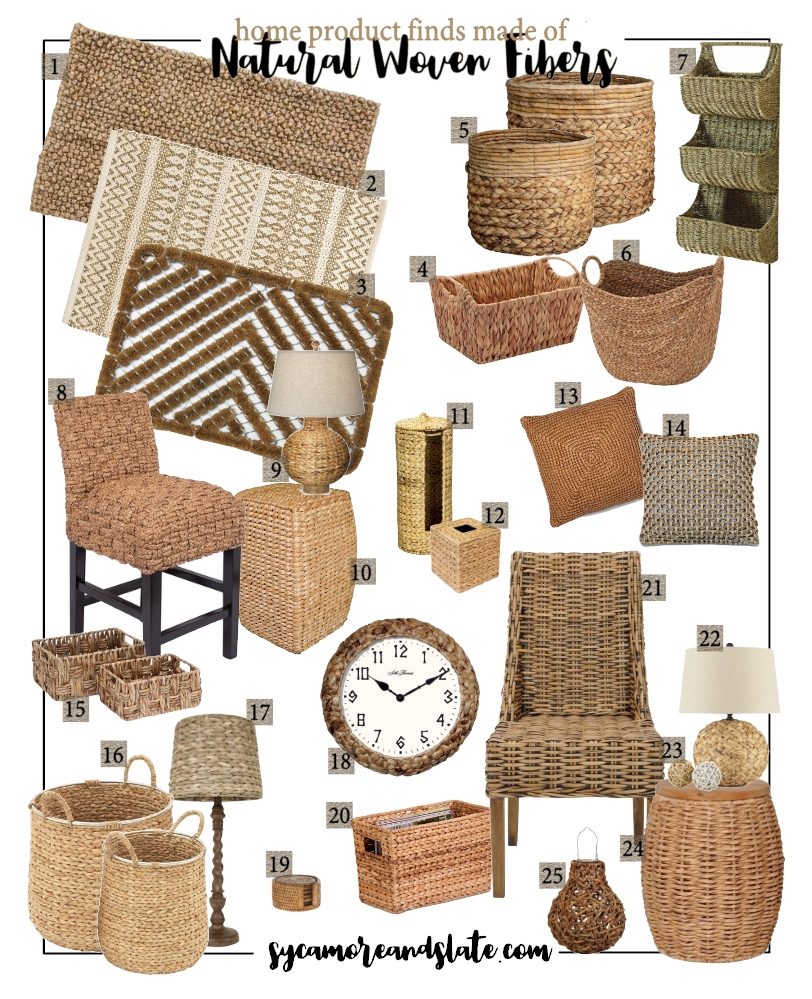 /  1  Knobby Loop Natural Rug  /  2  Natural Woven Jute Cotton Rug  /  3  Herringbone Outdoor Scraper Door Mat   /  4  Small Water hyacinth Rectangular Storage Basket  /  5  Water Hyacinth and Banana Leaf Basket Set  /  6  Large Seagrass Basket  /  7  3-Compartment Seagrass Wall Basket  /  8  Checkered Weave Seagrass Counter Stool  /  9  Seagrass Round Table Lamp
  /  10  Seagrass Accent Stool  / 11  Toilet Tissue Paper Holder  / 12  Tissue Box Cover
  / 13  Natural Solid Throw Pillow  / 14  Decorative Pillow  / 15  Basket with Wicker Pattern  / 16  Seagrass Basket Set of 2  / 17  Pair of Table Lamps with Seagrass Shade  / 18  Natural Woven Wall Clock  / 19  Rattan Coasters with Holder  / 20  Water Hyacinth Magazine Basket  /  21  Arm Chairs, Set of 2  /  22  Natural Seagrass Table Lamp  /  23  Plant Material Jute Balls   /  24  Small Water Hyacinth Drum Stool  /  25  Rattan Solar Lantern  /
Can't get enough?? There are plenty more Natural Woven Fiber Products on Sycamore and Slate's Pinterest board as well as PLENTY of other products and ideas to check out. Also take a look at my past Friday Finds, while you're at it!
Thanks for hanging out for a while.  Now, I have to go satisfy a sudden hankering to watch The Little Mermaid.