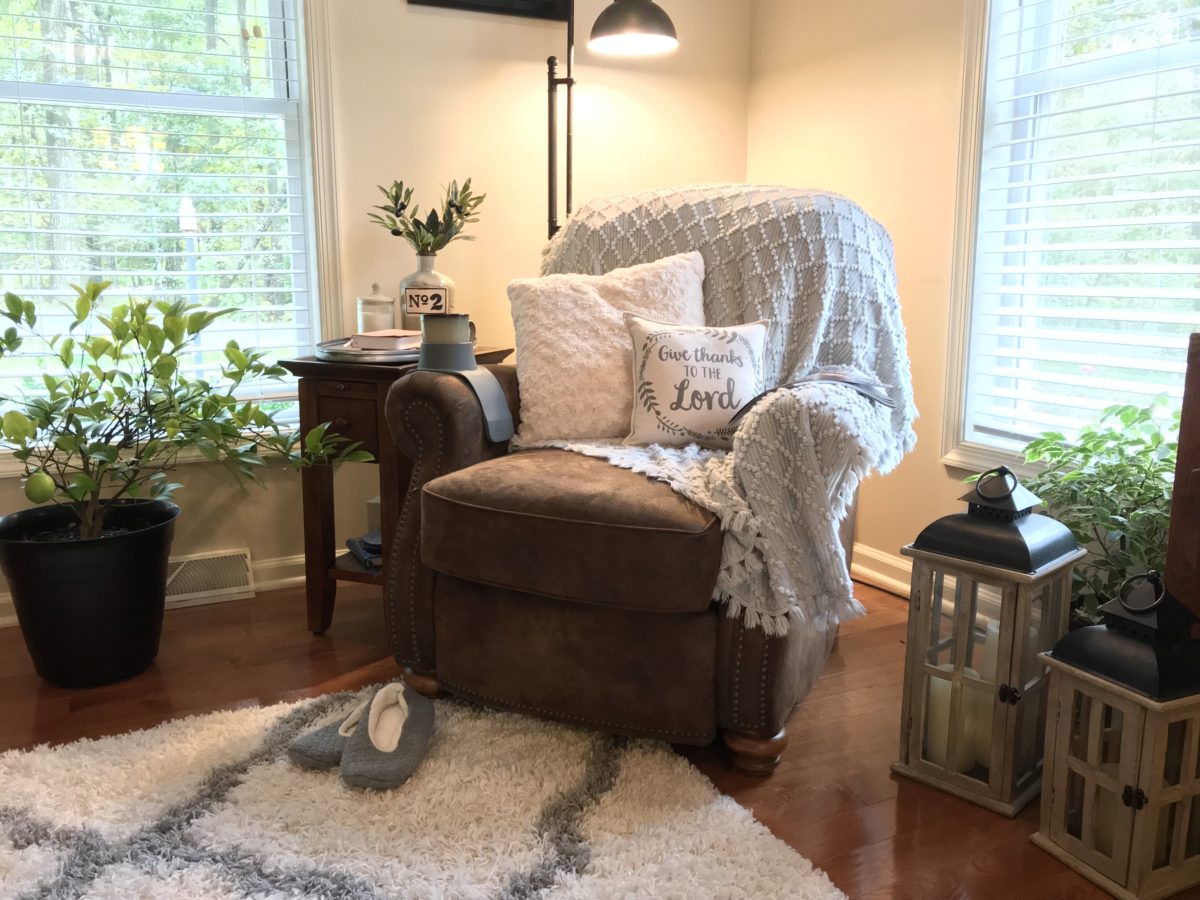 When I year the word "Fall", my mind goes straight to cozy. I want to curl up with a comfy throw blanket and a good book on my couch and watch the leaves fall out the window. I love fall. I love winter. But with shorter days and darker evenings, sometimes this time of year can lead to a sense of sadness.
(This post may contain affiliate links, which do not change or affect your price in any way.  This simply allows me to collect a small commission when something is purchased through one of the links I provide on my page.  Thank you for supporting Sycamore and Slate! Read my full disclosure here.)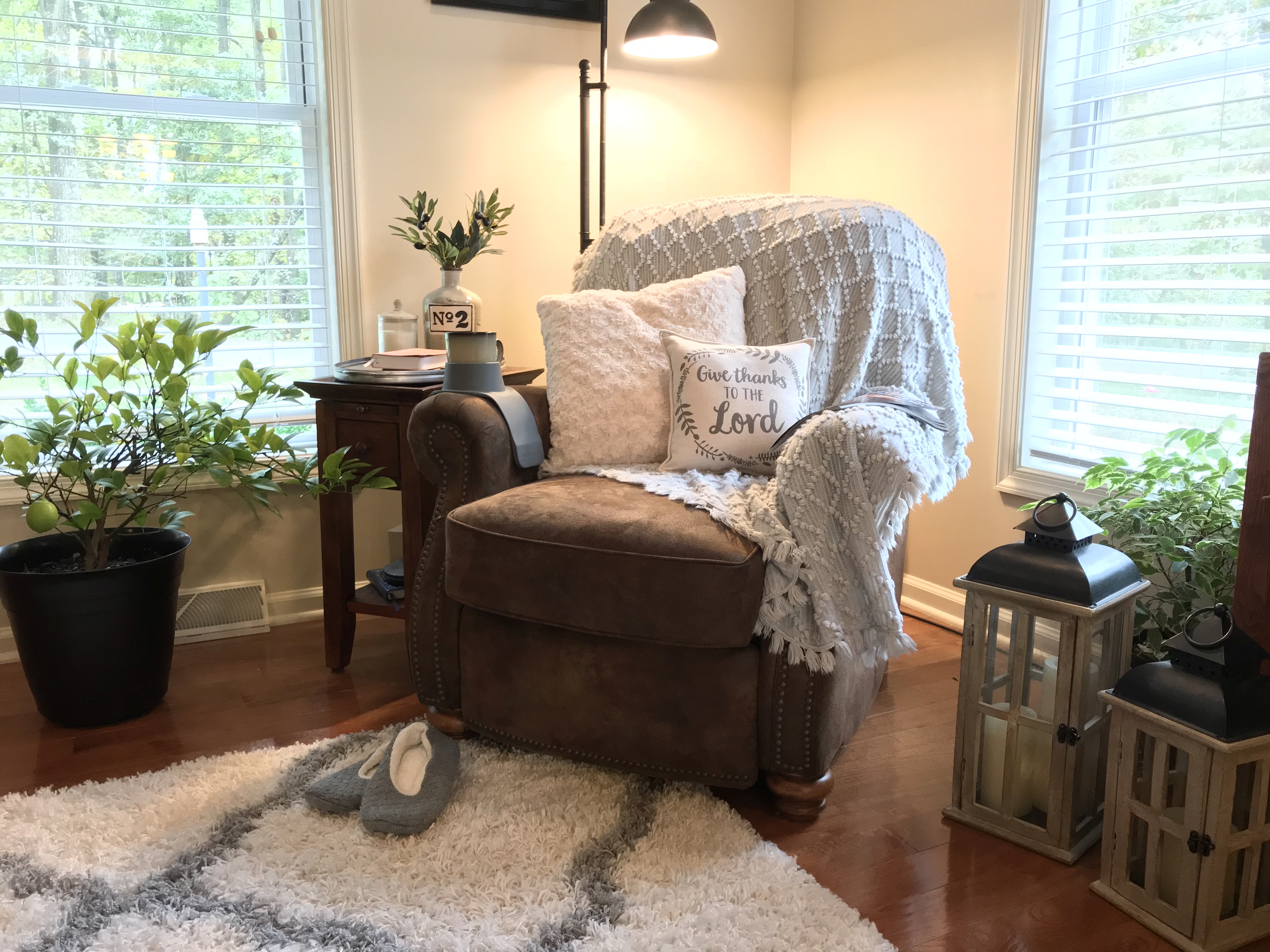 Many people actually struggle with this. There's even a diagnosis for it, aptly named SAD (seasonal affective disorder). I haven't addressed it here on the blog yet, but in my "real" life, I'm very vocal about my struggles with depression and anxiety. I have a severe panic disorder and it's taken me years to get it under control. It's so important to me that we talk about these things so that others who are struggling know they aren't alone and that there is hope for the future.
This year, that feeling is hitting me with extra oomph. It's been a very sad few weeks as I've been processing a devastating medical prognosis of a very dearly loved family member.
So for Friday Finds today, I want to share some things that I find comforting. Some things that help me make it through the hard days and help me de-stress and find peace. I hope some of these things might help you relax and enjoy fall, too!
Links to the items in the photos are at the bottom of the page… Some of the items are exactly what I have, some are different but similar products (since not everything is still available anymore).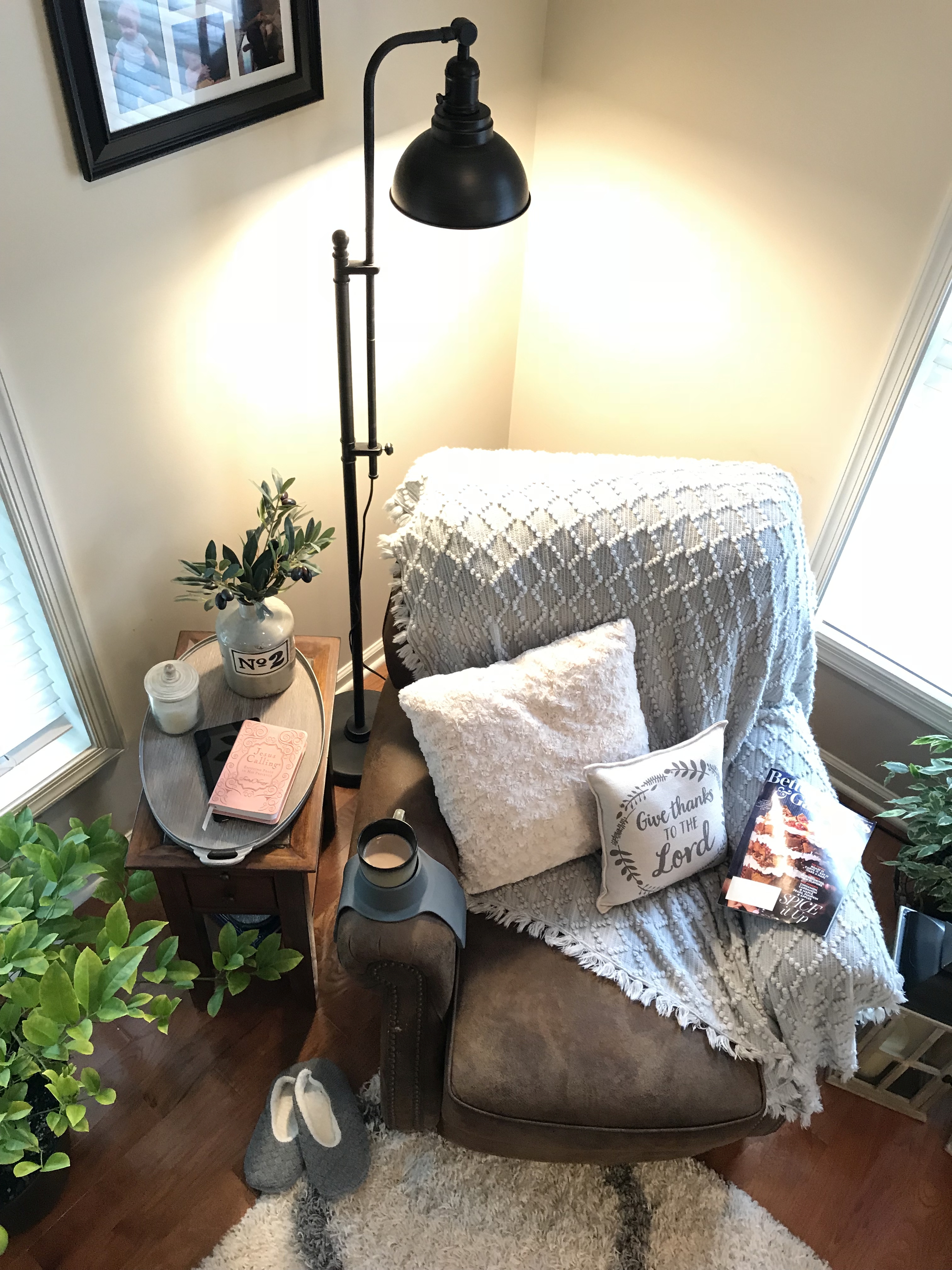 I love to curl up in a comfy chair. For me, coziness is all about textiles and fabrics: throw pillow, blankets, rugs, slippers. Even when you're not actually using them, they impart their softness to the room and just seeing them can give me a sense of snug warmth.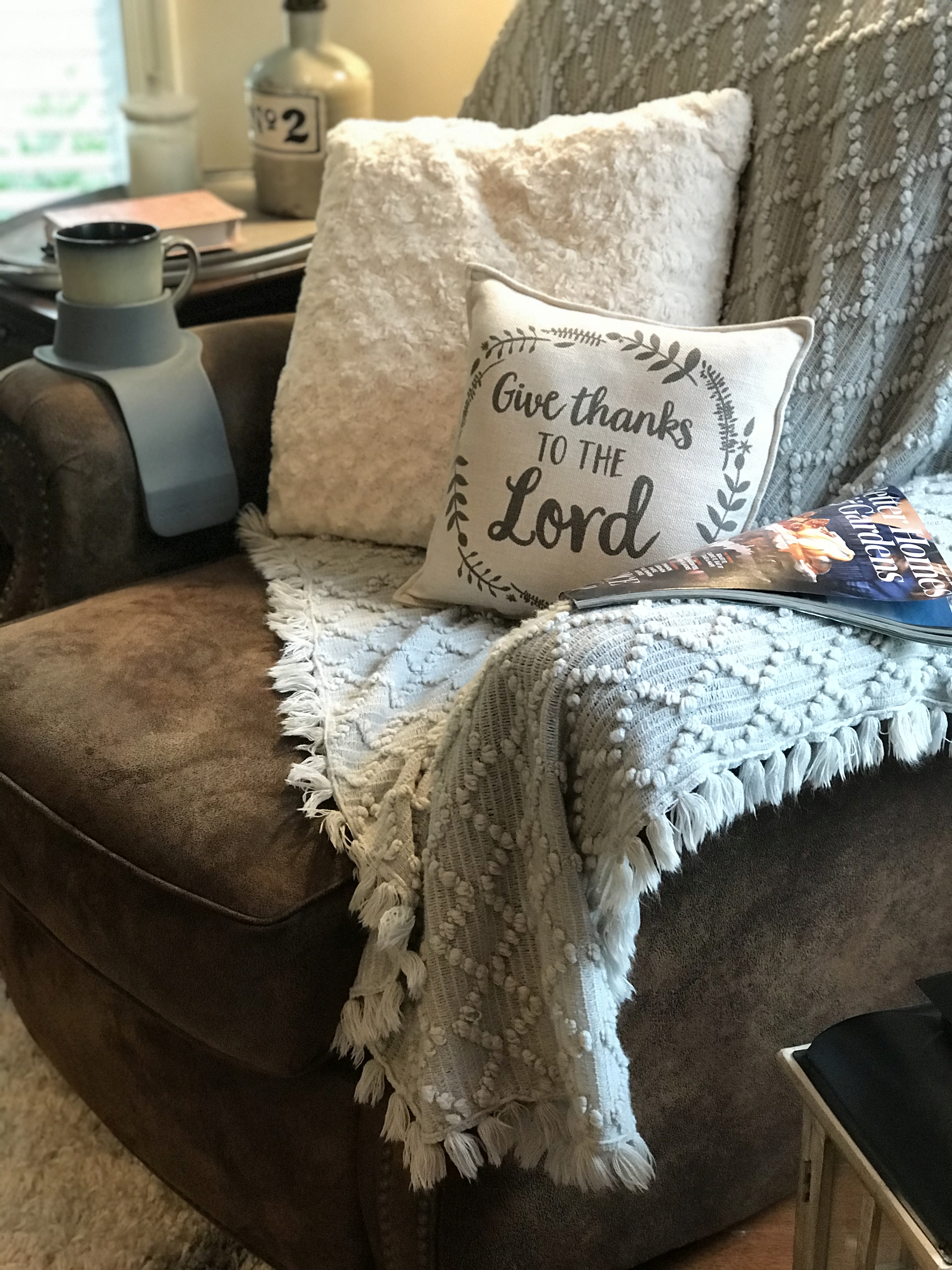 I love this "Give Thanks to the Lord" Dayspring pillow.  It's so important to have encouraging messages in your home.  This is a reminder to me to be grateful for each and every day.  The faux fur throw pillow is just complete coziness.
Another excellent way to gain warmth: a cup of your favorite hot beverage. I like pretty much all of them, but you'll usually find me with a cup of coffee or cappuccino (from my k-cup machine).  This chair has a side table to set down a mug on, but I often sit on our couch to see the TV, which doesn't have a table nearby.
The CouchCoaster seen above can sit on the arm of most pieces of furniture and has been one of my favorite purchases of all time.  It's made of weighted silicone and it really stays put so you don't need to worry about it falling or your drink spilling.  The slit on the backside leaves room for a mug handle and if you're using a smaller cup, bottle, or can, there is an insert to hold the drink tightly.  Another highly recommended product.
I'm not hugely into reading magazines, but I do like to sit and flip through a few of them every now and then.  I consistently get Better Homes and Gardens and really enjoy the recipes they offer.  Not pictured, but one of my favorite things to do, is flip through catalogs to my favorite stores.  It's the way I do "window shopping" – from the comfort of my living room.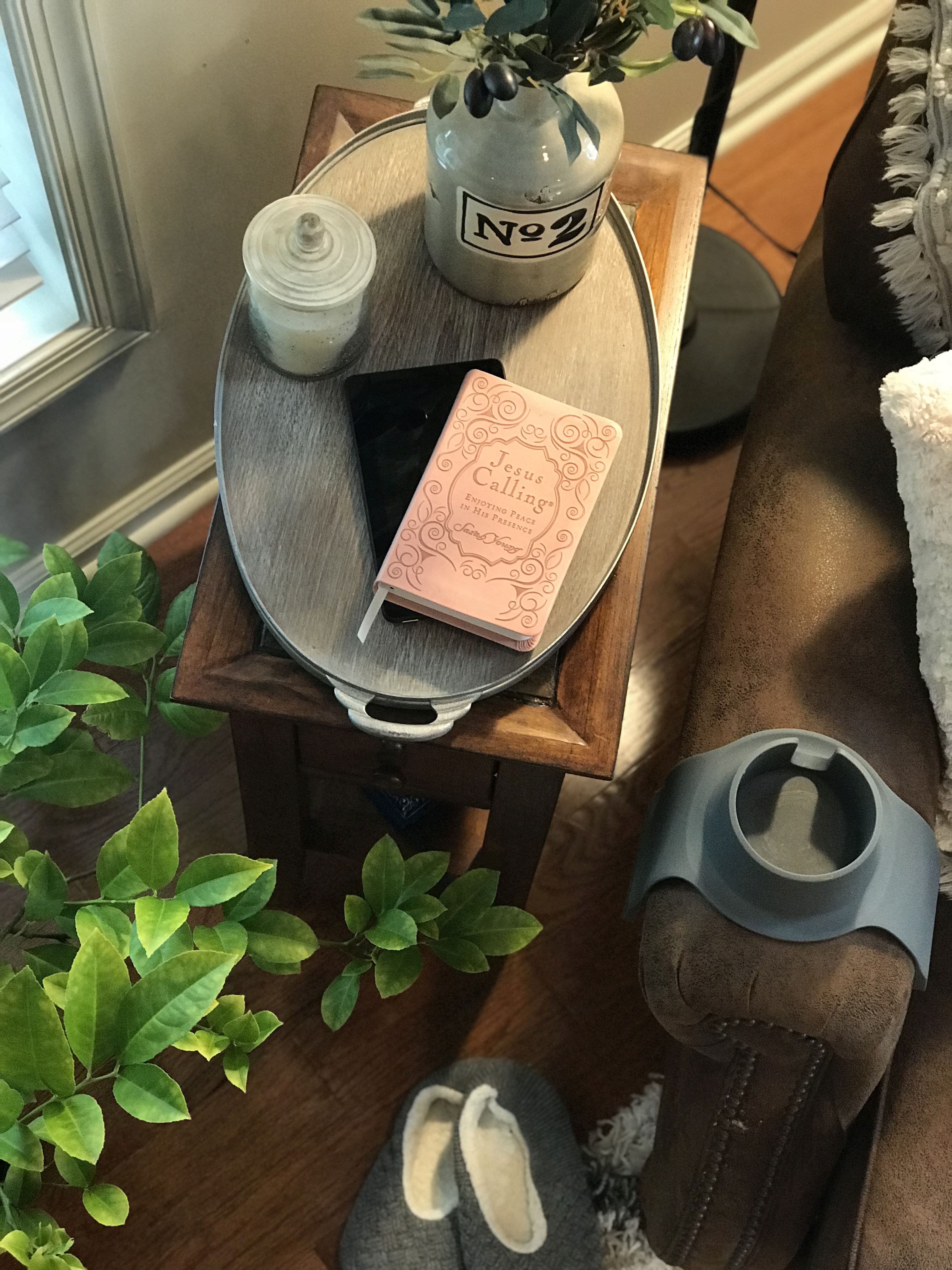 I absolutely love "Jesus Calling" by Sarah Young.  This daily devotional with short, meaningful biblical messages helped encourage me and get me through the worst part of my anxiety.  I can't believe how often the words each day are exactly what I need to hear.  I highly recommend that you pick up a copy if you don't have one yet.
Beneath that book is my kindle fire.  If I ever just need a break from reality, you will find me reading a book.  It's one of my favorite things in the world to do.  The best part is that Amazon makes it pretty impossible to not have a book with you at all times.  I have my kindle fire and a kindle paperwhite – both very portable options. Plus, I have the kindle app on my phone – which is almost always with me.  I have an echo, dot, or spot in nearly every room of my house, which Alexa can read my books to me from.  I listen to books almost every day while I'm getting dressed, cleaning, making dinner, folding laundry… it's the perfect way to get through any monotonous task.  And I'm a longtime subscriber to Kindle Unlimited, which gives me access to a HUGE variety of books for only $10 a month.  If you're a reader, it's well worth the money.  It's like having Netflix or an Apple Music subscription only you get books.
The candle pictured above smells so good and is great for relaxing!  I also love to have real plants in my house.  They clean and filter the air. Plus, the one pictured above is a Meyer Lemon which smells absolutely heavenly when it's blooming!
Here's a list of the products featured in these photos. If there's anything you'd like to know about that I missed a link for, just contact me or leave me a comment below!
PRODUCT LINKS:
Diamond Throw Blanket / Faux Fur Pillow / Dayspring "Give Thanks" Pillow / Better Homes & Gardens Subscription / CouchCoaster Drink Holder / Cappuccino K-Cups / Comfy Fleece-Lined Slipper Socks / Jesus Calling Devotional / Kindle Fire / Kindle Unlimited Subscription / Candle with Wood Lid / Meyer Lemon Potted Tree / Gray and White Diamond Rug