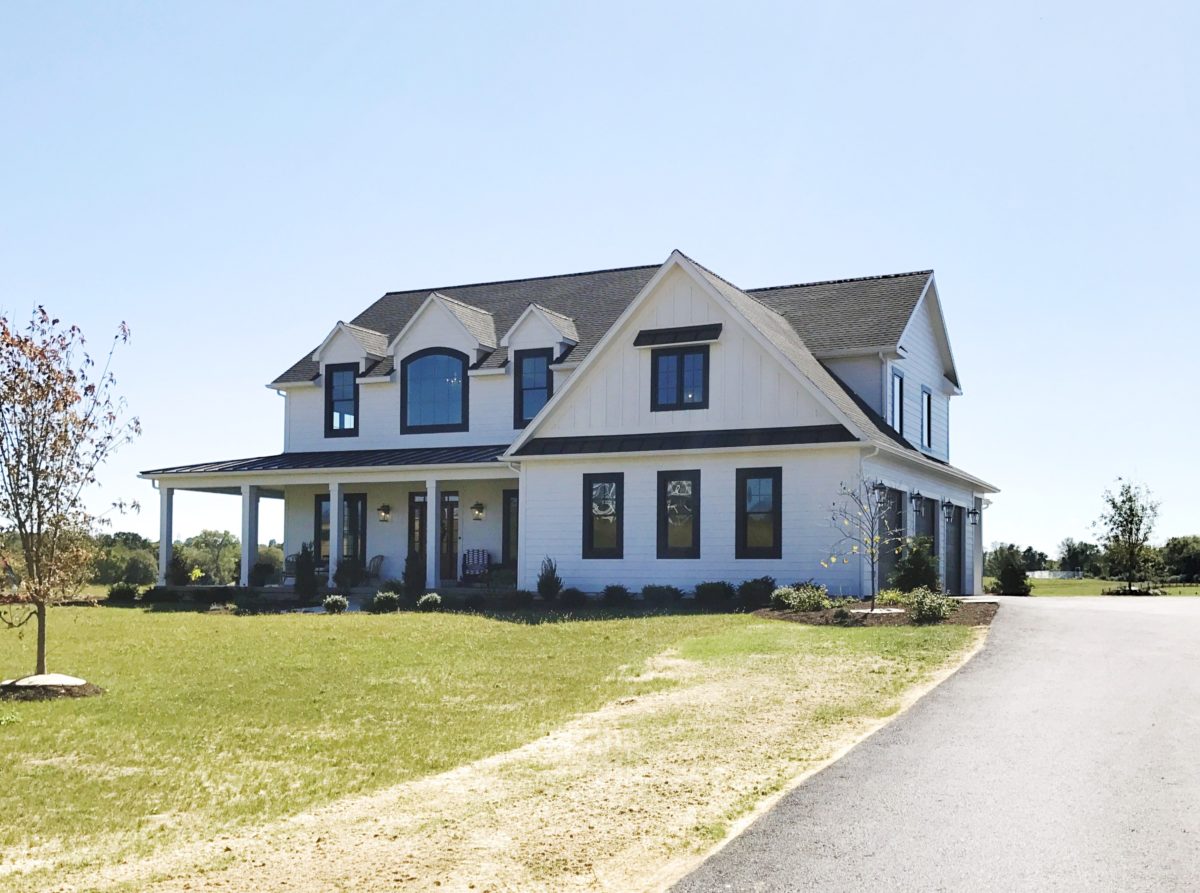 Last fall, I was able to visit a new home by a local builder.  The house was one of the prettiest ones I've ever had the pleasure of walking through, and I thought I'd share some of it with you today.
The exterior was simple and gorgeous, with white siding and black trim.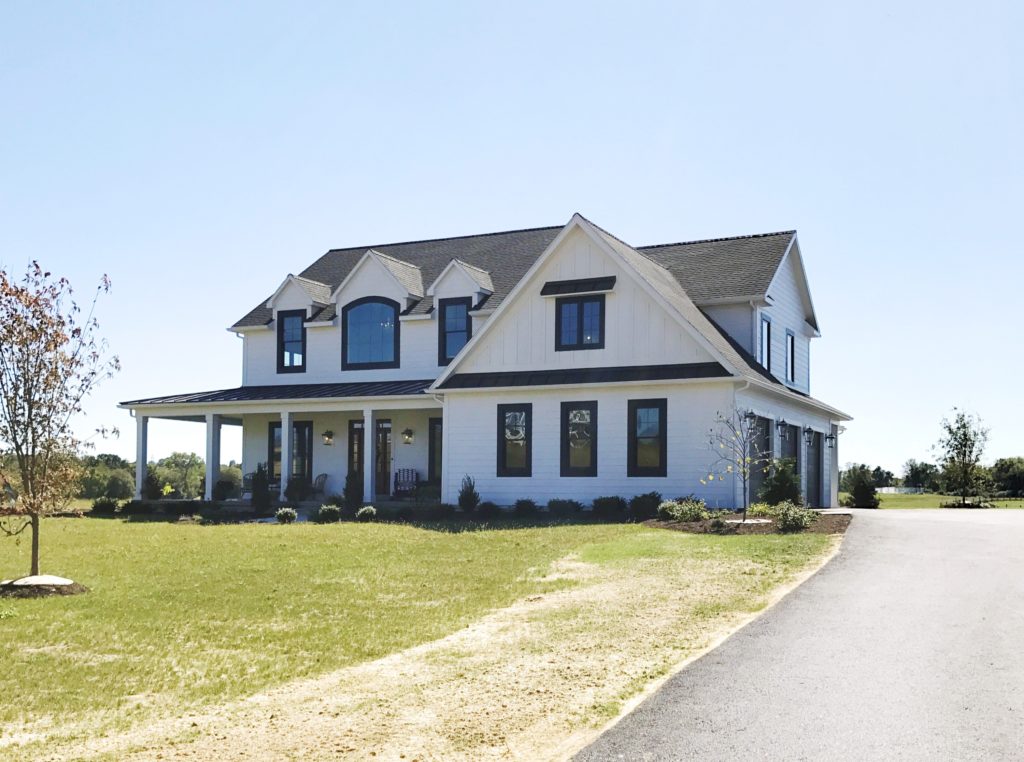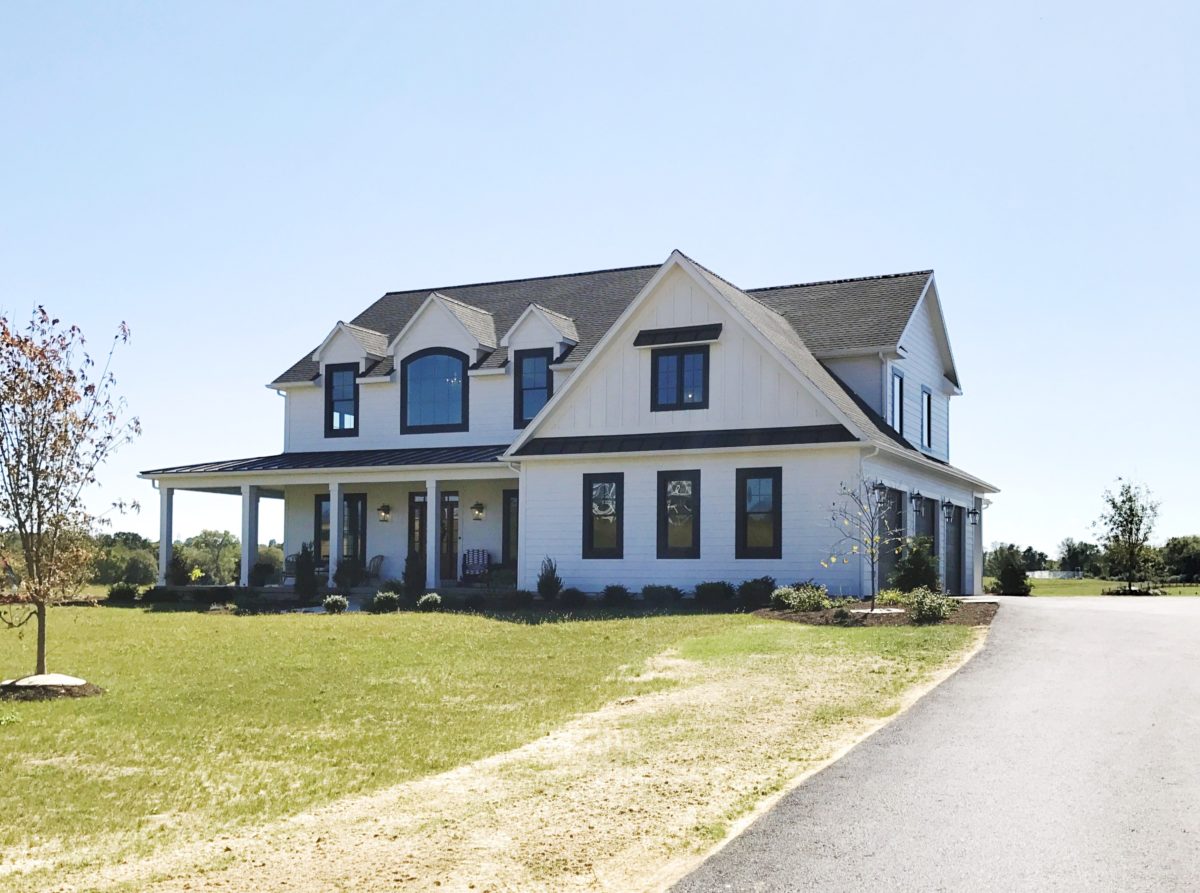 (This post may contain affiliate links, which do not change or affect your price in any way.  This simply allows me to collect a small commission when something is purchased through one of the links I provide on my page.  Thank you for supporting Sycamore and Slate! Read my full disclosure here.)
I love the lanterns they used around the exterior.  They added a touch of elegance to the facade.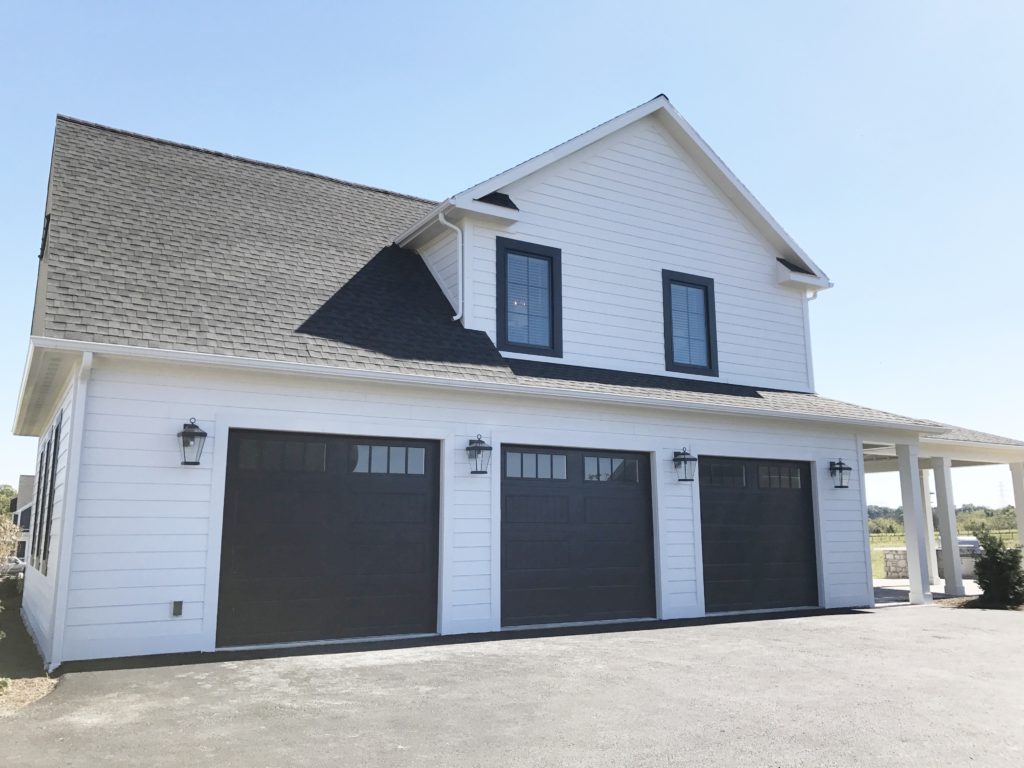 The exterior spaces also sported a detached garage, and like a true farmhouse, a barn.  A gorgeous barn.
At the home's entrance, a wood door added interest, as did the dark painted ceiling of the porch.  I would have probably done a truer black here, or the same wood tone as the door, but the dark green they used was still undeniably stunning.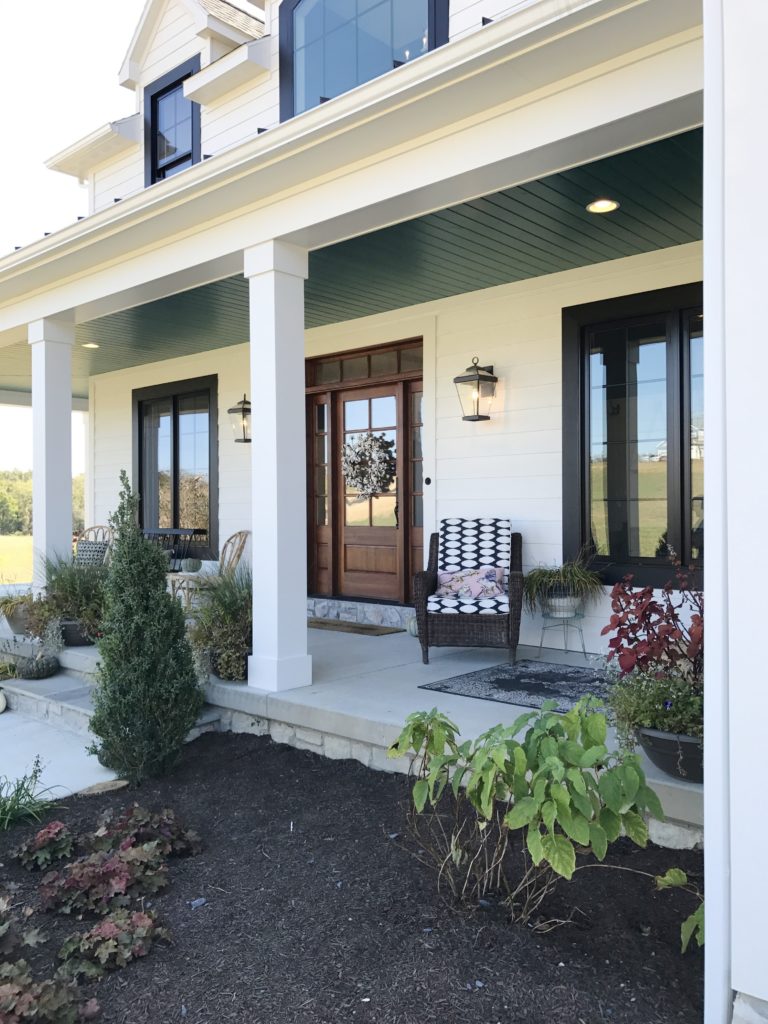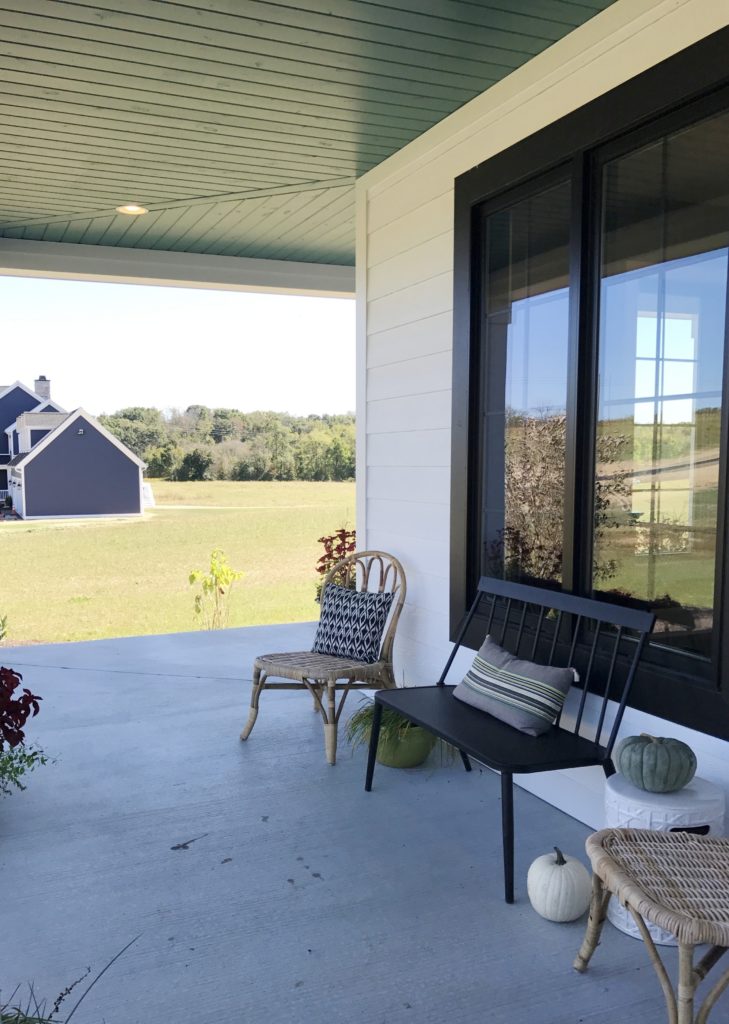 They continued with the deep green scheme on a little alcove right off of the front entrance.  This short hallway had a built-in bench for guests to drop their shoes and coats.  There was a separate mudroom off the garage for the family to store their things.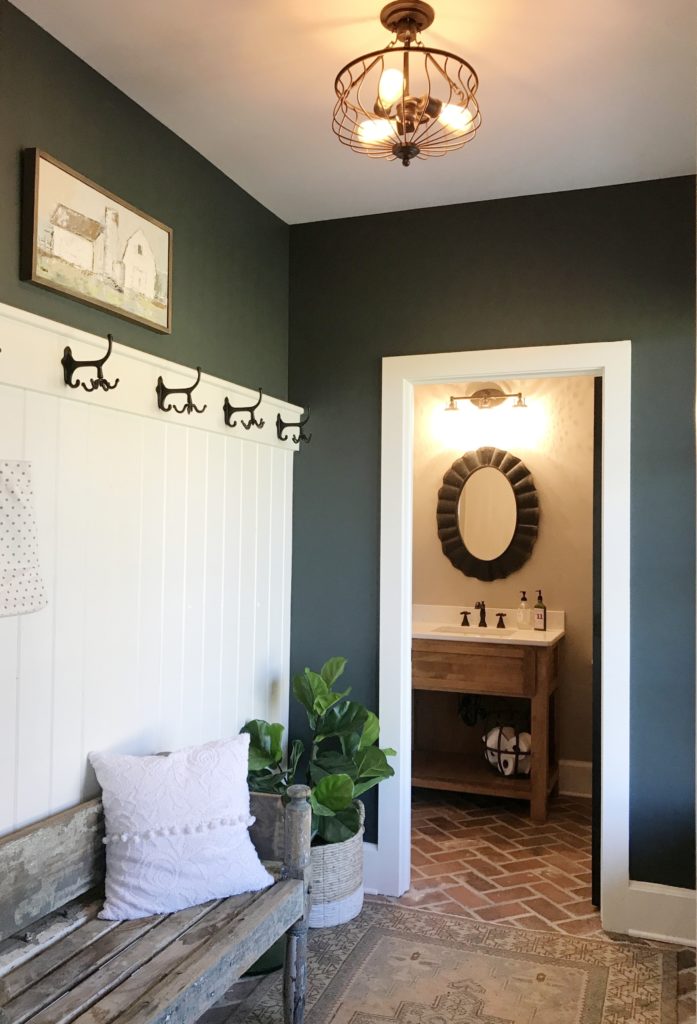 There were lovely brick pavers in this area.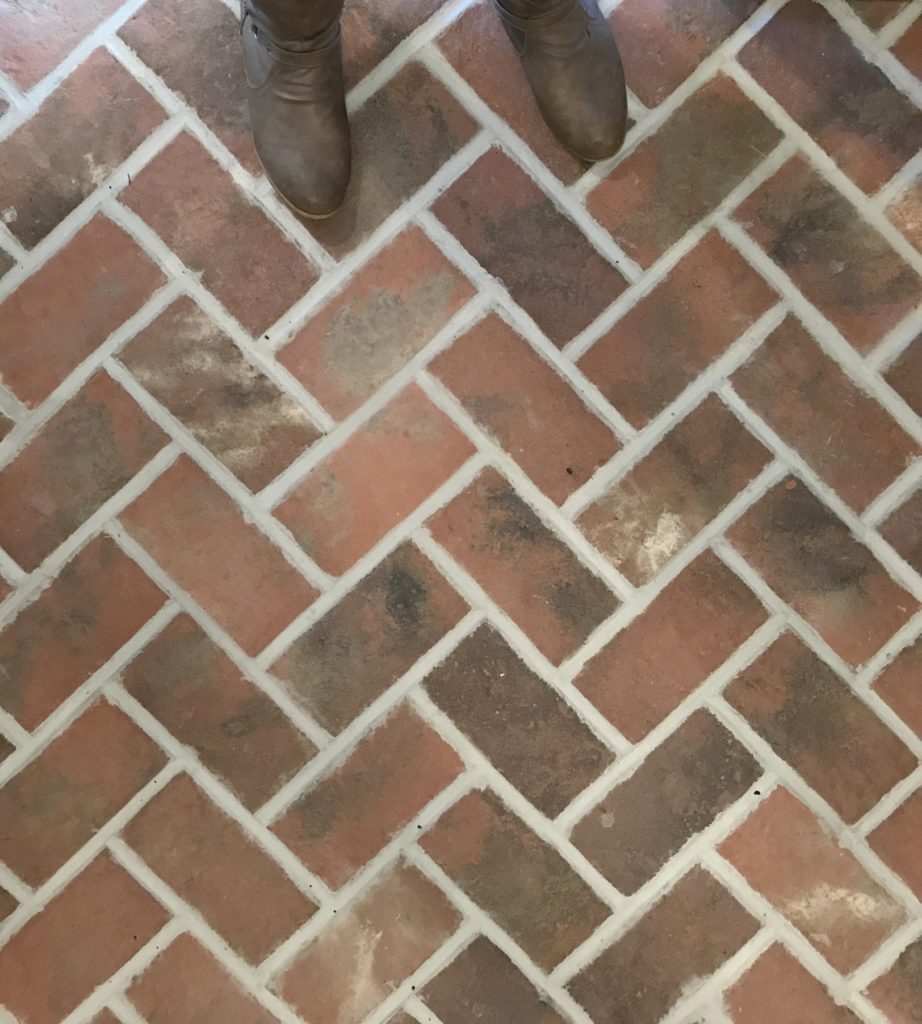 Also, check out these awesome coat hooks.  The bottom part spun, allowing you to hang multiple things from it.  So cute and super functional.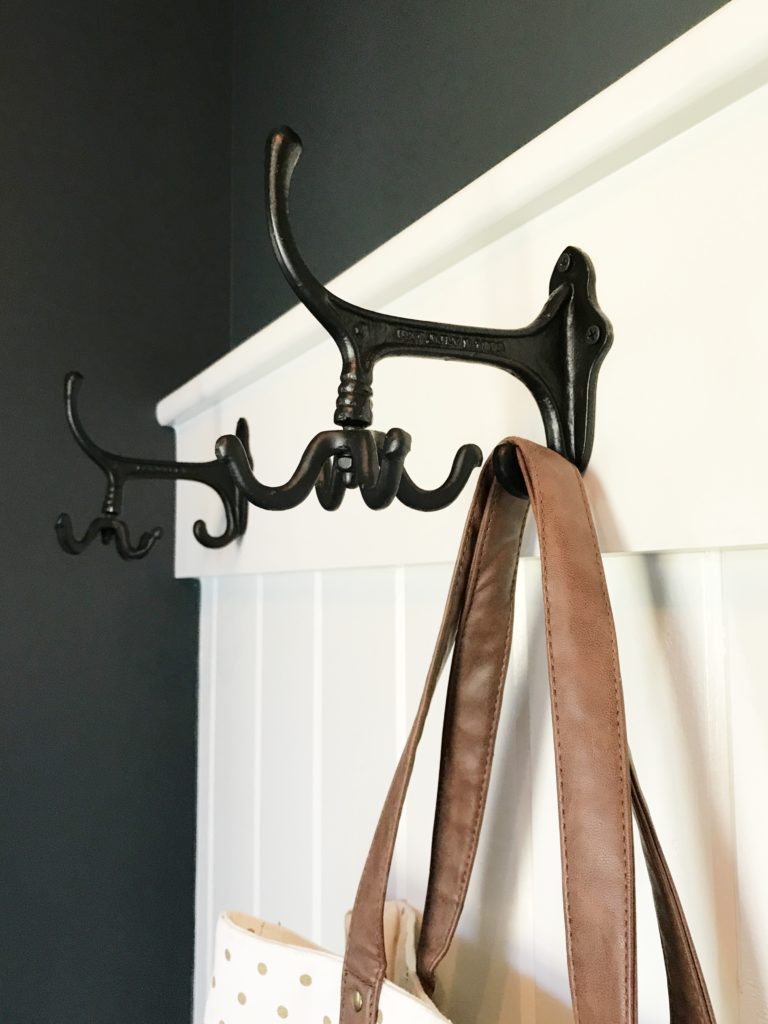 At the end of this little hallway was the main floor powder room, elegantly styled in black and white.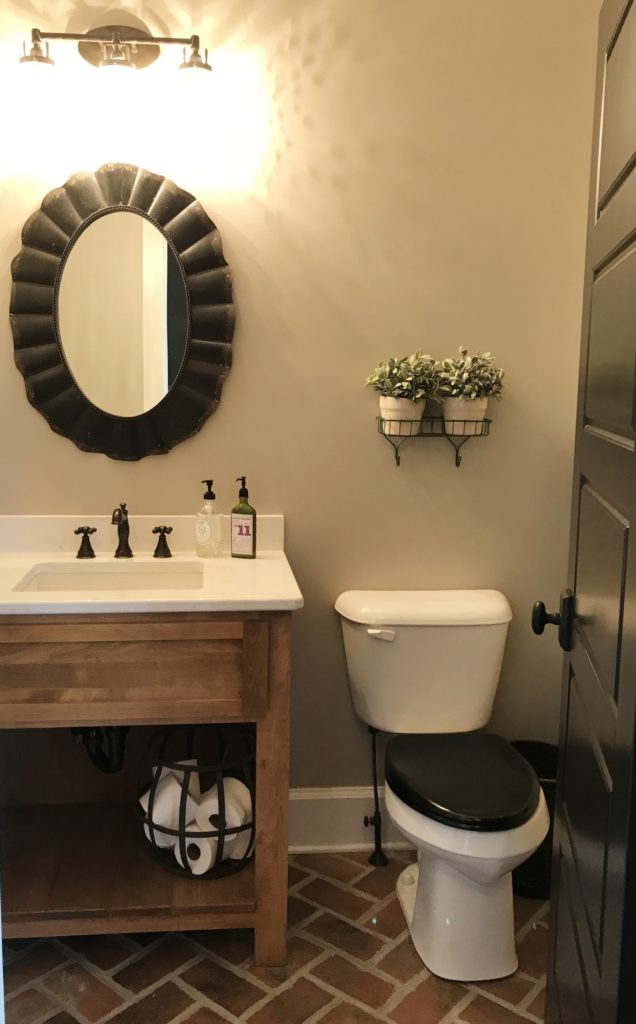 As you can see by these two beautiful doors, they followed through with the black and white color-scheme throughout the whole house, occasionally using very dark blues or greens instead.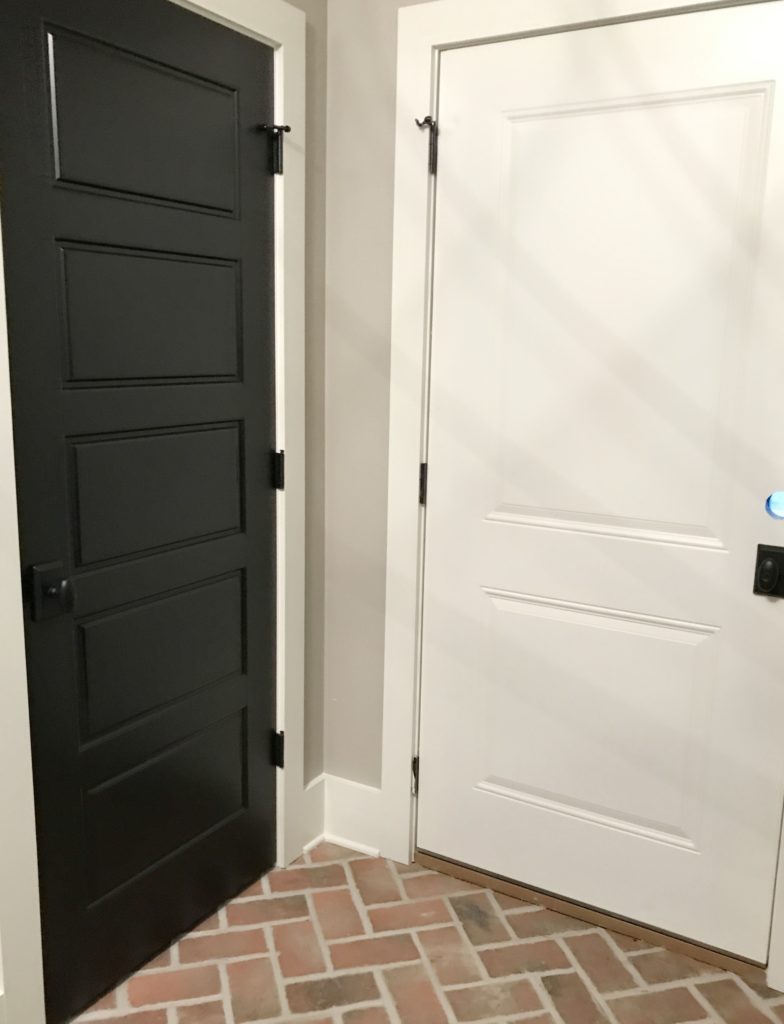 The entrance hall led to an open concept family room, kitchen, dining room area.  The family room was bright and airy with a beautiful shiplap accent wall.  I loved all the accents that the homeowner decorated with.  I feel like we'd be great friends based solely on her house-style.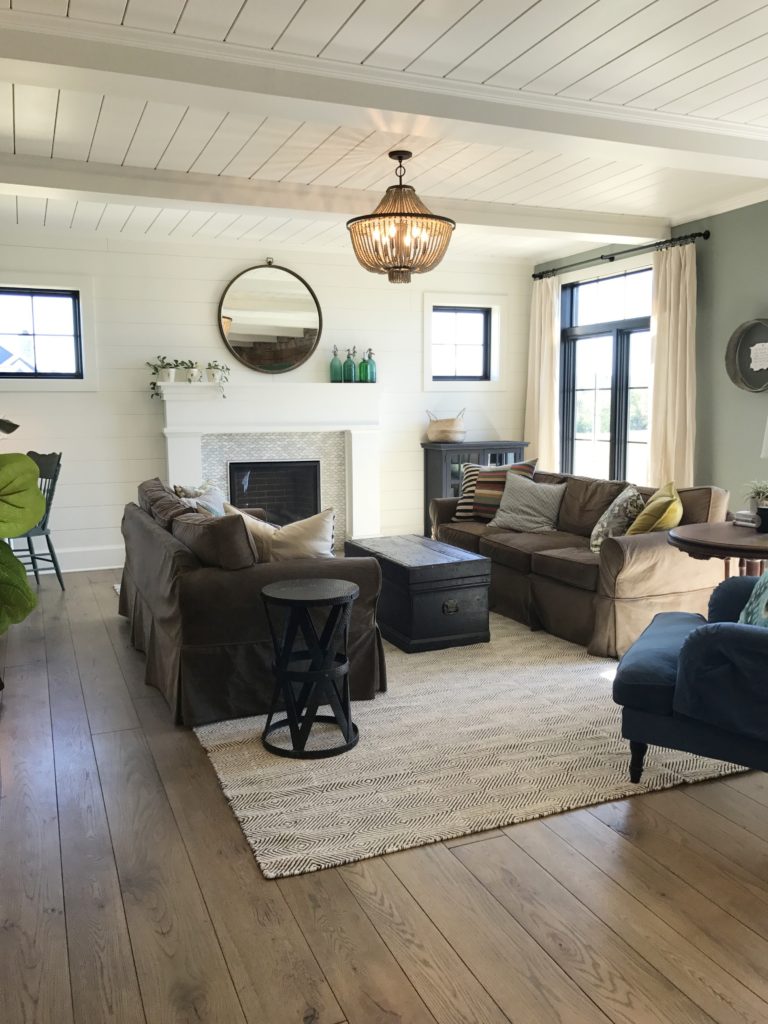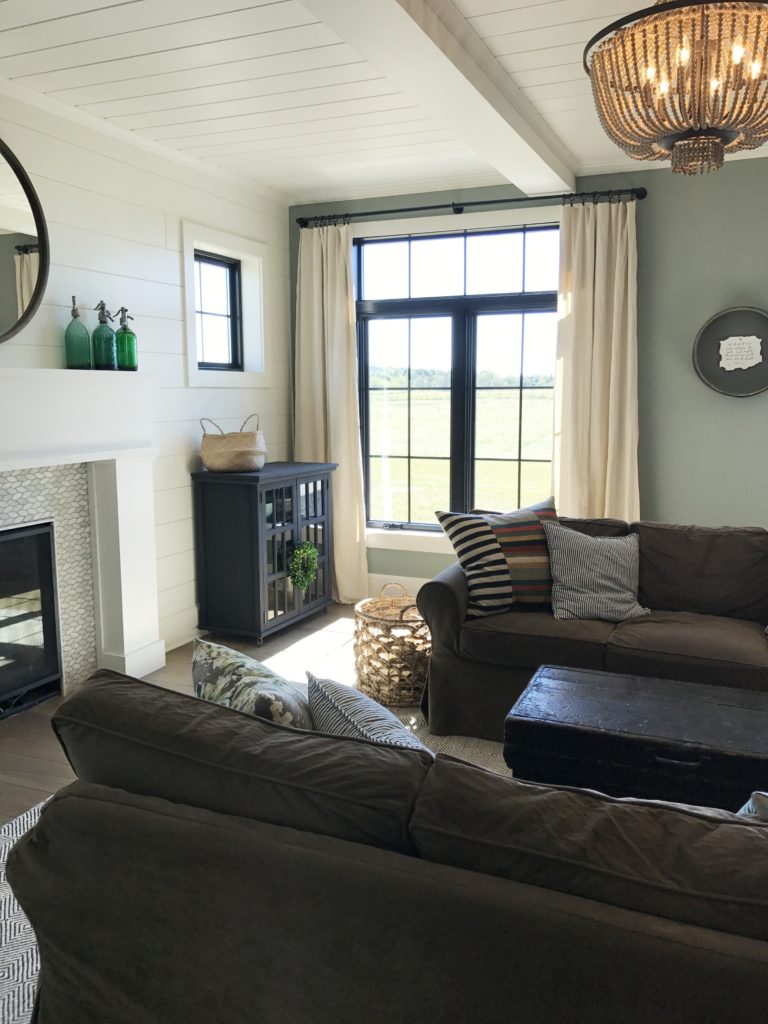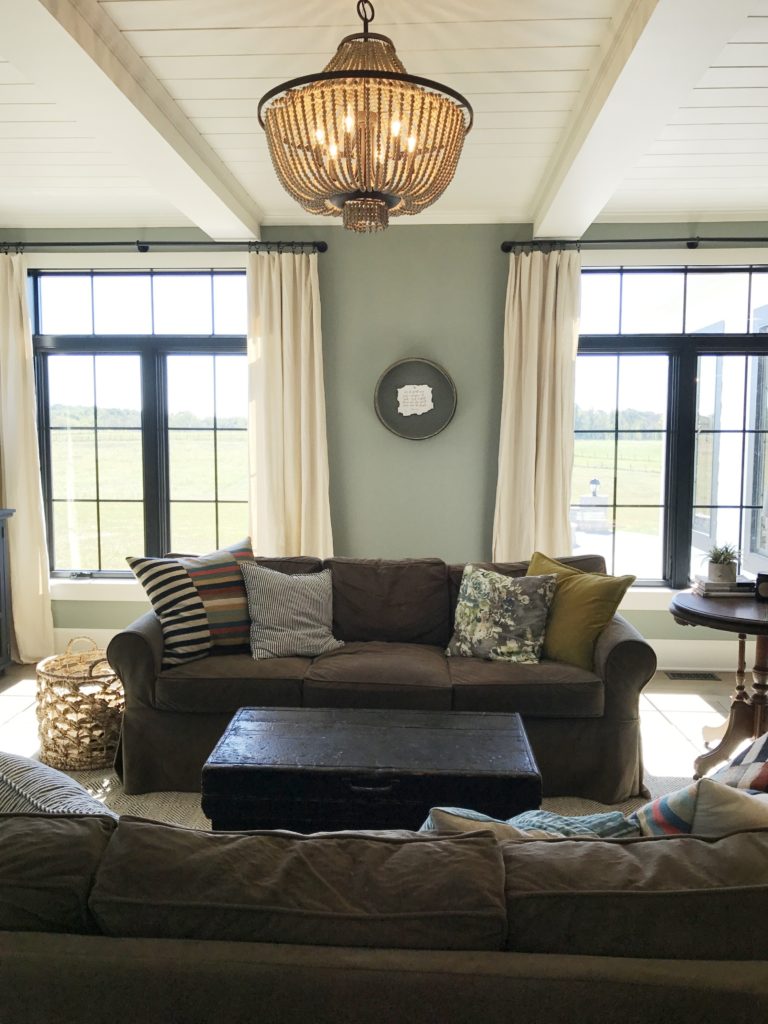 The family room also had this adorable little desk set up on one side, which is something I wouldn't have thought to do in this space but absolutely loved it.  Such a cute spot, and check out that gorgeous light fixture!  I got a little overly excited about that when I saw it.  I am really loving industrial/farmhouse lights right now.  I also LOVE the color they used here on the walls!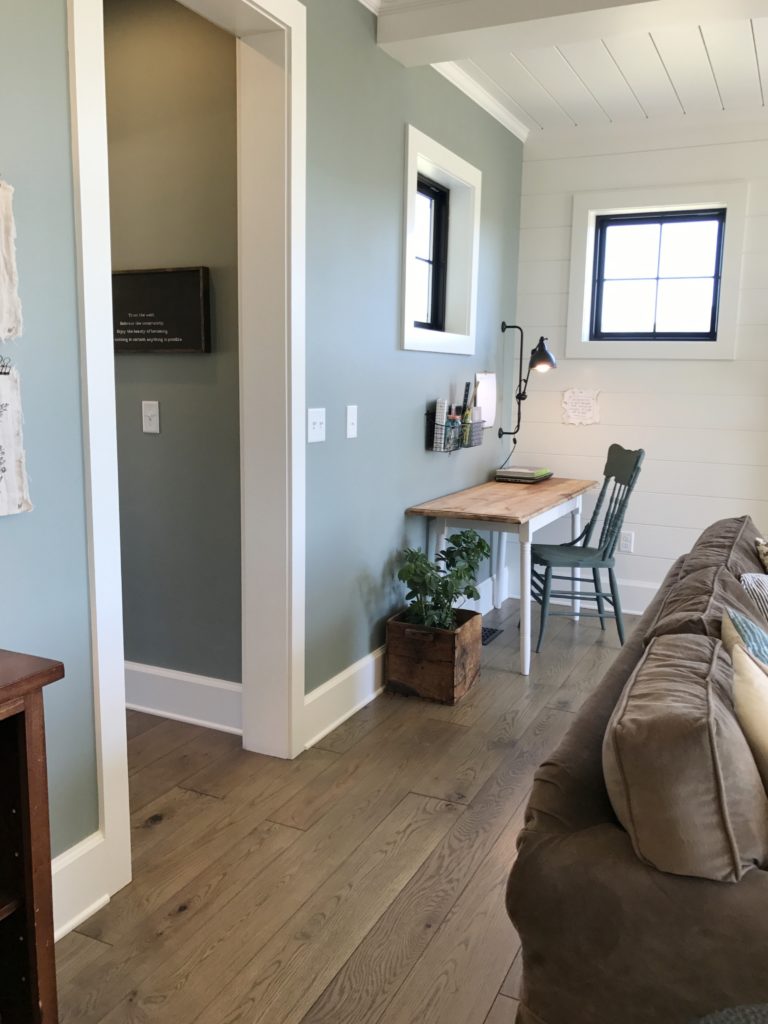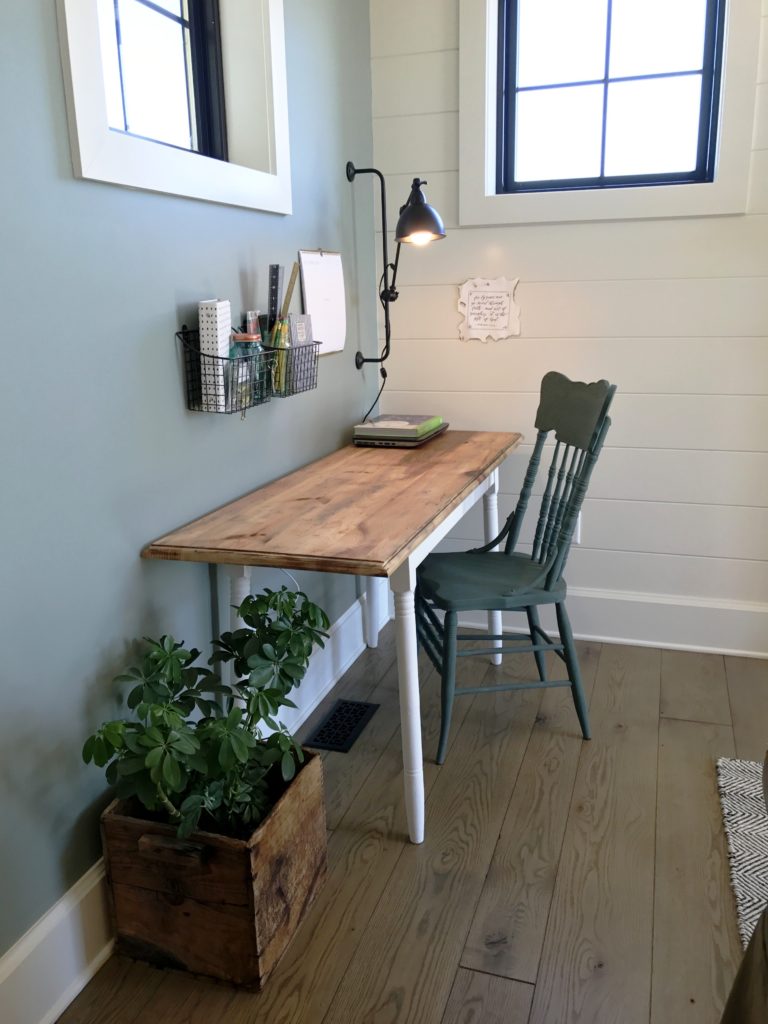 There was another little room just inside the front door that was also connected to the family room by a very small hallway.  It seemed to be intended as a formal dining room because of the central low chandelier.  As you'll see in a minute, there is another (massive) dining space in this home, so I think I would have personally skipped the chandelier and turned this space into a home office.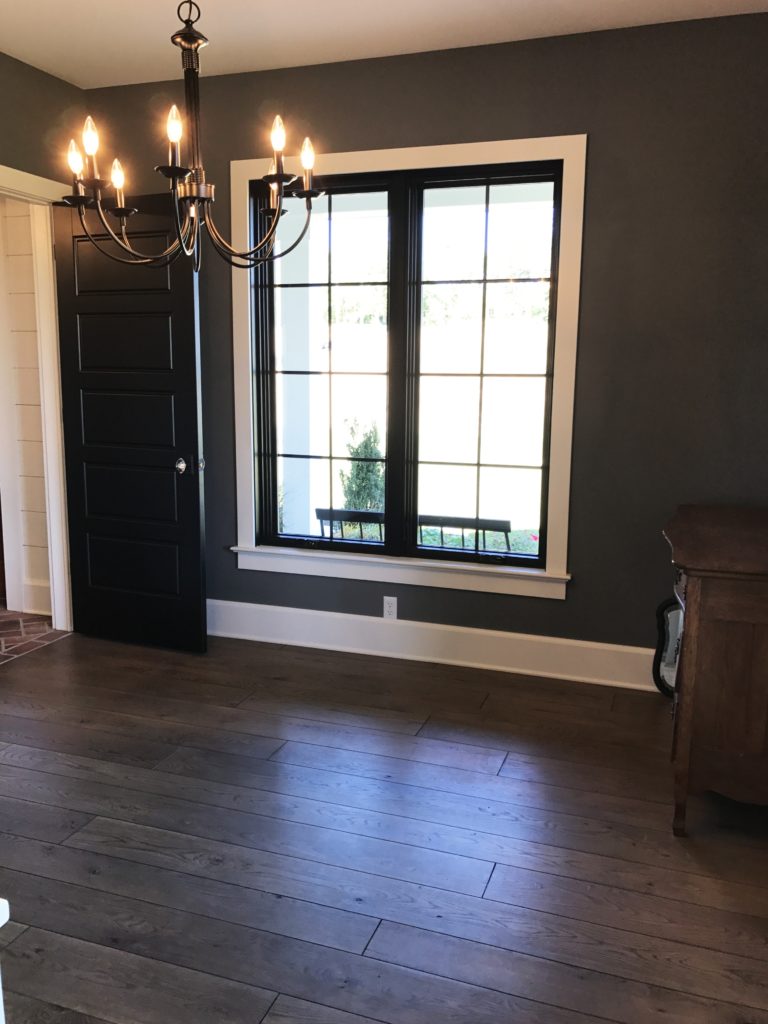 Across from the family room was the adorable kitchen.  There were a lot of other people meandering around, so it was hard to get many photos, so you'll just have to trust me about how perfect it was.  Complete with a large island, shiplap cooktop hood, and open shelving, it was a true farmhouse masterpiece.  I love the accents chosen for this space, and again with the gorgeous wall lights.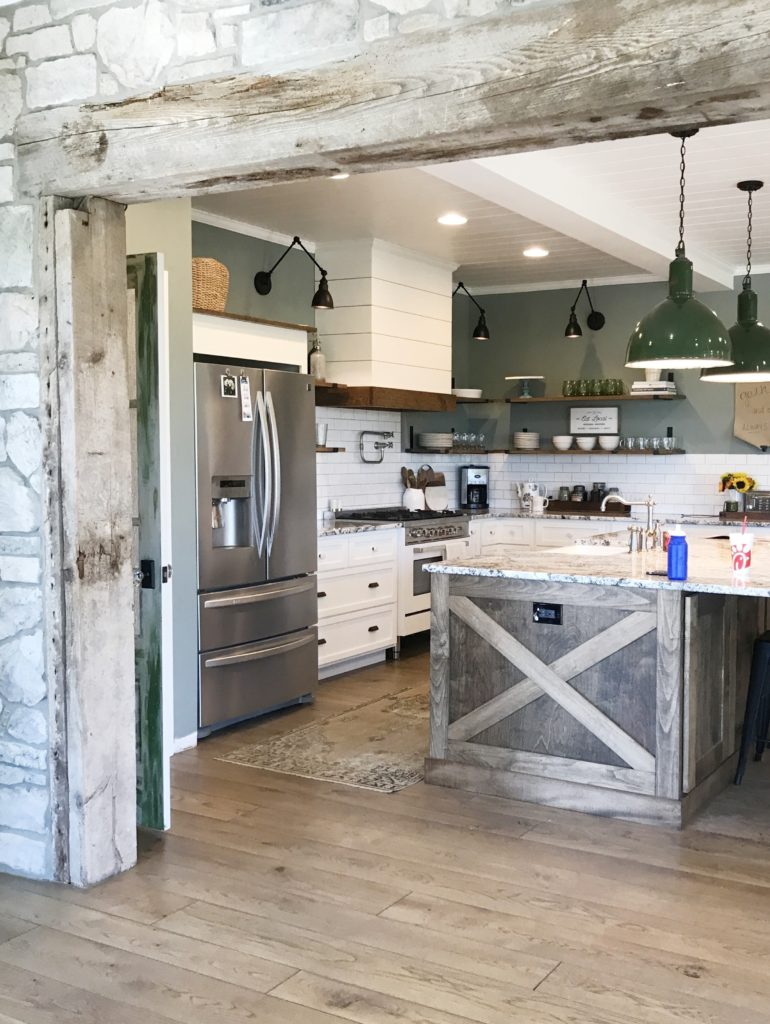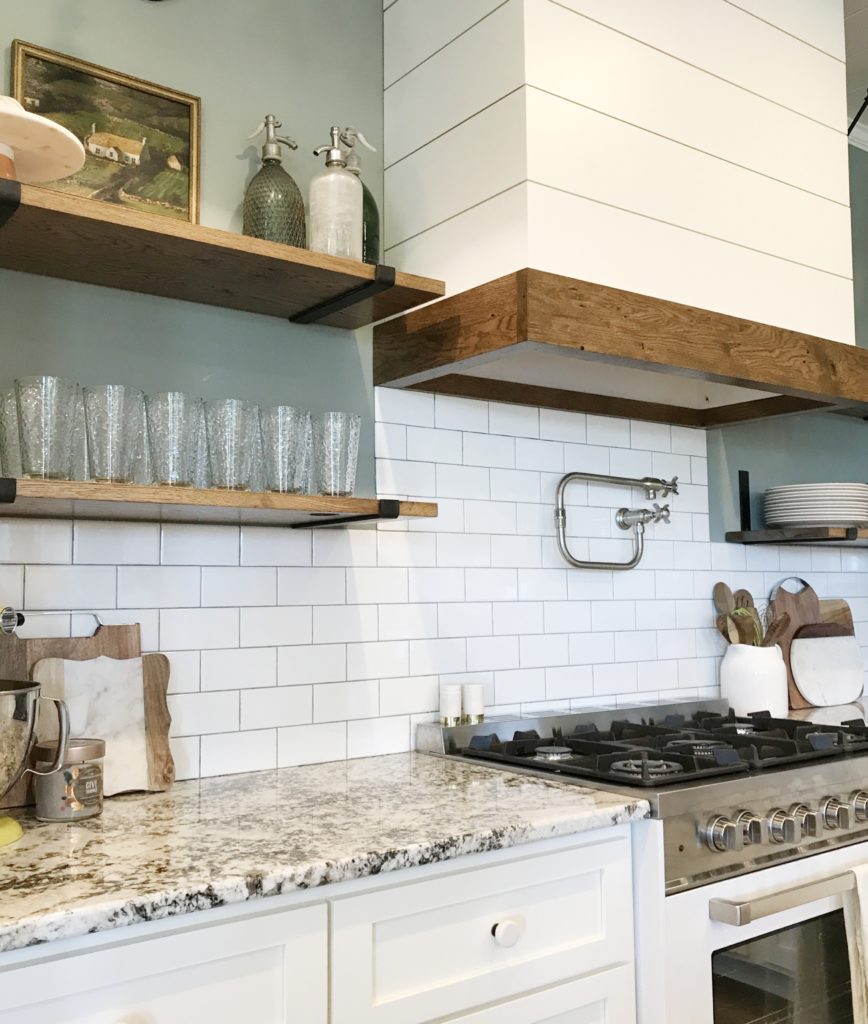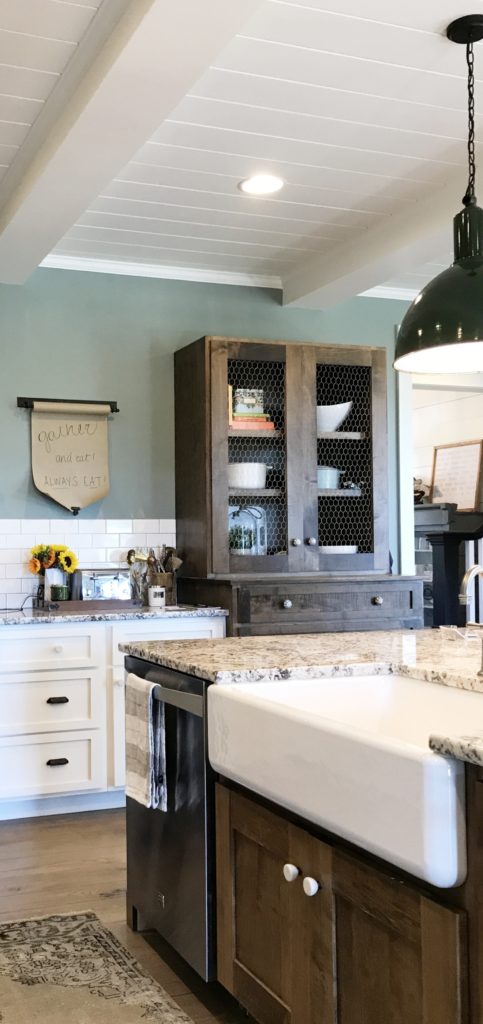 The kitchen also had a very generous sized pantry, which I thought was a needed area since so many open shelves in the kitchen don't allow for as much storage of utensils and pantry items.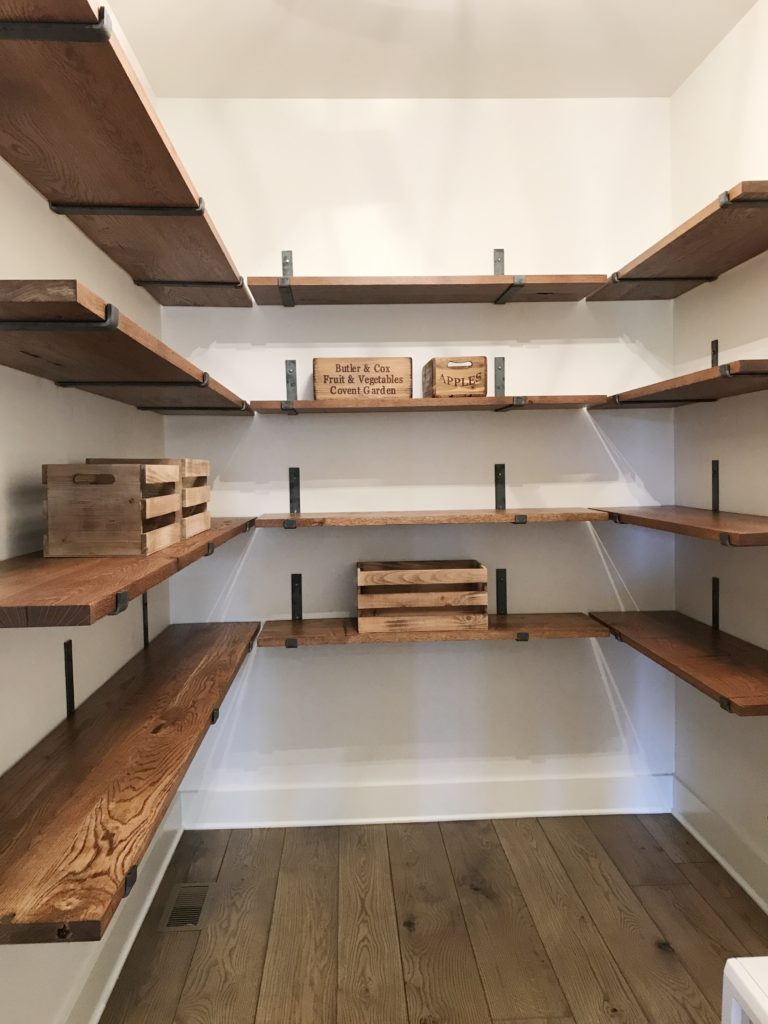 Off the kitchen, at the back of the house, sat this enormous dining area, which could fit a table large enough to feed your entire extended family.  You'll have to excuse the fact that there are some people in this picture.  There were quite a few visitors and it was impossible to get a picture with the room empty.  There was also no table yet, but you can see the two large chandeliers hanging over where it will go.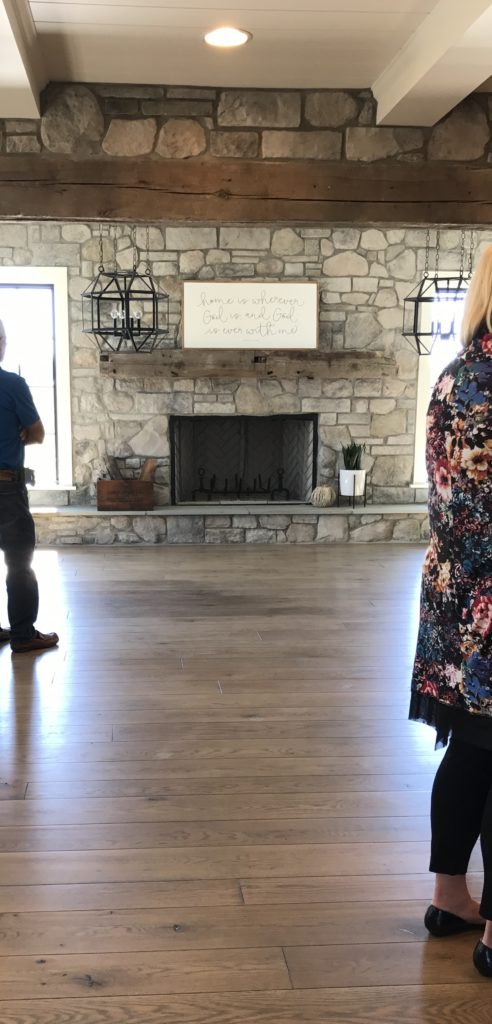 I absolutely loved the full wall fireplace and how they ran the hearth across the whole room, turning them into sort-of window seats.  I feel like the proper term for this space would be 'gathering room' because it was just so big and I can picture so many uses for it!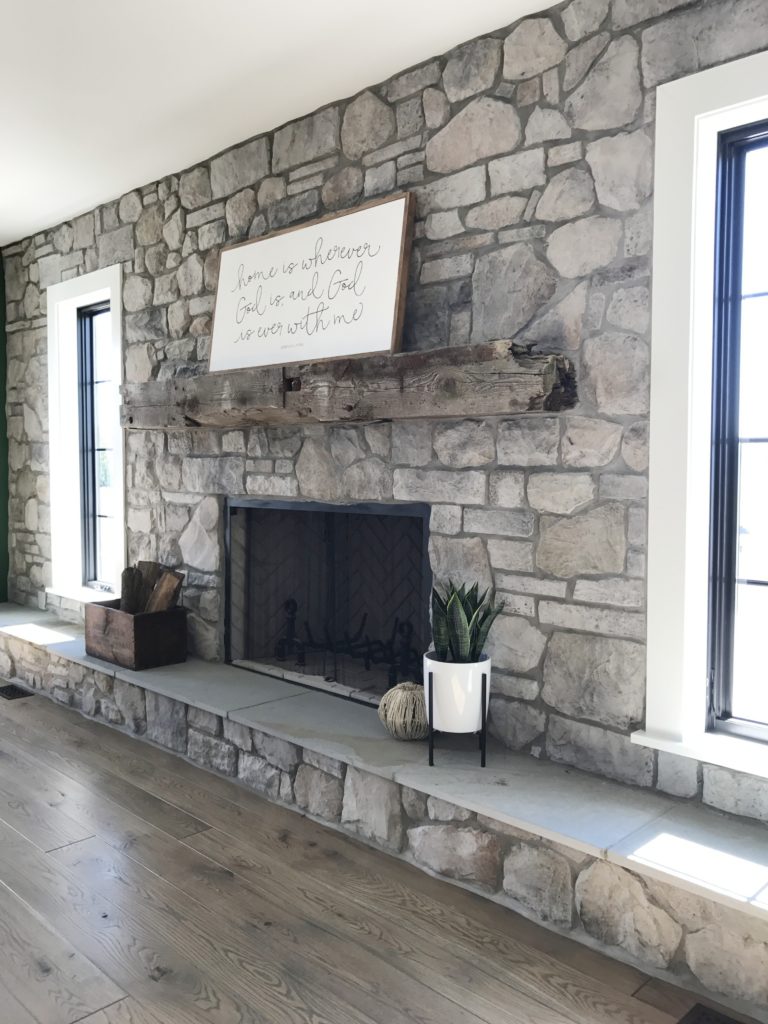 Off of this dining area was a covered patio.  The cathedral ceiling was absolutely gorgeous, covered in stained wood with a chandelier in the center.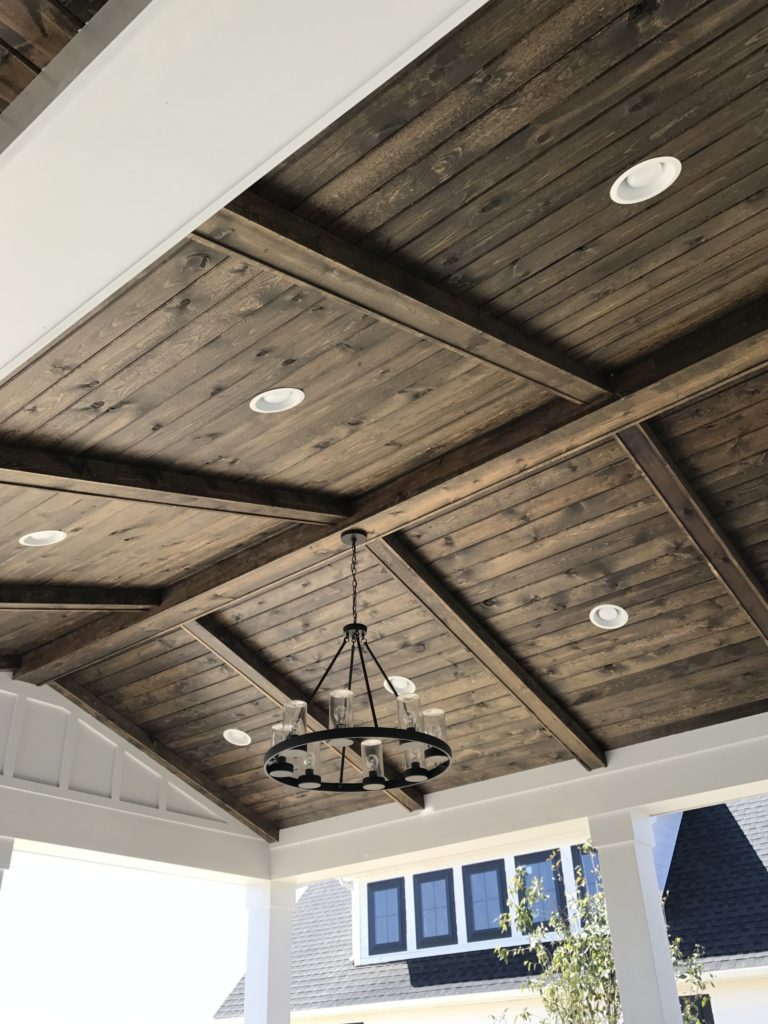 The patio extended out behind the rest of the house, jutting out into this adorable round fire-pit area.  I have plans to do something of this nature at our new house, so it was really neat to see it already done.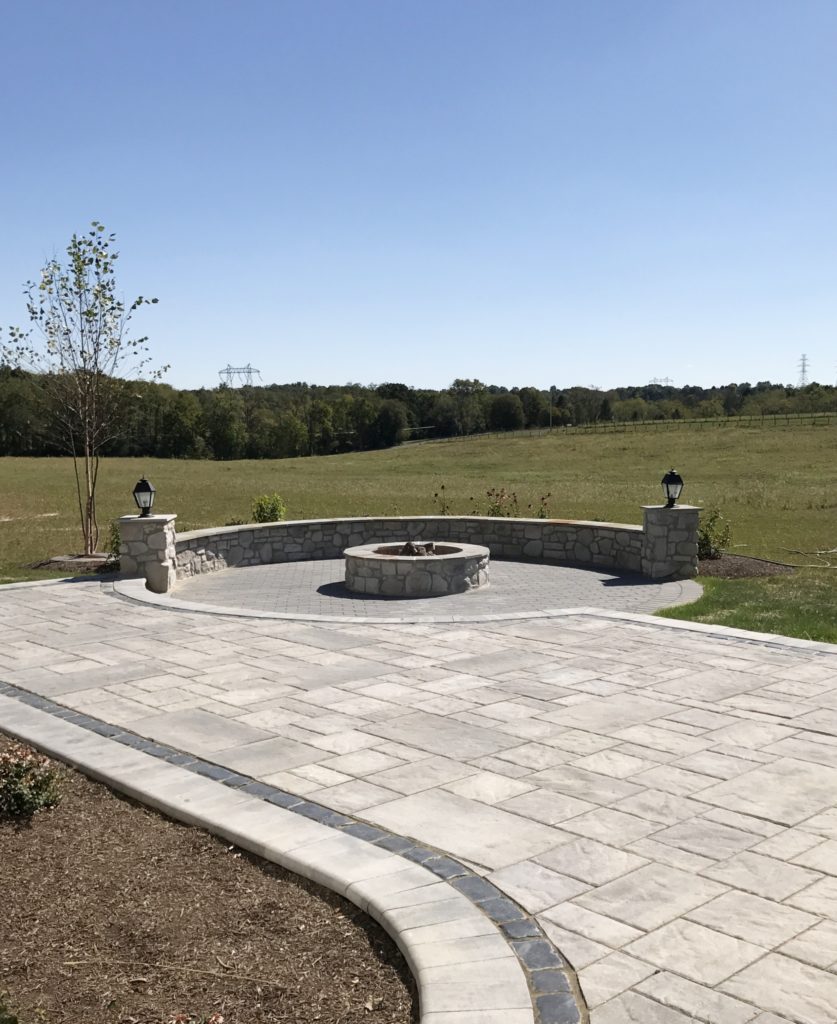 Upstairs, the house had four bedrooms, one which wasn't finished yet.  The other two were smallish, but cozy and perfect for kids.  They were connected via a jack and jill bath, which was a step higher than the bedrooms.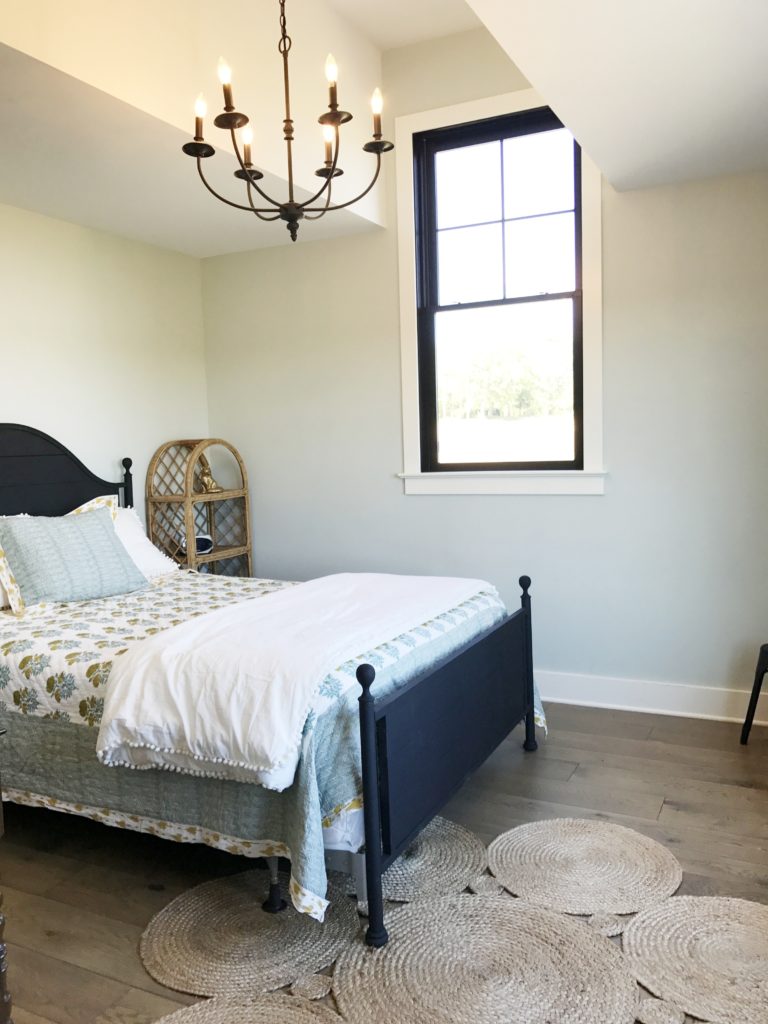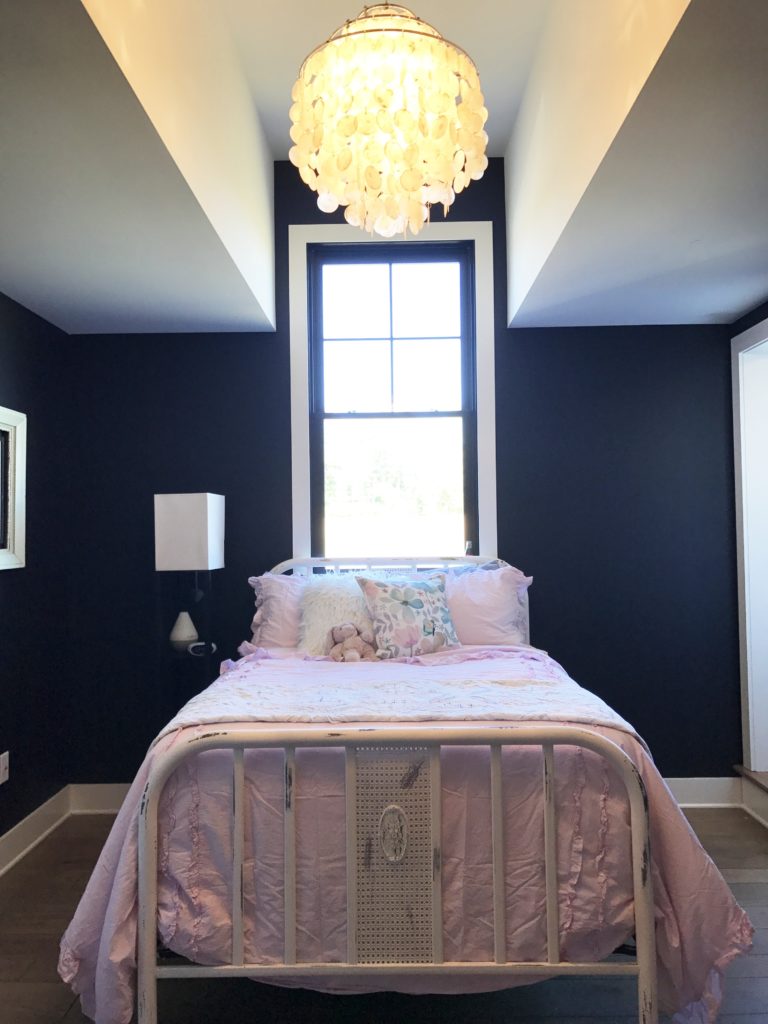 The master was the perfect blend of masculine and feminine.  It was very simply dressed and uncluttered, which I thought made it feel especially relaxing.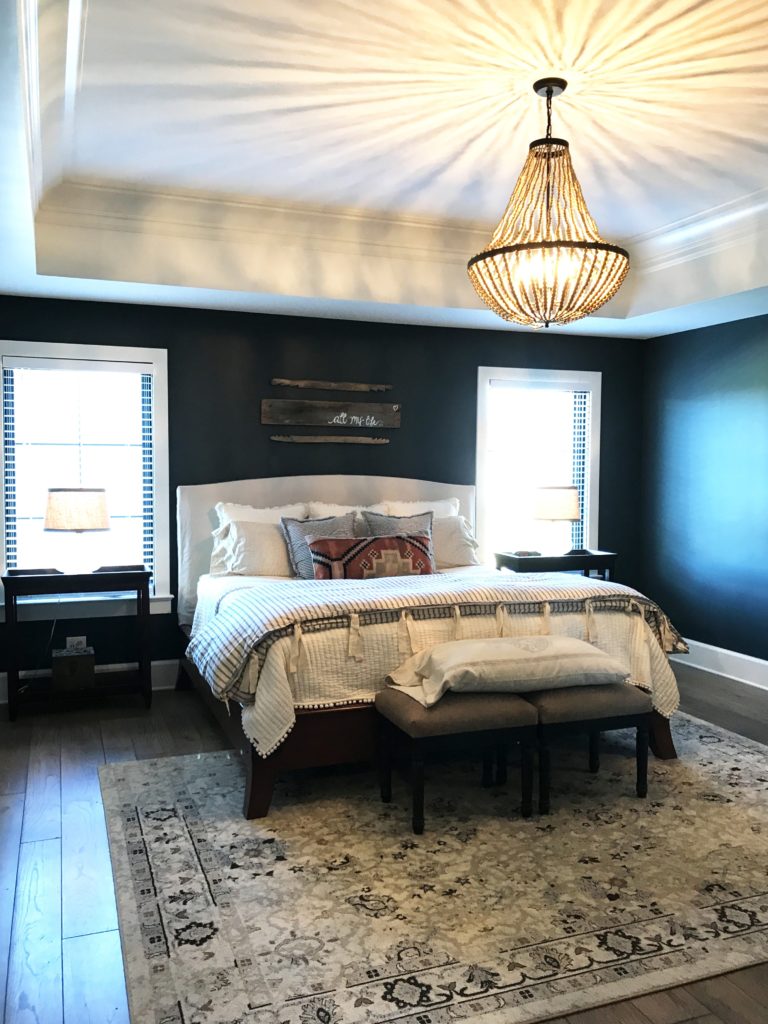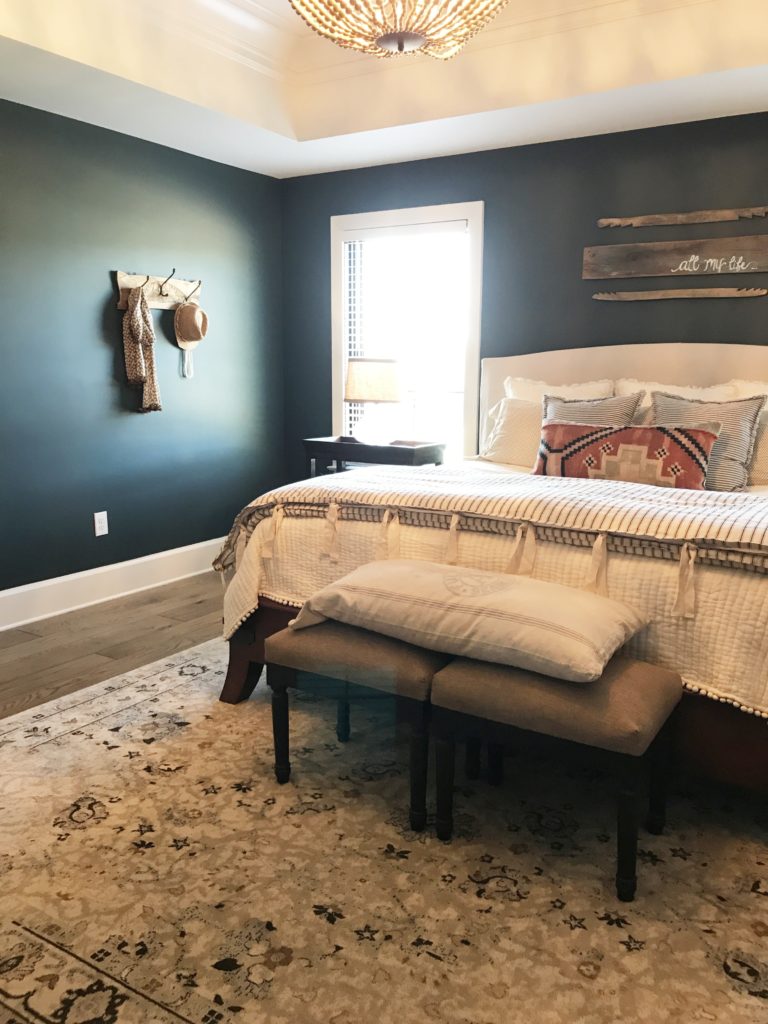 There was a pretty rolling barn door into a narrow walk-in closet on one side of the room.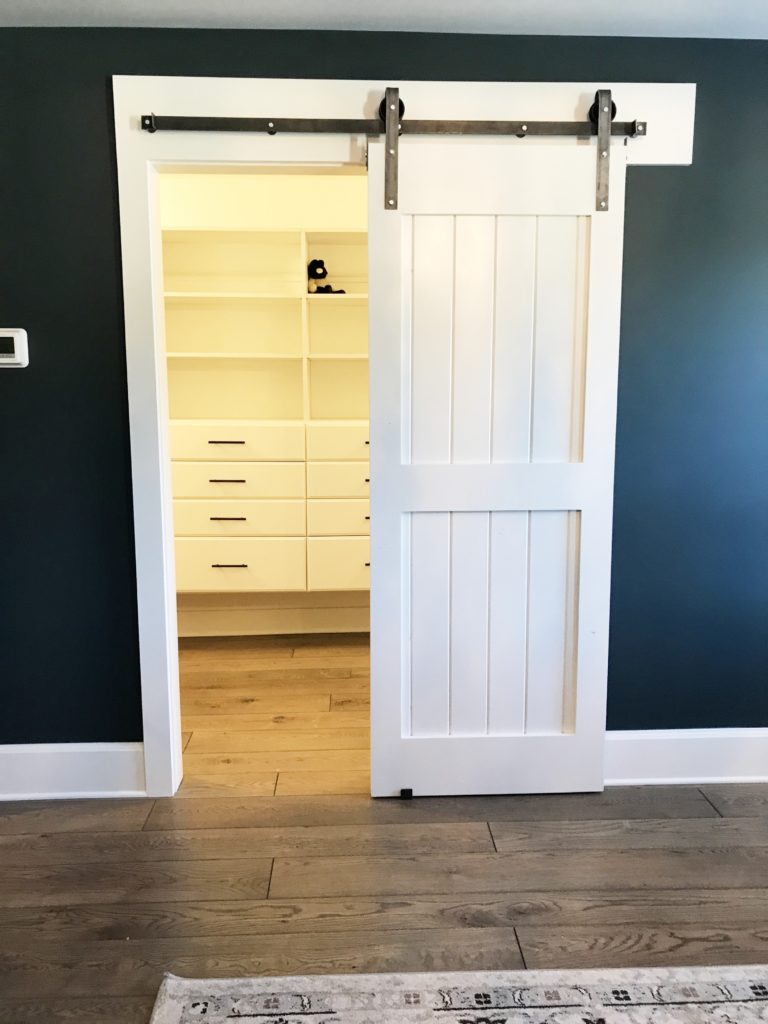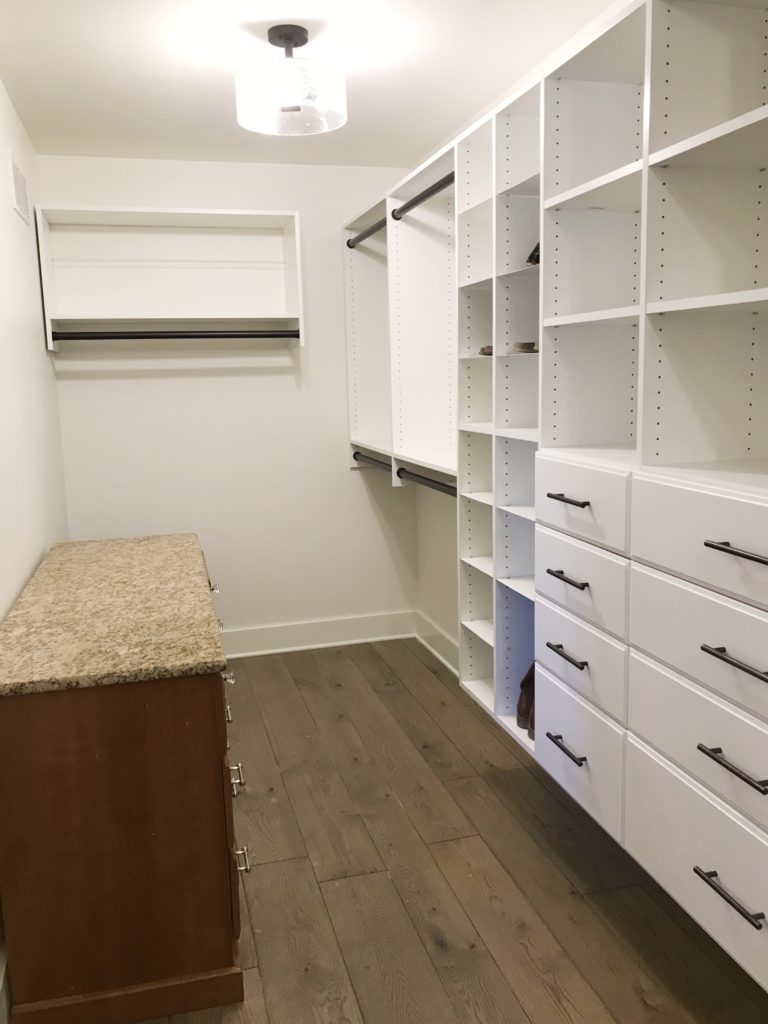 On the opposite side was the master bathroom.  A freestanding tub was the focal point here, as well as a really lovely, large shower.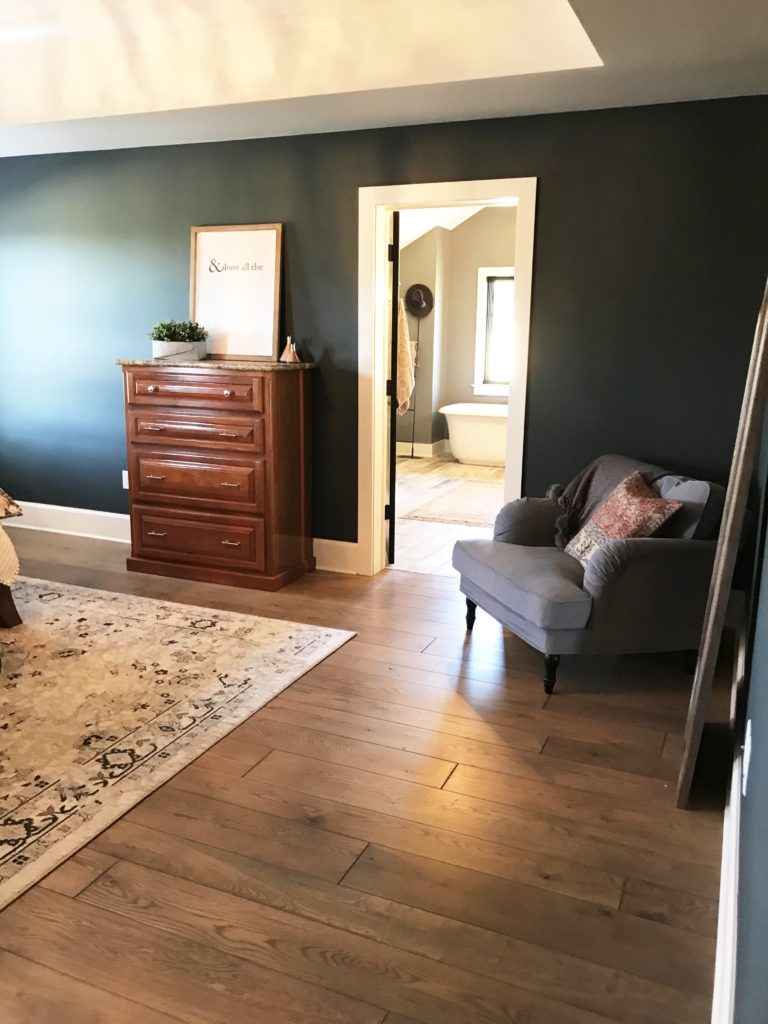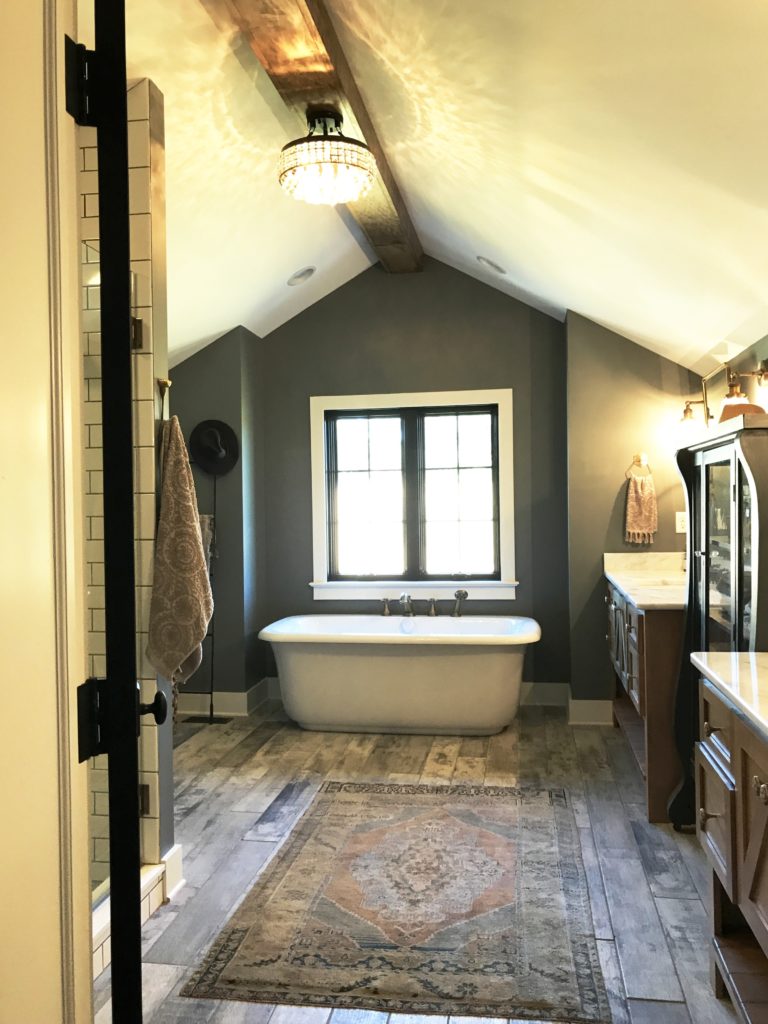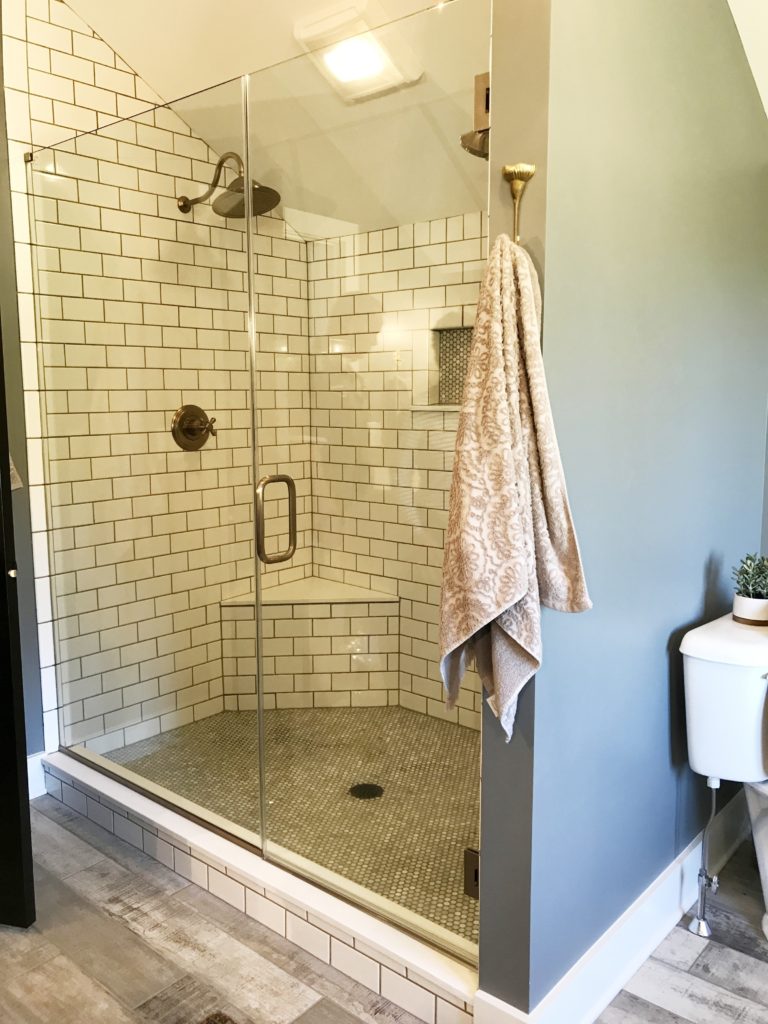 So what did you think?  I love these homeowner's style.  It's really similar to mine, and it was so cool to see some of those designs in person.  I loved the high contrast of the black and white spaces, too, though I couldn't get away with doing that in our new home.  My husband said it was a little too much for him, and he'd rather see more subtle color schemes.  Let me know what you think in the comments and if you enjoyed this home, check out some similar home decor items I've compiled for your perusal.
SHOP THE STYLE