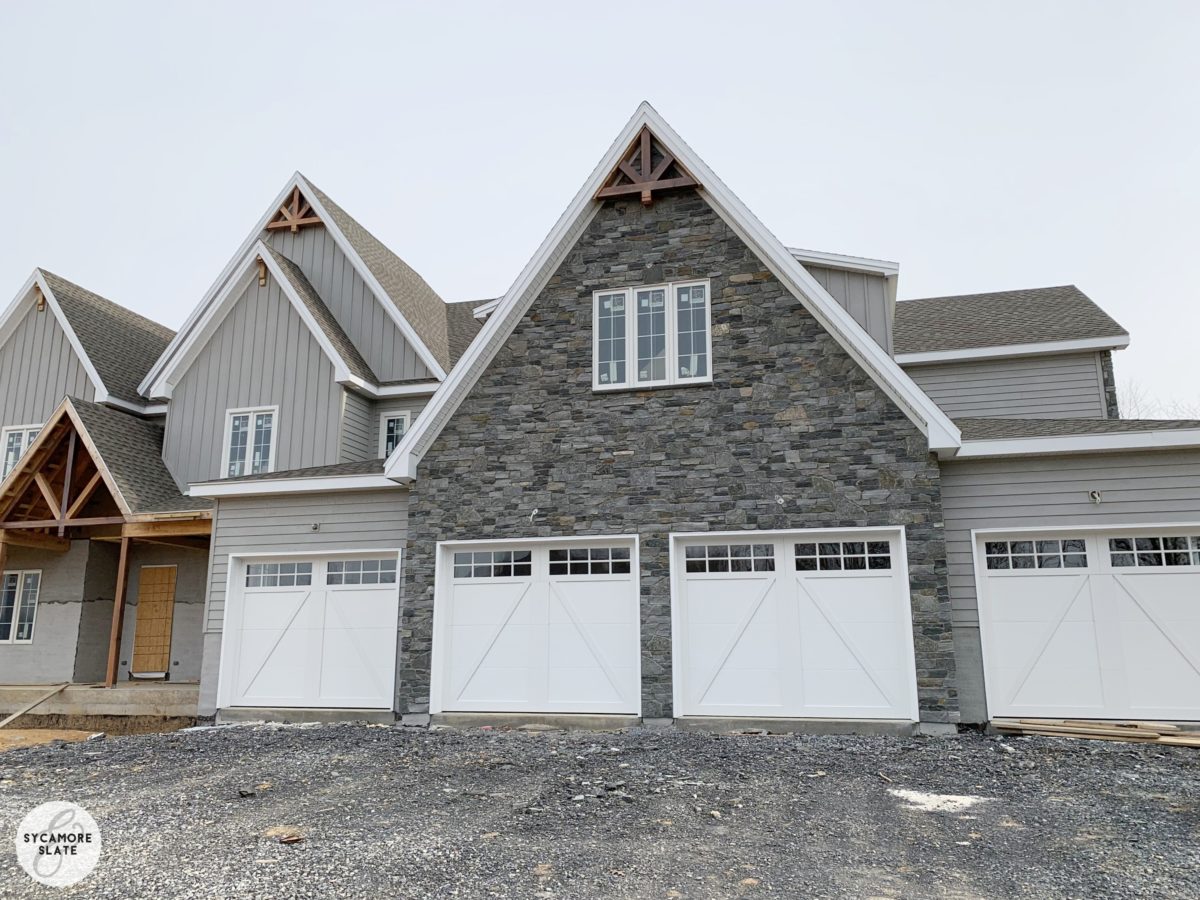 It's been a month since I last posted about the house. We've hit week 40! If this was a pregnancy, we would be packing our (hospital) bags. But it's not a pregnancy, and definitely not time for us to start packing yet!
It feels like a lot happened in the last month, but really, the main thing we accomplished was having the house insulated. Exterior walls got spray foam and we did fiberglass for most of the interior walls and ceilings. A very small section in the basement theater got Rockwool.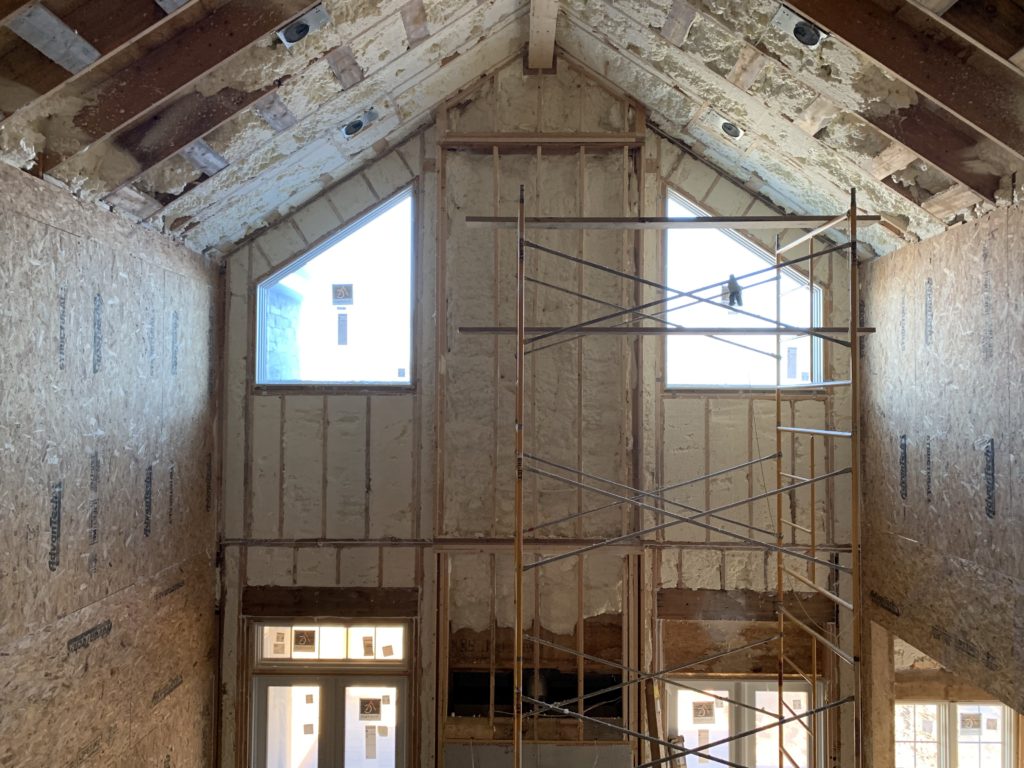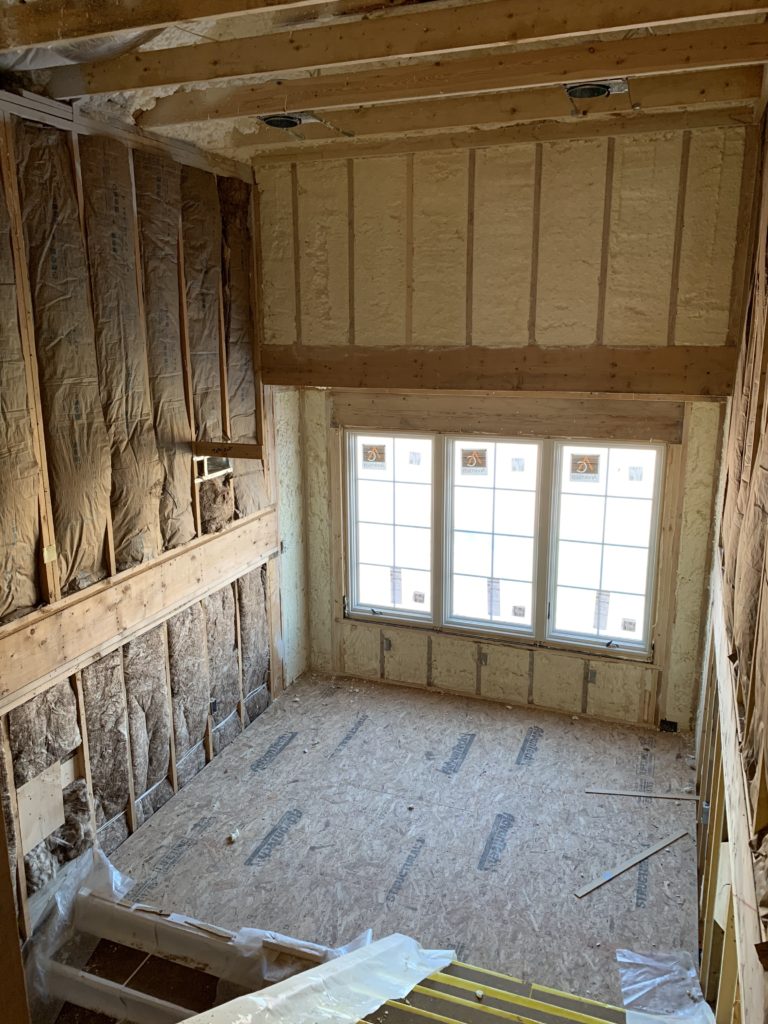 They also used spray foam between the house and the garage, which meant that they had to install drywall in the garage. That was really neat because now you can't see into the house when you walk into the garage and it feels much more like a "real" house.
Because spray foam is toxic until it cures, we weren't able to be in the house for a good portion of the time the guys were installing it. Even after the insulation was okay to be around, I didn't spend much time in the house. The smell was very strong – almost like strong paint fumes – especially in the attic and places where they had to add a fireproof coating over the foam.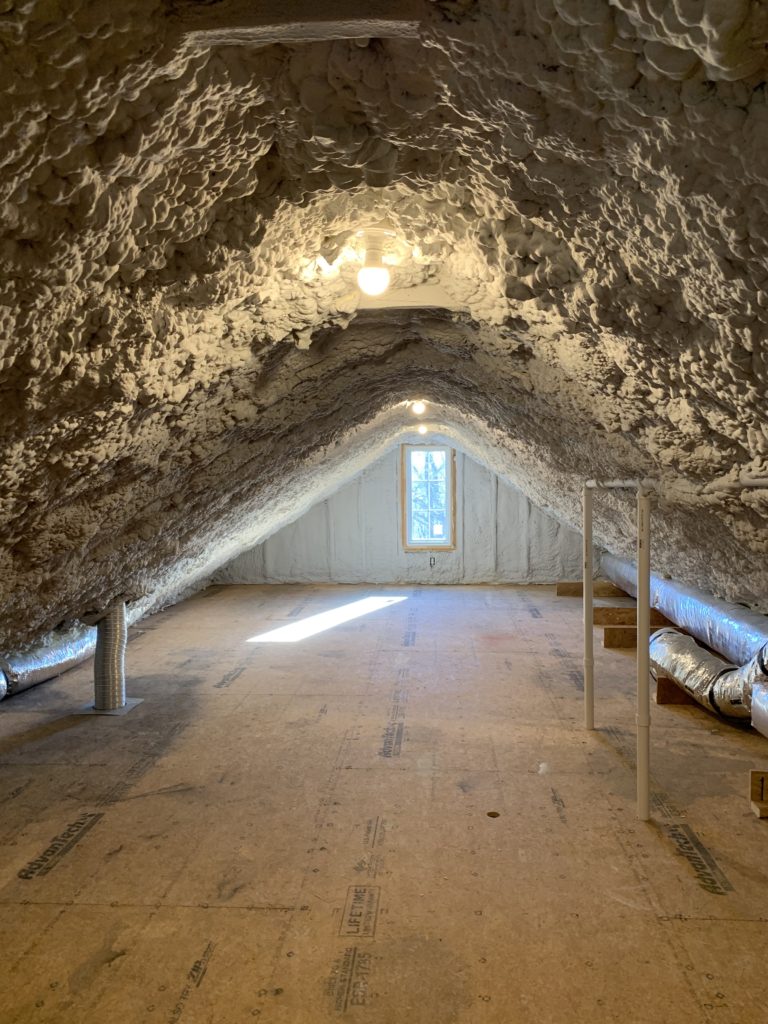 We've been airing out the house as much as we can, leaving windows open, and the smell has gotten much better now. We suspect before too much longer, it won't be noticeable, except maybe in the attic where the most spray foam was used.
It's like you're in an igloo up there.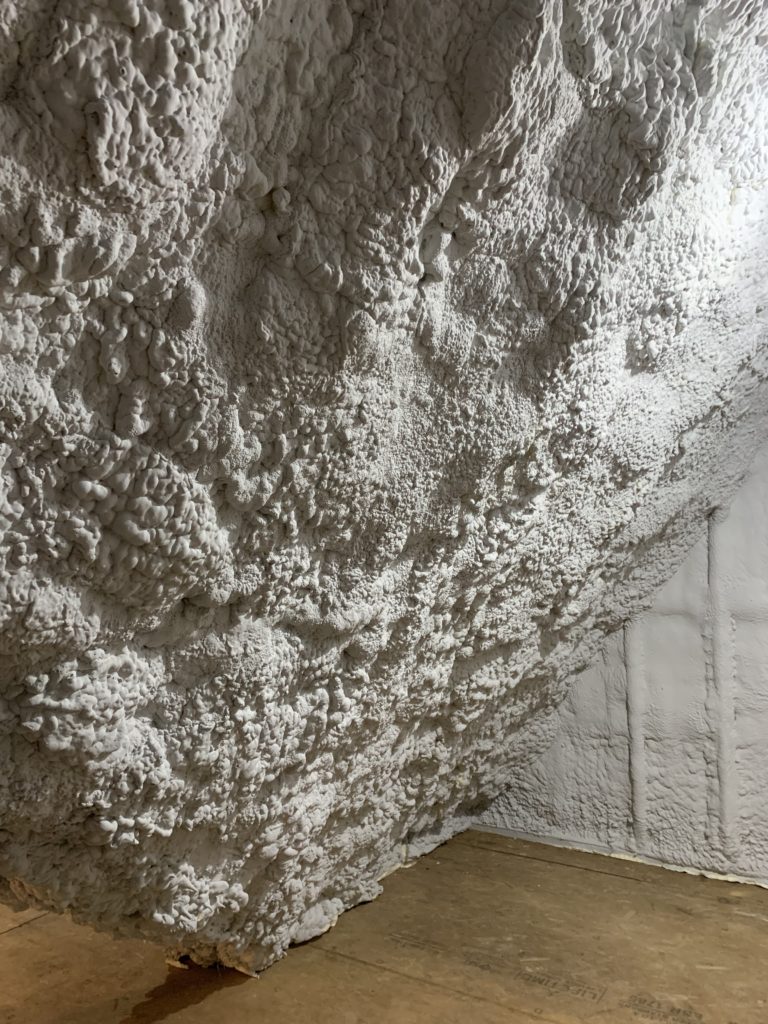 When installing the foam, they fill up all the space between wall joists nice and full. Then, after giving it a few days to cure, the insulation guys had to come back and carve away any excess foam sticking out past the wall joists by basically shaving it down. As you might imagine, this left an incredible mess.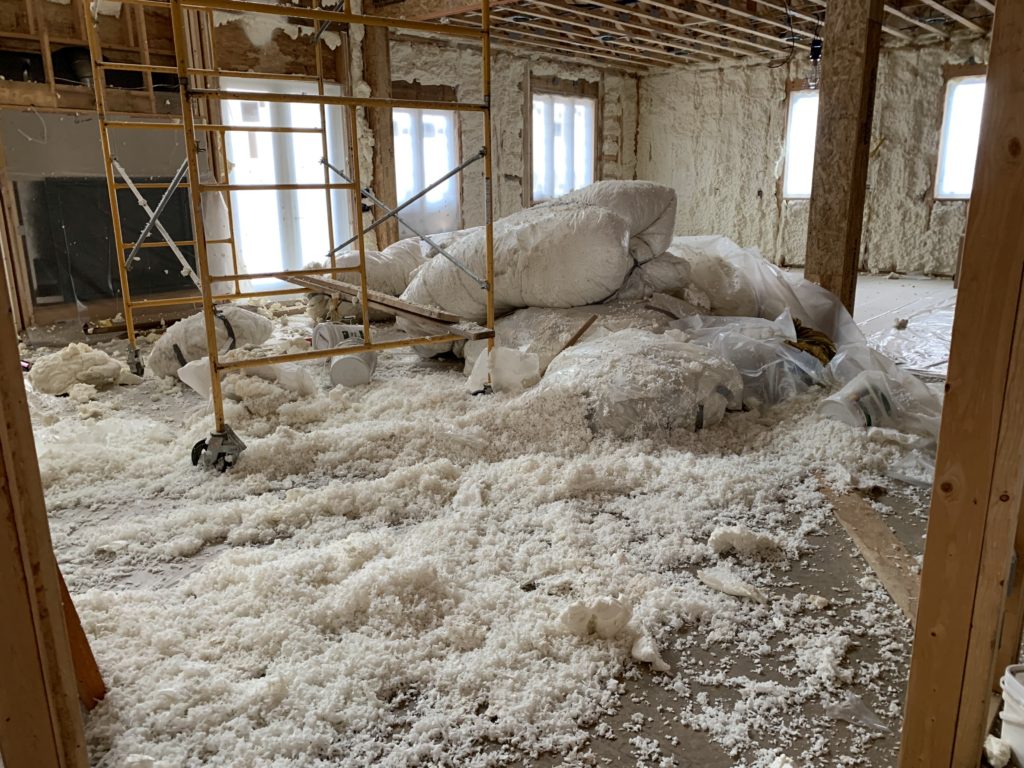 It was like it had snowed indoors, which was very fitting since the house was left sitting that way on Christmas day.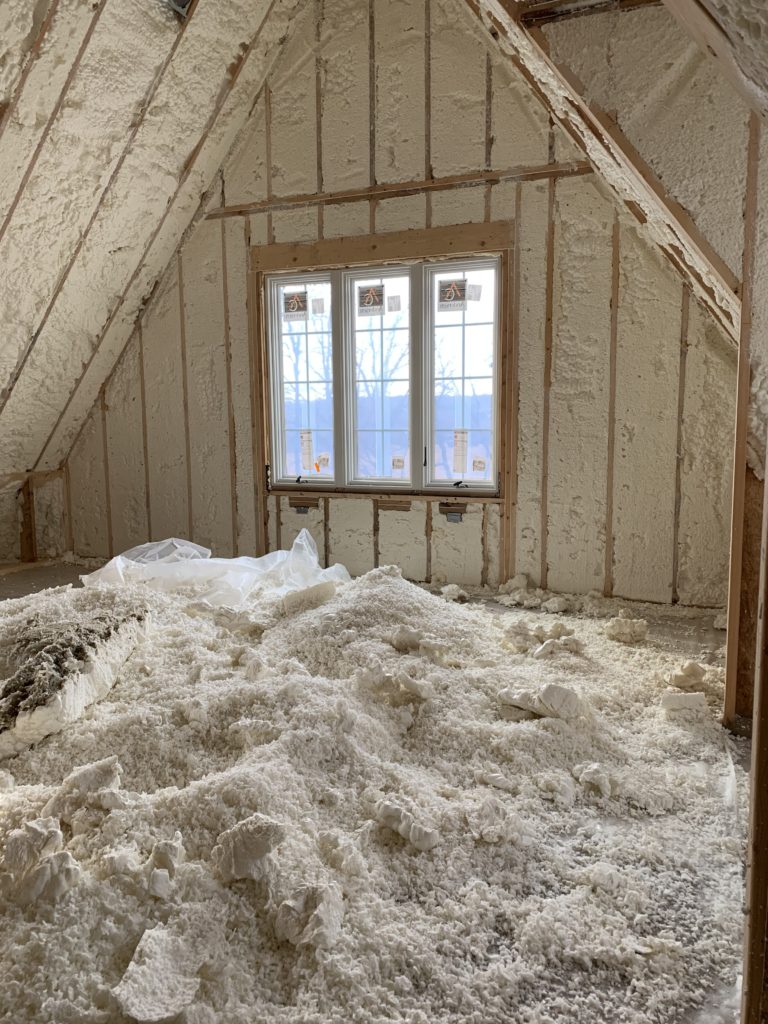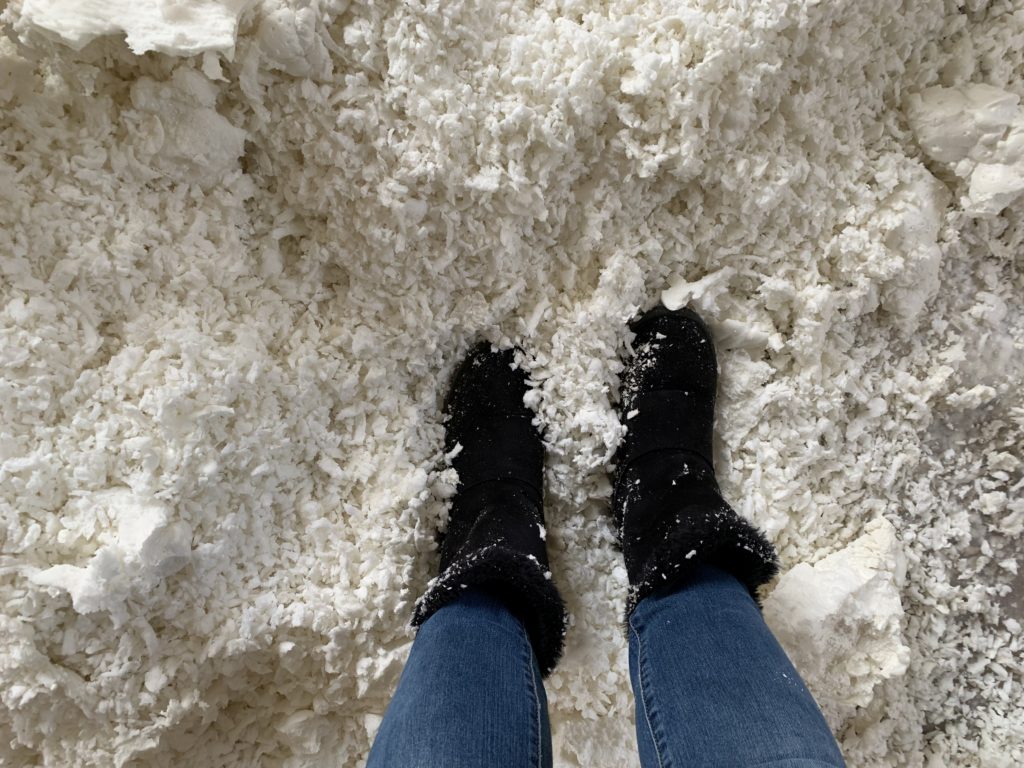 We didn't insulate every single interior wall, but a good portion of them are insulated. All the bathrooms and bedrooms were done, as a sound barrier. Most of the ceilings were also done, both for sound protection and to help maintain the temperature between the different levels (zones) of the house.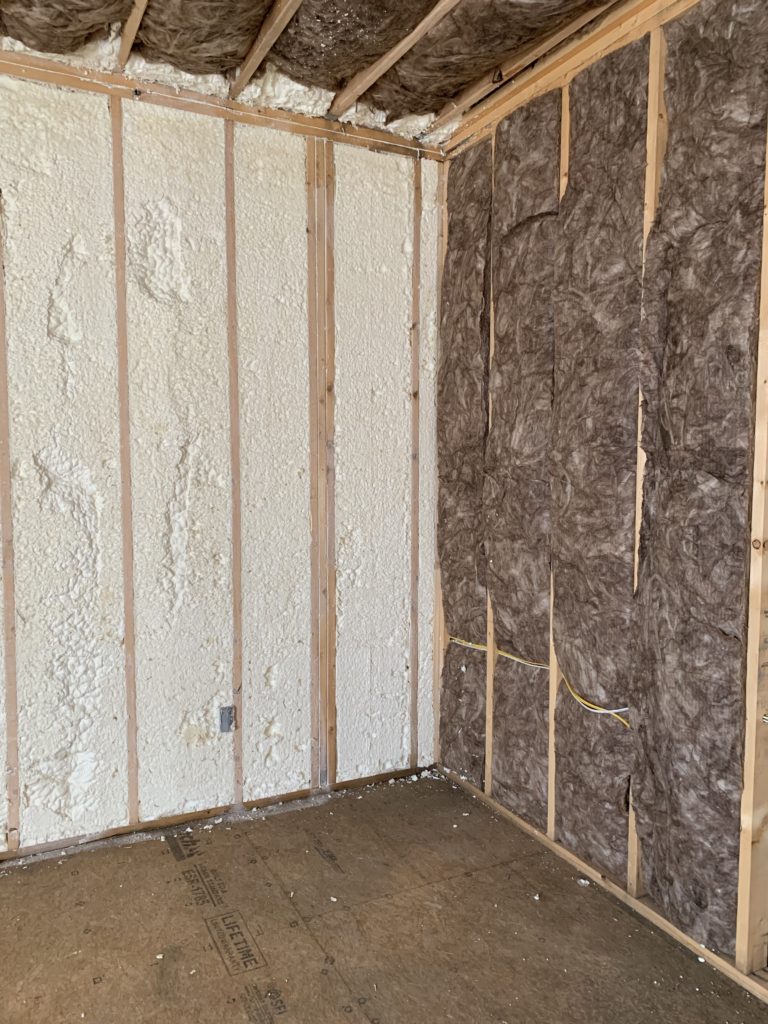 We decided to go ahead and drywall the main area up in the attic. There are several "mechanical" or storage areas that we are still leaving unfinished. We found out we were going to have to spend a good chunk of change on adding the fire-retardant coating to the spray foam – OR – we could go ahead and drywall the area (which counts as a fire barrier). It was more money to do the drywall, but it made sense for us since the fire-retardant product would basically be money down the drain if we decided to drywall the attic in the future anyway.
The framing crew came back last week to add a few sections of wall up in the attic so it would be ready for drywall.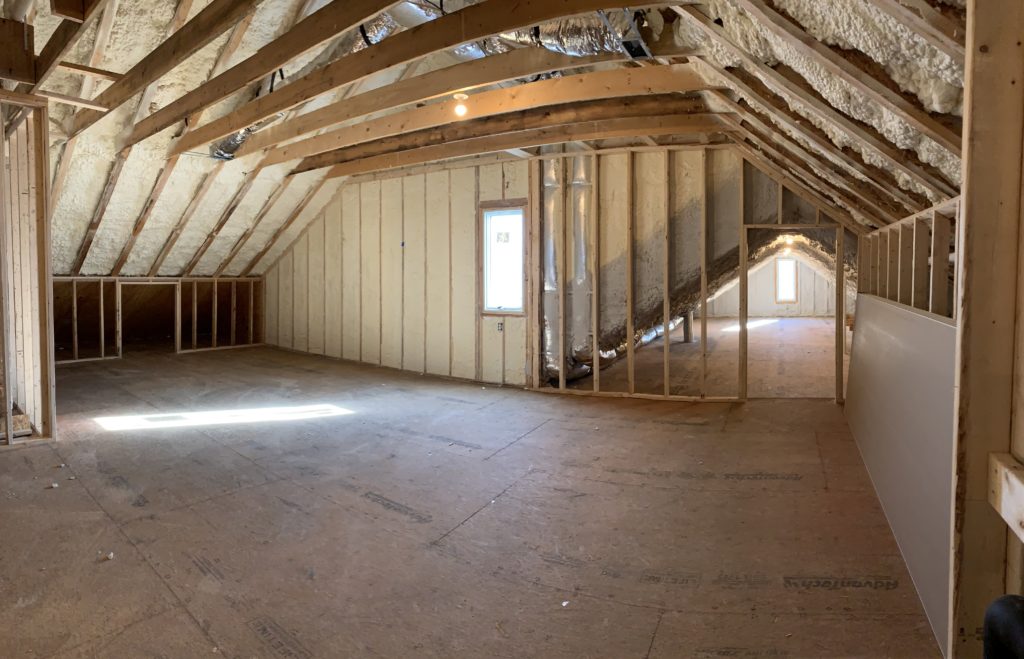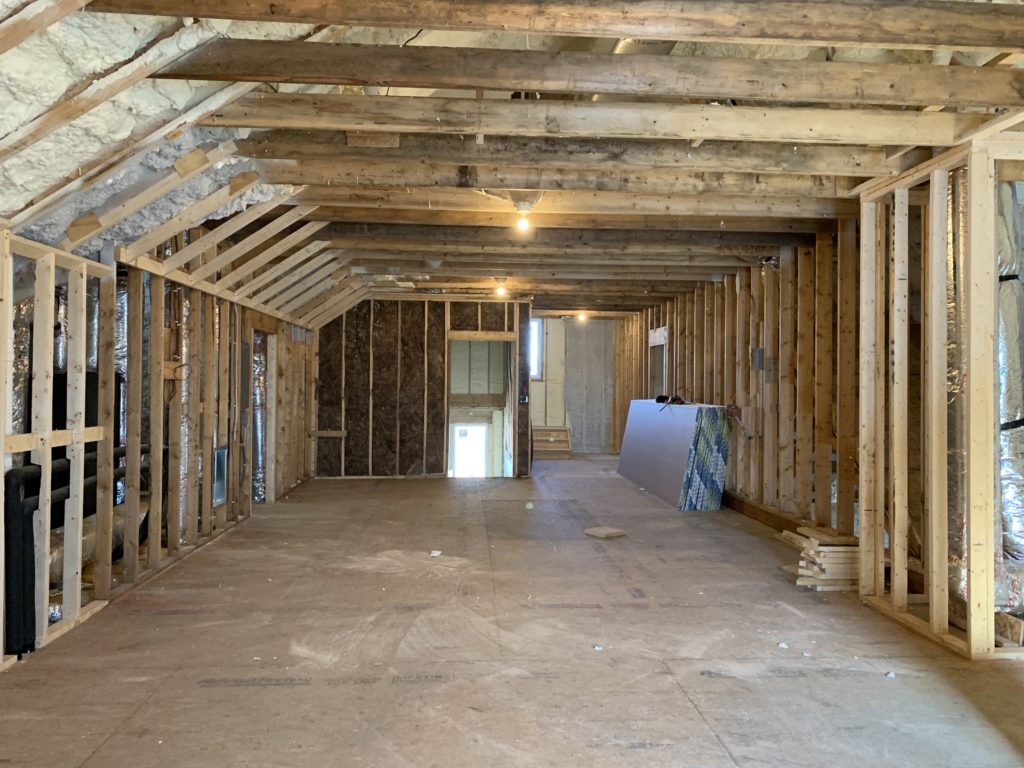 Our electrician installed our Central Vacuum units last week as well. I have never used any form of central vac in my life, but I am completely obsessed about having the kick plates. They allow to you brush all your dust and cat hair to one spot along the wall or under a cabinet and then you just tap a lever with your foot and it all goes away.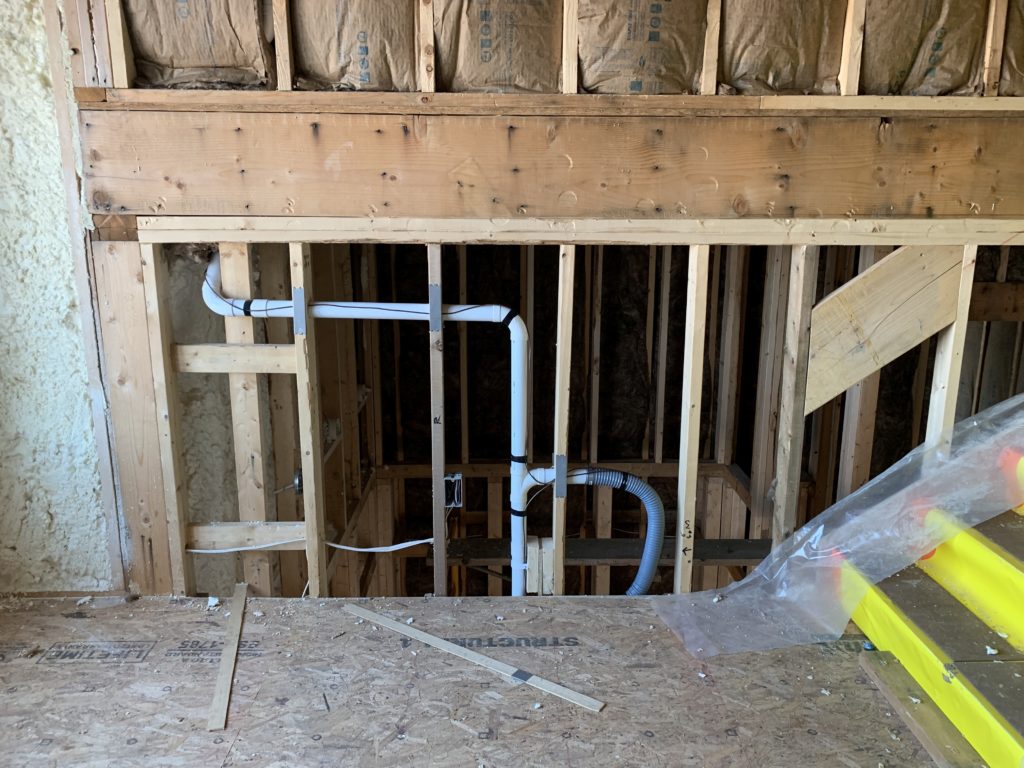 Dryway just began last week, which is one of the most exciting steps we've come to so far. We expect it to take a solid month to get the drywall completed, so my next update may come when that is done!
I'm finding that drywall makes the house look SOOO different: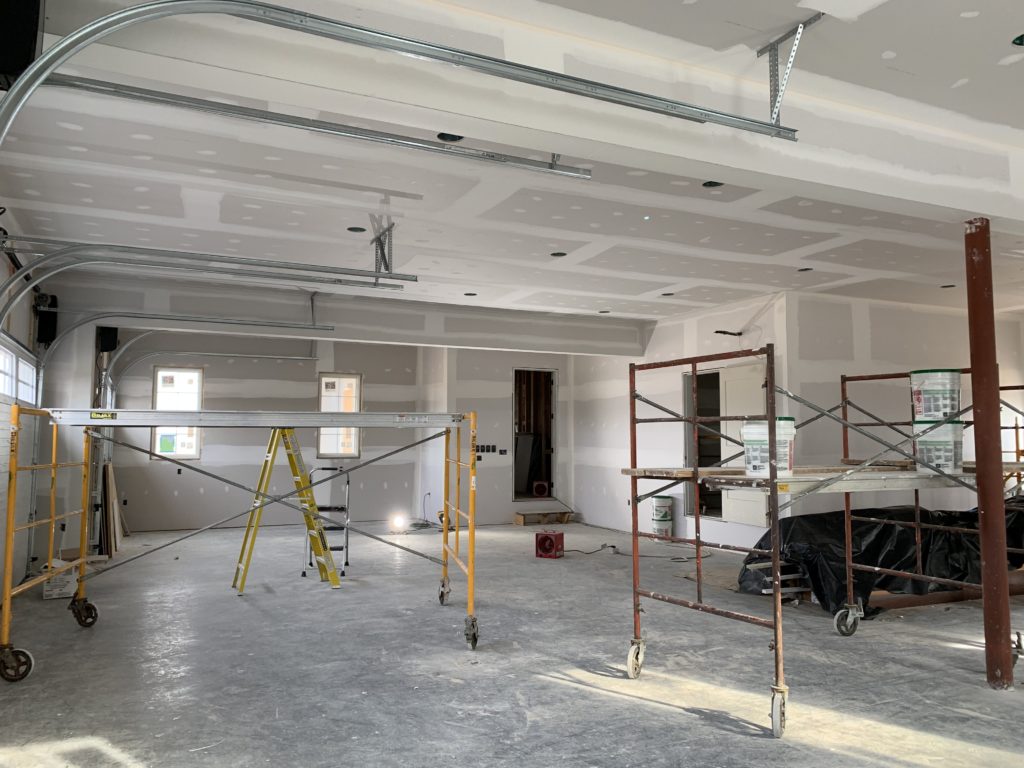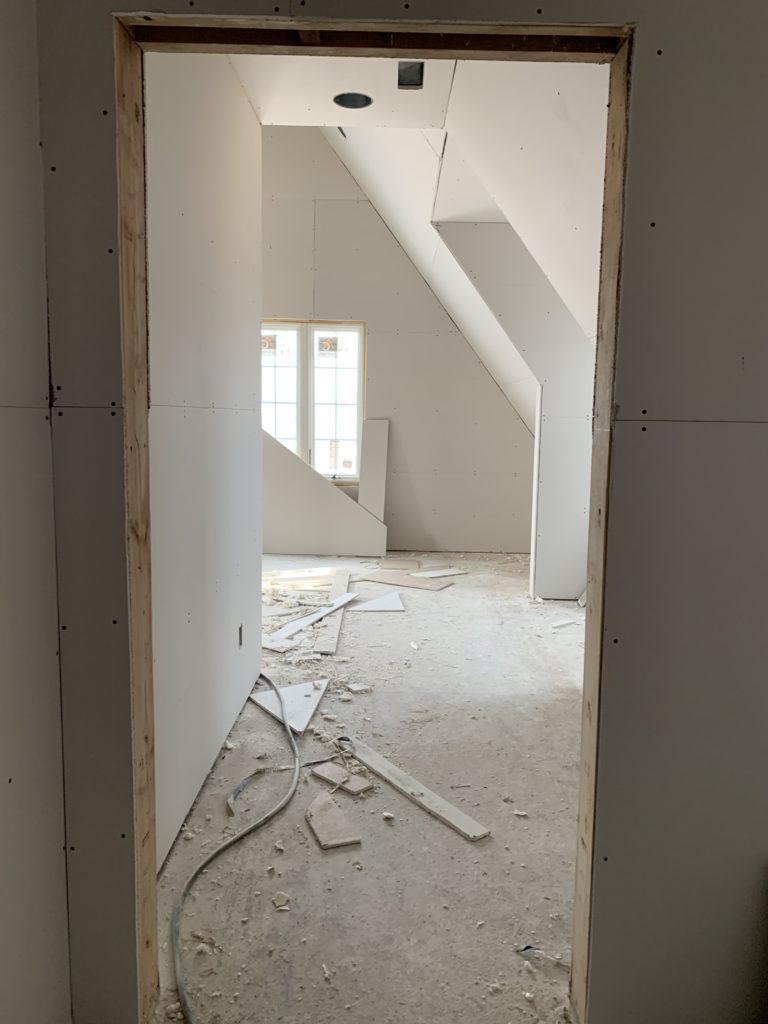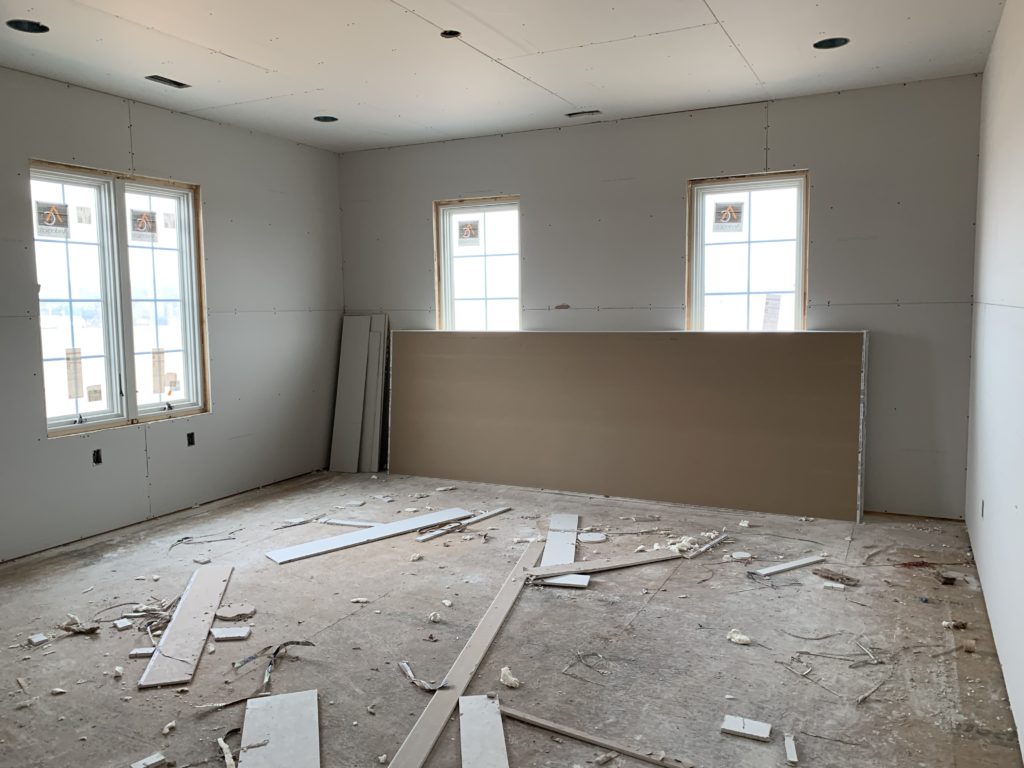 The only change in the last month to the exterior has been the addition of GARAGE DOORS!!! So now we can actually close and lock the house up safe and sound! 🙂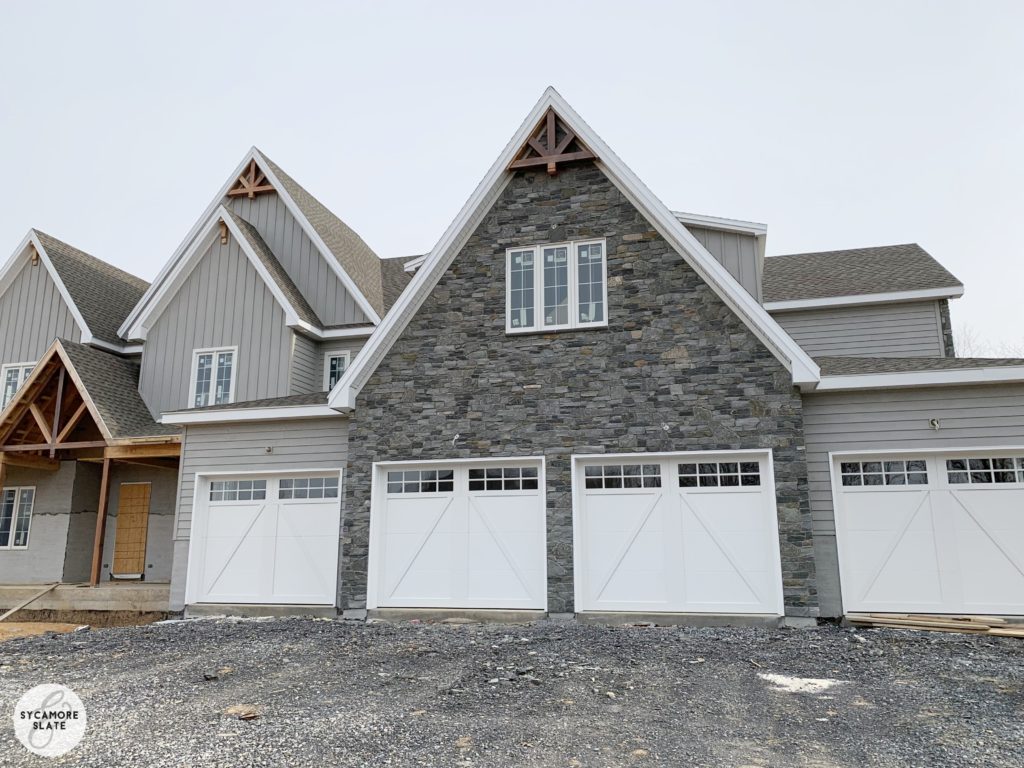 Thanks for reading! I've had a terrible number of things going on in life right now, beyond the holidays and including some sad and extremely difficult circumstances, so it's been difficult for me to keep up with posts. I hope now to get back in the swing of things, so be sure to check back often for progress updates. You can also sign up for my newsletter by scrolling to the bottom of this page and receive an email anytime I post new updates!
Happy New Year from our home to yours!