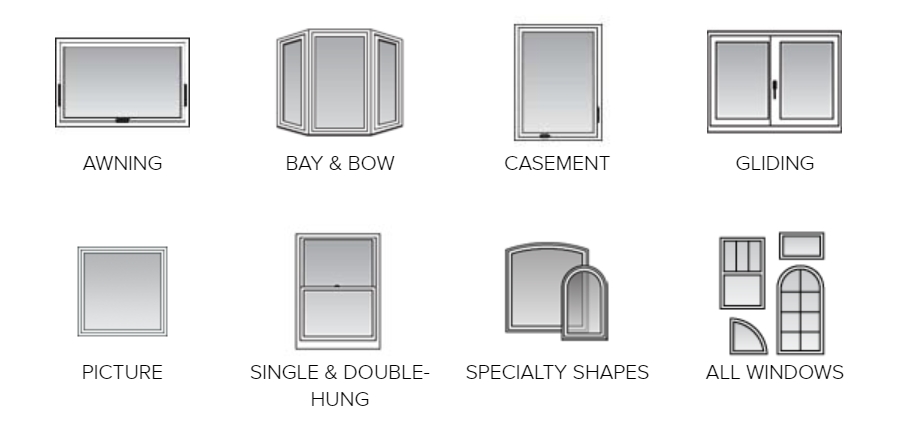 Last week, we decided to use Andersen for the windows in our new home.  The next step: choosing which style to go with.  This part has been decidedly more fun than reading all the fine print about which brand is best.
 The Options
It turns out there are quite a few different kinds of windows offered by most companies.  I compiled a list of the most common ones below:
Double-hung.  These can be opened by sliding the top sash down, or the bottom sash up.
Single-hung. They look the same as double-hung, but the top sash is fixed in place and only the bottom sash slides up to open the window.
Casement.  They are hinged on one side and opened and closed like a door, by turning a hand crank (or in some cases, by simply pushing it open and pulling it closed).
Picture (or Stationary or Fixed).  These don't open at all and usually offer nice views.
Transom (or Awning).  These are smaller windows that usually sit on top of larger windows or doors.
Bay/Bow.  These project outward from the house, providing more interior space and are often used as window seats.
Gliding (or Sliding).  These open by sliding the sash side to side, just like a sliding door.
Custom/Specialty.  These are windows that are made to fit specific architectural needs.  They come in nearly every shape and size from a simple arched, to a circular hobbit-hole window, to an Isosceles triangle.
I'm NOT an artist, but here is a cheat sheet I drew up to help visualize the differences in each window: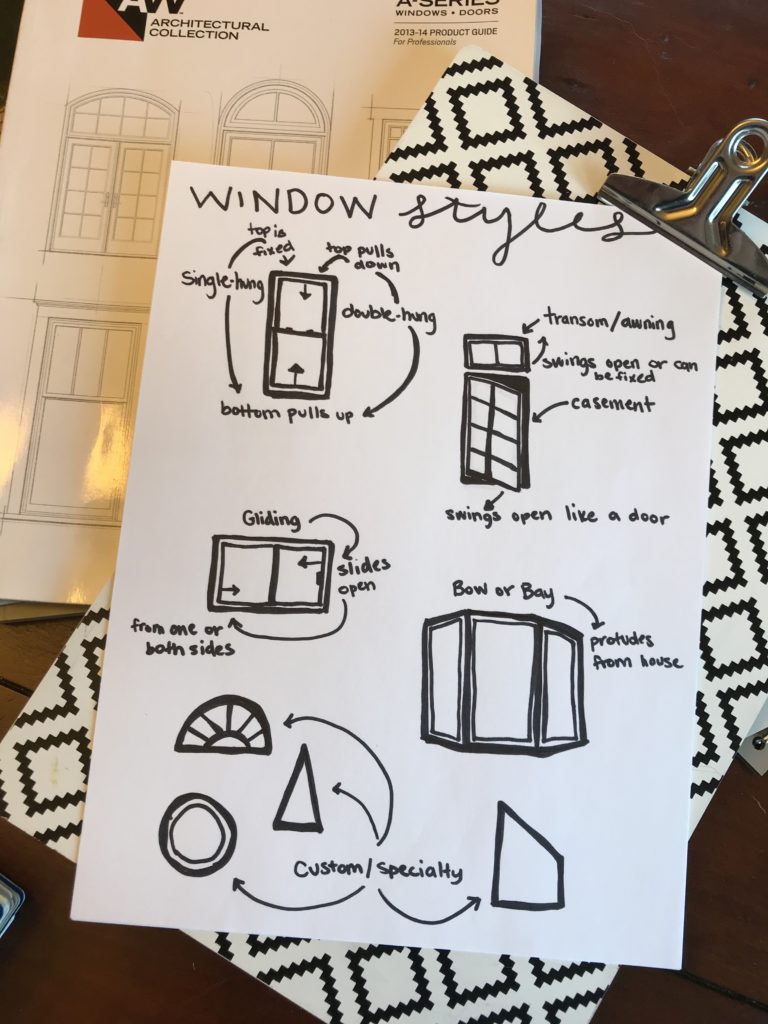 We decided we wanted to stick mostly with one style window because we like a uniform, fairly symmetrical appearance.  Our current home has double-hung windows and we debating doing the same style again because we love how they tilt in which makes them so easy to clean.
In the end, the advantages of casements won us over.  Each style of window has a solid list of pros and cons, so let me share some of the things that helped us make our decision.
The Good
Physical Appeal
My husband and I were initially drawn toward casements simply because we liked how they looked.  The long, narrow look you can achieve with these windows was very appealing to us.  Enough said.
Opening Mechanism
One thing that we had heard from multiple people (including our builder) is that people sometimes end up having trouble with certain styles of double-hung windows.  Apparently, this has to do with their opening mechanisms. The process for opening can sometimes be a bit clumsy and result in a difficult to open window.
We have double-hung windows in our current house, and another thing I've noticed is how heavy they can be.  I'm not saying that it's a massive struggle to get them open or anything, but I do find myself putting quite a bit of muscle into pushing/pulling the larger ones open.  The slides also become weathered over time and can end up sticking or catching on debris.  When this happens, it can become an even bigger pain to open them and they require some maintenance/upkeep.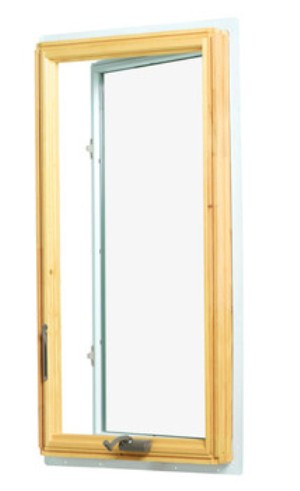 We really like how casements open and close via a hand crank.  We've been able to test out the mechanism ourselves, and it is so so much easier to open the windows than relying on arm strength alone.  I actually expected that the crank would feel "tight" and be a little difficult to turn, but this isn't the case at all. The crank works very smoothly and requires very little strength.  My two-year-old can open six-foot windows. Easily. (Potential CONS of this aspect are discussed later in this post).
Ventilation
Nearly every type of window can only ever open halfway, if you think about it.  Double-hung windows can only be opened from either the top or the bottom, but not both at the same time.  (Technically you can open them both at the same time, but you will still have the same amount of glass hanging out in the middle of your window).  Gliding windows will have this same issue.  Picture windows don't open at all.
We love that with casements, the entire window (top to bottom) can be opened at once.  When the window is fully opened, the glass is entirely out of the way and you get an opening the size of the entire window.  That's a lot of fresh farm air you're letting in. 😉
Security
Did you know that casement windows can only be opened from the inside of your home via the hand crank?  There is virtually no possible way to open them from the outside even when they are unlocked (assuming, of course, that they are installed properly).  I thought this was a super interesting fact and something that will definitely make me feel a little safer at night when I hear all those odd little noises that houses always seem to make right when you're almost asleep.
Efficiency
Other than stationary windows that don't open, casement windows have the most air-tight seals.  This will help keep conditioned air from leaking out and outside air from getting in.  And this is better for your wallet.
The Bad
Though we chose casements for our home, there were also a couple negative factors that we did have to consider when making the decision.
Safety
More specifically: Child-Safety.  As mentioned above, the hand crank makes casement windows very easy to open.  Our two-year-old has already figured out Grammy and Pappy's casement windows and helps herself to some fresh air on occasion.  This may become a serious issue once we're living in our future two-and-then-some-story home.
Luckily, There are child-safety locks that can be added to any window.  Building Code states that you MUST have a lock on the window if it sits within two feet from the floor on the inside of the house AND more than six feet from the ground on the outside of the house.  Some of our windows will definitely meet these criteria and will need to have the safety locks.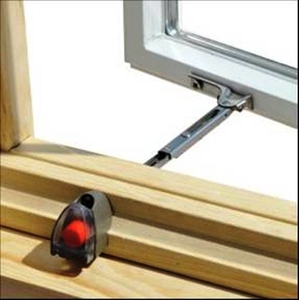 The nice things about safety locks is that they still allow you to open the windows as you usually would, up to four inches.  That way your kids will still be able to crack the windows if they'd like.  There is a red button on the safety lock which, when pressed, allows you to continue to crank the window open the entire way if desired.  This is especially important for egress purposes.
The locks aren't the prettiest things ever, and I was a little disappointed to find that they only come in two finishes, neither of which are colors I would choose.  But, having a safe home is more important than everything looking perfect.
Another concern about open windows is in regards to your pets.  While I doubt you have an animal who can open the window himself, you may have one who wouldn't have any qualms about jumping out of an already open one.  The four-inch limiter on the casements will probably keep your pets inside, but they don't allow for a lot of air ventilation.  Here's where double-hung windows really shine, because they allow you to open only the top sash if you'd like.  This achieves the ventilation of an open window but since it's up fairly high, most pets will not be able to reach it.
Durability
When casement windows are open, they swing outside, exposing the frame of the window.  If you leave these open in the wind and rain, chances are they will take more damage than other types of windows.  The best way to combat this is to not leave the windows open in bad weather.
This is definitely something to take into consideration but wasn't a deterrent for my husband and me.  We don't frequently open our windows and when we do we always close them again before leaving the area.  If you open your windows a lot and leave them open, you might want to consider an option other than casements.
Cleanability
This is an important one that you might not think about.  If your home is a single story, you can probably reach your windows from the outside with nothing more complicated than a good ole' ladder.  However, if you have a two-story house, or a home with a walk-out basement, or both like we do, you need to decide how you're going to access your highest windows for cleaning.  In our case, some of the windows are so high, a ladder's not going to cut it.  We'd need a man-lift. Or a set-up like this: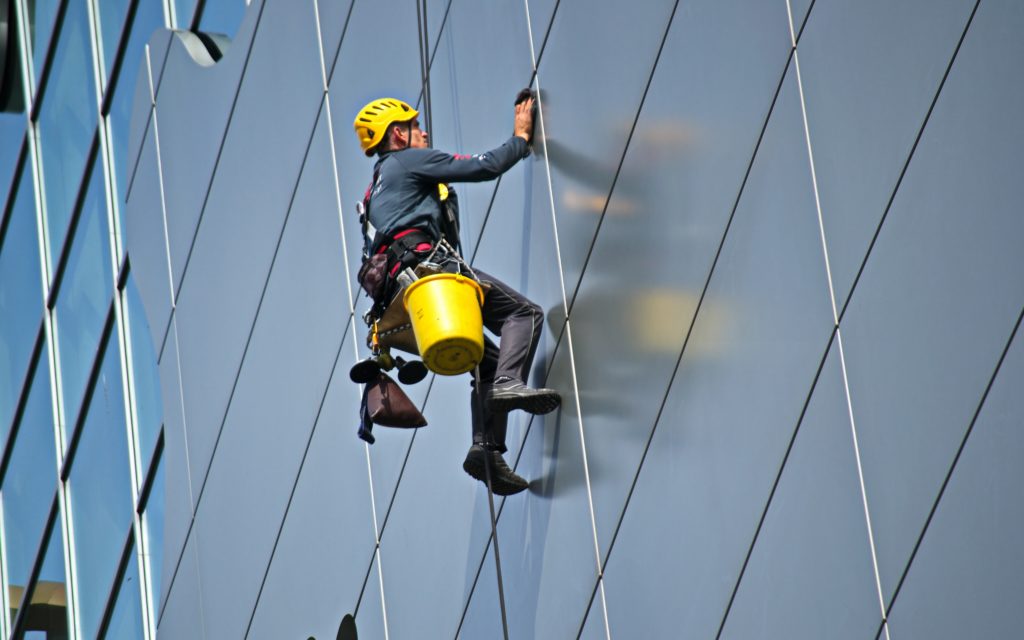 A very handy feature of newer double-hung windows is that they tilt inward.  This makes them pretty much the best choice for easy cleaning.  Casement windows can also be fairly easy to clean, so long as you get ones with double arms (sometimes called swing arms).  More on casement arm types to come in my next post.
The biggest issue you'll run into is when you choose stationary (picture) windows.  These don't open which means that even if you can reach them on the inside of your house, you won't have any access to the outer glass for cleaning.  Keep in mind that you'll have to come up with another method of getting to them.  If they aren't too high off the ground, you may be able to simply use a ladder and/or a window squeegee with an extendable pole.  Worse comes to worse, you may need to consider the cost of hiring out the job every year or so.
The Conclusion
We're really pleased with our decision to do Casement windows.  We will also be doing a few Stationary/Picture windows where it makes sense.
In the next post, I'll go into more details about the details of casement windows and even more decisions we've had to make about each individual window.  There is SOOO much more than you might expect that goes into picking out your windows! Whew!
What are you're favorite window styles? Are there any more pros or cons that I should consider? Let me know in the comments below!